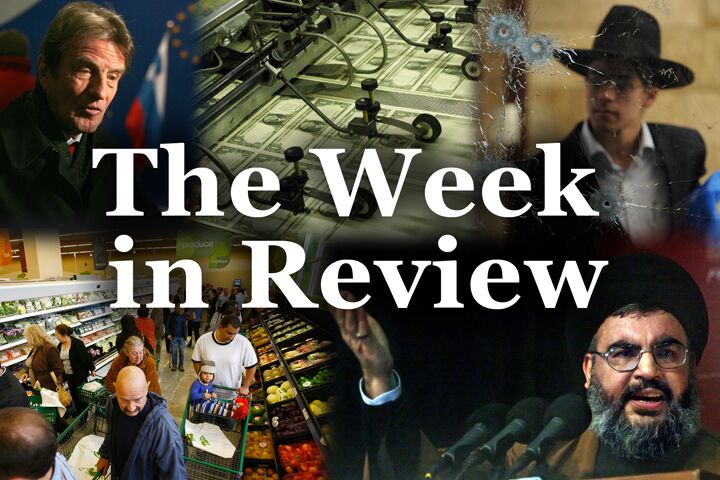 The Week in Review
Iran getting away with murder, the United Nations at its most absurd, Robert Mugabe at his most maladroit and a sad shock about American girls.
Middle East
On Tuesday, two suicide bombers attacked Pakistan's Federal Investigation Agency buildings in Lahore, killing 27 people and wounding more than 200. The police headquarters reportedly housed a special investigation unit with high-tech equipment used for tracking terrorists. The attackers' ability to pinpoint a secret government installation, according to Stratfor, suggests that al Qaeda could have been involved. The democratically elected incoming government in Pakistan is unlikely to make headway in countering the growing Islamist terrorist threat in Pakistan. The two parties in the upcoming coalition government do not even agree on a strategy for fighting religious extremism and terrorism. Division is extant within and between the parties. The one thing they seem to agree on now is trying to get rid of President Pervez Musharraf—the one who has, in his own unique way, been an ally to the U.S. in the fight against terrorism.
Iran has delivered Hezbollah missiles with a 185-mile range, according to intelligence reports. Brig. Gen. Yossi Beiditz, head of the Israel Defense Forces' research department, said that Iran is smuggling missiles to Hezbollah through Turkey, and has never ceased its arms transfer to Hezbollah since the Second Lebanon War. The 185-mile-range missiles Hezbollah now has give the terrorist organization the capability to strike strategic targets in southern Israel, such as Dimona, where an Israeli nuclear reactor is located. These long-range missiles also give Hezbollah the capability to shoot from safer distances further away from the Israeli border.
Last week, Palestinian officials said Hamas is receiving millions of dollars from the Gulf state of Qatar. They assert that Qatar has been a staunch supporter of Hamas, both financially and politically. Despite the apparent conflict of interests, Qatar offered to broker a cease-fire agreement between Israel and Hamas in a meeting with Knesset member Yossi Beilin on February 24. "You are making a big mistake if you think you can reach an agreement with Palestinian President Mahmoud Abbas without including Hamas in the talks," the Qatari prime minister, Sheikh Hamed bin Jassem al-Thani, said. Though al-Thani insisted that Qatar was "more open to Israel than any other Arab state," there is clearly great danger in Israel trusting such "moderate" Arab states when they simultaneously support terror groups.
The United Nations Security Council failed to condemn March 6's deadly terrorist attack in Jerusalem that killed eight Jewish religious students, being unable to agree on the wording of an official statement. The move was blocked by non-permanent member Libya, which insisted the statement be "balanced" by including a condemnation of Israel over its military operations in Gaza. The U.S. ambassador criticized Libya for equating a terror attack specifically targeting civilians to military operations intended to stop rocket fire. Israel's ambassador to the UN went further, saying the Security Council was infiltrated by terrorists. He was referring to Libya being elected to a two-year term on the Council despite its history with terrorism.
In further evidence of the massively successful propaganda campaign Palestinians and their media supporters have waged against Israel, an independent ballistics expert has corroborated earlier investigations that found that the child martyr icon of the second intifada was not killed by Israelis. Images of this supposed Israeli crime poisoned international opinion toward Israel and inspired dozens of Palestinians to commit murder.
In a reminder of the latent force of Shiites throughout the Middle East, the usually peaceful state of Kuwait has experienced a series of Shiite protests, the latest occurring this past Sunday and Monday, with demonstrators chanting "Death to America" and "Death to Israel." The Kuwaiti government has to be careful not to crack down too hard on Hezbollah-sympathizing Kuwaiti Shia, however, lest it spark further unrest among not only the Shia in Kuwait, which make up 30 percent of the population, but in other Persian Gulf states. This could easily be used—or sparked—by Shiite Iran to get the upper hand in its relations with U.S.-allied Sunni Gulf states.
And finally, Iranians began voting Friday in parliamentary elections that the conservatives are expected to win after many pro-reform candidates were banned from running.
Europe
Confusion in the Balkans continued this week following the collapse of Serbia's government. Prime Minister Vojislav Kostunica resigned last Saturday. The coalition cannot hold power without him and his party. Elections are scheduled for May 11.
The Macedonian government may also collapse. On Wednesday, the Democratic Party of Albanians left the ruling coalition. New elections may also be called in Macedonia.
On Wednesday, nato foreign ministers met to discuss new membership bids and the organization's enlargement policy. On the same day, Ukraine's ruling coalition reversed its policy on nato membership. Under pressure from Russia, it issued a decree stating that Kiev wants more time to consider relations with nato. The reversal effectively demonstrates that though the West ignored it over Kosovo, Russia can still throw its weight around.
Croatia, however, will probably join nato at the full nato summit in April. On Thursday, European Commission President Jose Manuel Barroso said that Croatia should also complete EU membership talks next year. As Stratfor wrote, "nato, in league with the European Union, is now in the process of digesting the Balkans—no mean feat in itself—and simply admitting Croatia will be one giant step in that direction."
In other news, Spanish socialist leader Jose Luis Rodriguez Zapatero narrowly won the Spanish elections. His party has a 16-seat lead over its main opposition, the center-right People's Party. Zapatero won despite opposition from the Vatican, which accuses him of being anti-family.
Asia
Last Saturday, Iranian President Mahmoud Ahmadinejad stressed the importance of boosting ties with Indonesia, following the appointment of the new Indonesian envoy to Iran, Ivan Veiranata Etmaja. Etmaja also stated his commitment to improving already high levels of cooperation between Tehran and Jakarta. In particular, he stated that there needs to be more energy-sector cooperation between the two nations. Ahmadinejad enthusiastically embraced Etmaja's appointment and said that "Iran and Indonesia share common views on international issues. The expansion of ties between the two countries is in the interest of the two sides, as well as the Islamic world and the global community." Indonesia is the most populous Islamic country in the world and has been an outspoken supporter of the Iranian nuclear program. The increasing support of this Islamic, Asian power is a boost to Iran's international status.
As the largest member of the Association of Southeast Asian Nations (asean), Indonesia is also trying to enhance mutual cooperation and trust with China. On Wednesday, a group of asean and Chinese defense scholars meet in Beijing to discuss military modernization and regional confidence building. Nanyang Technological University Assistant Professor Bernard Loo expressed appreciation for China's foreign and defense policies and said that China was now ready to deal with asean as a whole, in addition to maintaining bilateral relations with asean's individual member states.
South Korean President Lee Myung Bak said in a March 1 speech that "South Korea and Japan should pragmatically build a future-oriented relationship." Japanese President Yasuo Fukuda had previously agreed with Lee that Japan and South Korea needed to put aside their historic rivalries so the two leaders could resume regular visits to each other's nations.
Africa, Latin America
On Sunday, Zimbabwean President Robert Mugabe announced approval of a new law that gives "indigenous" Zimbabweans majority ownership of all businesses. It states that "indigenous Zimbabweans shall own at least 51 percent of the shares of every public company and other businesses." The term "indigenous" refers to "any person who, before the 18th April, 1980, was disadvantaged by unfair discrimination on the grounds of his or her race, and any descendant of such person." More accurately, black. This legislation brings back memories of the tragic land reforms of the past decade that have decimated the Zimbabwean economy and seen formerly productive farms turn fallow under unqualified stewardship. Harare-based economist Godfrey Kanyenze believes the new law "will entail the destruction of the economy."
However, it is hard to see how conditions could get worse for this once-prosperous nation. While few official figures are available, estimates put unemployment at 80 percent. Official figures also put the inflation rate at 24,000 percent, though in reality inflation in Zimbabwe is very hard to measure. When there is no food on the shelves, it is hard to tell how much the price has risen. The land once known as Rhodesia was the breadbasket of Africa. Today it is a den of tyranny, starvation and squalor.
Iran and Sudan have signed an accord that "includes cooperation in technology, education, science and industry, an exchange of expert delegations, and the creation of a defense cooperation commission." Iran has made establishing relations with African and Islamic nations a top priority, according to Iranian Defense Minister Brig. Gen. Mostafa Mohammad-Najjar.
In an interesting turn of events, a key source of revenue for Latin American economies is in jeopardy. Remittances from the United States are growing at the slowest rate on record. Don't feel too sympathetic though: Latino workers still sent $66.5 billion home in 2007. According to the bbc, that is more money than Latin America received in direct foreign investment and official development assistance combined. Mexico alone received nearly $24 billion. As the U.S. continues its slide into recession, Latin America may need to find another source of revenue.
Anglo-America
Even in a society accustomed to bad news about teenage sex, a new study on sexually transmitted diseases comes as a sad shock. The Centers for Disease Control and Prevention report, released Tuesday, shows that one in four American girls has an std. Twenty-six percent of females 14 to 19 (3.2 million) had human papillomavirus, chlamydia, genital herpes or trichomoniasis, and that figure does not even include less-common afflictions such as hiv/aids, syphilis and gonorrhea. The national study, the first of its kind, found that half of teen girls are sexually active, and 40 percent of those who are have a disease. "Solutions" to this ongoing tragedy include cdc officials downplaying some of the details, shots available through the U.S. Vaccines for Children Program, and the American Social Health Organization recommending that some stds should be called "infections" instead.
British culture appears to be suffering from a different kind of infection: self-loathing. Culture Minister Margaret Hodge caused a flurry of controversy last week after she said attendees of Britain's greatest cultural events were not multicultural enough for her taste. "The audiences for many of our greatest cultural events—I'm thinking in particular of the Proms, but it is true of many others—is still a long way from demonstrating that people from different backgrounds feel at ease in being part of this," she said. The Proms is a popular 113-year-old musical celebration of music from Britain and the West and is marked with a sense of patriotism: in a word, culture that is quintessentially British. But the politician in charge of protecting that culture prefers British concertgoers to focus instead on the comparatively late-coming phenomenon of multiculturalism, which by practical definition, is division.
The economy continues to dominate headlines as the dollar fell to an all-time low against the euro on Thursday, sending stocks stumbling. It now costs $1.56 to buy a euro. On the same day, the greenback was worth less than the Canadian dollar, and it fell below 100 yen for the first time in over a decade, while oil hit an all-time high of more than $110 a barrel. Meanwhile, Americans and others are also paying more for wheat, corn, rice and soybeans, and other agricultural staples are doubling and tripling, setting drastic all-time highs in many cases. Markets continue to demand more dollars per unit because the Federal Reserve has repeatedly cut interest rates and injected multiple billions to bail out imperiled banks, the most recent example being Tuesday's announcement of a $200 billion loan program, which amazingly allows banks to use drooping mortgage-backed securities as collateral—the very kind of securities that caused the banking crisis in the first place.
The progression of unbelievable financial news continues with the latest statistics on credit card debt. The mortgage crisis continues to drive consumers to rack up debt on their plastic, with January's consumer credit increase being almost double December's $3.7 billion increase, in spite of the fact that December contains the holiday shopping season.