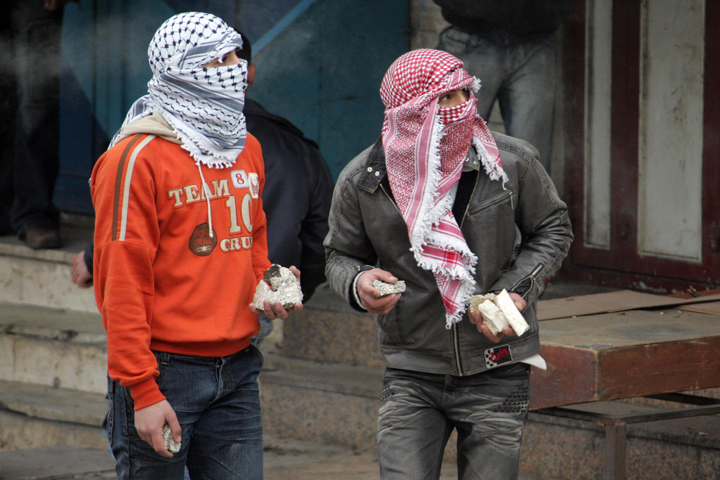 Violent Outbursts Plague Jerusalem
Palestinian protests have plagued the City of Peace this week; the underlying animosity could explode in the near future.
JERUSALEM—Hundreds of Palestinian teens pelted Israeli cars, police and people with rocks in East Jerusalem for a second day Monday, continuing Arab protests over Israel Defense Forces (idf) operations in Gaza.
The Jerusalem Postreported, "In the most serious incident, two Jerusalem Municipality city inspectors felt in danger of being lynched on a central East Jerusalem thoroughfare that was blocked by burning garbage bins after their car was pelted with dozens of stones and rocks by half a dozen teens, one of whom jumped on the vehicle and beat the window with a metal bar."
The two workers narrowly escaped after they circumvented the burning garbage bins by hopping the curb and hurtling along the sidewalk. One of the inspectors, Chaya Elihan, said if the Arabs would have been able to, the attackers "would have lynched us, not just the car." Minutes later, the Jerusalem police, aided by an anti-terror unit from the border police, moved in and arrested the leaders of the attack.
In a separate event the same day, an Israeli worshiping in an Arab neighborhood of East Jerusalem was injured after being hit by a stone.
Even the peaceful protests had a violent message behind them. At Hebrew University, 150 Arab students protested against idf operations in the Gaza Strip. They carried Palestinians flags while chanting the Palestinian liberation slogan: "With our blood and soul we shall liberate Palestine."
Other attacks with stones and bombs were reported around the city the day before, the most serious incident occurring when a group of Jewish visitors were stoned on the Temple Mount by an Arab youth.
In a separate demonstration, Palestinians pelted Israeli police with stones during a series of processions held on Sunday to show solidarity with Palestinians in Gaza.
These riotous events show once again the City of Peace is anything but. Israel National News reported that the protests were not a spontaneous reaction to the events in Gaza, but rather were organized by elements interested in "heating up" the Jerusalem, Judea and Samaria regions. Whether it is spontaneous or planned, hatred among the Arabs toward Jews here is definitely heating up.
In fact, Zechariah 14 prophesies that Arabs will violently take half of Jerusalem. Many signs show the fulfillment of that forecast is almost here. For more information on this prophecy, read "Watch Jerusalem!"