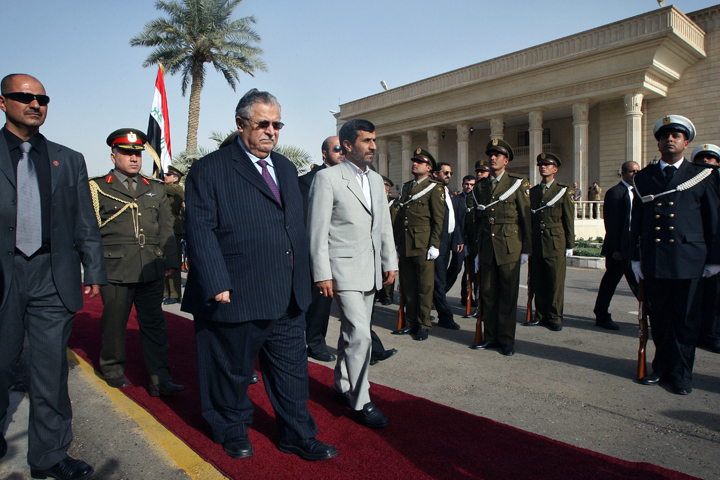 Ahmadinejad Meets the Iraqi President—in Baghdad
For the first time in over 28 years, an Iranian president visited Iraq. What is the future of Iraq-Iran relations?
Iranian President Mahmoud Ahmadinejad made the first visit to Iraq by an Iranian leader since the 1979 Islamic Revolution this past weekend. He arrived at the Baghdad airport on Sunday.
Radio Free Europe reports:
Ahmadinejad went straight from Baghdad's airport to a meeting with Iraqi President Jalal Talabani, who gave him a red-carpet welcome.Following talks between the two presidents, Ahmadinejad said his visit aimed to "strengthen" relations with Baghdad which he called already "excellent.""This visit will open a new chapter in the two countries' bilateral relations," he said, "and it will help the atmosphere of cooperation in the region."Ahmadinejad said both sides plan to improve relations "as much as possible," and that Iran wants a united, sovereign and advanced Iraq that would benefit the region.
The Iraqi president confirmed that he and Ahmadinejad discussed economic, political, oil, security, and numerous other issues during their meeting.
Ahmadinejad dismissed charges by United States President George W. Bush that Iran is supporting Shiite militias in Iraq that are killing American soldiers. "The Americans have to understand the facts of the region. The Iraqi people do not like America," he said.
As Shiite-Sunni sectarian violence continues in Iraq, America is actually looking to Iran as a partner for Iraqi security. Last year, America and Iran held three rounds of security talks over Iraq. The fourth round was supposed to be held last December, but the Iranians postponed it; they postponed it again in late January, and now indefinitely.
"We have been saying for weeks that we are ready to sit down for talks," said a U.S. Embassy official. "It is increasingly clear that Iran is not."
The Americans may have weakened to the point where they are willing to negotiate with Iran over the future of Iraq, but the Iranians are not willing to give up much through compromise. They know that President Bush has only 10 more months in office, after which there could be a U.S. president who will want to pull American troops from Iraq. By waiting, the Iranians are looking to broker much better terms with the U.S.
The Iranians' move, then, appears to be aimed at this scenario: Postpone security talks with America, send their president to Iraq to bolster friendship, wait for a new American president to be elected, and then leverage their position to increase their influence in Iraq all the more.
With its left hand, Iran has been pursuing a policy of sabotage in Iraq by arming Iraqi Shiite insurgents to prevent the U.S. from securing the region. With its right hand, Iran is reaching out to the Iraqi government and working to build a strong relationship for when the U.S. decides to leave.
For more information on Iraq's future with Iran, read "Is Iraq About to Fall to Iran?" by Trumpet editor in chief Gerald Flurry.