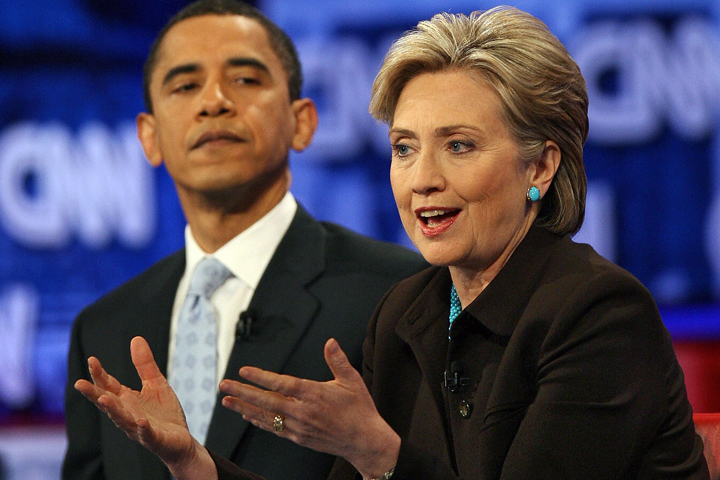 Next U.S. President Will Demand More From Europe
Clinton, Obama and McCain all want to rely on a stronger Europe.
The next U.S. president will demand more from Europe, according to the German government's coordinator for U.S. relations. In an interview with Spiegel Online, Karsten Voigt explained how the three major presidential candidates—Hillary Clinton, Barack Obama and John McCain—would rely heavily on Europe if they were in office.
On the two Democratic candidates, Voigt said:
Obama and Clinton embody different political styles and different generations. But their positions on foreign and security policy are very close. They will increase the power and the appeal of the usa. That also means they will approach their European allies more. That will be linked to demands for stronger involvement—be they civil, military, regional or global. Europe will become an increasingly important force in solving problems.
On McCain, he said:
McCain's personal experiences have given him very firm convictions in foreign and security policy. He wants a very strong U.S. role—a stance he has in common with the Democrats. But he puts more emphasis on military security. Just like the Democrats he would urge the Europeans to make a stronger contribution in civilian terms, but especially in military terms.
Clinton has stated explicitly that the United States must rely more on Europe. "It is important to engage our adversaries but even more important to reassure our allies," she wrote. "We must reestablish our traditional relationship of confidence and trust with Europe. Disagreements are inevitable, even among the closest friends, but we can never forget that on most global issues we have no more trusted allies than those in Europe."
Her fellow Democrat, Barack Obama, agrees. "I will rebuild our ties to our allies in Europe and Asia and strengthen our partnerships throughout the Americas and Africa," he wrote. Obama also called for other nato members to play a greater role. "I will rally our nato allies to contribute more troops to collective security operations and to invest more in reconstruction and stabilization capabilities."
Similar sentiments come from the Republican side. "Americans should welcome the rise of a strong, confident European Union," wrote McCain.
The bottom line is that all the candidates want a stronger, more powerful Europe.
The European Union, especially Germany, also wants a stronger Europe. The Lisbon Treaty, aka the EU constitution, will greatly increase the EU's power domestically (for more, see "Ten Things You Might Not Know About the Lisbon Treaty"). As it consolidates power at home, it will increasingly look outward. Already the EU has troops in the Balkans, is sending a deployment to Chad and has a navy near the Middle East.
The U.S. is actively pushing Germany to send more troops to Afghanistan. Already it has agreed to send a rapid reaction force to the area. It is holding back on sending further forces in order to gain political leverage; Germany wants more power inside nato (for more information, see "Germany vs. nato: Playing Hard to Get").
Under the aegis of nato, the EU has already been very successful in the Balkans. Watch for it to continue to work through nato to expand its power. Already, five of Europe's most experienced military commanders have proposed a new nato manifesto, which is likely to be discussed at a summit in Bucharest, Romania, in early April. Watch for Europe to try and use the summit to change nato to its advantage.
The EU wants to expand its involvement in the world. The next U.S. president can be expected to urge it on. For information on where this rise of Europe will lead, see our booklet Germany and the Holy Roman Empire.