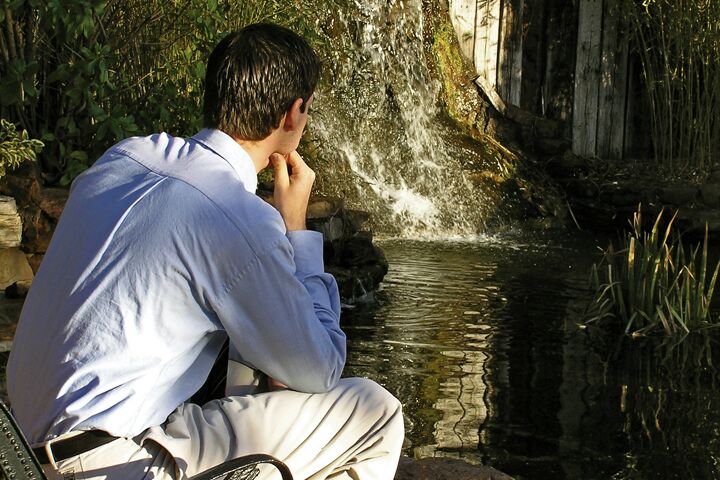 Meditation: A Key to Spiritual Growth
Why is meditation so important? And how is it done?
We all have engaged in that mental fantasy known as daydreaming. Letting our minds casually flit from one thing to the next. What purpose does it serve? It is actually an attempt to escape reality. Daydreaming is harmful because it allows the mind to operate without control. It will gradually inhibit a person's ability to concentrate.
Meditation is not daydreaming; it is a purposeful act. The word is used in the Bible to mean "talking to oneself" (see Gesenius' Lexicon). Webster's describes it as "pondering deeply" on a subject. To meditate is to commune with our own thoughts as we explore a subject. It is the act of deeply concentrating on a subject, especially a spiritual one.
Look at Psalm 143:5. "I remember the days of old; I meditate on all thy works; I muse on the work of thy hands." All these words mean "meditate." Other words that mean the same are consider, think on, and commune. It is possibly our most neglected spiritual tool. This is ironic because the other tools given to us to cultivate spiritual growth—prayer, study, and fasting—are made far more effective when deep meditation is added to the process.
Notice what is written in Lesson 58 of the Ambassador College Bible Correspondence Course: "Are you obeying the laws which you find revealed in God's Word? Are you putting them into practice? Are you striving to learn all you can about the supreme goal in life—the purpose for which you were born? Are you studying God's Word—the Bible—daily? Are you sometimes even studying it on your knees, drinking in every word, absorbing its vital message? Christ said man shall live by every word of God. How can you really do that, unless you study His Word, meditate on it, and think deeply about it?"
That's a good question. How can we hope to live by every word of God unless deep thought accompanies our study? Let us consider it.
God cautions us to be sure and meditate on Him in Deuteronomy 4:39-40: "Know therefore this day, and consider it in thine heart, that the Lord he is God in heaven above, and upon the earth beneath: there is none else. Thou shalt keep therefore his statutes, and his commandments, which I command thee this day, that it may go well with thee, and with thy children after thee, and that thou mayest prolong thy days upon the earth, which the Lord thy God giveth thee, for ever."
After Moses's death, God instructed Joshua to meditate on the book of the law "day and night" (Joshua 1:8). This, God said, would bring Joshua and the Israelites "good success." Meditation is an important key to truly understanding and applying the principles of God's law. Meditation enhances obedience, which results in blessings.
It is easy to see the great value in taking time to meditate. And herein is the reason Satan works hard to lure us into such a fast pace. Satan does not want us to take time to think about God! He doesn't want us to meditate!
The Communication Process
Let's review the communication process between God and His people. We will see that meditation is actually a major way God communicates.
Again, God expects us to live by His Word (Matthew 4:4). That's a tall order. How can we hope to obey that requirement? When we analyze how we communicate with God, and He with us, we learn the full answer.
In the first place, we speak to God through prayer. In prayer we communicate praise to Him, thank Him for blessings, express our concerns, recognize Him as the authority and Lawgiver of the universe. We use the prayer outline of Matthew 6:9-13 to express our thoughts to Him.
The Bible is God's instruction book for us. We are to become well versed in its content, as we learn in 2 Timothy 2:15: "Study to show thyself approved unto God, a workman that needeth not to be ashamed, rightly dividing the word of truth."
The Ambassador College Bible Correspondence Course explained it this way: "Genuine conversion actually revolutionizes a human being's life! It is a renewing of his mind—his attitude—his character! He comes to really know God—to constantly study and understand more and more of God's Word—and he is able to pray and talk to God in a personal way. He receives constant answers—he is blessed—he grows more like Christ every month and year of his life!" (ibid., Lesson 23). When we study, God is teaching us. So when we pray we are talking to God; when we study we are being taught by Him. Prayer and Bible study work together to convert our minds.
But we miss a very important part of communication with God when we ignore meditation. The Ambassador College Bible Correspondence Course addressed it this way: "If you learn these [godly] principles you will know the right way to conduct yourself under all circumstances. You will not feel the need of an exact parallel case in which God said 'do this' or 'do that.' But how can you learn to make the application of these principles? David, God's beloved, gave the answer!
"He said, 'Blessed is the man that walketh not in the counsel of the ungodly …. [H]is delight is in the law of the Lord; and in his law doth he meditate day and night' (Psalm 1:1-2)" (ibid., Lesson 4). During prayer, Herbert W. Armstrong wrote, "Pause, once in a while, and meditate, and let God talk to you" (Co-worker Bulletin, July 7, 1948).
What an incredible truth! Did you catch that important bit of knowledge? When we pray, we are talking to God; when we study, we are being taught by Him; and when we meditate, He is able to put His thoughts into our mind. We give Him the opportunity to talk to us. No wonder Mr. Armstrong was so adamant about the need for meditation! No wonder men of the Bible who meditated were able to be used so strongly. They took time to listen to God.
God designed meditation to be an integral part of our spiritual life.
Notice how it nourishes prayer. When you pray, do you have trouble concentrating? The link to God becomes energized if we will pause during our prayers to focus our minds on who He is, what He is doing, how He has done it in the past—remembering that God never changes.
Consider the second spiritual tool—Bible study. How many times have we said, "I just can't remember scriptures"? Studying the Bible is an almost fruitless exercise unless the scriptures are deeply ingrained into our minds. That comes through meditation. When you hear or study spiritual knowledge, review it mentally as soon as possible. Picture it in your mind. This habit will greatly aid you in remembering what you do not wish to lose.
Fasting is the third tool. We fast to remove ourselves from the effects and influences of this world—to concentrate on achieving a closeness with God. So, here again, meditation is the key. It helps us focus on the reason for the fast, and on finding God's will. Without meditation, a fast could well be merely a period of going without food and water.
David Meditated
King David was a man after God's own heart. We can find many reasons why. The question is, how did he come to be that way? One of the greatest reasons was, David understood and used the powerful tool of meditation. How do we meditate? God used David more than anyone else to show us the way.
In the quiet of the morning, and in the evening, David went to a place where he would not be disturbed. There he recalled the events that occurred during the day. He also remembered God's commands—His law. And during those hours of his time he recalled both, and thought deeply on them. He applied what he had read in the Word of God to his own life and drew conclusions as to what God really wanted. He applied those conclusions! For this reason, he was able to "walk not in the counsel of the ungodly"—to the extent that he became one of those who stood highest in God's good grace. We must do the same!
Notice how David did this as a young man, possibly while tending the sheep, as he looked up into the night sky, and beheld the moon and stars, the unity and harmony of the universe. "When I consider thy heavens, the work of thy fingers, the moon and the stars, which thou hast ordained; What is man, that thou art mindful of him? and the son of man, that thou visitest him? For thou hast made him a little lower than the angels, and hast crowned him with glory and honour. Thou madest him to have dominion over the works of thy hands; thou hast put all things under his feet: All sheep and oxen, yea, and the beasts of the field; The fowl of the air, and the fish of the sea, and whatsoever passeth through the paths of the seas" (Psalm 8:3-8).
David was deeply considering the universe. He was literally awed by the vastness of it, by the way in which it is sustained by laws, by its beauty and wonder, and he meditated on the meaning of it all—and his place within it.
Where does man fit into the scope of things? What is the universe for? Is it all just an accident? What is man? What is our purpose? Why are we here? Scientists have sought answers to these questions since the practice of science began. Scientists of today are still expending huge amounts of effort and money trying to discover those answers—all to no avail! Mankind in general does not consider the ways of God, and so they have no knowledge of His plans.
David was able to access the universal truth of his questions through meditation. As he mused on the thought, he opened his mind for God to fill him with understanding. What a tremendous blessing this is if we will use this knowledge to its fullest!
The Benefits of Meditation
Let's read another important example of David's meditating in Psalm 143:1-3: "Hear my prayer, O Lord, give ear to my supplications: in thy faithfulness answer me, and in thy righteousness. And enter not into judgment with thy servant: for in thy sight shall no man living be justified. For the enemy hath persecuted my soul; he hath smitten my life down to the ground; he hath made me to dwell in darkness …." David's life was full of trial: intrigue throughout his court, sons vying for his throne, failed marriages, infant death, men plotting against him to undermine his authority. But notice what he did to be able to bear up under the load.
"I remember the days of old; I meditate on all thy works; I muse on the work of thy hands" (verse 5). David found the faith to face adversity by concentrating on God's infinite power and His creation.
Notice Psalm 1 again: "Blessed is the man that walketh not in the counsel of the ungodly, nor standeth in the way of sinners, nor sitteth in the seat of the scornful. But his delight is in the law of the Lord; and in his law doth he meditate day and night. And he shall be like a tree planted by the rivers of water, that bringeth forth his fruit in his season; his leaf also shall not wither; and whatsoever he doeth shall prosper" (verses 1-3). Here is a tremendous meditation for someone who is always in financial difficulty. Think about it: "Whatsoever he doeth shall prosper" if we love and meditate on the law. Remember that meditation encourages obedience.
The psalmist was able to see that no matter what the world did to him, or thought of him, he was special to God. He had a hotline to God at any time of the day or night—he was set apart! Have you ever been in a situation where you thought people were plotting against you? When this happened to David, he turned his mind to spiritual riches. He knew his hope, his trust, was in God.
Meditation can help us turn our feet from sin. Notice Psalm 119:59-60: "I thought on my ways, and turned my feet unto thy testimonies. I made haste, and delayed not to keep thy commandments."
And it is coupled with remembering. "Then they that feared the Lord spake often one to another: and the Lord hearkened, and heard it, and a book of remembrance was written before him for them that feared the Lord, and that thought upon his name" (Malachi 3:16). Using meditation in this way is crucial. Thinking deeply on God's Word can turn us from sin.
Special Time for Meditation
For most people, the early morning or evening hours are probably the best times for daily meditation. But the Sabbath is a special day created for meditation. Notice this instruction: "Each of us tends to become overly absorbed in our daily cares, our work and our pleasures during the week. Our Creator foresaw that we would need a time set apart—His Sabbath day—as a consecrated time when we can completely forget our daily routine and draw closer to the Creator God in study, meditation, and prayer" (op. cit., Lesson 27).
Fasting provides another special opportunity to meditate. "During the waking hours of the fast, Mr. Armstrong will spend one hour in fervent prayer to God, utilize the next hour in Bible study and then follow the third hour with meditation and reflection upon the things studied, and the lessons to be learned. … By following such a routine, one will quickly find himself much closer to God and filled with the spiritual power necessary to cope with the problems at hand" (ibid., Lesson 48).
The holy days are also special times to use for meditation. Each holy day contains a message. God gave us these days so we can learn His plan; He imbued each day with a specific meaning which deepens our understanding of some aspect of that master plan. He wants us to be free to meditate on His purpose and on how to fulfill it!
The Feast of Tabernacles, for instance, is an opportunity for us to be separate and free from the influence of this world—a time to meditate on what God's World Tomorrow will be like. Dwelling in temporary habitations away from our everyday surroundings, our jobs, our customary thoughts, influences, and personal contacts, we have the perfect freedom to think on and act out the abundant peace and blessings of life in the Millennium.
The Apostle Paul encouraged us about what to meditate on as we approach the return of God's government to the Earth. "Finally, brethren, whatsoever things are true, whatsoever things are honest, whatsoever things are just, whatsoever things are pure, whatsoever things are lovely, whatsoever things are of good report; if there be any virtue, and if there be any praise, think on these things" (Philippians 4:8).
Take the time each day to remember the promises God has written to those who obey Him. He will not fail to perform them. Learn how meditation will build faith and move us in our daily life to rejoice in God's truth.
Apply this spiritual mental exercise constantly! If we do, it will gradually become second nature. God wants us to draw close to Him every day! Meditation is a key to accomplishing that goal.