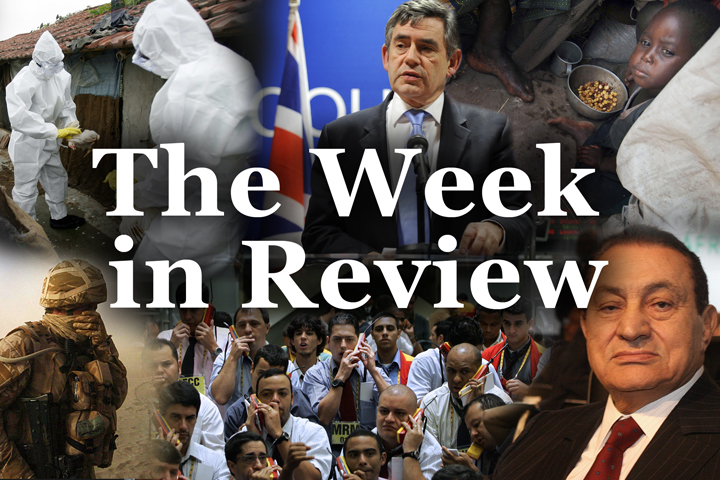 The Week in Review
Egypt backstabs Israel and sides with Islamists, the EU wants to reshape NATO its own way, Britain faces a grueling debate over its European identity, plus more.
Hundreds of thousands of Palestinians streamed across the Egypt/Gaza border unhindered after Hamas destroyed two thirds of the border wall on Wednesday. Mubarak made little effort to stop people from crossing in and out of Egypt. "I told [the Egyptian border guards] to let them come in and eat and buy food and then return them later as long as they were not carrying weapons," he told reporters.
There may be good reason Mubarak was not too perturbed. "In all likelihood, the border breach was coordinated on some level between Egypt and Hamas," Stratfor reported. Supporting this probability is the fact that just the day before, Mubarak was on the phone to the president of Hamas's sponsor Iran—for the first time ever—discussing Gaza and the need to lift the siege on Gaza. Certainly, it was no random action. IsraelNationalNews.com reports, "Hamas chief Khaled Mashaal reportedly ordered the preparations and timed the demolition of the border to coincide with the terrorist summit that began in Damascus Wednesday. Called the Palestinian National Congress, the conference was organized by Iran and Syria and is being attended by dozens of representatives from each of the terrorist groups seeking Israel's destruction."
Israel's great concern now is that heavier arms can be brought into Gaza by terrorists than were already being smuggled in through the tunnels. Egypt says it will not rebuild the wall. This is most likely an effort by Egypt to put pressure on Israel to make concessions to Hamas in Gaza. Though the last thing Egypt wants in the long term is a transfer of Palestinians into its territory, it is willing to risk this in the short term in order to force Israel to end the economic blockade of Hamas. Meanwhile, on January 15, the number of rocket attacks emanating from the Gaza Strip sharply increased. In 24 hours, more than a hundred missiles hit Sderot and Ashkelon, and a civilian was murdered by a Hamas sniper.
In response to the barrage of missiles hitting civilians in southern Israel, Israel reduced the fuel supply going into Gaza—causing an international outcry, despite the fact that Gaza was still receiving electricity from Israel and Egypt's power grids, which provide three quarters of Gaza's electricity needs. Of note, while electricity was cut off for the Gaza population, the Hamas rocket manufacturing industry continued its operations. It was Hamas that plunged Gaza into darkness this week knowing, as Melanie Phillips wrote, "that the West would uncritically swallow its claim that Israel was to blame for the distressing accounts that would follow of a humanitarian crisis."
On Wednesday, it was announced that Iranian President Mahmoud Ahmadinejad has accepted an invitation by Iraqi President Jalal Talabani to visit Iraq. This will be the first visit by an Iranian head of state to Iraq since the two countries were at war in the 1980s. Ahmadinejad is sure to use the opportunity to drive the point home, particularly to the U.S., that Iran wields heavy influence in Iraq. No dates for the visit have yet been set.
During a three-day tour through Persian Gulf states, French President Nicolas Sarkozy signed a deal with the United Arab Emirates president to open a permanent military base in his country in 2009. This will make France the only Western nation outside of the United States with a permanent military base in the Persian Gulf. The move reflects two shifts in Middle East politics: the waning U.S. strength in the region, and the waxing influence of Iran and Europe. With Gulf nations seeking to contain Iran, we can expect them to look increasingly to Europe. Bible prophecy indicates a split between Muslim nations in the end time—those that will ally with Europe, and those that will ally with Iran.
In other Mideast news this week, Iranian mullahs are looking into the possibility of submerging the tomb of their own Persian King Cyrus just because he was friendly to Jews; the commander of U.S. forces in Afghanistan says that the Taliban and al Qaeda are turning their focus from Afghanistan to Pakistan in an effort to topple the government of President Pervez Musharraf; and the fbi is inspecting evidence from the January 15 car bombing in Beirut that targeted a U.S. Embassy vehicle, killing three people and wounding 26—an attack that could have been a warning from Hezbollah (and Iran and Syria) to the U.S. to stay out of Lebanon.
Europe
In addition to France's deal with the United Arab Emirates to open a permanent military base there next year, Germany had its part to play in the Gulf. Germany is committed to halting Iran's nuclear program despite the recent U.S. intelligence report alleging Iran halted its nuclear weapons program in 2003. German Foreign Minister Frank-Walter Steinmeier spoke to the chief of the International Atomic Energy Agency last week, saying that the international community must get tough on Iran. As America becomes less and less committed to decisively dealing with the Iranian threat, Berlin will seek to take up the mantle of Middle East policeman. Watch for Germany to become more and more aggressive in how it deals with Iran and radical Islam.
There have also been calls for a change in Europe's place within nato. Five of the West's most senior military officers and strategists called for a new nato charter this week. They argued that the nato manifesto should redefine the alliance's key threats to include political fanaticism, religious fundamentalism, international terrorism, organized crime and nuclear proliferation. Most importantly, this proposed nato charter would give the European Union a governing position alongside the United States.
Asia
Adding to the tension over Iran's nuclear program, on Thursday Russia delivered its sixth shipment of nuclear fuel to Iran's Bushehr nuclear power plant. This shipment brings the total amount of enriched uranium that Russia has delivered to Iran to 66 tons—80 percent of the total order. The Iranian foreign minister estimates the Bushehr plant should be operating at 50 percent capacity in approximately six months. By empowering Iran, Moscow is prolonging the American standoff with Iran and thus ensuring that the United States will be too busy to check Russia's growing power.
In other news, a bird flu epidemic has spread to over half of India's West Bengal state. In an attempt to halt the spread of the deadly h5n1 bird flu strain, culling teams are in the process of killing 2.2 million chickens. Scientists fear that the h5n1 strain could mutate into a form that is easily transmissible between persons. Such a mutant form could trigger a global pandemic similar to the 1918 Spanish flu. Based on biblical prophecies regarding our day, we can expect pestilence and pandemics to become a growing problem on the world scene.
Africa, Latin America
Petroleo Brasileiro (Petrobras) announced the discovery of a giant natural gas field on January 21; the Brazilian oil company also reported that there is a tremendous potential for more discoveries in the same area. Although it will take years to develop this find, the new resource will ultimately remove Brazil's dependence on Bolivia for natural gas. Brazil also discovered the Tupi oil field last November, which holds as much as 8 billion barrels of light crude oil. Brazil is, as Stratfor said, "getting closer to becoming a full-fledged energy powerhouse."
This week in Zimbabwe, one of Africa's most repressive states, the Movement for Democratic Change staged demonstrations to test the effect of new laws guaranteeing political freedoms—and were promptly tear gassed. Dozens of members of the opposition party were arrested. "This was a severe test for Robert Mugabe," said Tendai Biti, secretary general of the mdc, "and he has failed."
Anglo-America
The week headlined with Britain entering a grueling debate over its European identity. On Monday, Parliament began the task of ratifying the Lisbon Treaty. The controversial document, a thinly disguised reload of the failed EU constitution, contains several critical forfeitures of sovereign power in a range of areas. The bill now faces a several-week-long debate in both houses before becoming law. Meanwhile, the government is trying to ramrod the prickly bill through and avoid what the Conservatives and Britons across the nation are pressing it for most of all: a referendum.
The Brown administration's refusal to consult voters on such a crucial document affecting the centuries-old sovereign powers of the nation smacks of the undemocratic methods that have surrounded Europe's consolidation of power. Eurocrats in London and on the Continent are continuing their push to deny referenda in their countries.
The UK government claims Lisbon is not, in fact, a constitution. Meanwhile, opposition pressure for a referendum continues to build, a development that would torpedo Lisbon—as well as EU membership for Britain.
Cold War-style diplomatic intimidation has popped up again between London and Moscow, only this time, Russia is the stronger power. The Russian government has bullied the British Council, an organization that promotes intercultural activities and facilitates relations between Russian and British schools, for months, capping it off by summoning staff members to the Federal Security Service for questioning and visits to 10 staffers at home late at night by the Russian tax police. As a result, the British Council was forced to shut down its last two offices outside of Moscow. London's response has been verbal protest.
In world financial news, fears of an American recession have sent share prices around the world sliding. Asian investors sold off a massive amount of stocks, pushing European indexes down up to 7 percent. Japan's Nikkei 225 fell 3.9 percent; China's index and Europe's Eurostoxx 50 each fell 5 percent or more.