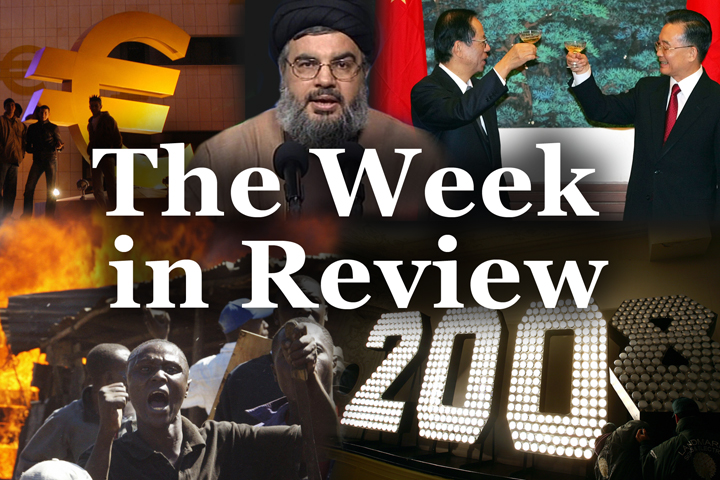 The Week in Review
Poppies in Afghanistan, radicals in Egypt, euros in the Mediterranean, critics in Taiwan, riots in Kenya, and much more.
Middle East
Pakistan continued to dominate news headlines this week, even as the riots following Benazir Bhutto's death largely subsided. Bhutto's assassination on Dec. 27, 2007, triggered a wave of nationwide violence that killed almost 60 people and caused more than $200 million worth of damage. In Bhutto's home province of Sindh, the army was deployed to help quell the unrest. As a result of the instability, the Pakistani general election, originally scheduled for January 8, has been put off till February 18. Besides thrusting the nuclear-armed, Islamist-sympathizing Pakistan into greater political turmoil and instability, Bhutto's death exposed both the utter inability of the United States to influence Pakistani politics to its advantage, and the hugely flawed idea that democracy is a cure-all for anti-American Islamic nations.
Next door in Afghanistan, Western efforts are also yielding little result. The U.S. general in charge of nato's mission in the country said Wednesday that he expects a record opium poppy crop in the coming year—"a harvest militants will turn into weapons for use against Afghan and nato troops" (Associated Press, January 2). After six long years of battling the Taliban, the efforts of U.S.-led forces have only resulted in the Taliban gaining strength—and opium production, the Taliban's major cash crop, reaching new heights.
The growing divide between Israel and Egypt was exposed with a spat between the two countries over the issue of smuggling across the Egyptian border. Israel's foreign minister criticized Egypt's lack of action to stop the smuggling into the Gaza Strip, and Egypt's foreign ministry responded tersely: "It is better for the Israeli minister to concentrate on negotiation efforts with the Palestinians, instead of speaking randomly about issues she should not be dealing with if she is not fully aware of the situation." Almost half a billion dollars' worth of equipment is smuggled over the border into Gaza each year, according to Arutz Sheva.
This problem is about to get a lot worse, however, as Egypt gets closer to Iran. The developing entente between Egypt and Iran progressed this week with a visit to Egypt by Ali Larijani—Supreme Leader Ayatollah Ali Khamenei's special representative to Iran's National Security Council. Larijani said relations between the two countries, which have been frozen since 1979, are gradually improving and that their relationship is "constructive." While in Egypt, ostensibly for a family visit, Larijani met with the Egyptian head of intelligence as well as the foreign minister. As Egypt and Iran grow closer, huge repercussions will be felt in the region.
Europe
Economic expansion abroad, coupled with fear of foreigners at home, made headlines this week. On the Mediterranean islands of Malta and Cyprus, not only was the new year on the Gregorian calendar welcomed with the usual fireworks, but also by the first withdrawals of euros from cash machines. On January 1, Malta and Cyprus officially joined the eurozone. This was a special occasion for these states, but also for EU leaders, who are well aware that the two islands are key for the control of the Mediterranean, Southern Europe and Northern Africa. Their adoption of the euro firmly cements them inside the EU's sphere of influence. Now Europe will be better positioned to throw its weight around Africa and the Middle East.
The euro has continued to grow as a major currency. This week it reached a record high against the pound, and the International Monetary Fund reported that the euro continued to gain ground on the dollar in international official foreign exchange reserves in 2007. As the dollar and pound decline, watch for the euro to become the more dominant currency.
The new year arrived in a very different fashion at EU headquarters in Brussels. There were no fireworks there. The popular market and ice rink closed early, instead of staying open all night, amid fears of a terrorist attack. Fear of foreigners and immigrants is rife within Europe. The assault of a 76-year-old man by two immigrants provoked outrage in Germany. Roland Koch, governor of the German state of Hesse, appealed to public sentiment when he said, "In our country we don't get many cultures meeting to form a new one. Germany has had a Christian-Occidental culture for centuries. Foreigners who don't stick to our rules don't belong here." Sentiment against immigrants, both legal and illegal, is growing all over Europe.
Then there are the Balkans. Following an offer from Russia to purchase Serbia's largest state-owned petroleum company, Serbian Prime Minister Vojislav Kostunica stated in an address Monday that his government was "working to reach a strategic energy agreement with Russia." The EU's position over Kosovo has forced Serbia to turn away from the West and further toward the Kremlin. Russia is taking advantage of this by integrating itself more firmly in Serbia, giving it another lever in its relations with Europe. This, however, will also serve to galvanize EU nations toward greater unity—and make more apparent to both Europe and Russia their need for a treaty.
Asia
During an address to his nation on January 1, Taiwanese President Chen Shui-bian criticized the United States for caving in to Chinese pressure by opposing Taiwan's planned referendum on UN membership. Mainland China and Taiwan split during the 1949 revolution, yet Beijing still considers Taiwan part of Chinese territory. Chen is currently pushing for a March referendum on whether Taiwan should apply for UN membership. Such a move would highlight Taiwan's distinctness from mainland China. Even though the U.S. has been a long-standing ally of Taiwan, the Bush administration opposes the referendum. China threatens military action if Taiwan declares unilateral independence, and the U.S. fears it may get drawn into the conflict. Chen accused Washington of "weighing national interest against democratic values." Trumpet editor in chief Gerald Flurry wrote almost a decade ago, "These 21 million [Taiwanese] people are going to be forced into the Chinese mold; and it is going to happen for one reason: because of a pitifully weak-willed America." Watch for U.S.-Taiwanese relations to deteriorate further as Washington capitulates to Beijing's will.
Tensions between Myanmar and the U.S. are rising due to Myanmar's militant crackdown in opposition to democracy. India, however, is continuing to develop relations with the Southeast Asian country. On Wednesday, Myanmar Foreign Minister U Nyan Win met with Indian External Affairs Minister Pranab Mukherjee to discuss expanding bilateral ties in the trade and energy sectors.
The strengthening of ties between India and Myanmar is another step toward the cementing of relations between India and the Association of Southeast Asian Nations (asean). Mukherjee's stated dream is to see cooperation between Asian nations to "make this century the century of Asia." Watch for the leaders of India, China, Japan, Russia and other Asian nations to work toward this goal.
Latin America, Africa
Militants killed 12 people in Nigeria Tuesday, causing the price of oil to spike to $99 a barrel; Nigeria produces the most oil of any African country, and experts fear that oil supply to the United States will decline as a result of the instability.
Kenya erupted with ethnic violence this week that has killed more than 300 people and displaced 100,000 others after the results of the disputed presidential election were tallied. The incumbent president, Mwai Kibaki, is suspected of rigging the election—the most hotly contested in Kenyan history—in order to stay in power for a second five-year term and defeat Raila Odinga, his chief opponent. U.S. officials, who initially accepted the results, later said there were "serious problems experienced during the vote counting process," "unrealistically high voter turnout," and "apparent manipulation of some election reporting documents." Some districts reported 99, 100 and even 115 percent voter turnout.
Much of the violence spiraling out of the election has been fueled by reignited ethnic hatreds. The Kikuyus, to which Kibaki belongs, are Kenya's most privileged tribe, and rule the nation's business and politics.
Kenyan politics, according to Michael Holman of the Financial Times, "has been dominated by ethnic allegiances, stained by assassination, distorted by one-party rule until 1991 and, above all, oiled by endemic corruption" (January 1). None of that changed under Kibaki. After being in power just five years, the leader who was welcomed as a reformer is seen as just another Big Man of Africa—sworn into office Sunday with only a handful of party loyalists there to support him.
The European Union and Mercosur, the South American common market, will resume free-trade negotiations early this year, EU Economic and Monetary Affairs Commissioner Joaquin Almunia announced on December 16—just one day before the commencement of the 34th Mercosur summit. The EU and Mercosur started free-trade negotiations in 1999, but the talks stalled over disagreements on agricultural import restrictions. In order to revitalize the negotiations, Almunia signed a deal with Uruguayan Foreign Minister Reinaldo Gargano on the sidelines of the summit. In the deal, the EU will donate €50 million to the Latin American trade bloc in order to boost technical standards among Mercosur members and to promote Mercosur to the public. Free-trade talks between the EU and Mercosur should resume early this year as both sides have pledged their commitment to reaching an interregional association agreement. The EU is Mercosur's largest trade partner, buying €36 billion in Mercosur exports in 2006.
Herbert W. Armstrong's Plain Truth magazine forecasted in 1962, "[T]he United States is going to be left out in the cold as two gigantic trade blocs, Europe and Latin America, mesh together and begin calling the shots in world commerce." Expect relations between the EU and Mercosur to continue to improve and for the U.S. to become increasingly isolated on the world scene.
Anglo-America
On Monday night, Americans counted down to 2008 and the new year—and possibly a recession. Capitalist economies experience alternating periods of expansion and recession, and many feel that 2008 will be the year that America's gigantic economy succumbs to its many symptoms, including soaring energy and food prices, the home price index at a six-year low, and corporate profits already in recession due to slower sales and higher costs. New federal Census Bureau statistics say new home sales fell 9 points from October to November, down a huge 34.4 percent from one year ago. Building permits and housing starts are both down approximately 25 percent. Job figures and manufacturing appear more or less level, but either could begin declining in 2008, and external factors such as China slowing down its mushrooming economy could take a big bite out of American growth. Perhaps most importantly, consumer confidence is flagging in the face of big bank woes and a fierce credit crunch that isn't over yet.
In addition, if credit markets don't loosen up before the fall semester, college students needing more than just a government-subsidized loan might be in for a disappointment. Those who rely on private loans may not get the cash they're looking for, since investors who typically provide the funding are absorbing massive losses and families are finding it harder to borrow against their equity for college as home prices plunge.
The economy was not the only thing on the mind of Iowans on Thursday, as voters braved below-freezing temperatures to caucus for the Democrat and Republican presidential nominations. Barack Obama won the caucus for the Democrats, and Mike Huckabee led the Republicans.
Meanwhile, conservative members of the Anglican Communion who oppose the liberal attitude of the church in America toward homosexuality and other issues are opening their own meeting just before the Lambeth Conference, where Anglican bishops meet once every 10 years to discuss church doctrine and policy. Organizers of the new summit say the 80-million-strong Anglican Communion is divided and ready to split. More than 30 million Anglicans support the new conservative movement. The trend could lead to a closer alignment of millions of Anglicans with the Catholic Church.
The Telegraph reports "states like Britain" could derail the EU treaty signed in Lisbon in mid-December. "Sensitive cases" including Britain, France, the Netherlands and Ireland are worrying Eurocrats, who are trying to figure out how to avoid popular votes that are likely to reject the treaty, which many see as a thinly disguised EU constitution.
Regarding the United States' war against terror, the American general commanding nato in Afghanistan said on Wednesday he anticipated another year of "explosive growth" in the country's poppy harvest. The crop, which is used to make heroin, set records in 2006 and jumped 34 percent in 2007 with an export value around $4 billion. Taliban forces derive a large portion of their income from the drug trade.