Family Strings
The renowned guitarists of the Romero family have a secret to their success that families the world over would do well to mimic.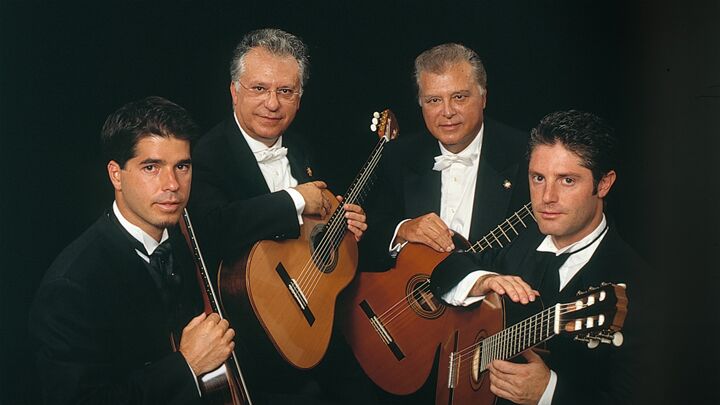 Family Strings
The renowned guitarists of the Romero family have a secret to their success that families the world over would do well to mimic.
"The most important thing my father taught me was how to be a father."
That may sound a bit peculiar for a guitar legend like Celin Romero to say about the man who taught him to play the way he does. Celin is one of the original members of the Romeros quartet, world-renowned as the "Royal Family of the Guitar"—which has played together for 50 years. The other three original members were his two brothers, Pepe and Angel, and their father, Celedonio.
Nevertheless, even considering their prodigious musical accomplishments, perhaps the greatest strength of the Romeros is their strong family unit.
To say Celedonio was loved by his children would be an understatement. Celin's eyes sparkle with fondness when he speaks of his Papa. "His children were the most important thing to him," he says.
In the mid-1990s, Celedonio contracted a small cough. When he had it diagnosed, doctors told the family he had only months to live. The children moved into their parents' large home in Del Mar, California, a wealthy suburb of San Diego. When Celedonio died in 1996, the brothers stayed in the house with their mother. She lived three more years. To this day, Pepe and Celin haven't had the heart to move out. These mature men still call it Mama and Papa's house.
There they remain along with their wives, who themselves are both beautiful and multitalented—managing the family business, teaching music, shopping for the best organic foods, and sharing their kitchen that overlooks the Pacific.
Pepe and Celin still honor their father and his memory, and not just in the house they continue to inhabit. Their biographies mention Celedonio first. You can't speak to them about music or family for more than a couple minutes without hearing about Celedonio.
When they're not talking about their father, they're telling stories about their grandchildren. Pepe, who loves to paint but has little time for it, says he makes time to do so with his 8-year-old granddaughter—one of four grandchildren from his three daughters.
Now the quartet is made up of Pepe, Celin, Celin's son Celino, and Lito (Angel's son). The two younger ones have been in the group about a decade. They and their families live within a short jaunt of the original Romero residence.
You can often find their families enjoying a day on the beach. Celin and his wife, Claudia, get their exercise by walking up and down it as often as they can. Celino says he gets there about once a week. His two youngest children play fetch with the dog while his oldest (a 9-year-old named after his great-grandfather, nicknamed Nino) practices surfing.
The sons of the musical giants received their musical training in an unconventional, but very Romeros-like way—not at a conservatory, but from their fathers and uncles. "Romero University," Lito says.
Nearly all the men in the family are guitarists. Pepe's only son, Pepe Jr., doesn't perform with the quartet but still makes his mark on their performances, constructing guitars for the family in a workshop attached to Celedonio's house. This artisan's atelier is remarkably absent of modern technology. That's because he makes each piece of each guitar by hand—his tools are a few chisels, clamps and a frame bestowed on his family by a world-renowned guitar maker. The dozen guitars he makes each year are in high demand from as far away as Tokyo—and requests sit on a four-year waiting list.
The strength of the Romero family is electrifying when they perform: the unspoken bond, the similarities of hand motions, facial mannerisms—all an expression of a half-century-old musical dynasty.
To be in the presence of such a family bond—threaded tighter than the strings they strum—is a refreshing strain in a society where family harmony is all too rare.
The verse closing the book of Malachi comes to mind where God says He will "turn the heart of the fathers to the children, and the heart of the children to their fathers." In our anti-family world, few examples remain that fulfill this.
Of course, no family is perfect; but what hope there is in a family where the father is honored to the extent Celedonio is. His children's hearts are turned to him. It is no surprise why: Celedonio's heart was toward his children first—even more than it was toward his illustrious career.
The remainder of that verse in Malachi says that if the hearts of the fathers and children are not turned toward each other, then curses come. Many have experienced firsthand what a devastating curse it can be when the father's heart isn't toward his children or vice versa.
The reason God so lovingly directs us to live this way is that He is a Family, and He wants to teach us about the divine family relationship we can enter into. (Our booklet God Is a Family explains this in detail; request a free copy.) Scripture shows how God the Father literally begot Jesus in the womb of the virgin Mary as His Son. It describes how everything Jesus Christ did honored His Father. And what a Father He had—one deeply invested in every facet of His life.
The Bible also contains numerous references to God spiritually begetting human beings: We can be His very sons, attaining the incredible human potential of being born into the literal Family of God (see Romans 8 and 1 John 3).
Is it any wonder God places such a high priority on the family?
The curses in our families today can be reversed—by simply applying the laws God has put in place that safeguard their success. For example, God says, "Honour thy father and thy mother" (Exodus 20:12)—a biblical charge that the Apostle Paul called "the first commandment with promise" (Ephesians 6:2). What promises we can receive if we turn our hearts to our children and inspire and teach them to turn their hearts back to us!
We first met the Romeros in April 2007. The organization that sponsors this magazine has a humanitarian arm—the Armstrong International Cultural Foundation. Its centerpiece is a concert series dedicated to showcasing the best achievements in music mankind has to offer. When we hosted the Romeros in Edmond, Oklahoma, we noticed something special about them—beyond their phenomenal musical performance.
Celin Romero, talking about his family and progeny, says he has been "very blessed." Truly, blessings do come to those who are devoted to their children and to children who honor and deeply respect their parents.
But the hope goes beyond that. The Scriptures foretell a time to come when the world over will surge with strong families. People will be taught God's way of happiness and brought right into His family plan! (Request a free copy of Herbert W. Armstrong's book The Wonderful World Tomorrow—What It Will Be Like.)
May our families today achieve these blessings and foreshadow the time when all families will live in harmony. May our families orient our minds toward the fantastic potential that awaits us tomorrow, when all will reap the blessings of keeping God's perfect, benevolent law!