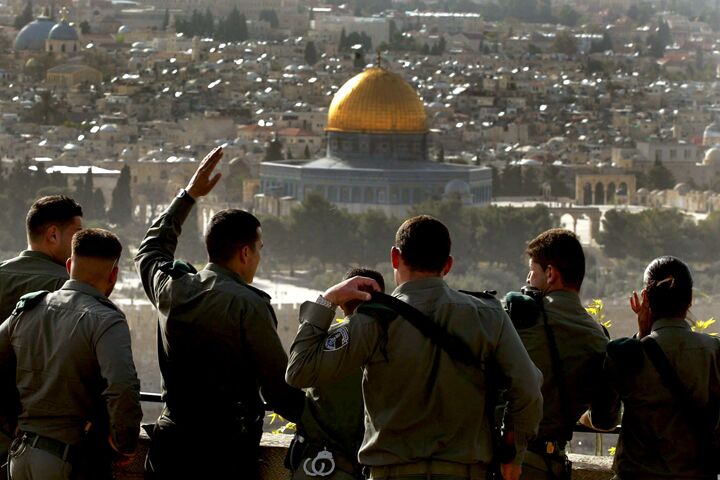 Israel and Arabs Negotiate Over Temple Mount
Palestinians demand the Temple Mount in any peace deal.
As representatives of Israeli Prime Minister Ehud Olmert negotiate with Palestinians over a peace deal that would cede to the Arabs most of the West Bank and possibly half of Jerusalem, the Temple Mount has emerged as a point of contention.
In preparation for a U.S.-sponsored international summit on the Middle East scheduled for November, Israel and the Palestinian Authority (pa) are reportedly attempting to negotiate the details of a final status agreement. IsraelNN.com reported Monday that Arab representatives "have made it clear that they will not accept any final peace deal with Israel unless the Jewish state forfeits the Temple Mount, Judaism's holiest site."
The daily Israeli newspaper Yediot Acharonot reported that Olmert is prepared to discuss joint Israeli-Arab control of the Temple Mount. However, a chief Arab negotiator stated, "[T]here can be no agreement with Israel unless we get complete sovereignty of the Mount."
IsraelNN.com also commented on the publication of reports last week that Israeli President Shimon Peres has drafted a secret plan that would transfer to the pa "nearly the entire area of Judea and Samaria, along with several Arab-Israeli cities located within pre-1967 Israel." Diplomatic sources have reportedly said Olmert is considering this plan.
"President Peres, Israel's most veteran politician, has a long history of covert deal-making," as IsraelNN.com points out. Peres helped negotiate the Oslo accords with Yasser Arafat in 1993, which resulted in the second intifada and full-scale retreat by Israel ever since.
As negotiations continue between the Jews and the Arabs, it is no surprise that the Temple Mount is becoming a sticking point.
Trumpet editor in chief Gerald Flurry wrote in March last year that although Israel appears to be prepared to concede East Jerusalem to the Arabs without a fight, there would be an impasse over the Temple Mount. This, he wrote, based on biblical prophecy, would eventually lead to the Arabs taking half of Jerusalem, including the Temple Mount, by force.
We will yet likely see the Temple Mount become the focal point of hostilities between Palestinians and Jews. Watch for Arab designs on this area of Jerusalem to grow and soon explode into violence.