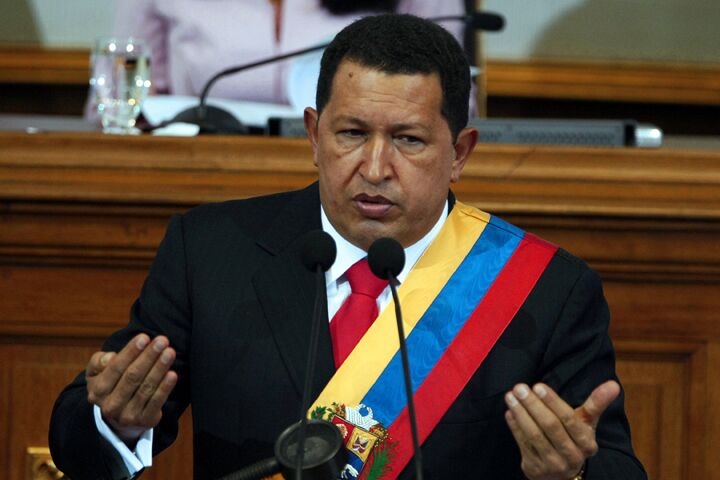 Chavez Calls for Changes to Consitution
President Hugo Chavez has an idea to make Venezuela's constitution better: perpetual re-elections for himself.
Venezuelan President Hugo Chavez has called for changes to his country's constitution that will allow him to legally remain in power, possibly for decades. The socialist dictator delivered his statements at a National Assembly address on Wednesday.
Chavez strode to the assembly as fireworks exploded above crowds of supporters who cheered and waved signs and flags. Many had received text messages from a recently nationalized telecommunications company inviting them to the occasion. The scene outside the National Assembly building also included giant video screens and an enormous, two-story inflatable doll of Chavez.
Holding a miniature edition of the Venezuelan constitution, Chavez described his desired changes, which opposition leaders say are designed to enable him to run for re-election in 2012 and indefinitely thereafter.
"There are 33 articles that starting tomorrow will begin to be read, analyzed, criticized," Chavez said, saying the changes would affect "less than 10 percent" of the document.
Critics say Chavez's actions are a continuing threat to democracy, and that the president is trying to model Venezuela after Cuba. Chavez and Cuban dictator Fidel Castro are good friends.
The 167-member assembly, which Chavez controls, will likely sign the plan for constitutional reform within months. To take effect, the plan would then have to win a majority in a national referendum.
Chavez's dictatorial administration, his name-calling antics toward the Bush administration and his nationalization of oil companies in particular have caused concern in Washington. American companies have invested heavily in oil projects that have now been seized by the Chavez government or otherwise forced to conform to his wishes. The U.S. imports about 10 percent of its oil from Venezuela, but Chavez has indicated, often in colorful language, that he hates the U.S. and is much more interested in collaborating with the EU, Iran and China in everything from oil deals to nuclear development.
Watch for U.S. influence and interests in Latin America to erode completely as the Monroe Doctrine for "The Other America" becomes history. For more on this subject, read "Is Hugo Chavez a Threat?" and "The Political Bomb at America's Back Door."