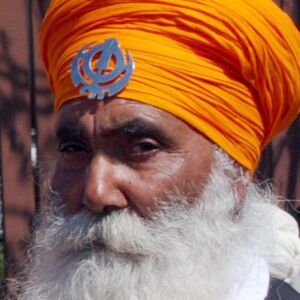 Sikh Terrorism Enters Politics in Canada
Politicians in British Columbia support terrorist organizations, flaunting a Supreme Court decision.
Provincial politicians in Canada gave their support to banned terrorist organizations on this year's Sikh holiday commemorating Vaisakhi Day. One such organization is responsible for murdering hundreds of Canadians.
Canada's Sikh community organizes parades marking Vaisakhi Day, the anniversary of the founding of the Sikh religion. However, this year's parade on April 7 was littered with insignias of terrorist organizations, clothing bearing terrorist logos, floats featuring individuals listed as terrorists by the Canadian government, and Canadian politicians from the three main parties, none of whom condemned any aspect of the parade.
The lack of political condemnation "shocked the Indian government and moderate Sikhs across Canada," according to cbc News (June 28).
Some of the Sikh "martyrs" pictured on the floats belonged to the terrorist group Babbar Khalsa, which is considered a terrorist organization by Canada, the United States, the European Union and India. Babbar Khalsa is a group dedicated to establishing the independent country of Khalistan in the Indian state of Punjab.
Babbar Khalsa founder and Khalistan separatist Talwinder Parmar was the mastermind behind the 1985 Air India bombing that killed 329 people, mostly Canadians. Those murders made Parmar, in the words of the Canadian Broadcasting Corporation, "the worst mass murderer in Canadian history." Parmar was also known for publicly urging attacks on Indian targets, saying, "Indian planes will fall from the sky," and telling his followers to "kill 50,000 Hindus."
Talwinder Parmar was portrayed as a hero on two parade floats.
British Columbia Premier Gordon Campbell, Surrey Mayor Dianne Watts and various other federal and provincial politicians attended the Vaisaskhi Day march in Surrey. During the stage ceremony, these politicians appeared alongside Sikh parade officials wearing jackets with Khalistan logos. Also on stage was Satinderpal Singh Gill, a former senior leader of the International Sikh Youth Federation (isyf). Canada labeled the isyf a terrorist organization in 2003.
After the event, when Jim Abbott, the Conservative member of parliament representing Prime Minister Stephen Harper, was asked if he would have attended the event had he known of the terrorist displays, he said no. He asserted that he was "flabbergasted" to hear about it.
But his opinion quickly flip-flopped. Four days later, Abbott reversed his position, saying, "I will vigorously defend this event along with thousands of Canadians of Sikh faith who won't tolerate such a linkage."
Later, the Canadian multiculturalism secretary said the Conservatives probably would not have attended if they had known that the extremism would be on display.
Liberal mp attendee Sukh Dhaliwal felt that nothing at the parade was problematic, saying, "I don't know why we're making a fuss about Surrey."
New Democratic Party mp Penny Priddy said that she did not regret going, and was simply "disappointed" to hear what had happened.
B.C. Premier Campbell refrained from criticizing the parade, saying that he would continue to attend such events. Later, a spokesman said he was "upset" by the parade.
Liberal mp Ujjal Dosanjh stayed away from the parade. Donsanjh said the other politicians attended because they were afraid if they spoke out against it they would anger too many members of the community.
"They are being afraid to speak out, and they choose consciously to not speak out," he said. "I have not heard any denunciation from any of the politicians from any of the political parties that went to that parade that found out that you had the glorification of Parmar and others who were killers. And nothing was said. And they were given the opportunity to say something."
Liberal provincial assembly member Dave Hayer skipped the parade as well, even though he is a Sikh politician from Surrey. To him, it was obvious what was coming.
"It is different to celebrate your culture versus celebrating the terrorist," he said.
The big question is, why didn't more Canadian leaders speak out?
According to Tarek Fatah, an outspoken critic of extremism in Canadian politics, it is because politicians want votes and don't want to offend anyone.
"These guys have figured out Canadian politics," he said. "It takes one guy with an exotic-looking dress, a big beard or a huge headdress to say, 'Mr. Member of Parliament, we will work to defeat you, or we will deliver you 10,000 votes.'"
But there is another reason so many Canadian politicians refused to speak out: fear of political incorrectness.
The two most outspoken critics against the deification of convicted Sikh terrorists were Sikhs themselves. The reason Canada's non-Sikh leaders seemingly chose to pretend nothing was wrong was likely that they were afraid of being depicted as insensitive to another culture—or worse, falsely labeled a racist.
The safety of all Canadians demands better. It demands leaders with a backbone.
Political correctness is turning supposed leaders into lap dogs afraid of the remotest possibility of offending people of a different religion or culture. Extreme political correctness is taking over Canada, as well as America, and this does not bode well for effective, just governance. For more analysis on the danger of political correctness, read "How Political Correctness Protects the Bad Guys."