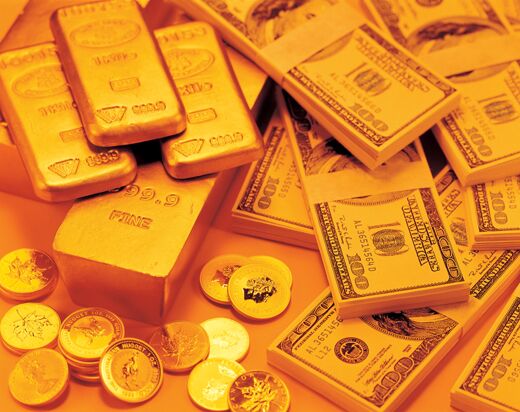 Storm-Proof Your Financial House
Timeless financial advice
Yesterday we outlined several steps to take to prepare financially for the difficult times ahead. Putting in effort, gaining advice, reducing debt and increasing savings are critical. Here are further principles that will help you be protected in the coming bad economic times—including the most important principle of all.
Diversify Your Investments
Many economic analysts say diversification—not putting all your eggs in one basket—is critical in protecting your wealth and ensuring financial security. Ecclesiastes 11:1-2 say, "Cast thy bread upon the waters: for thou shalt find it after many days. Give a portion to seven, and also to eight; for thou knowest not what evil shall be upon the earth." If you want to purchase stocks, bonds, commodities or other investments, fine. Just understand the risk and refrain from investing if you can't afford to lose a great portion of it. Spreading the risk among different asset classes can help lower your investment risk.
No Get-Rich-Quick Schemes
When an investment sounds too good to be true, stop—it probably is. The very essence of a get-rich-quick scheme is most often speed and greed. The promoter urges the potential buyer to act quickly before the opportunity is missed and some other investor snaps up the deal and reaps huge financial rewards.
Don't be fooled. Make the time to fully examine whatever you are investing in (Proverbs 14:15; 22:3). Don't leap without looking; "everyone who is hasty comes surely to poverty" (Proverbs 21:5; New American Standard). Money does not come easily, so don't be tricked into carelessly throwing it away. Read Psalm 37:7.
Also, make sure to keep your integrity and honesty; follow the law and stay away from unethical businesses and practices (Proverbs 22:16; 28:6; Romans 13:1, 7). "A faithful man shall abound with blessings: but he that maketh haste to be rich shall not be innocent. … He that hasteth to be rich hath an evil eye, and considereth not that poverty shall come upon him" (Proverbs 28:20, 22). Faithfully stick to the plan of reducing debt and increasing savings little by little until you have enough to meet your needs, emergencies and even some of your wants. Don't waste hard-earned dollars on gambling, lotteries or schemes.
Also, make sure you finish the course. Oftentimes people quit when just a few more steps would reveal rays of light on the horizon (Proverbs 24:10). Does saving money or reducing debt seem overwhelming? Do not give up. Hebrews 12:1 tells us run our spiritual race with patience, but smartly, casting off those things that impede our progress. The same principle applies in our financial "race." Seek God's guidance. See your employer. See your creditor. Talk your situation over with them. Don't just sit at home and say, "It's no use!" Don't procrastinate. Keep thinking. Keep planning. Keep working.
And start giving.
Give Generously
Believe it or not, giving creates a cycle where financial benefits and other blessings return to you. While giving may seem illogical as a wealth-gaining process and you may feel you have nothing to give, God promises that when you go ahead and sacrifice and serve someone else's needs in whatever way you can, you will be rewarded (Luke 6:38). Therefore, give generously to others as your means allow. As your hard work and financial planning provides increase, share that blessing with the less fortunate (Acts 20:35; Psalm 41:1).
Consider that there may be a time when you will need help from others (2 Corinthians 8:14). Selfishly hoarding all that you gain can actually lead to poverty and curses (Proverbs 11:24-26; 21:25-26).
Most importantly, give generously back to God. He created all things, and He claims the earth and its fullness as His, including all silver and gold (1 Corinthians 10:26; Exodus 19:5; Deuteronomy 10:14; Haggai 2:8). God can make us poor or rich (1 Samuel 2:7). By giving mankind dominion over and allowing us to use His creation, God has in effect made every man and woman His business partner (Psalm 8:6; Matthew 25:14-30). Keep God as your partner by tithing on your increase (Leviticus 27:30).
When you give God His portion—one tenth—of your income, He shares in your profits and then reinvests even more in you and your ventures. God loves, blesses and promises to supply the needs of a cheerful giver (2 Corinthians 9:7-9). As tithe payers and the wealthiest men of their ages, Abraham, Job, King David and Solomon all found out that you cannot outgive God (Job 1:1-3; Hebrews 7:1-2).
Tithing to the organization through whom God is performing His work is mandatory for anyone who wants to prosper in all areas. Christ confirmed that tithing is a command in Matthew 23:23. (For more information on how to tithe, request a copy of our reprint article "Ending Your Financial Worries."). If your stockbroker disobeyed your command, you'd fire him. Likewise, don't disobey God's instructions on tithing, or God may decide you should no longer manage His wealth. If you follow God's directions, increase what you have been given, and use that increase to serve Him and others, He will take care of you and bless you with more. Study Malachi 3:8-10. Verse 10 reads, "Bring ye all the tithes into the storehouse, that there may be meat in mine house, and prove me now herewith, saith the Lord of hosts, if I will not open you the windows of heaven, and pour you out a blessing, that there shall not be room enough to receive it." This verse promises what many people discover upon paying tithes—that even if you feel you can't afford it, God makes certain you can, when you just step out and obey Him.
God wants us to be prosperous both physically and spiritually. Jesus, the Son of God, said that one of the main purposes for His being sent to Earth was that we "might have life" and that we "might have it more abundantly" (John 10:10). The Apostle John concurred: "Beloved, I wish above all things that thou mayest prosper and be in health …" (3 John 2).
Put the Spiritual First
Even though God provides laws for prosperity, that does not mean He intends for you to be filthy rich. For "[t]here is [he] that maketh himself rich, yet hath nothing …" (Proverbs 13:7). God's laws on proper financial preparation and management are just one set of laws in a way of life intended to make us happy. Obedience to all His laws is what brings true blessings and prosperity (Deuteronomy 30:16).
Jesus explained, "[S]eek ye first the kingdom of God, and his righteousness; and all these things shall be added unto you" (Matthew 6:33). This principle, if applied, is an absolute guarantee against starvation and perpetual poverty. Knowledge of this principle is often the only reason that poor people are able to keep their heads up in the face of adversity. Ignorance of this one principle is the very reason that many wealthy individuals, in the unexpected moment of adversity, consider or commit suicide.
If greed, lust of money, or having riches causes us to neglect our relationship with God or to break His laws, God will remove His blessings (Proverbs 1:19; 28:20). It is far better to be physically poor than spiritually poor (Ecclesiastes 4:13). "For what shall it profit a man, if he shall gain the whole world, and lose his own soul?" (Mark 8:36). Put the focus on storing up spiritual treasure, not physical wealth. If you do so, then as Matthew 6:33 says, all else, including financial security, will be added unto you.
Act now to storm-proof your financial house. Look first to God, who provides and protects (Isaiah 41:17), and build upon God's rock-solid principles of financial—and, far more importantly, spiritual—success. Then, as Christ said in Luke 6:48-49, when the storm comes and the waves beat against it, while houses built on sand get washed away, yours will remain intact.