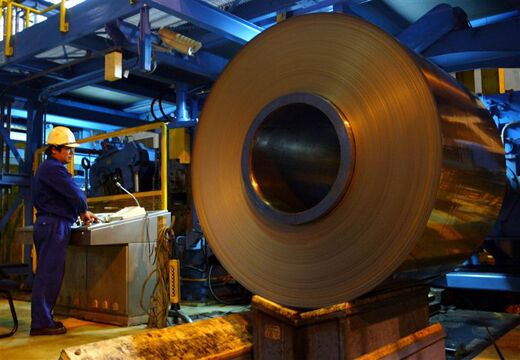 Defeated WW2 German Industrial Giants Back on Top
Some of Germany's most successful businesses have a history of arming Germany with the tools of war, and they rebounded remarkably from their last defeat.
In 1996, the U.S. government declassified a top-secret World War ii document that exposed agreements made between several of Germany's largest industrial giants and top German officials at a meeting just nine months before the war's end in Europe.
According to the document, on Aug. 10, 1944, principle German corporate leaders representing Krupp, Volkswagenwerk, Messerschmitt, Rheinmetall, Röchling, Büssing and others met with top German military and political personnel from the SS, Navy, and the ministries of armaments to prepare for a "postwar commercial campaign" after the eventual German loss.
German industrialists must, the document said, "through their exports increase the strength of Germany." They were instructed to place existing financial reserves at the disposal of the Nazi Party "so that a strong German Empire can be created after the defeat."
This document highlighted the exact worry the Allied powers tried to address by seeking to destroy Germany's future war-making capability.
Have Germany's World War ii corporate industrialists followed through with their directive? Germany has become the world's largest exporting nation, and German corporations are again economically powerful—but has a corporate Germany actually conducted a "postwar commercial campaign" to increase its influence over Europe?
A look at the astounding post-World War ii success of the above-mentioned six companies identified in the declassified document not only suggests a postwar German commercial campaign, but a highly effective one.
Take steel and weapons manufacturer Krupp (now ThyssenKrupp). When Germany lost World War ii, the company was forbidden by the Allies to manufacture arms (as it was after World War i) and Alfried Krupp, the company's owner, was convicted of war crimes including the use of mass slave labor. He was sentenced to 12 years in prison and ordered to forfeit all his property. Later, however, the U.S. high commissioner for Germany granted him amnesty and restored much of his holdings. Alfried Krupp was released in the early part of 1951, and even though many of the Krupp factories, shipyards and steel and coal mines had been damaged, destroyed or dismantled, Krupp was still able to reestablish itself as a leading German company by the 1960s, to continue its 100-year tradition of supplying Germany with the arms needed for war.
The speed at which ThyssenKrupp reestablished itself as a corporate giant is astonishing.
Today, ThyssenKrupp is one of the largest steel and technology groups in the world, employing about 184,000 workers in more than 70 countries. It is also a leading naval military supplier, building some of the most technologically advanced submarines, frigates and corvettes available. Its fiscal 2004/2005 sales of approximately €42 billion (us$53.3 billion) were generated in bulk from its roughly 600 foreign subsidiary companies, located in the UK, France, Italy and 13 other European countries. ThyssenKrupp also has operations in the U.S. and Asia. Not bad for a company that was all but destroyed in two world wars.
Volkswagen, another German corporation documented for its collusion with the World War ii Nazis, has become a very powerful and dominant automotive player on the world scene. Although its core market is the European Union, Volkswagen sales make it the world's fifth-largest automotive company by revenue. Volkswagen owns the Bentley brand, international vehicle manufacturer Audi, Seat and Skoda, which manufacture and sell cars in Spain and in southern and eastern Europe, and Lamborghini, which makes sports cars in Italy.
Messerschmitt, Germany's famous World War ii manufacturer that built much of the fighting aircraft behind Germany's Luftwaffe, is also active and prospering today, although under a different name.
Like Krupp, much of Messerschmitt's infrastructure was destroyed in the war. Further, Messerschmitt was even forbidden to produce aircraft. Yet it too has risen from World War ii to become part of a world-leading corporation. Messerschmitt was eventually allowed to build aircraft again, and in 1989, after several post-war mergers, Messerschmitt became part of Daimler-Benz Aerospace (another German industrial giant). Daimler-Benz Aerospace then later helped found the European Aeronautic Defense and Space Company (eads), becoming a 30-percent owner.
eads today is a global aerospace and defense technology leader. The group includes the aircraft manufacturer Airbus, and the world's largest helicopter supplier, Eurocopter. It is also a major shareholder in mbda, the international leader in missile systems. eads produces the Eurofighter and other military aircraft. Galileo, the European satellite navigation system being constructed to rival the U.S.'s gps, is also being built in large part by eads. The company employs 113,000 people at more than 70 production sites, primarily in France, Germany, Great Britain and Spain.
Both Rheinmetall and Röchling, two of the other companies indicated by the World War ii intelligence document, have also become very successful corporations.
Rheinmetall has been at the forefront of German military manufacturing for over 100 years, so it isn't too surprising that it again became a weapons builder after the World War ii loss. In fact, despite the Allies' initial ban on arms production, Rheinmetall was back mass producing machine guns by 1956. By 1972, Rheinmetall had developed and begun selling the Leopard 2 battle tank.
Not much later, and after a series of corporate acquisitions, Rheinmetall became Europe's leading military supplier of systems and equipment for ground forces, providing everything from artillery and munitions to communications, surveillance technology and guided missile systems. Rheinmetall subsidiaries, which also include significant automotive component manufacturers, are located throughout Europe, the Americas and China.
Röchling, founded 184 years ago as a coal trading house, has now become a leader in high-performance plastics technologies. In 2004, the Röchling Group's worldwide operations generated revenue of approximately €1.4 billion (us$1.78 billion) and employed 8,000 workers.
Vehicle manufacturer Büssing also became a successful post-World War ii company, although in 1979 it was purchased by the man Group, another German industrial manufacturer, whose history can be traced back 250 years.
The man Group is now one of Europe's leading manufacturers of commercial vehicles, engines and mechanical engineering equipment. man builds trucks, buses, diesel engines and turbomachinery; it also provides industrial services. According to man's website, the corporation holds "leading market positions in all its business areas," employing 50,000 people worldwide. Interestingly, this September man made a $12.3-billion offer for Sweden's Scania, Europe's fourth-largest truck maker, though the initial bid was rejected. If man does eventually succeed, however, it would become the leading truck-building industry in Europe.
While Germany was but a pile of rubble after World War ii, one man—Herbert W. Armstrong—warned that Germany would eventually rise again to dominate Europe and threaten the world.
As early as 1945, broadcasting immediately after a United Nations meeting, Mr. Armstrong warned that German industry was working toward the revival of a German empire. "We don't understand German thoroughness," he said. "From the very start of World War ii, they have considered the possibility of losing this second round, as they did the first—and they have carefully, methodically planned, in such eventuality, the third round—World War iii!"
"What most do not know," said Mr. Armstrong, "is that the Germans have their plans for winning the battle of the peace. Yes, I said battle of the peace."
Peaceably, through corporate mergers and acquisitions, German corporations are reaching out beyond the borders of Germany to gain control of strategic industry. Even Germany's most notorious World War ii companies, which were severely disassembled and banned from future arms production by the Allies, have emerged as European and global leaders.
As German companies increasingly seek to dominate Europe's gas and power distribution, finance, manufacturing and defense industries, Europe will find itself under increasing pressure to submit to German leadership.
Former British Prime Minister Margaret Thatcher warned, speaking of the EU in a speech given in America in October 1995, "You have not anchored Germany to Europe; You have anchored Europe to a newly dominant, unified Germany. In the end, my friends, you'll find it will not work."