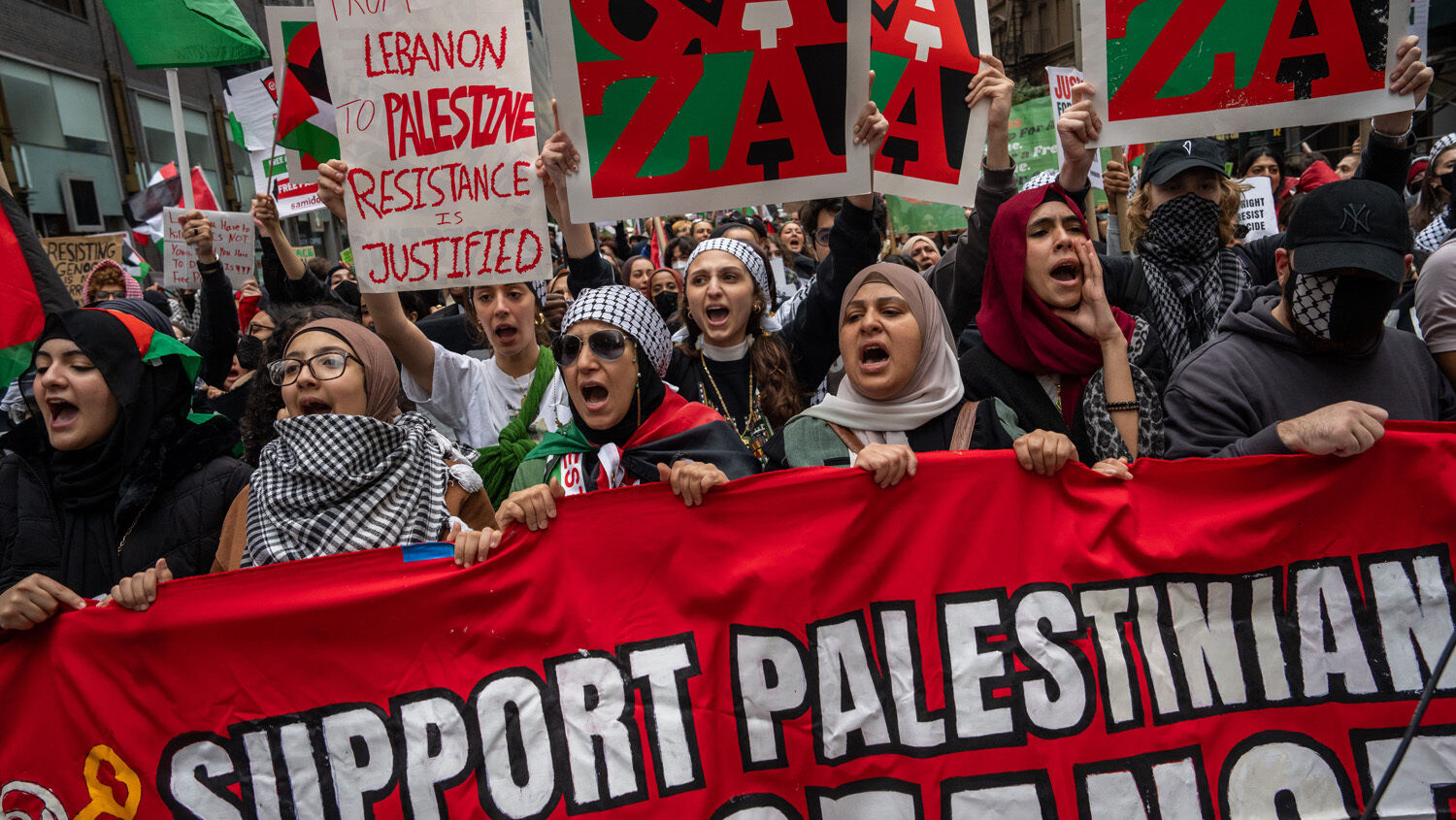 Protesters Around the World Support Hamas Attack
Across the West's biggest cities, people are celebrating Hamas's recent attack on Israel. Over the past four days, as Israelis were gunned down, beheaded, raped and taken hostage, pro-Palestinian supporters marched through the streets of major cities across the globe. They chanted sentiments such as "Free Palestine" and "Gas the Jews."
New York: On Sunday, more than 1,000 pro-Palestinian protesters rallied in Times Square, chanting, "From the river to the sea, Palestine will be free."
They marched across Manhattan toward New York's Israeli Consulate where several hundred Israelis and American Jews had gathered to mourn the loss of victims and pay their respects to Israel.
Tensions rose as pro-Palestinian demonstrators confronted pro-Israel supporters along the street. Police officers had to separate the two groups by setting up metal barricades and blockades.
The pro-Palestinian protesters continued to shout such things as "Resistance is justified," and "700," the number of confirmed Israeli fatalities at the time. They stomped on the Israeli flag and made mock crying gestures and throat-slitting gestures toward the Israeli crowd.
The pro-Israeli protesters shouted back, "Shame on you," and "Bring them home," referring to the dozens of hostages Hamas has taken.
Across America: Similar protests have occurred in many of America's other major cities such as Atlanta, Chicago, San Diego, San Francisco, Denver and even outside the White House in Washington, D.C.
Many of these protesters are calling for the end of United States aid to Israel.
The U.S. is not the only nation where pro-Palestinian protests have occurred, however.
London: Thousands of pro-Palestinian protesters gathered in the streets of London on Monday, lighting flares and fireworks as they chanted, "Free Palestine" and, "Israel is a terrorist state."
https://twitter.com/orjacin/status/1711767853186072712
Berlin: Pro-Palestinian demonstrations have also taken place throughout Germany, including in the nation's capital, Berlin. German police have broken up multiple protests for being an "immediate threat to public safety." Many individuals were arrested during the demonstrations for using anti-Semitic slogans and "glorifying violence."
Future pro-Palestinian rallies have been banned in Germany. On October 12, German Chancellor Olaf Scholz announced a ban on the pro-Palestinian organization Samidoun, the group responsible for organizing the protests.
Despite the ban, demonstrations continue.
Canada: Demonstrators have also taken to the streets in Canada's major cities, including Toronto, Edmonton, Calgary, Vancouver, Winnipeg and Halifax.
Sydney: A major demonstration in support of Palestine also took place in Sydney, Australia. Outside of the Sydney Opera House, as it was lit with the colors of the Israeli flag, protesters threw flares at police, burned the Israeli flag, and yelled, "Gas the Jews" and other anti-Semitic insults.
When a man showed up to the protest with an Israeli flag, police arrested him.
Across the globe: Other demonstrations have occurred in France, Italy, Spain, Austria, Pakistan and Brazil.
Anti-Semitism rising: The pro-Palestinian protests occurring around the world have a sinister motive. Demonstrators claim they are standing up for Palestinian rights and freedoms, but their protests are inspired by an underlying hatred for the Jews.
To understand why anti-Semitism is rising and what is inspiring it, read "The One Minority Society Loves to Hate."