Why Niger Is a Catastrophe for Europe
A coup in this strategic African country has global implications.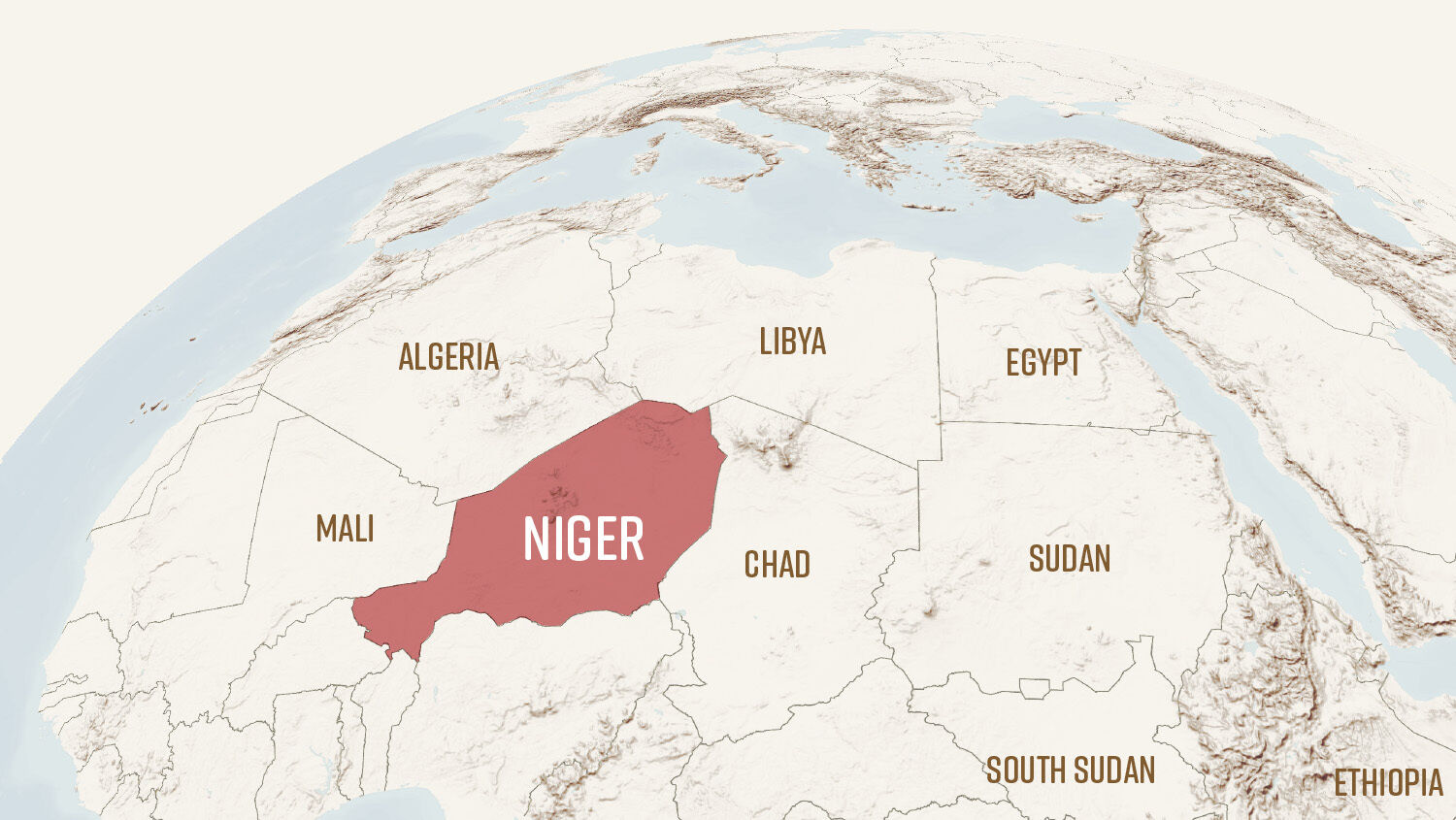 Why Niger Is a Catastrophe for Europe
A coup in this strategic African country has global implications.
A storm is brewing in North Africa. Pressure is building to push this 3,700-mile storm front toward the north. When it hits, it will shake Europe to its core.
The storm is currently confined to the Sahel region. Sahel means "shore." If you consider the inhospitable, impassable sands of the Sahara Desert that stretch across 3.6 million square miles of northern Africa to be like an ocean, then the Sahel is its southern coast. And almost every country that touches it is in crisis.
The Sahel meets the Red Sea in Eritrea, which is controlled by a dictatorship so brutal that some people have called it "Africa's North Korea." Next door, civil war between rival army factions in Sudan has been raging since April, forcing an estimated 4 million people to flee their homes and 6 million to the brink of famine.
Chad, located in the center of the continent, has a transitional leader, the son of President Idriss Déby Itno, who died fighting a rebel group in 2021. Elections have been postponed until October 2024. South of Chad, the Central African Republic has suffered some form of civil war for two decades now.
Further west, Mali has endured two coup attempts in three years, with the last one in May 2021. The government now clinging to power is fighting terrorist groups who have pledged allegiance to the Islamic State or al Qaeda. In this impoverished region, one of the quickest ways terrorists raise cash is by stealing cattle.
To the south, Burkina Faso is also suffering coups and terrorism. Two coups occurred just last year, and armed Islamist groups control about 40 percent of the country. Further south, countries from Cameroon to the Ivory Coast are struggling to deal with terrorist spillover. The Sahel has overtaken Afghanistan as the world's most dangerous breeding ground for terrorist groups.
Due in large part to this cross-continent chaos, this region is also a front for Europe's battle against migration. People want out, and millions are finding ways to cross both the Sahara and the Mediterranean Sea to get into Europe. In an effort to stem this unwanted flow of humanity, the European Union is paying several of these regimes, no matter how tyrannical, to keep people south of the Sahara.
North Africa is a front in the war over energy sources. As Europe cuts back on Russian gas, it needs an alternative. North Africa is the easiest place to get it, but Russia is motivated to complicate matters.
And in the middle of all this is Niger: the last ally of the West in the Sahel. Niger is Germany's, France's and America's last best hope of getting the mess under control. Or at least, it was.
'A Model of Democracy'
Since 2012, the United States has spent half a billion dollars training and arming Niger's armed forces. About 1,000 American troops are stationed there, but are preparing in case they need to evacuate. About $100 million was spent on a base for drone patrols across the Sahel and the Sahara. U.S. Secretary of State Antony Blinken visited Niger earlier this year, calling it "a model of resilience, a model of democracy, a model of cooperation" and promising another $150 million in aid.
France, Niger's former colonial ruler, has also seen this nation as its best shot at protecting its interests in the Sahel. But now it is withdrawing its 1,500 troops. Niger is also a key source of uranium.
Initially Germany put its eggs in the basket of Mali. In 2015, Lt. Col. André Wüstner, chairman of the German Federal Armed Forces Association, said that an Islamic "ring of fire" extends "from Afghanistan via Yemen, Syria and Iraq to Africa." Germany set up a military presence in spots around this ring to confront it. Mali quickly became Germany's most important African base. Germany led EU military and police training missions there and contributed heavily to a United Nations peacekeeping mission. With about 1,100 soldiers in the area, Mali remains Germany's largest overseas military mission.
Then, in 2021, a coup hit. The Germans had invested too much to leave immediately, but they have been moving on gradually and wanting to shift those resources to Niger. "The focus of our future military engagement in the Sahel will be in Niger," announced German Defense Minister Boris Pistorius ahead of his trip there in April.
That plan is now toast. In July, Niger President Mohammed Bazoum was detained by his own guards. Their leader, Gen. Abdourahamane Tchiani, has proclaimed himself the head of Niger's military committee and therefore its government. Germany immediately suspended aid to and cooperation with the country. With its forces due out of Mali by May 2024, Germany now needs a plan C.
The West has friends to Mali's south. The Economic Community of West African States has threatened war if Bazoum is not reinstated. Thus far, only sanctions are being seriously discussed. But the risk of war is still real.
Those southern allies can help, but they can't stop the Sahel's chaos from drifting north. And one more wannabe superpower is quickly grabbing up the region.
A New Russian Empire—in Africa?
The coup in Niger was only the second-most important attempted government overthrow of the summer. A month earlier, the Russian mercenary Wagner Group and its leader, Yevgeny Prigozhin, launched a brief coup in Russia against President Vladimir Putin.
The two coups appear to be connected. The Wagner Group was widely rumored to have helped depose Bazoum and install Tchiani in Niger. "Telegram accounts linked to Wagner … were openly saying 'Niger is our next target,'" said Joseph Siegele of the Africa Center for Security Studies in Washington. The supporters of the overthrow believed they had Russia's backing: They proudly waved the Russian flag in celebration and chanted, "Down with France" and "Long live Putin!"
While the overthrow was underway in Niger, Putin was hosting African leaders in St. Petersburg. Intriguingly, that was when Prigozhin reappeared. His first photographs since his failed coup were taken alongside African leaders. He praised the Niger junta's "struggle" against their "colonizers" and said his troops stood ready to defend them. One of the first tasks of Niger's new deputy leader was to travel to Mali, where Wagner has set up shop, to request the "rapid deployment of Wagner forces to [Niger]."
Weeks later, Moscow announced an even broader victory. Putin wants to bring North Africa into his new version of the Soviet Union. His Eurasian Economic Union includes Russia, Armenia, Belarus, Kazakhstan and Kyrgyzstan. Al-Monitor claims that at a cabinet meeting in August, Putin announced that Algeria, Egypt, Morocco and Tunisia are working to join a trade agreement that will become part of his union.
Perhaps the prospect of a new Russian Empire in North Africa is why Putin let Prigozhin live for two months after his Russian coup. He wanted to ensure Wagner's activities in Africa would outlast his former chief. Then, on August 23, Prigozhin was killed in a plane crash near Moscow, along with nine other people, in a clear act of deadly sabotage.
But why is this territory in Africa so important to Russia? The answer centers on Russia's needs as an energy producer.
Sen. John McCain once quipped that Russia is "a gas station masquerading as a country." Much of Russia's power comes from its control over Europe's energy supplies.
Throughout Russia's invasion of Ukraine, the Trumpet has pointed to the Germans' tepid support for Ukraine as evidence that they have done a deal with Russia (see "Germany's Secret Deal With Russia—Exposed," at theTrumpet​.com/25675). Russia knows that this deal and its relationship with Germany depends, in part, on German dependence on Russian energy. Already Germany and much of Europe have switched to more expensive alternatives. But Russia still holds out the carrot of cheap energy. If Europe builds up North Africa as an alternative source of cheap gas, that carrot looks far less tasty.
One of the most ambitious long-term Europe-North Africa energy projects is the $13 billion, 2,500-mile Trans-Saharan gas pipeline, which would take gas from Nigeria to a hub in Algeria, from which it would be distributed to Italy and Spain. The route goes straight through Niger.
If it can dominate Niger, Russia can better keep Europe over a barrel—or over a gas cylinder.
Forced to Fight
"Northern Africa is turning into a battleground with enormously important prophetic implications," wrote Trumpet editor in chief Gerald Flurry in the April 2013 Trumpet.
Events since then keep jerking Europeans' attention back to this region. But the intensification of these events is proving that even greater resources are required.
France, as the former colonial ruler, has taken the lead. The currency of 14 Central African and West African nations is the cfa franc. But many of the coups have been driven by anti-France feeling.
France's Africa policy is now blowing up in its face. Europe needs a new strategy and a new commitment. If it fails, the storm system of migration, terrorist attacks, and Russian energy dependence will only gather strength.
Watch for Europe to step up its efforts in this often-overlooked battleground. Watch for Italy and Germany to possibly replace France in taking the initiative.
Daniel 11 describes a clash between a European "king of the north" and a radical Islamist "king of the south." Included in this clash are Libya, Ethiopia and Egypt (verse 43).
The king of the north is prophesied to employ a whirlwind strategy to "overflow and pass over" and "overthrow." Revelation 18 describes the resulting empire, decadently enriched with goods from around the world—including ivory, which is found only in Africa and India. (For more information, read "The Whirlwind Prophecy," by Gerald Flurry at theTrumpet.com/10678.)
This European power will gorge itself on the wealth it can grab from Africa. But it must fight for it first. And this fight is building today.
"Monitor these events closely and see if what we're telling you doesn't come to pass," Mr. Flurry wrote. "So many prophecies already have. Never in mankind's history has so much prophecy been fulfilled so rapidly! Events are racing along" (ibid). The clash prophesied in Daniel 11 is building. Europe is already being forced into the fight in this region.
This coming clash is a key milestone in the events prophesied in your Bible—and it is nearly here.
The Prophet Daniel wrote about a future confrontation between the king of the north and the king of the south. We are now in the time when these two major powers are quickly rising! The king of the south is stirring up trouble even today. It is critical that you know the identity of this prophesied power!