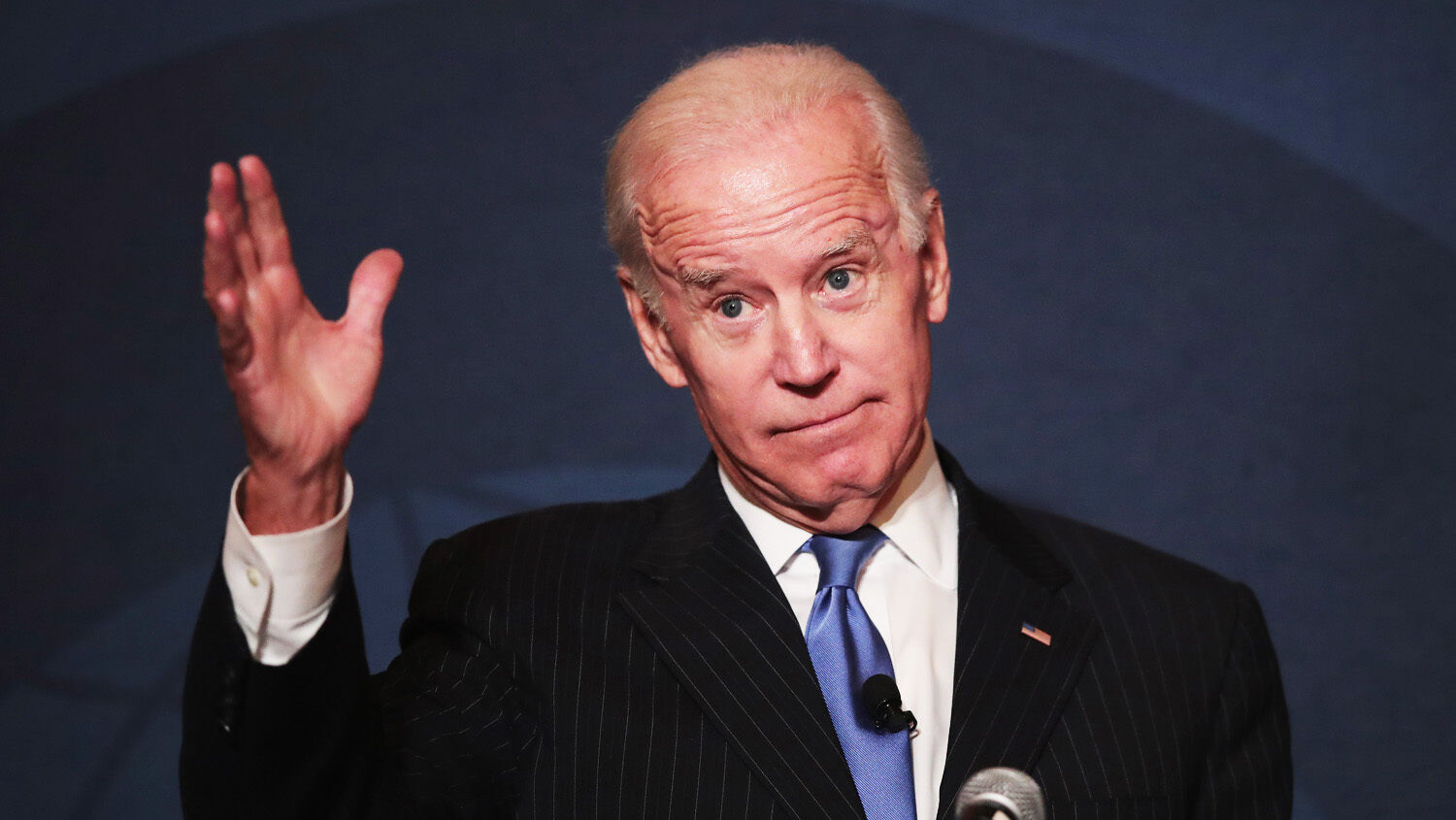 Biden Was Bribed—But Trump!
The urgent news regarding the presidency, foreign powers and national security is that the man in the White House is compromised. So why have you been hearing so much about the man in Mar-a-Lago?
The presidency is important; national security is important. And the most important story about the presidency and national security today is not the one getting the most headlines.
News executives are downplaying this story as much as they can—even though it involves the alleged payment of millions of dollars for vice presidential/presidential policy decisions, the existence of recorded telephone calls, credible information possessed by the Federal Bureau of Investigation, the fbi fighting Congress to hide that evidence, an investigation by the House Oversight Committee, members of Congress finally seeing the evidence at a secure facility, and representatives and senators speaking about that evidence outside the secure facility, on stage, on the Senate floor all over social media and beyond to warn the nation that Joe Biden has been bribed.
But what is the main story about the presidency you've been hearing about today? Donald Trump has been indicted!
Leak by leak, blow by blow, minute by minute, you have been getting coverage of the second indictment of Donald J. Trump. He was charged on June 8, the indictment was unsealed the next day, and he was arraigned in Florida this afternoon. Of course this is big news. What exactly has he been charged with? How serious is it? What is the evidence? Is he guilty? What should be the penalty? What is the purpose? And what does it mean for the future?
But everyone who is curious, concerned and principled about every detail of the Trump evidence has to be stunned at the Biden evidence!
After months of struggling and nearly having its director cited for contempt of Congress, the fbi finally caved in to the House Oversight Committee and allowed representatives to view the document in question. They have said that it constitutes evidence of Joe Biden himself accepting a $5 million bribe from Burisma, the same Ukrainian energy company that hired his son, Hunter Biden, onto its board of directors and paid him $50,000 per month. Hunter Biden also received $5 million, according to the source, who has been a well-paid and trusted confidential informant of the fbi for years.
E-mails have also emerged showing Hunter Biden thanking a Burisma executive for "beautiful" birthday gifts that he called "far too extravagant" (yet apparently kept). The e-mails date to a time that Burisma was under investigation for corruption by a Ukrainian government prosecutor. Less than two months later, at the now-infamous behest of then-Vice President Joe Biden, that prosecutor was fired. Burisma, Hunter Biden and Joe Biden were saved from further scrutiny.
The source of the $5 million bribe information is a top executive from the energy company itself, and United States Sen. Chuck Grassley stated publicly in a speech on the Senate floor yesterday that this informant possesses two recorded conversations with Joe Biden and 15 with Hunter Biden.
This might be the greatest corruption scandal in presidential history!
But one reason you haven't heard even more about this is because on the same day that fbi Director Christopher Wray reluctantly allowed representatives to read the fbi's FD-1023 document containing the allegation, the indictment against Donald Trump was issued. What a coincidence! It's almost as if whoever is really controlling the government—and it's not Joe Biden—timed it perfectly to distract from the greatest evidence of presidential corruption in presidential history.
The indictment was the work of Jack Smith, special counsel for the Department of Justice and a staunch Barack Obama supporter. His wife donated to the presidential campaigns of both Obama and Biden. Now he has made 37 felony charges against Trump for his handling of classified documents. Meanwhile, the Department of Justice is blatantly ignoring the troves of classified documents that both Obama and Biden himself have had in their possession. Both Smith and Attorney General Merrick Garland are working for the Joe Biden administration to rig the 2024 U.S. presidential election by indicting Trump for as many felonies as possible while covering up Biden's crimes.
Smith's indictment contorts itself to avoid mentioning the most relevant law, the Presidential Records Act, and the principle upheld by the Supreme Court that the president's power over classified documents comes from the Constitution itself. The indictment has been lauded by pundits in the propaganda media who are also contorting themselves to avoid not only Joe Biden's bribery allegations but his own classified documents scandal. Andrew McCabe, who was literally an Obama fbi official who helped persecute Donald Trump is now actually a cnn employee who appeared on television to focus people on the Trump indictment and minimize the relevance of Hillary Clinton's personal possession of classified information.
Trump handled documents likely in the same way that most former White House occupants do, although his lawyers claimed that the National Archives and Records Administration (nara) "declined to provide archival assistance to President Trump's transition team. [H]ad nara offered President Trump the same assistance it had provided to all previous presidents, he would have accepted the offer and there would have been no reason to transfer the documents to Mar-a-Lago."
Of course, there is a chance Trump committed some kind of misdemeanor. Many legal experts agree that the U.S. classifies too many documents in the first place, so it is hard to keep track of what you are allowed to take home with you. But there is no real evidence that Trump actually violated the intent of the Espionage Act of 1917 by selling American secrets to foreign nationals. Can you say that of Joe Biden's holding of classified documents at the Chinese-funded Penn Biden Center at the University of Pennsylvania, or a location in Washington, D.C.'s, Chinatown or at his garage in Delaware? Can you say that Joe Biden isn't compromised by selling policy decisions on Ukraine for $5 million and who knows what else?
Here is a little more background on what Biden—and the real power, then and now, Barack Obama—appear to be guilty of. Not long before Obama allowed Russian President Vladimir Putin to annex the Crimean Peninsula from Ukraine in 2014, U.S.-backed protests forced Ukraine's pro-Russia president to flee the country. With Viktor Yanukovych in exile, the co-owner of Burisma Holdings, Mykola Zlochevsky, reached out to the Biden family for protection by offering Hunter a position on the board of his company. Hunter worked on a number of shady projects for corrupt Ukrainian oligarchs, including digging up dirt on Trump's campaign manager Paul Manafort. So, the Ukrainian government began investigating Burisma and Hunter.
Then Joe Biden threatened to withhold $1 billion in U.S. loan guarantees unless that specific prosecutor was fired. This is what corrupt collusion with a foreign government looks like.
After Trump was elected president, he tried to convince Ukrainian President Volodymyr Zelenskyy to investigate Hunter Biden's corrupt business ties and the Obama administration's illegal surveillance of his campaign. Yet Democrats falsely accused Trump of threatening to do what Biden actually publicly admitted to doing: saying he would halt U.S. aid to Ukraine unless the Ukrainian government complied with his demands. The Democrats then impeached Trump for trying to investigate Hunter, a threat against Republicans who want to investigate the Biden crime family. So, the second Trump indictment is not that different from the first Trump impeachment. Barack Obama masterminded both operations to distract from what his administration was doing in Ukraine.
Now that Republicans control Congress, they are finally starting to investigate the Biden crime family. Apparently the only response from Biden himself so far has been to quip: "Where's the money? I'm joking. It's a bunch of malarkey."
It's as if Biden is daring journalists to find the money his family has laundered. Yet he probably has a right to be confident. Uncovered banking records published by the House Oversight Committee on March 16 show that nine Bidens laundered millions of dollars through at least 20 shell companies. So, tracking down the exact location of the money will take investigators considerable time and effort, especially when so many Justice Department agents are busy looking for any crime to derail the candidacy of Donald J. Trump and are mysteriously uninterested in more egregious crimes involving Joe Biden.
A few people understand what protecting Biden is really about: It's about protecting Barack Obama.
Former Secret Service agent Dan Bongino pointed out in a June 7 podcast that the "deep state" is protecting Obama. Bidens were operating shell companies and selling American policy for cash and "far too extravagant" gifts, but Obama knew all about it. Obama would probably like to replace Biden with another Democrat that he controls. We have seen signs of that. But now it appears that he cannot let Joe Biden crumble under his own corruption just yet. He must take some steps to cover up at least his part in Biden's crimes. Right now he needs to keep people focused on destroying Donald Trump.
That is his only chance at ensuring that another Democrat ends up in the White House in 2024.
Rep. Nancy Mace told Newsmax the day after the indictment that she felt the felony charges were released just as the House Oversight Committee got its hands on documents concerning the Biden bribery scandal so the corporate media could focus on Trump "corruption" instead of Biden corruption. If true, that means for the first time in U.S. history the prosecutorial power of the federal government is being used against a former U.S. president running against a sitting U.S. president. In other words: The U.S. is now a republic in name only.
The prophetic picture in 2 Kings 14:26-28 is certainly playing out vividly in America today: "For the Lord saw the affliction of Israel, that it was very bitter: for there was not any shut up, nor any left, nor any helper for Israel. And the Lord said not that he would blot out the name of Israel from under heaven: but he saved them by the hand of Jeroboam the son of Joash. Now the rest of the acts of Jeroboam, and all that he did, and his might, how he warred, and how he recovered Damascus, and Hamath, which belonged to Judah, for Israel, are they not written in the book of the chronicles of the kings of Israel?"
America, which descended from ancient Israel, has no helper! Look around! Even sharp conservative legal minds like Bill Barr and Andrew McCarthy have turned against Trump in this new indictment fight.
"Satan certainly has a lot of help!" my father wrote in his January cover story for the Philadelphia Trumpet. "But 2 Kings 14 shows that there is no helper for Israel. … There's no helper there, except God! God sees everything that is happening. And these criminals are going to run up against someone they have never faced before. God is going to save Israel—otherwise Barack Obama would blot out the name of Israel!"
Despite the overwhelming power of the Democrat-mainstream Republican uniparty, the war to recover the stolen election is about to intensify. The fact that Trump is not backing down may indicate he has more power than people realize. We do not know precisely how this will unfold, but you can be sure that Trump won't go away until he has fought his way back and fulfilled the role God is using him for.