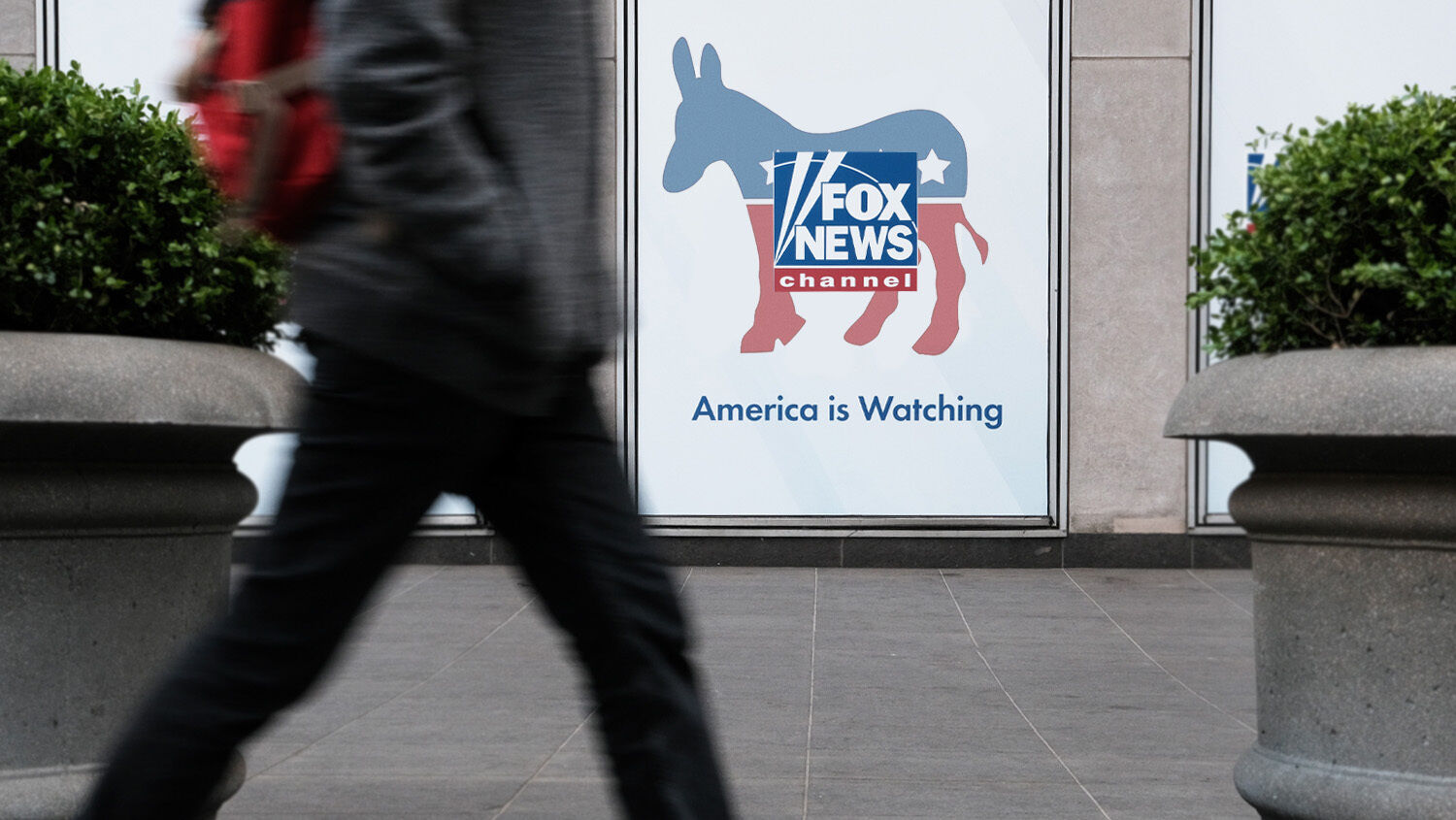 Fox News Surrenders to Leftist Lawfare
Nation-destroying election fraud is being buried because the 'deep state' controls the media.
If you have trusted in Fox News as your champion, this has been a disastrous week. Fox has refused to fight for the truth about the 2020 election abnormalities and instead paid hundreds of millions of dollars to what appears to be a democracy-destroying company, Dominion Voting Systems. A week later, it has fired its most popular and most outspoken commentator, Tucker Carlson.
Roughly 40 percent of Americans believe the 2020 election was at least rigged, if not stolen. They heard evidence of that in more than a dozen interviews that Fox News aired between Nov. 8, 2020, and Jan. 26, 2021, when prosecutor Sidney Powell, Donald Trump lawyer Rudy Giuliani, entrepreneur Mike Lindell and election examiner Phil Waldron alleged that electronic voting machines had subtracted votes from Donald Trump and added votes for Joe Biden.
Dominion Voting Systems is one of only three companies that controls 90 percent of the machines that voters use. It sued Fox News in March 2021 and its parent company, Fox Corp., in November 2021, demanding the enormous sum of $1.6 billion in defamation damages. That is more than 90 times Dominion's entire annual revenue.
Fox prepared to defend itself in court. Its filings stated, for one thing, "that figure has no connection to Dominion's financial value as a company." Dominion would have to prove to a jury that it should get that much money, but first it would have to prove that Fox decision-makers committed "actual malice," knowingly broadcasting comments that they knew were false. Both of these things have historically been very difficult to prove in court.
The case proceeded to discovery and depositions. Private messages and depositions emerged showing that some Fox News hosts questioned and doubted the evidence of the election steal that was being presented. And at the same time, Dominion's internal e-mails showed that executives there knew their machines were "riddled with bugs" and had been hacked before. Dominion was making some of the same points about Dominion that people like Giuliani, Lindell, Powell and Waldron had been making about Dominion.
This is in addition to the fact that voting machine problems had been well-known for years. In March 2020, liberal filmmaker Harri Hurst produced an Emmy-nominated documentary demonstrating that he could alter an election by modifying a few lines of code on a Dominion machine's removable memory card. In December 2019, senators Amy Klobuchar, Elizabeth Warren and Ron Wyden and Rep. Mark Pocan publicly warned not just that voting machines were problematic but that Dominion in particular was a "trouble-plagued" company whose machines were "prone to security problems." But after the election in 2020, these Democrats and others in politics and the media snapped to the narrative that these machines had helped produce an election that was the "most secure in American history" and that there was "no evidence that any voting system deleted or lost votes, changed votes, or was in any way compromised."
One after another after another, the opportunities to find out and report what happened in the 2020 election came and went. Then Fox had a golden opportunity to use this trial not only to prove that it was not liable for Dominion's well-deserved reputation, but also to bring more truth to light—which, if you believe their statements and advertisements, is what motivates them every day. It's the very purpose for existing as a news organization in the first place (unless you count making money).
One Fox spokesperson emphasized in March the importance of "the facts of this case" and said, "The foundational right to a free press is at stake. And we will continue to fiercely advocate for the First Amendment in protecting the role of news organizations to cover the news."
How exciting! Viewers, conservatives and Americans in general were eagerly looking for what more would come to light.
But nothing will. A jury had been empaneled, the legal fight was about to begin, more truth was about to come out, and "fierce" Fox very suddenly announced that it would pay Dominion Voting Systems hundreds of millions of dollars to avoid a trial. It also acknowledged the court ruling that "certain claims about Dominion" were false.
Dominion held a triumphant news conference and told reporters that Fox had admitted to telling lies and that they hoped the settlement would restore people's faith in America's elections. Fox released a weak statement saying it hoped the settlement would help the country "move forward from these issues."
This could mean one of two things.
The first possibility: The many irregularities that produced an official 2020 vote total of 81 million for Joe Biden were not only false but easily proven to be false without any further investigation. Therefore Fox needs to pay out and Americans need to "move forward from these issues."
The second possibility: Fox News has caved in.
The assault against conservatives in general and Fox News in particular has been ongoing and intensifying, with certain leftists using every political, governmental, legal, financial, cultural, technological weapon they can grasp—in addition to actual riots and violence—to fundamentally transform America.
Fox News started in 1996 when an Australian-born businessman saw a huge business opportunity. News organizations were turning further and further left, and hundreds of millions of Americans no longer had even one corporate news organization that spoke for conservatives or the average American. It was an opportunity to make billions, and the rest is history.
As Herbert W. Armstrong wrote decades ago, television was and is an industry devoted to entertainment for the purpose of selling commercials to advertisers.
Fox News made billions by attracting a huge conservative audience and providing them news they could not get on the leftist networks.
But now something is overpowering not only Fox's commitment to conservatism but even its desire to make money!
You saw it in Fox's early call of the 2020 election for Joe Biden in Arizona. You see it in hosts Dan Bongino and Lara Trump leaving Fox News this month. You see it in its enormous payout to Dominion Voting Systems. And now you are seeing it in Fox News suddenly announcing that it has canceled its most popular program: Tucker Carlson Tonight.
Tucker Carlson and his producer have "parted ways," and neither has publicly said exactly why. Carlson had said on Friday that he would see his viewers again on Monday, and yesterday, Fox News commercials were still promoting the upcoming episode of Tucker Carlson Tonight. Hours later, the news broke that Carlson was out.
People are stunned. Carlson has had a prime-time show at Fox for six years that dominated competing shows at cnn, msnbc and other networks. Tucker Carlson Tonight's first episode in 2016 had 3.7 million viewers; its mid-2020 shows averaged 4.3 million viewers, making them the most-watched cable news episodes in television history. In February 2022, he was reported to be the most-watched host, across all networks, even among Democrat viewers. He was the biggest name at Fox News, and as Mediaite reported, in recent months his audience was still big and getting bigger. Last month, in a nonelection year, he hit 3.3 million viewers. His airing of security footage from the January 6 Capitol unrest had 565,000 viewers in the key age demographic, more than cnn attracted in all of its programs that day, combined. The show in which he aired President Donald Trump's speech following his indictment hit 6.5 million viewers, and one week later, millions tuned in to Carlson's interview with Mr. Trump. Last week, he had a major interview with Elon Musk. His final show had 3.3 million viewers. Second place was 1.4 million (msnbc's Chris Hayes) and third was 1.2 million (cnn's Anderson Cooper).
He was the biggest name at Fox News, his ratings were on a hot streak, he was in the middle of major news developments. He is, as Gen. Michael Flynn called it, "one of the most important voices of our time." And Fox fired him. It was reportedly Fox Corp. chairman Rupert Murdoch who forced him out, supported by some other executives, and they apparently let him know 10 minutes before they told the world.
Over the weekend, Carlson had just given a keynote speech at the Heritage Foundation saying that with many of the major issues Americans are debating right now, it's not a Republican-Democrat debate or even a political debate, it's good versus evil.
Fox had kept its star for obvious reasons night after night, even when he spoke out like no one else would about covid-19 origins, lockdowns, vaccines, January 6, election fraud, government weaponization, Ukraine and more.
But something besides money (Fox News immediately lost an estimated $930 million in market value) is motivating people like Murdoch.
A lot of Americans have trusted Fox News and especially Tucker Carlson. Now who can they trust?
Especially since the 2020 presidential election, Fox News is being exposed for what it is. It's basically what they call "controlled opposition." Like many "Republicans in name only," this corporation will criticize the leftists and attract a lot of viewers (and advertiser dollars), but it will not fight for the truth when it gets difficult. As we are seeing, it will even give up billions of dollars rather than fight!
Now Smartmatic is suing Fox for $2.7 billion for letting Powell spotlight its ties to the extensively corrupt nation of Venezuela. There is a good chance Fox will pay them a sizable out-of-court settlement as well. Never mind that cnn also highlighted Smartmatic's ties to Venezuela back in 2006. It and the rest of the propaganda media stuck by its guns back then. But Fox is equivocating. Like Dominion, Smartmatic can make the case that such indecision is a sign of willful defamation.
Fox News allowed Powell, Giuliani, Waldron and Lindell on its network to talk about the election steal because it was losing viewers to alterative media outlets like Newsmax and One America News. But once the coup was complete and Biden took power, the regime media fell in line—and Fox went along with it, with the notable exception of Carlson.
Rupert Murdoch, the chairman of Fox Corp., is a Never Trump Republican. So is board member Paul Ryan. They don't want to expose the stolen election or disrupt the system in America, even though that system has now put the nation under a pretender to the throne, who is obviously being controlled by "he that shall not be named," Barack Obama!
Forcing out Carlson keeps Fox News as the only "deep state" approved conservative media outlet in America and placates the American oligarchs in Washington, Wall Street and Silicon Valley.
Fox has produced some good programing, but it is still controlled opposition. It is like a protest movement that the regime permits to operate, as long as it doesn't threaten anything important in the regime.
The fact that Fox fired its most popular television host, Tucker Carlson, just days after it agreed to settle with Dominion speaks to the fact that Murdoch will not be making bolder programing choices in the future. He is purging strong, conservative voices like Carlson and making his media conglomerate (Newscorp) much like the other five media conglomerates (at&t, cbs, Comcast, Disney and Viacom), which collectively control 90 percent of U.S. media.
MyPillow ceo Mike Lindell has been saying for two years now that if you don't get rid of the machines Democrats used to steal the 2020 election, you won't win another election. And he is undoubtedly right. Even radical Democrats used to agree with such statements before they got control of the machines themselves. But now it is just Donald Trump talking about the need to end election crimes by returning to same-day voting, voter identification and paper ballots.
Trump's chances of regaining office are really good if his party can find a way to ensure a free and fair election. This fact has both Democrats and establishment Republicans like Rupert Murdoch very concerned. Unfortunately, America may have to suffer through a protracted period of affliction before they are willing to examine issues like election fraud.
Donald Trump said something similar after last year's midterm election, when he announced his candidacy: "[T]he citizens of our country have not yet realized the full extent and gravity of the pain our nation is going through, and the total effect of the suffering is just starting to take hold. They don't quite feel it yet, but they will very soon. I have no doubt that by 2024 it will sadly be much worse and they will see much more clearly what happened and what is happening to our country …. Our country could not take four more years. It can only take so much."
The history recorded in 2 Kings 14:26-27 is also a prophecy that the modern descendants of ancient Israel (primarily the United States and Britain) will be bitterly afflicted with no helper. Four-decade high inflation rates and rampant legal lawfare are causing suffering, but it's not enough. It may take more months of severe bitterness before Americans take action against the Biden regime and the Republican voter turnout exceeds the Democrats' margin of cheating.
The Ferrar-Fenton translation of the Bible renders 2 Kings 14:26, "For the Ever-living pitied the immeasurable miseries of Israel both without and within, when there was no ease for Israel." Such "immeasurable miseries" indicate an economic malaise as bad as the Great Recession of 2008, if not as bad as the Great Depression of 1929. Donald Trump certainly thinks the economy is going to get much worse between now and 2024. America really has no helper.
"With no helper for Israel, many terrible things are going to occur," Trumpet editor in chief Gerald Flurry writes in his crucial book America Under Attack. "Already other nations are betraying America, as well as its brother nations Britain and Israel. Iran is developing nuclear weapons. It is seeking ways to humiliate the United States. China is becoming more belligerent. It is targeting U.S. allies like Australia, Hong Kong and Taiwan while drawing closer to America's enemies—holding drills with Iran and backing Cuba. Europe is increasingly determined to become more independent from America and is expanding trade with China. Germany has pursued alignment with Russia through the Nord Stream 2 pipeline and other means. As God prophesied, our national 'lovers' are going to betray us and besiege us (Ezekiel 23)."
The nation's only hope—even for a respite—is the make America great again movement. God is going to do this through Donald Trump being in power, as we have stated consistently since before the 2020 election was overthrown. We obviously do not know precisely how this will unfold, but you can be sure that Trump just won't go away until he has fulfilled the role God is using him to fulfill. In the nearer term, expect more bitter affliction.
Watch the Trumpet Daily here.