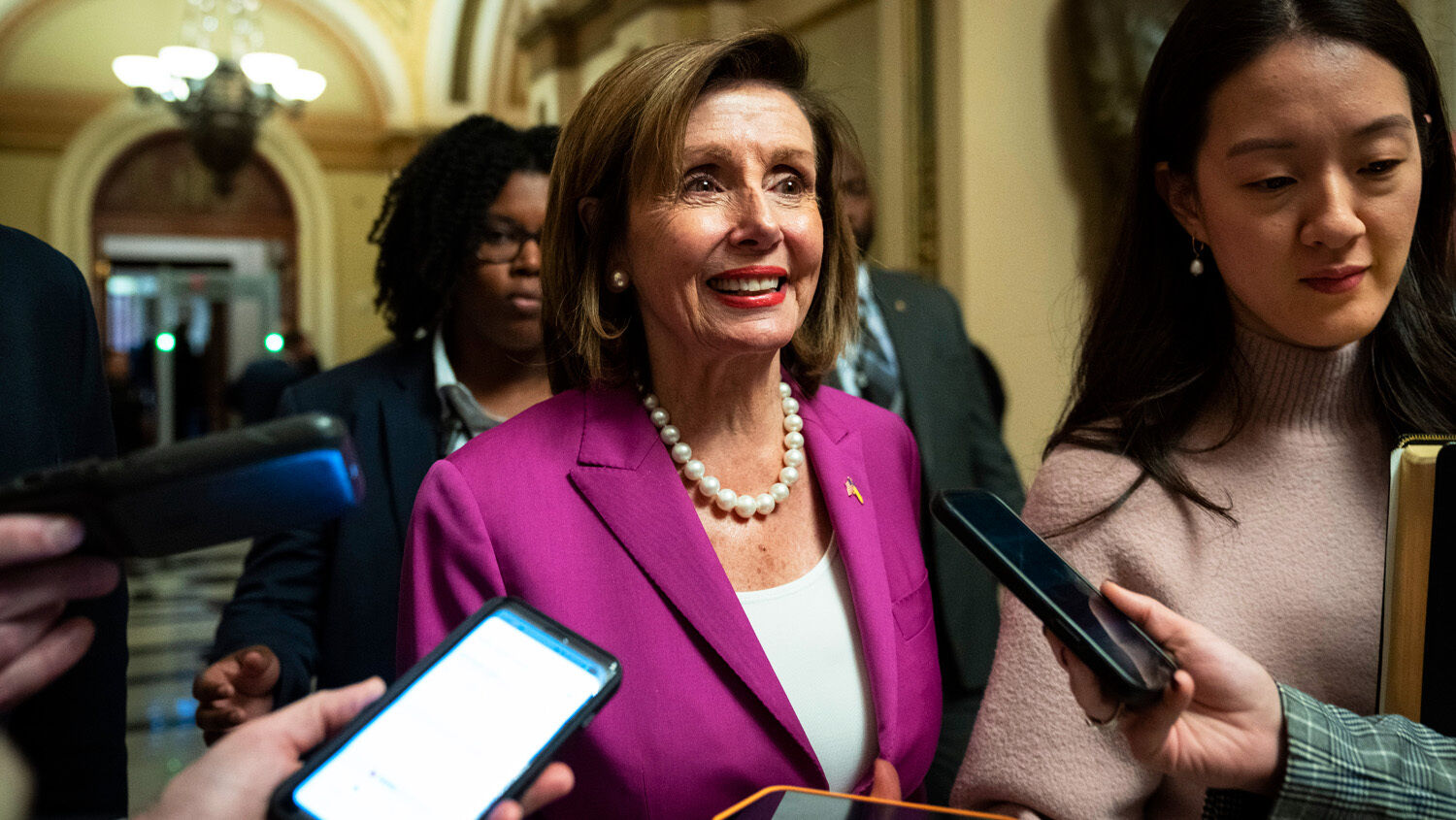 Regime Media Swoon Over Nancy 'Perfect' Pelosi
Despite word to the contrary, the outgoing House speaker truly has been a deadly curse on America.
After almost 20 years leading Democrats in the House of Representatives, Nancy Pelosi is stepping down. She will keep her seat in California's 12th District, her $223,500 salary and plenty of political influence, but after almost 50 years in politics, the 82-year-old Pelosi will not seek reelection as leader of the House Democratic Caucus. Another Democrat will become House minority leader after the 118th Congress convenes on January 3 and Republicans officially form the majority and appoint a new speaker of the House. Most Republicans are obviously elated at Pelosi's retirement, but the regime media has reacted to her announcement very differently. Left-wing politicians and journalists are fawning over Pelosi's legacy, saying she epitomized servant leadership.
Congressman James McGovern hailed Pelosi as "the greatest, most effective speaker in the history of the House of Representatives." Rep. Debbie Dingell said she "was perfect in many ways." msnbc Morning Joe host Mika Brzezinski gushed, "It's sort of hard not to be in awe of what she has accomplished, unless you're in a cult."
Commentator Matthew Dowd called Pelosi "a true servant leader in all of its manifestations" and claimed in all seriousness that she "served not for her own benefit, but for the benefit of others." Pelosi entered the 100th Congress in 1987 a millionaire, and in her 35 years in Congress, and even adjusted for inflation, she has multiplied her wealth 20-fold. This "servant leader" now has $171 million.
It's amazing the wealth you can accumulate when you are in charge of what legislation comes before the House. For years, Nancy's husband, Paul Pelosi, has made unusually profitable stock trades that have ballooned the Pelosis' wealth. The allegation, for years, has been that he isn't an amazing stock-picker; he just uses insider information provided by his wife, one of the most powerful and informed politicians in the nation. Nancy Pelosi isn't a servant leader: She is a leader who has used her power to enrich herself, to impose "San Francisco values" on other Americans, and to weaken her country.
Most Americans probably cannot remember one piece of signature legislation Pelosi is responsible for. She bragged about achieving historic investments in clean energy with George Bush, transformative health-care reform with Barack Obama, and infrastructure development under Joe Biden. But all these bills did was drive up energy and medical-care costs for working-class Americans. Her real legacy is enriching herself at the expense of the working class.
Yet the main reason the media like Pelosi so much is not legislation she passed under Bush, Obama and Biden. No, the media worship Pelosi for her role in impeachment proceedings against the president she didn't mention in her farewell speech: Donald John Trump. She went after President Trump after he tried to investigate Biden family corruption in Ukraine, and she went after him again after he tried to expose the stolen 2020 election. That is the real reason the regime media thinks Pelosi is "the greatest, most effective speaker in the history of the House of Representatives."
When Nancy Pelosi was first elected House speaker in 2006, Trumpet editor in chief Gerald Flurry said she would be a deadly curse on America. "The new speaker of the House is a Democrat from San Francisco, Nancy Pelosi," he wrote in "Midterm Elections—A Disaster for America." "This woman, who is now second in line for the presidency after Vice President Dick Cheney, is pro-abortion and pro-homosexual 'marriage'; she wants to allocate federal spending for stem-cell research, which involves experimenting on unborn babies. Democrats are excited by the fact that endorsements of "San Francisco values" now echo through Washington's halls. Is this what America needs? … San Francisco is the homosexual capital of America. It is a seat of liberalism and one of the most morally and spiritually bankrupt cities in the country. Now a leader saturated in San Francisco values and beliefs is one of the most powerful politicians in the land."
How prescient was this warning? Pelosi's San Francisco values paved the way for Barack Obama and the radical left to hijack the United States government and fundamentally transform the nation. And now she is stepping down to make way for someone who says Donald Trump stole the 2016 presidential election with Vladimir Putin's help.
The 2006 midterm elections really did change American politics forever. The nation now stands on the verge of civil war largely due to a political revolution that Pelosi helped lead. The Bible tells us that in the time before Jesus Christ's return, sinful behavior among Americans will lead to a violent civil war so devastating that no one will want to lead the nation.
The Prophet Isaiah writes, "And I will give children to be their princes, and babes shall rule over them. And the people shall be oppressed, every one by another, and every one by his neighbour: the child shall behave himself proudly against the ancient, and the base against the honourable. When a man shall take hold of his brother of the house of his father, saying, Thou hast clothing, be thou our ruler, and let this ruin be under thy hand: In that day shall he swear, saying, I will not be an healer; for in my house is neither bread nor clothing: make me not a ruler of the people. For Jerusalem is ruined, and Judah is fallen: because their tongue and their doings are against the Lord, to provoke the eyes of his glory" (Isaiah 3:4-8).
This sobering passage describes a time in America when everyone is oppressed by his neighbor and hostile foreign enemies besiege the nation. It will be hard to find either food or clothing because of San Francisco values that people like Nancy Pelosi have promoted. In fact, it will be so bad that no one will even want to be president. Obviously, America has not reached this state yet as food is still plenteous and politicians are still vying for power. But things will not remain this way for long. We still expect a temporary revival under President Trump to give Americans a last chance to repent of the sins that have allowed so much corruption to seep into the nation's government. But this window of time will not stay open long. To understand what God wants Americans to learn from Nancy Pelosi's two decades in power, please read "America Has Been 'Fundamentally Transformed,'" by Trumpet editor in chief Gerald Flurry.