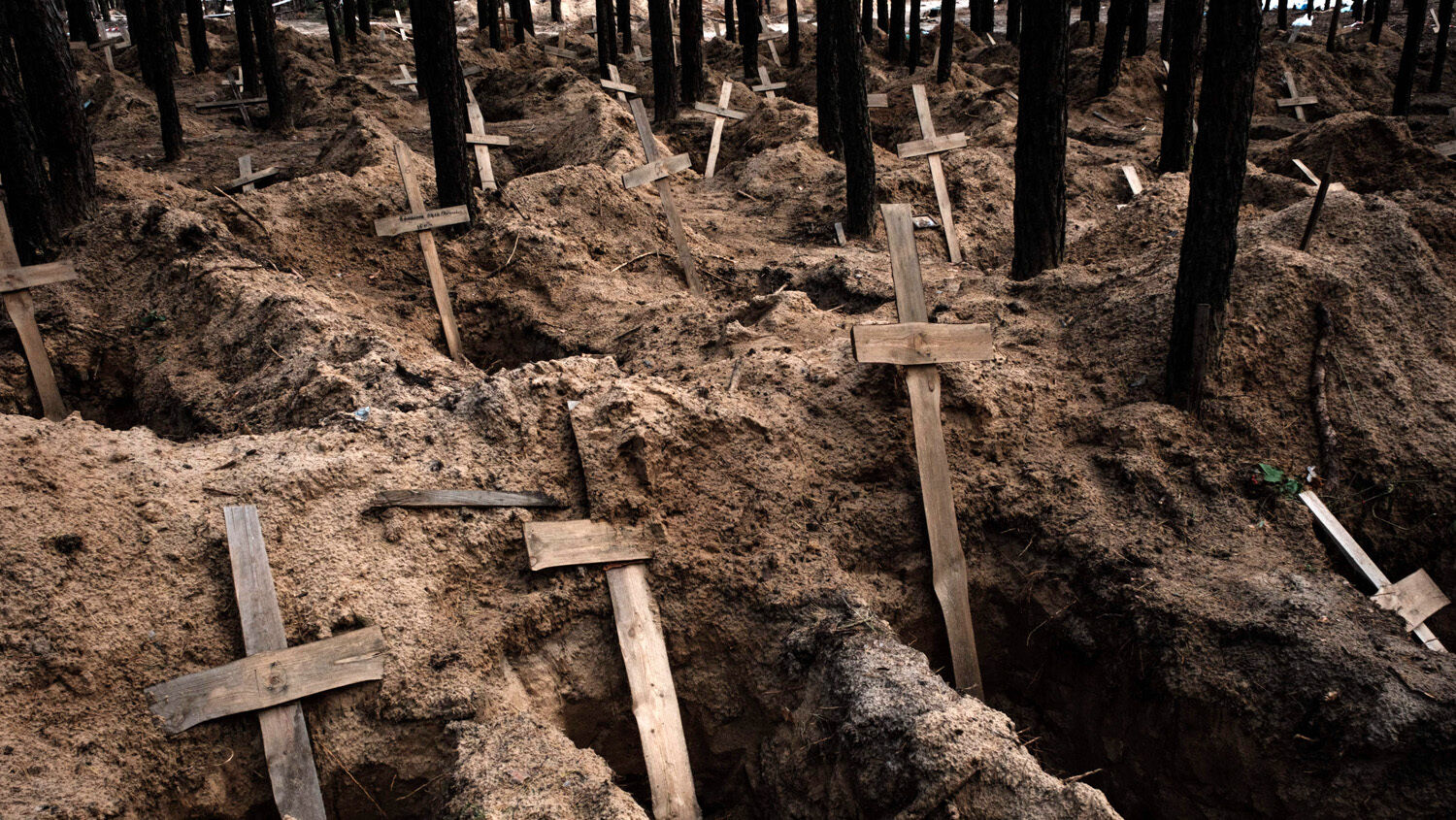 'Russia Leaves Death Everywhere'
Mass graves in Izium give evidence of 'genocide against Ukrainians.'
Just outside the Ukrainian city of Izium, hundreds of wooden crosses dot the forest floor. A few have plaques with names. Most have only numbers. Many are blank. But each one tells a tragic story. Each one bears witness to the cruelty and inhumanity of the Russians during their six-month occupation of Izium.
Ukrainian President Volodymyr Zelenskyy said in an interview with Reuters on September 16: "As of today, there are 450 dead people, buried. But there are others, separate burials of many people. Tortured people. Entire families in certain territories."
"Russia leaves death everywhere, and it must be held responsible for that," he said in a September 15 video address.
Ukrainian forensics and firefighters are exhuming the bodies and examining them for cause of death and identification. There are about 450 individual graves in the forest, and one mass grave with 17 Ukrainian soldiers. As of September 20, the workers had uncovered 263 bodies, revealing awful evidence of Russian brutality. According to Ukrinform, 99 percent of the bodies show signs of torture and violent deaths. Some were executed with their hands tied behind their backs. Others were strangled; the ropes still around their necks.
Those who survived have harrowing stories of the torture they endured. One man recounted, "They beat me everywhere. They broke my arm. One Russian was holding it, and another one beat it with a pipe. They beat me to the point where I didn't feel anything."
Others described the devastation caused by a Russian missile strike on an apartment block in March. Ukrinform reported that "people were heard crying for help from under the rubble for three days, but Russian invaders did not allow them to be rescued." An estimated 1,000 civilians in Izium died from the Russian attack.
Josep Borrell Fontelles, vice president of the European Commission, said he was "deeply shocked by mass graves discovered by Ukrainian authorities …. Russia's leadership and all those involved will be held accountable."
Should anyone be shocked by what happened in Izium? Horrified, disturbed, indignant, outraged—certainly. But shocked?
We saw the same scene unfold in April, when Russian forces withdrew from Bucha, a city just outside Kyiv. Investigators found 419 bodies of people who had been shot, tortured or beaten. Another 39 died of supposed "natural causes," such as one young mother who died of a heart attack while taking shelter from bombs in a basement with her three children. Nine children were found among the dead. Of the 4,000 people left in the city when the Russians arrived, 1 in 10 were killed—all in the space of 32 days.
Bodies were found with their ears cut off or teeth pulled out. People with their hands tied behind their backs lay dead in the streets. Women were raped; their bodies burned. Some corpses were boobytrapped with explosives, preventing their burial. Eyewitnesses have recounted how fleeing Russians used children as shields on their vehicles to avoid enemy fire.
The mayor of Bucha told an Italian newspaper: "Here in Bucha, we see all the horrors we have heard of as crimes committed by the Nazis during the Second World War. It is difficult to believe that such a thing could happen in the 21st century."
In an interview with abc News, the Ukrainian ambassador to the United States said:
Unfortunately, what we see in Izium, what we saw in Bucha before, and we can only imagine the situation in Mariupol and other places, which are still under occupation. But it's tortures, rapes, killings. War crimes of a massive proportions. That's why we need to liberate the whole territory of Ukraine as soon as possible because clearly Russians are targeting all Ukrainians—whole families—children. So there is no war logic in all of this. It's simply terrorizing and committing genocide against Ukrainians.
Russia has denied all accusations. According to Russia's tass news agency: "The Kyiv regime needs the provocation in Izium involving the alleged discovery of a mass grave just for the sake of photo and video content for the Western mass media." Dmitry Peskov, the Kremlin's spokesman, said: "It's the same scenario as in Bucha. It's a lie, and of course, we will defend the truth in this story."
The ghastly reports emerging from Ukrainian cities during this war are not anomalies. We see this barbarity and contempt for human life time and again when Russia invades another country.
In 2017, Trumpet editor in chief Gerald Flurry published The Prophesied 'Prince of Russia,' writing, "I was certainly right in my predication that Russia would also get control of Ukraine! I knew because Putin has a long pattern of diabolical evil on the level of Joseph Stalin. An abundance of fruits prove that. The Bible states: 'by their fruits ye shall know them' (Matthew 7:20)."
In this year's May-June issue of the Trumpet, he wrote: "Because of prophecy, I have been warning for years that Vladimir Putin would be responsible for violent conquests and would set in motion some astonishing and historic events."
The scenes in Izium last week and all over Ukraine in the last six months are yet another mark on Putin's evil record. And he won't stop until he is forcibly shut down by a more powerful force! Mr. Flurry's booklet The Prophesied 'Prince of Russia' explains Putin's role in current events and what will bring his demise. Request your free copy today.