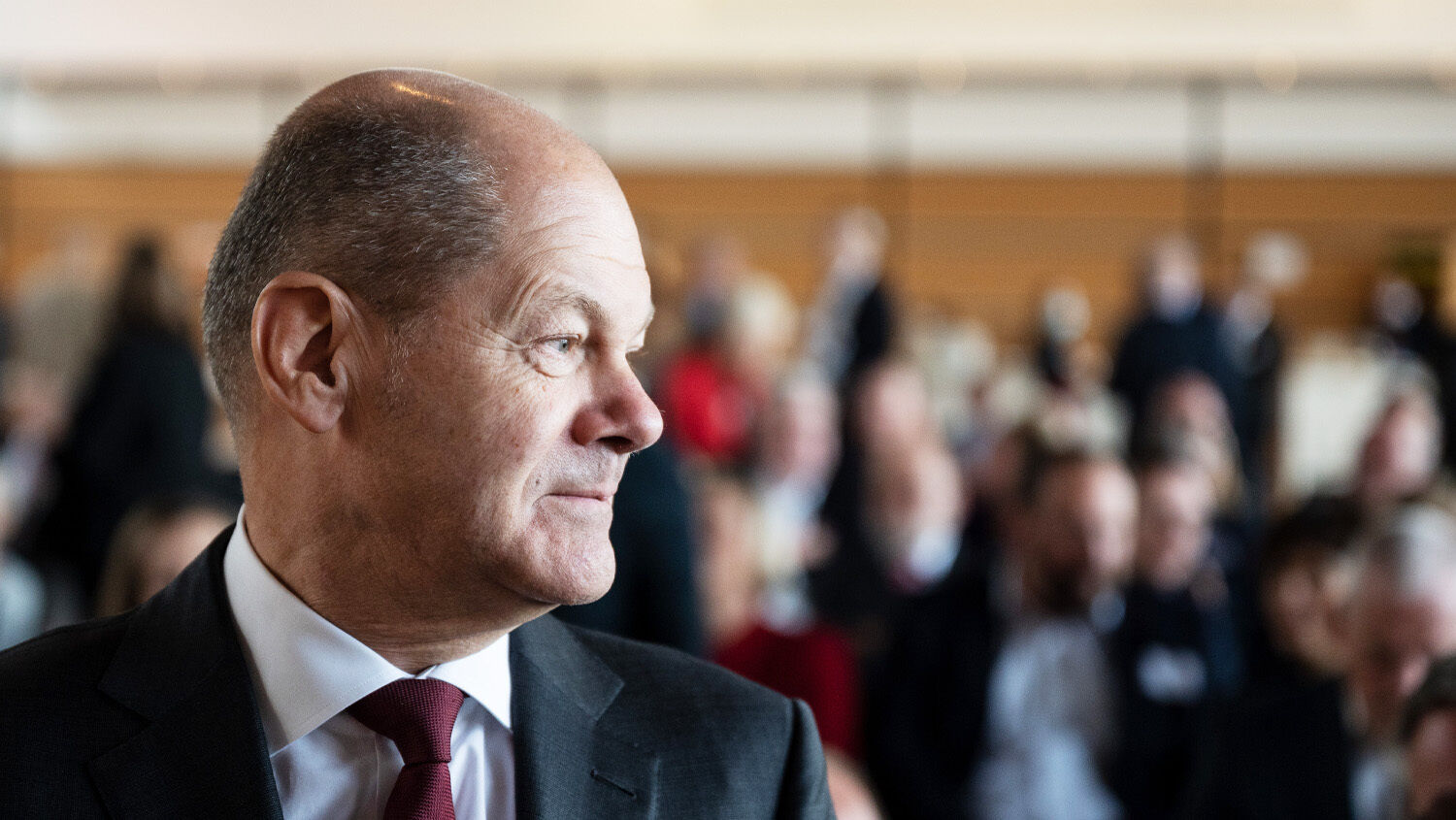 After Russia's Invasion, Germany Demands Leadership
Germans are at their most pessimistic. Allensbach, Germany's oldest polling institute, found that only 19 percent of Germans are optimistic about the future—the lowest level since they began the poll in 1949. In the aftermath of Russia's invasion of Ukraine, one third of Germans now expect a third world war.
No similar event has ever had this much effect on the German psyche. Russia's invasion of Crimea led to a slight boost in those fearing war, but nothing like this. "Germans on the Verge of a Nervous Breakdown" was the title of EuroIntellegence's report on the subject.
"In a situation as febrile as this, politics is prone to changing quickly. Many assumptions we may hold about German attitude towards the economy, like nuclear power, or relations with Russia, could turn on its head in no time," wrote the mostly business-focused news analysts. "We may only be one chemical attack away from a complete shift in German energy policy, for example. At that point, many more taboos will fall. And polls will reflect that."
In times like this, nations need leadership.
At first, it looked like Germany had that. Just days after Russia invaded Ukraine, new German Chancellor Olaf Scholz announced a radical change in military policy: Germany was rearming. Its role in the world would be transformed.
This wasn't the cautious Angela Merkel waiting to see which way public opinion was heading so she could decisively follow it. This was bold leadership—and Germans loved it. Just over half of Germans said they supported Scholz's military transformation. Another 27 percent said it didn't go far enough.
But in the weeks that followed, Scholz has vanished. He hasn't been the bold, decisive leader he initially appeared to be. Spiegel Online published a lengthy profile on the new leader titled "Where's Olaf Scholz?: Germany's Chancellor Opts for a Low Profile at a Moment of Crisis." It wrote that "after four months in office, Scholz remains an invisible chancellor to many, a political hermit crab who only rarely emerges from his shell."
What's worse, when he did appear, he was far from inspiring. When asked about Russian President Vladimir Putin, he told a talk show: "What really scared me is this incredible emphasis on geopolitics in the thinking of the Russian president."
Even Neville Chamberlain never said he was scared of Adolf Hitler.
Green Party politician Marina Weisband tweeted that Scholz's interview "was like a punch in the stomach."
"[W]herever the world looks at him, you can see that he is so scared and overwhelmed," she wrote.
Scholz has failed to rise to the occasion. Despite his dramatic announcement at the end of February, "the chancellor has tended to approach the historic challenges he is now facing just as he used to address the housing shortage in Hamburg or the push to establish a global minimum corporate tax rate," wrote Spiegel.
This approach continues even in the most dramatic situations. "Chancellor Scholz! Tear down this wall. Give Germany the leadership it deserves!" declared Ukrainian President Volodymyr Zelenskyy in his address to the German parliament. Spiegel described Scholz's reaction:
Olaf Scholz looks up at the screen. A black mask is covering most of his face and only his blinking eyes visible. He says nothing.

The gathered lawmakers rise to applaud the speech, as does the chancellor. And then, the Bundestag vice president simply returns to the day's agenda and congratulates two representatives on their 60th birthdays.
There's no sense that he grasps the drama of the times or that he's rising to meet them. Spiegel said he sees that the "German people are scared," but he's unable to connect with or address their fears.
Just weeks ago it looked as if Germany's leadership vacuum was filled. Now it's clear that the lack of a strong leader, which Germans struggled with under Merkel, will continue. But circumstances have become much more urgent.
"If a real crisis develops, will the Germans call for a new führer?" asked Trumpet editor in chief Gerald Flurry in one his first articles on Germany in December 1991. "Your Bible says that is going to happen!"
Mr. Flurry has consistently warned that Russia would help usher in this new strongman. After Putin invaded Crimea in 2014, Mr. Flurry wrote that the Bible contains a "major prophecy that Russia's invasion of Ukraine will bring about is the arrival of a strongman in Europe. A new leader is coming—a kind of Vladimir Putin. This is what Europe needs in order to bind together, to have the strength and unity of purpose needed to confront Russia."
"Europe's new fear of Russia is going to play a major role in hastening the fulfillment of that prophecy!" he wrote.
This statement builds on what Herbert W. Armstrong wrote decades earlier. In a 1950 Plain Truth article, he wrote:
Meanwhile, and most important of all, as the outlook from here is for a continued drift at Washington—tough talk, but no tough action—the nations of Europe, directly in the very shadow of the great Russian bear, are becoming disturbed, distrustful of America, and thinking more and more about uniting themselves into a united states of Europe.

All that's lacking now is for the new supreme leader—the successor of Adolf Hitler—to rise up and assert himself, and take command.

The stage is all set! And while we totter perilously on the very brink of war with Russia, still, our real danger is this coming united states of Europe, which will resurrect the ancient Roman Empire, and yet we're not even cognizant of the danger!
Those paragraphs could have been written today. Mr. Armstrong went on to forecast that nations, "under Russia's boot" when he was writing, would escape and join this new European power. That prophecy was dramatically fulfilled when the Berlin Wall came down and countries in Eastern Europe were able to join the European Union.
These events are playing out exactly the way Mr. Armstrong and Mr. Flurry described years ago. Their forecasts are proving true—because they are based on the Bible. The Bible is full of prophecies of a strong German leader who will soon rise. Those prophecies warn that this man will do some evil things. But they also say some of the best news in man's history will soon follow. To understand what the Bible says about this man and where his rule will lead, read Mr. Flurry's free booklet A Strong German Leader Is Imminent.