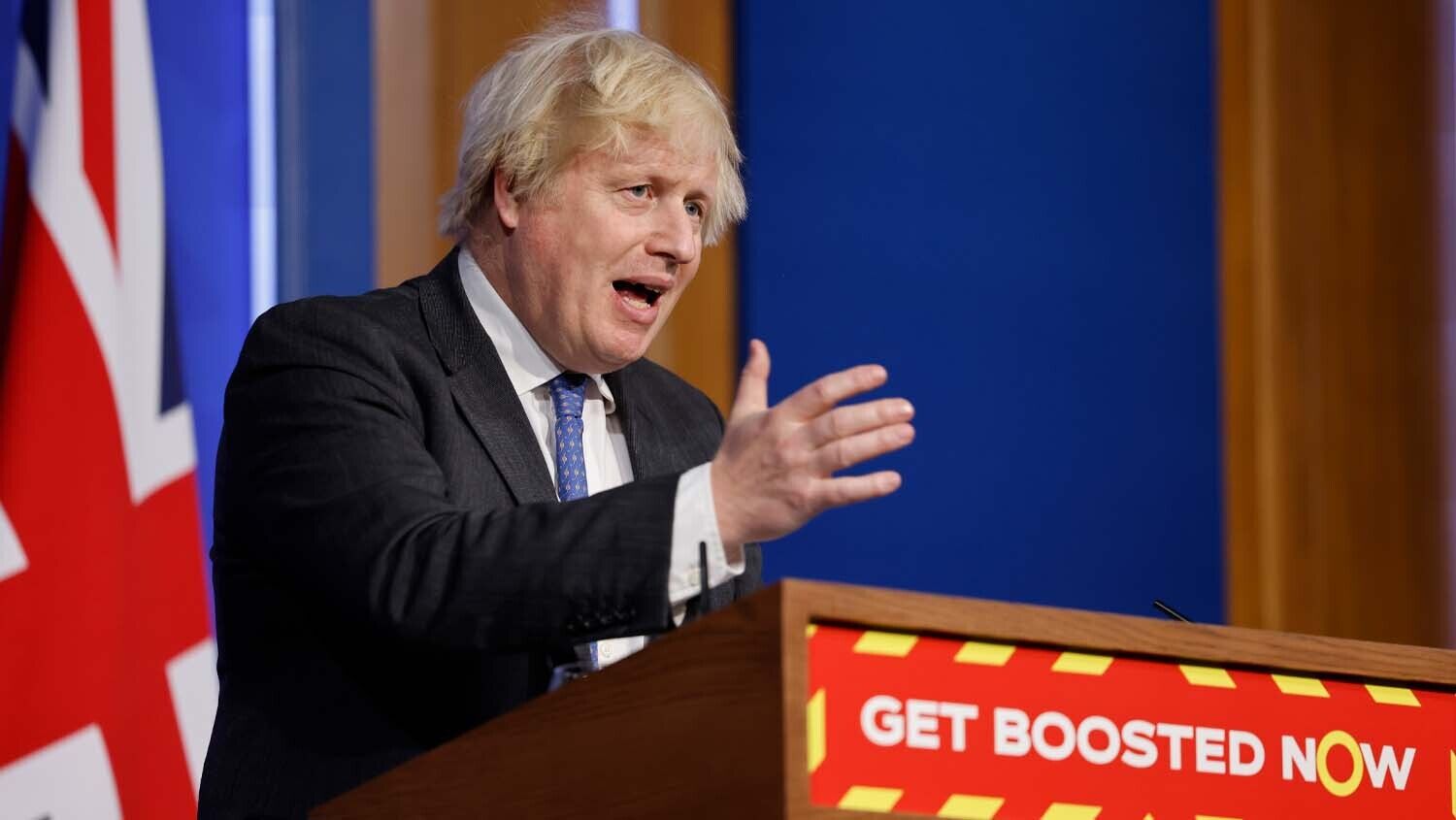 Would Jesus Jab?
Politicians and public health officials are starting to act like a religious cult in their effort to vaccinate the unwilling.
For many, getting the covid-19 vaccine has become like a religious article of faith. Two days before Christmas, United Kingdom Prime Minister Boris Johnson said that getting the jab depends not on your best judgment for yourself but upon what the government says is best for everyone else. "[T]hat, after all, is the teaching of Jesus Christ," he said, "whose birth is at the heart of this enormous festival—that we should love our neighbors as we love ourselves."
Archbishop of Canterbury Justin Welby said a week earlier that it was a "moral issue." "It's not about me and my rights to choose," he said, emphasizing repeatedly, "Go and get boosted, get vaccinated. It's how we love our neighbor. Loving our neighbor is what Jesus told us to do. It's Christmas. Do what He said."
Pope Francis said getting vaccinated is "an act of love." New York Governor Kathy Hochul told an audience at the Christian Cultural Center in Brooklyn that "God did answer our prayers. He made the smartest men and women, the scientists, the doctors, the researchers—He made them come up with a vaccine. That is from God to us, and we must say, 'Thank you, God. Thank you.'"
Would Jesus Christ get the jab? Does He expect Christians to do so?
Politicians who so rarely mention Jesus Christ, and religious leaders who so often do, are answering both questions with an urgent, loud "Yes."
Are they momentarily rising above political agenda—or is this part of it?
Strange as it is to hear prime ministers and governors preach, Governor Hochul did not stop there. She ordained her own disciples by saying, "I need you to be my apostles. I need you to go out and talk about it and say, 'We owe this to each other.' We love each other. Jesus taught us to love one another, and how do you show that love but to care about each other enough to say, 'Please get the vaccine because I love you and I want you to live ….'"
This is from the same governor who wants to make New York a safe haven for those seeking abortions, those who want to live a homosexual lifestyle, and those who engage in many other anti-biblical practices. But when appealing to Jesus Christ seems like it will increase the number of vaccine and booster injections, she almost effortlessly slips into what Jesus wants us to do.
If you have actually studied the life and teachings of Jesus Christ, you know how hypocritical, how absurd, how wrong this is!
The subject of health is addressed throughout the record of Jesus's life, and it is addressed throughout the Bible.
The four Gospel records of Jesus's physical life and ministry are filled with His teachings, including how He addressed health problems.
On one occasion, a group of friends were trying to get through the crowd to Jesus, carrying a man suffering from paralysis. Unable to get inside the house because of the crowd, they went so far as to climb up on the roof, break up the roof tiles, and lower the paralyzed man down to Jesus.
"And when he saw their faith, he said unto him, Man, thy sins are forgiven thee" (Luke 5:20).
This is the actual record and actual teaching of Jesus Christ. He did not tell the sick and infirm, "God will answer your prayers. Go to the smartest doctors in the best medical schools of Alexandria and take their cures." Instead, He illustrated the connection between forgiveness of sin and healing. This is something that you can be sure "the smartest men and women, the scientists, the doctors, the researchers" will disregard, mock and decry as dangerous.
They don't really want you to do what He said.
"And the scribes and the Pharisees began to reason, saying, Who is this which speaketh blasphemies? Who can forgive sins, but God alone? But when Jesus perceived their thoughts, he answering said unto them, What reason ye in your hearts? Whether is easier, to say, Thy sins be forgiven thee; or to say, Rise up and walk?" (verses 21-23). Jesus Christ made a direct, emphatic connection between forgiveness of physical sin and physical healing. Healing is the forgiveness of physical sin.
Just as God heals you of spiritual sin through the sacrifice of Jesus Christ, He also forgives you of physical sin by way of healing.
God alone heals our diseases.
That is not something you will hear governors and prime ministers say, because it does not advance their political agenda. In fact, you will hear almost no preachers say it, because the plain truth of the Bible does not match their religious reasoning and traditions!
"Doctors, medicines and drugs can no more forgive physical sins than spiritual sins," the late Herbert W. Armstrong wrote in The Plain Truth About Healing. "They cannot heal!"
Politicians like Boris Johnson and Kathy Hochul are literally misappropriating the name of Jesus Himself so that political agendas can be advanced and pharmaceutical companies can make money.
Our actions cause effects. Good causes produce good effects. Bad causes produce bad effects. Jesus taught this as well because, as obvious as it might seem, human nature rejects this basic fact! (see Matthew 7:16-20). We want to do whatever we want and have good effects, regardless.
Pharmaceutical-dominated medicine and public health deal with effects and almost completely ignore causes. They are attempting to remove the direct effect of physical sins. Treating the effect instead of the cause encourages us to continue violating physical laws, to continue committing physical sin. We think we can commit the cause of ill health and then just take a pill or get a jab and nullify the effect of ill health.
This approach encourages sin. That is why politicians who support abortion and homosexuality say Jesus would get the jab. They have no respect for God's spiritual laws, and they have no respect for His physical laws either. Their theory is: The sufferer has a harmful coronavirus in his body, so we should add a harmful mrna molecule. One poison plus one more poison will equal no poison. Yet in many cases, the sufferer has died from the vaccine instead of the virus.
Joe Biden said as recently as July, "You're not going to get covid if you have these vaccinations." Yet millions of vaccinated people are catching covid-19 anyway. What started as a "one and done" shot has become a two-jab, then three-jab, then four-jab decree. Government officials keep telling us to pump their experimental mrna vaccine into our bodies, booster shot after booster shot, until it works. It is amazing the lengths to which humans will go to "cure" themselves rather than submitting to the laws of the Creator of their bodies and minds!
The United States government has refrained from conducting a study on natural immunity. As Dr. Martin Makary told Ohio Rep. Jim Jordan last week, this is because "they don't want to know the answer. It would undermine the indiscriminate vaccination policy for every single human being, including extremely low-risk people."
God's arithmetic is one poison minus that one poison equals no poison. Yet it requires obeying the laws of the Creator and even the intervention of the Creator. God has the power to heal, and He promises, "If thou wilt diligently hearken to the voice of the Lord thy God, and wilt do that which is right in his sight, and wilt give ear to his commandments, and keep all his statutes, I will put none of these diseases upon thee, which I have brought upon the Egyptians: for I am the Lord that healeth thee" (Exodus 15:26).
This does not mean a true Christian never gets sick. It means that a true Christian need not panic, get injected with a vaccine, and suffer the side effects. It means that he should recognize the obvious, inexorable truth: Sickness is the result of broken physical laws. We must cease breaking those laws and, when suffering, turn not to "the smartest men and women, the scientists, the doctors, the researchers" but to the Creator who promises to heal upon repentance!
"Bless the Lord, O my soul, and forget not all his benefits: Who forgiveth all thine iniquities; who healeth all thy diseases" (Psalm 103:2-3).
If you are interested in trusting and obeying the Creator of human health, request your free copy of The Plain Truth About Healing, by Herbert W. Armstrong. It explains the scriptures that prove God wants to heal us and how to claim God's promise to heal!