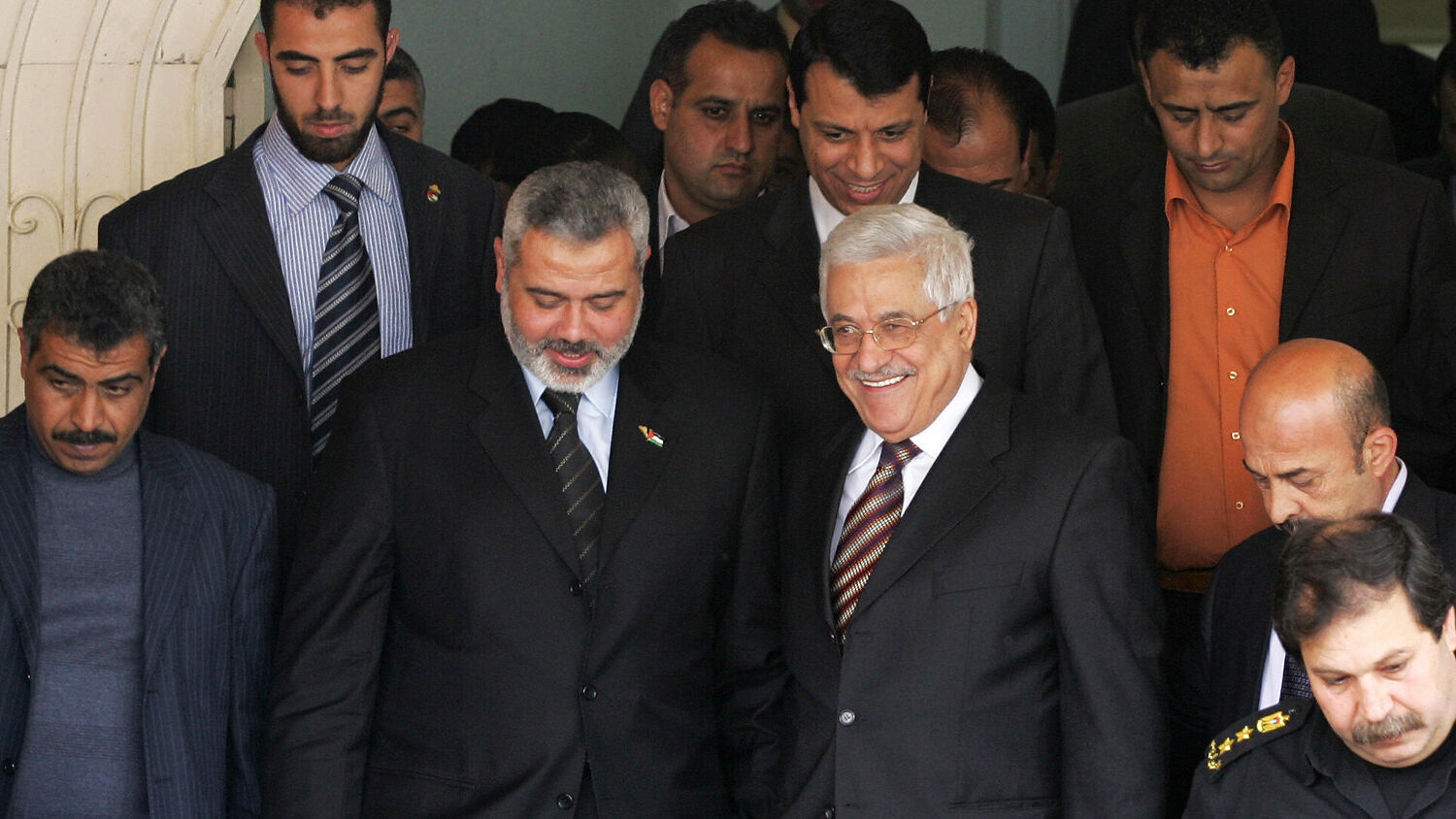 Will Hamas and Fatah Form a Unity Government?
Rival Palestinian factions have drafted an agreement that paves the way for a coalition government.
For the first time in over six years, Hamas and Fatah leaders are working to set up a unified list to form a Palestinian coalition government. On January 22, Arab News reported that the leaders of both rival factions discussed terms of a new draft agreement in recent meetings at Istanbul and Cairo. This accord, which was a major factor in the decision to hold elections later this year, has become the basis of several letters between Hamas leader Ismail Haniyeh and Fatah leader Palestinian Authority President Mahmoud Abbas.
Hamas and Fatah leaders are meeting in Cairo on February 8 to further discuss how to successfully carry out elections. They also hope to draft a "code of conduct" to help make the upcoming elections as free and transparent as possible.
There is still a lot of distrust between the rival parties, but this new draft accord seems to be overcoming some hurdles. "We have worked in past months to resolve all obstacles so that we can reach this day," Hamas said in a statement, "and we have shown a lot of flexibility."
Hamas agreed to be part of the Palestine Liberation Organization (plo). The plo is a political organization that claims to be the only legitimate representative of the Palestinian people. The plo formed shortly after the Six-Day War. It engaged in guerrilla warfare against Israel for over 30 years before it entered into peace negotiations with them in the 1990s. They officially recognized Israel's right to exist in 1993. By agreeing to comply with the plo, Hamas would essentially recognize Israel too, a stance which they have long proved is not one they support; Hamas is an Islamist and jihadist terrorist organization and a sworn enemy of Israel.
On the other side, Fatah, which more or less controls the plo, agreed that the political organization needs to change in order to better represent all Palestinian groups.
This agreement also has several benefits—especially for Hamas. The new coalition government will attempt to revive Gaza's battered economy by seeking a long-term ceasefire with Israel. This ceasefire will pave the way for major rebuilding in Gaza, including the Gaza airport, which has remained closed and in ruins since 2001. Additionally, this agreement calls for all crossings to be permanently restored and a security corridor between Gaza and the West Bank to be established.
This new government will also run affairs in both Gaza and the West Bank, uniting these long-divided Palestinian areas. According to the agreement, the government "will work on unifying laws and institutions, and have security control over all areas."
Ultimately, this new accord is calling for a complete overhaul of the political structure in the Palestinian Authority; it seeks to adjust the roles of the president, government and legislative council. "It is either a presidential structure or a parliamentary one," the accord said. "The hybrid is a source of conflict."
This revamping of the system is slowly becoming a necessity if Abbas wants to remain in power. Ever since the Palestinian Authority announced its intentions to resume civil and security cooperation with Israel in November of last year, Abbas's favor has declined. The December Palestinian Center for Policy and Survey Research polls showed that 66 percent of Palestinians are in favor of Abbas resigning. The same poll also projected that Hamas leader Ismail Haniyeh would receive 50 percent of the vote in the presidential race—putting him ahead of Abbas's 43 percent. And with several Fatah members in support of Mohammed Dahlan, Abbas's chief rival who has been banned from running in the elections, things are not looking good for Abbas.
But Abbas seems to have accounted for this. Four days before his decree announcing the elections, he amended several laws pertaining to the elections. These mostly affected timing for elections and who can run, but he also made major changes concerning the court system. Essentially these changes allow Abbas to choose the president of the Supreme Judicial Council, who appoints the court judges. This is important for Abbas, because if the election doesn't turn out in his favor, the appeals court will essentially be under his control. These amendments are a major point of contention that Hamas and Fatah plan to discuss in their meeting in Cairo.
Despite the contention, the Arab states' normalization with Israel is placing tremendous pressure on both parties to put aside differences and unify behind their movement against Israel. Especially now that Qatar—a country that funds Hamas and has pledged $360 million in aid to Gaza this year—might normalize relations with Israel, Hamas is looking to get into the Palestinian interior.
The Trumpet has been watching for the rise of Hamas in the Palestinian Authority for years, and these new elections look like a step in that direction. Perhaps a Hamas-Fatah coalition government could give Hamas the power it needs to finally gain control of the Palestinian Authority—and the West Bank.
If Hamas ruled over the West Bank, its ideologies and rockets would have access to the most populous areas in Israel, as well as the Holy City—a dream it's had for years, and the exact thing Israelis fear, with good reason.
The Palestinians have long desired to control East Jerusalem. A powerful prophecy recorded in Zechariah 14 says that they will get it (Zechariah 14:1-2). This prophecy indicates East Jerusalem will not be taken through negotiations with the Israelis or through international pressure; rather East Jerusalem will fall in a violent takeover. Fatah has tried using diplomacy and pressure from the international community to force a two-state solution with Israel. But Hamas has shown it is willing to fight for Jerusalem. That is why the Trumpet expects Hamas to gain political control of the West Bank.
This new coalition government could be the cloak Hamas needs to get a foot in the door. However things play out, the Bible shows that the violent fall of East Jerusalem is sure to happen. Continue to watch Hamas and Fatah in the lead-up to the Palestinian elections this summer. And as you do, realize that a Hamas takeover of the West Bank, and later East Jerusalem, is only the beginning of the three-step prophecy recorded by Zechariah that is soon to impact the entire world.
For more information about this prophecy and where all these events are leading, please request our free booklet Jerusalem in Prophecy.