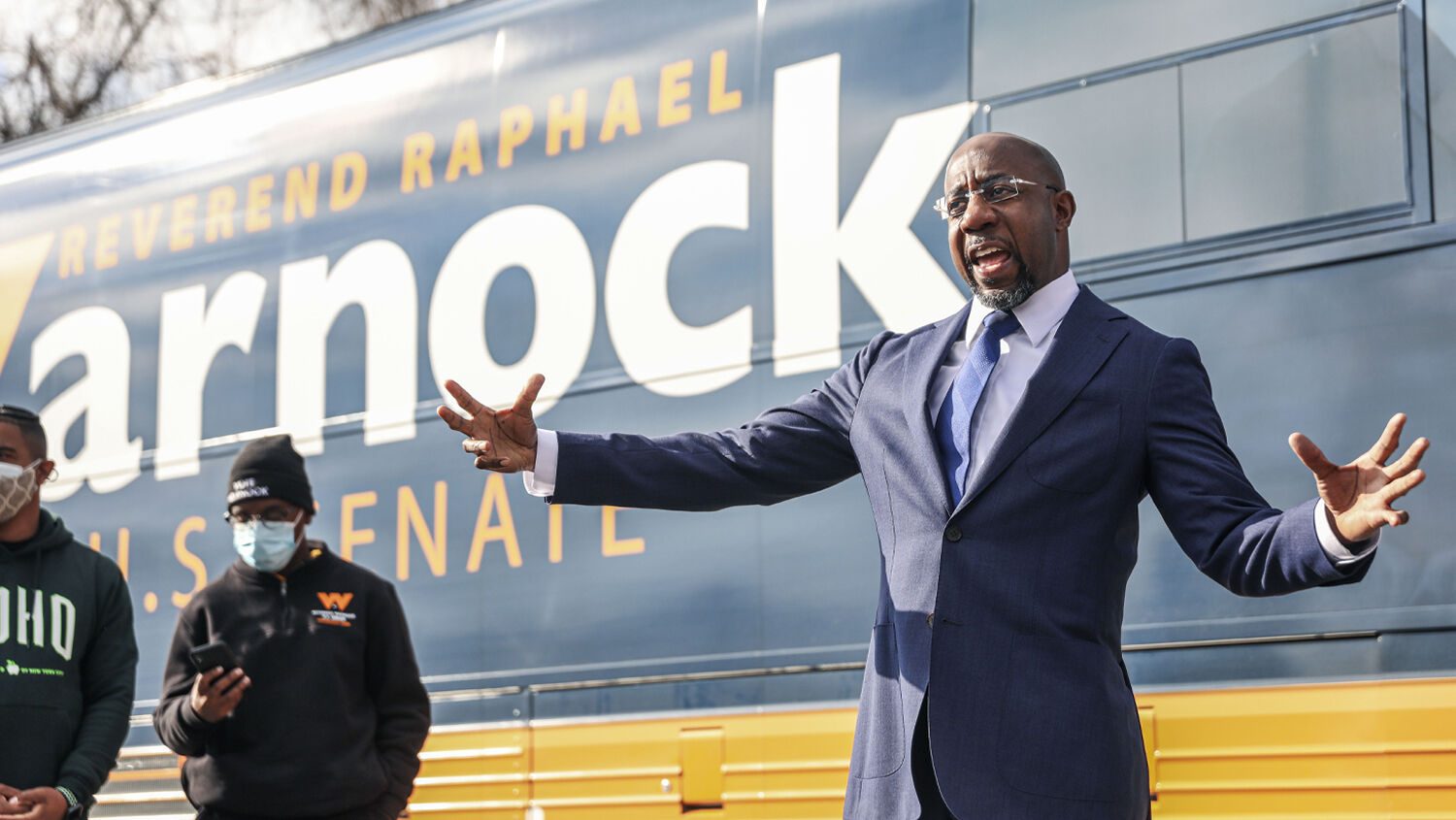 Georgia Senate Runoff Election Reveals America's Affliction
If election rigging is not thoroughly exposed, we will never see another free and fair election in America.
We had a national election on November 3. It was compromised by massive fraud. No one has been punished. We had a Senate run-off election in Georgia last night. And it went exactly as you would expect. Technical glitches? Check. Vote counts stopping in the middle of the night? Check. Late night leads evaporating? Dominion Voting Systems? Check. Irregularities benefiting Democrats rather than Republicans? Check. Democrats claiming victory? Check.
After the November 3 election, Senate Minority Leader Chuck Schumer said that once Democrats win the two Georgia Senate seats, they will be able to change America. Right now, it appears that Schumer was right. The Democratic Party coup to hijack America looks nearly complete.
Mainstream news outlets have projected that Raphael Warnock and Jon Ossoff have both won, giving Democrats the Senate majority. Yet many are suspicious of these so-called victories.
And justifiably so.
During the November 3 election, Warnock received 1.6 million votes, with the moderate Republican candidate, Kelly Loeffler, receiving 1.2 million votes and diehard Trump supporter Doug Collins receiving 1 million votes. No candidate received more than 50 percent of the vote, necessitating last night's runoff between Warnock and Loeffler. In this runoff, the radically left-wing Warnock increased his vote tally by 700,000 votes. Anyone who has ever been to Georgia will find it odd that Warnock could win 2.2 million votes in such a historically conservative state. Apparently, once Collins was eliminated from the race, tens or hundreds of thousands of Trump supporters switched their votes from Collins to Warnock.
Warnock is a radical preacher who controversially defended Black Liberation theology preacher Jeremiah Wright. Wright was Barack Obama's friend and longtime pastor. He famously accused the United States government of lying about and/or planting weapons of mass destruction in Iraq, intentionally infecting black men with syphilis, inventing hiv to kill black people, allowing the attack on Pearl Harbor, lying at its founding that "all men are created equal, and repeatedly shouted "God damn America"—all in one sermon. Warnock was also mentored by the late James Hal Cone, a black theologian who labeled white Christians racist and white Christianity as "the Antichrist." But apparently, he is the most popular senatorial candidate in the conservative state of Georgia.
How could this be?
On December 30, data scientists from the Data Integrity Group testified before the Georgia Senate Judiciary Subcommittee on Elections that at least 30,593 votes were digitally removed from President Donald Trump and another 12,173 votes were switched to Democratic candidate Joe Biden. Based on information published on the Dominion Voting Systems website, Georgia uses Dominion voting machines! Even after the word Dominion has become a household synonym for electoral fraud! Dominion has done nothing to address concerns about vulnerabilities in their software except issue denials. So the same people who allegedly exploited Dominion products (which could include Dominion itself) to rig the 2020 presidential election could have rigged the 2021 Georgia senate runoff elections. It would be bizarre if they didn't!
This alleged digital election theft comes in addition to the suitcases full of ballots that video surveillance footage shows poll workers at Atlanta's State Farm Arena trying to hide from Republican observers during the November 3 election.
If both Raphael Warnock and Jon Ossoff are seated in the U.S. senate, that body will be evenly divided between Republicans and Democrats (counting the two independent Senators that caucus with the Democrats). That means the next vice president of the United States will cast a lot of tie-breaking votes for any bills to pass. It also means that if Joe Biden and Kamala Harris take office, the radical left will effectively control the White House, the House of Representatives, the Senate, 18 state legislatures and 23 governorships.
If election rigging is not thoroughly exposed, we will never see another free election in America!
My father's cover story for the January 2021 Trumpet issue is titled "Why Donald Trump Will Remain America's President." In this article, he explains how President Donald Trump is a modern fulfillment of King Jeroboam II. 2 Kings 14:26 reveals how God is using him to temporarily save his nation from the radical forces that seek to destroy it. He writes:
"2 Kings 14:26 speaks of 'the affliction of Israel, that it was very bitter. As there was anciently, there are forces 'afflicting' Israel, seeking to bring it down. These forces attacking America today are terribly destructive—and the worst of them are within the nation. They want to destroy traditional America, especially its Judeo-Christian heritage and its history with God. … Looking at this modern-day Jeroboam, you have to say God gave Israel a "savior"—at least to the extent that He wouldn't let these enemies bring down the nation."
Senate Majority Leader Mitch McConnell and other weak-willed Republicans told President Trump to accept the results of the presidential election and move on. They pressured him to stop talking about fraud, they let the guilty go unpunished and even uninvestigated—and now the radical left is using the same fraudulent tactics in Georgia that they used two months ago. If a Biden administration takes control of the national government, election rigging in America will become permanent.
Today, several Republican senators and over 100 Republican Congressmen challenged the certification of Joe Biden's Electoral College majority, which began this afternoon and will extend into the night. Massive crowds of Trump supporters converged on Washington, D.C., to protest the stealing of the election. Some entered the Capitol building, some smashed windows, and some were arrested. Yet the Democrat-media-big tech-electoral fraud complex keeps steamrolling toward the presidency.
Ultimately, it will literally take divine intervention to save America's constitutional republic. God has been intervening already, using the Trump candidacy, presidency and 2020 election to expose how hopeless Americans are without God!
Whether you are a Democrat or Republican, you have to recognize this divine intervention and turn to the only hope left: repentance toward God!
Start by reading "Why Donald Trump Will Remain America's President."