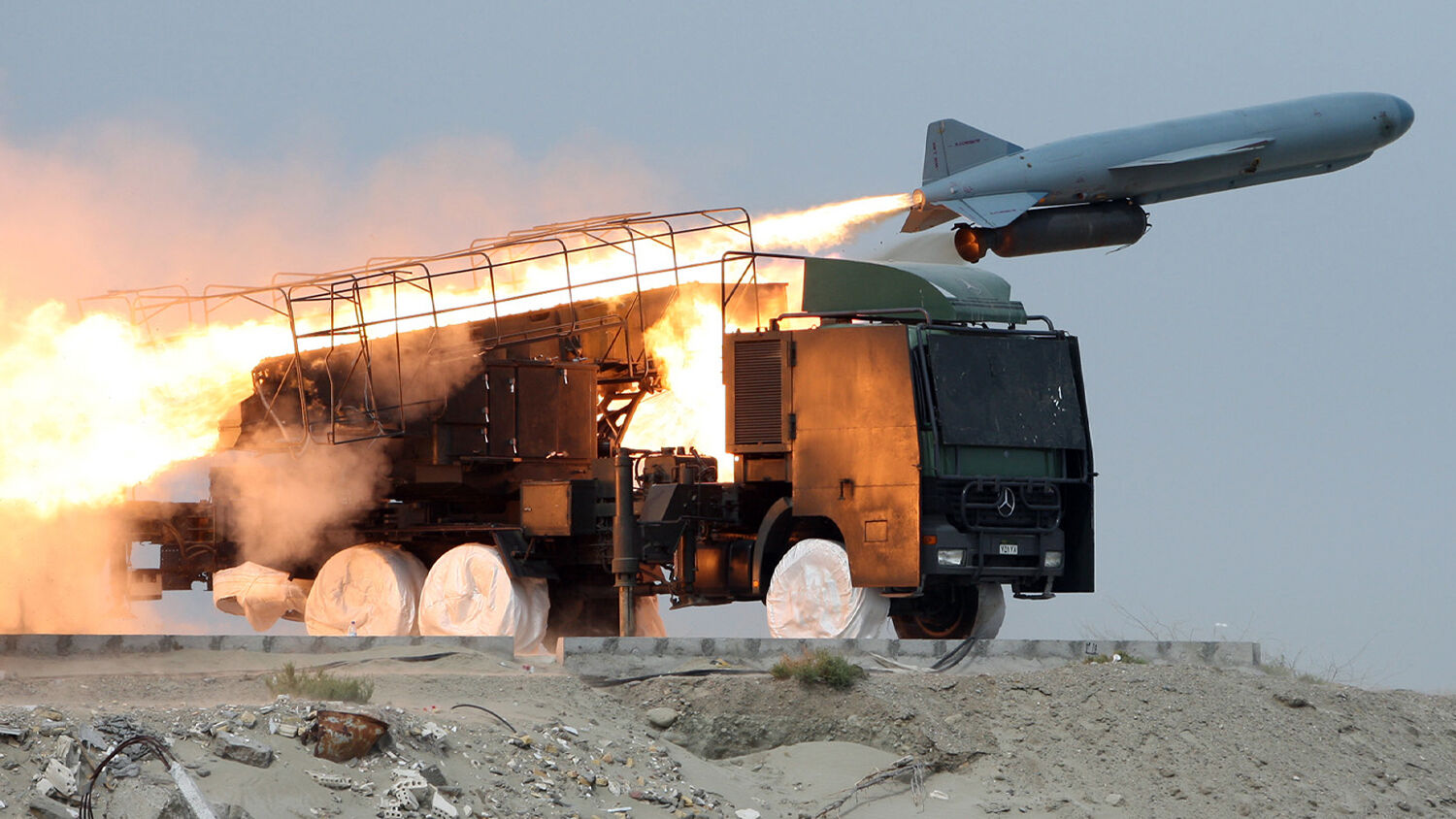 International Arms Embargo on Iran Ends
Now, only one man stands in Iran's way of acquiring the world's most sophisticated weaponry.
The arms embargo imposed on Iran as part of the nuclear deal ended on Sunday. Back in 2015, ten days before the Joint Comprehensive Plan of Action (jcpoa), or the nuclear deal, was announced, Iran demanded an end to the arms embargo against it and the ban on its testing of ballistic missiles. "Within a week," Jay Solomon writes in The Iran Wars, "the United States and its partners caved to Iran's positions, but with a twist. The arms embargo would be lifted in five years … rather than immediately."
Those five years have now passed, and the arms embargo against Iran has expired.
Iran's View
On October 18, Iran's Foreign Ministry released a statement that said, "As of today, all restrictions on the transfer of arms, related activities and financial services to and from the Islamic Republic of Iran … are all automatically terminated."
The Islamic Republic celebrated the end of the arms embargo as "a momentous day for the international community … in defiance of the U.S. regime's effort."
"Today's normalization of Iran's defense cooperation with the world is a win for a cause of multilateralism and peace and security in our region," Iranian Foreign Minister Mohammed Javad Zaif wrote on Twitter.
The end of the embargo means Iran can legally buy and sell conventional arms, including missiles, helicopters, tanks and fighter jets. Its Foreign Ministry said the country can now "procure any necessary arms and equipment from any source without any legal restrictions, and solely based on its defensive needs."
U.S. Opposition
The United States adamantly opposes the end of the arms embargo. U.S. Secretary of State Mike Pompeo said in a statement on Sunday that "for the past 10 years, countries have refrained from selling weapons to Iran under various UN measures. Any country that now challenges this prohibition will be very clearly choosing to fuel conflict and tension over promoting peace and security."
The U.S. sought to trigger "snapback" sanctions to block the UN arms embargo's expiry, but France, Germany, the United Kingdom, the European Union, China, Russia, Iran and other jcpoa signatories would not cooperate. They claimed the U.S. had no right to call for a snapback because the U.S. left the Iran deal in 2015. But, as the U.S. pointed out, the snapback sanctions are part of UN Security Resolution 2231, the endorsing mechanism for the jcpoa, and that resolution states that any participant in the accord can restore UN sanctions if they determine Iran is not complying with its terms. The rest of the United Nations Security Council, however, rejected the move, claiming the U.S. has no legal basis.
In June, Pompeo told the unsc, "Iran will be free to purchase Russian-made fighter jets that can strike up to a 3,000-kilometer radius—putting cities like Riyadh, New Delhi, Rome and Warsaw in its crosshairs. Iran will be free to upgrade and expand its fleet of submarines to further threaten international shipping and freedom of navigation in the Strait of Hormuz, Persian Gulf and the Arabian Sea."
But Iran said that it plans no "buying spree."
However, Iran has a long history of arming and financially supporting its proxies. Despite the UN arms embargo, Iran continued sending weapons to Yemen's Houthi rebels. Tehran denies arming the Houthis, but Western governments and weapons experts have repeatedly linked Iranian arms to the rebels. Now Iran is free to supply terrorist entities across the globe with, not only locally produced weapons, but arms it buys on the open market.
"[Do] we want to wake up October 19 knowing that there are now conventional weapons being sold to Iran so that they can then transfer those to their proxies and also to rogue states that have terrorist organizations?" asked U.S. Ambassador to the UN Kelly Craft. "Everyone knows full well what will happen on that date, and it's not just the Iranians, it's the entire Middle East."
Even though Iran can now buy and sell weapons, it will be extremely cautious about where its shipment of arms is going. And foreign nations will be cautious about selling weapons to Iran.
Many countries may avoid arms deals with Tehran for fear of American financial retaliation, as the Trump administration has warned that weapons sales to Iran and exports from Iran will be penalized.
"The United States is prepared to use its domestic authorities to sanction any individual or entity that materially contributes to the supply, sale or transfer of conventional arms to or from Iran, as well as those who provide technical training, financial support and services, and other assistance related to these arms," Pompeo said in a statement.
However, some countries like Russia and China seem undeterred by the threats. Russia has openly eyed arms sales to Iran recently. Last month, Russian Deputy Foreign Minister Sergei Ryabkov said he looked forward to "new opportunities in our cooperation with Iran" after the embargo ends. Russian Ambassador to Iran Levan Dzhagaryan said last week that Moscow would be willing to sell Iran the S-400 missile defense system. China and Iran have also been holding ongoing negotiations for a 25-year strategic partnership that would include military cooperation. U.S. reports indicate that Iran and North Korea have renewed their cooperation on ballistic missiles, and Turkey also seeks to sell weapons to Iran.
The Divide
Currently, only one man stands between Iran receiving every conventional weapon it desires. As Trumpet editor in chief Gerald Flurry has written extensively over the past four years, the election of Donald Trump was a life-saving moment for the United States. This was not said to deify the president, but rather to recognize the fulfillment of an ancient prophecy that Mr. Flurry explains in his booklet Great Again.
Without the election of President Trump, the constitutional republic of the U.S. would have been blotted out. Had Mr. Trump not been elected, there is no guarantee that Iran wouldn't have already attacked Israel.
The Obama administration's nuclear deal with Iran pushed for a radical restructuring of the Middle East, far from securing a safe future for the Middle East. It sought to build up America's traditional adversary while belittling and isolating America's traditional allies.
Trumpet correspondent Brent Nagtegaal wrote in his article "A Glimpse at the Hideous Reality of the Iran Deal," "The restoration of America's alliance with Israel and its strong stance against Iran in the face of international criticism are further proofs of the prophetic role President Trump is playing. But even Donald Trump will not be able to hold back Iran forever."
Is Iran hoping for a foreign-policy change with the upcoming U.S. elections? What would happen if America returned to the policies of the former administration? What if it doesn't? Read Mr. Flurry's article "The Barack Obama Mystery" and Mr. Nagtegaal's article "A Glimpse at the Hideous Reality of the Iran Deal" to understand the implications of the Iran deal and where this is all heading.