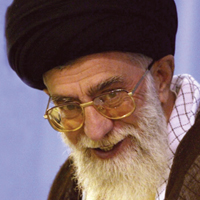 The Greatest Fan of Palestinian Terrorism
Iran continues to prove that it is the number-one terrorist-sponsoring nation in the world.
Iran's support of terrorism is not confined to any particular terrorist group. The nation not only embraces the activities of al Qaeda, it is also a primary supporter of the Palestinians' most dangerous and notorious terrorist groups: Islamic Jihad, Hamas and Hezbollah. Iran is unmistakably the primary sponsor of terrorism in Israel.
In an interview with Ynet News in Israel last week, Israeli Defense Minister Shaul Mofaz claimed Iran, in an effort to facilitate a higher number of terrorist attacks against Israel, has increased its funding of Islamic Jihad. In February alone, according to Mr. Mofaz, Tehran supported Islamic Jihad to the tune of us$1.8 million. "We know that Iran transferred in the last month us$1.8 million to the Islamic Jihad organization in order to carry out terrorist attacks against Israel," Mofaz said. "This is direct aid from Iran, from which most of the money is transferred through Syria, and from there to the Islamic Jihad in the territories."
As long as Iran is permitted to fuel Palestinian terrorist groups, peace in Israel will remain impossible.
In the same interview, Mr. Mofaz stated, "The axis of evil, including Iran, Syria, and Hezbollah, Hamas, and the Muslim Brotherhood, is consolidating. Hezbollah is also involved in some of the terror operations here and sends messages, as well as money, which arrives from Iran to the Islamic Jihad, and to Hamas, from other sources. The bottom line is that there is a consolidation of the axis of evil in two senses: One is terrorism, and the second is the Iranian nuclear project." Truly, an Islamic axis of evil surrounds Israel—and Iran is at the vanguard of this axis.
The infamous Hezbollah is another limb of terrorism whose origins lie firmly entrenched in Tehran. Created in 1982 by Iran's Islamic Revolutionary Guard, Hezbollah is an extension of Iranian influence in Syria, Lebanon and Israel. "Hezbollah—created … to export the Islamic revolution to the Arab world—receives financial, ideological and armed support from Iran and from the Islamic Republic's Alawite allies in Syria …" (Stratfor, January 16).
In January this year, just days before the Palestinian elections, a virtual who's who of the terrorist world met together in Damascus. In the meetings, aptly called "a summit for terror" by Defense Minister Mofaz, the Iranian leadership "stress[ed] the need for full coordination of the four leading [Palestinian] terrorist groups and their role in assisting Iran and Syria" (www.geostrategy-direct.com, March 2006; emphasis ours). In other words, at the summit, representatives from Hamas, Islamic Jihad and Hezbollah all gathered to receive marching orders from Iran.
Israel's Arutz Sheva stated that Iranian President Mahmoud Ahmadinejad made the trip to Syria "to be sure that the terrorism against Israel would not slow down for a moment, and would even increase" (January 22).
This is a particularly frightening aspect of Hamas's electoral victory that occurred earlier this year. Relations between Hamas and Iran are blooming. Hamas's victory wasn't just a victory for the Palestinians; it was a colossal victory for Iran—augmenting the Islamic Republic's presence in Israel.
After Hamas won big in Palestinian elections, its leader, Khaled Mashaal, met with Iran's spiritual leader, Ayatollah Ali Khamenei. At the meeting, according to the Jerusalem Post, Mashaal embraced Tehran's involvement with his organization and told the Iranian ayatollah that his "regime will have an extensive role in Palestine" (February 21).
After the Hamas victory, America and Europe threatened to cut off monetary aid to Hamas if it didn't stop its terrorist activities. The Iranian president brashly countered these threats by saying that Iranian funding to the organization would dry up if Hamas stopped its terrorism against Israel!
Hamas, Hezbollah, Islamic Jihad—these terrorist groups and "political" organizations are the greatest barriers to peace in Israel. There is no mistaking the fact that Iran is embedded within the operations of each of these Palestinian terrorist groups. Tehran is the greatest supporter of Palestinian terrorism. As long as this fact stands, peace can never be possible in Israel!