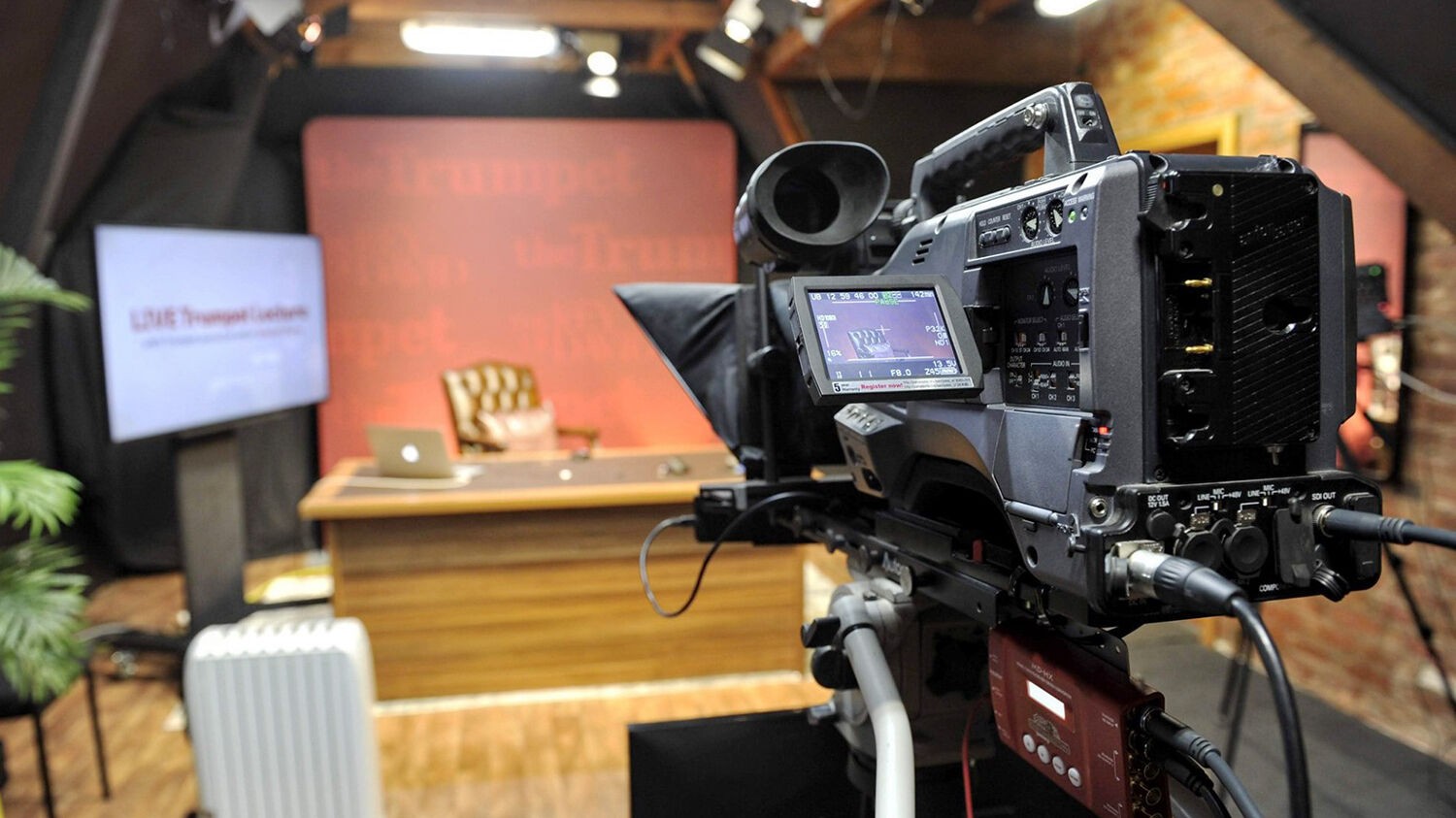 Live Trumpet Lecture Update
The following is from the Trumpet Brief sent out on Monday. These daily e-mails contain personal messages from the Trumpet staff. Click here to join the over 20,000 members of our mailing list, so you don't miss another message.
A big thank you to the hundreds of Trumpet subscribers who joined us for our second Live Trumpet Lecture yesterday!

"Therefore to him that knoweth to do good, and doeth it not, to him it is sin." That's the direct, sobering, motivating message in James 4:17 that we focused on during the live broadcast. God is communicating to Trumpet subscribers like you that knowing what is right isn't enough. He wants you to act on it!

Knowing but not doing is the mistake that tens of thousands of people made in God's Church following the death of Herbert W. Armstrong. My father knew that what Mr. Armstrong had taught was good, right and from God. And unlike others, he acted on it! God used my father to establish the Philadelphia Church of God in 1989. Afterward, numerous other groups splintered from the Worldwide Church of God.

Many people who have learned about the Sabbath, God's plan and other truths Mr. Armstrong taught think that all of the churches that came out of Worldwide teach the same basic doctrines and that it doesn't matter which church you join. But this conflicts with one of the most important basic doctrines of God's true Church: God's Church is not divided! God teaches this throughout the Bible, including in 1 Corinthians 1:10: "[T]hat ye all speak the same thing, and that there be no divisions among you …." The reason there are different churches is because they do not speak the same thing! Christ is not divided! He works through only one Church, administering His government. If a church does not have God's government, then it is not led by God! And if God is not leading a church, then that church cannot feed its members the Word of God or protect them from spiritual harm. If you don't realize that Christ and His people are united, you don't realize how directly He is working with His people, how directly He will work in your life! But you must listen to His message, prove it for yourself from His Word, and act on it.

Few people ever hear God's message in the first place. And among those precious few, most only hear it. They never take action. But there is a tiny fraction of a fraction who do, and that's exciting to me! It's exciting to God. E-mails I've received from many of you since yesterday show that you want to take action and have God directly working in your life!

We have received more than 200 messages from people who watched the broadcast. Here are a few thoughts from your fellow Trumpet subscribers (lightly edited for space and clarity):
"Thank you for the James scripture—it hit home hard to me. I must and will act to contact the Church and move forward to join the Church here in Florida."
"We went to an event to see Mr. Gerald Flurry a few years ago in Greenville, SC. I feel the need to go to a congregation meeting. How does one make the change from the world to you? I knew this teaching was right when I read The United States and Britain in Prophecy. I feel the need to be around people who are at least trying to do good as they understand. Can you help my husband and me? If you feel that God put the knowledge to believe you, what do you do next? We both try to keep Sabbaths and read the literature, which is what we were told in Greenville. I have been wanting to ask these questions for a long time." (North Carolina)
"Warm greetings from Singapore, Mr. Flurry. Thank you for a most timely message. Praying that what you have spoken will jolt those who have strayed away spiritually to return to God and support His most precious commission. I am watching this by myself. It's past 1 a.m. now, but most worth the time to stay up for this second-in-a-lifetime live transmission from you. Looking forward to the next one."
"Thanks from Texas for this lecture on our great Church of God. Bringing in the scriptures and history from Herbert W. Armstrong reminds us of the absolute need for each of our services, whether only one member or many, to keep our focus on Jesus Christ and the Word as it is written! … So blessed to have access to all of the PCG programs every day, and podcasts if any are missed! Keep up this vital work of God!"
"Two of us watching (plus two dogs and a guinea pig) from Edmonton, Alberta! Love and support from us to you and your whole family! Thanks for all the work that you do!"
"Good morning. We are six strong in little Poteet, Texas! Tuned in today to the Live Trumpet Lecture. Thank you Stephen Flurry and the Philadelphia Church of God for keeping us continually rooted and grounded in our great God's truth! We are honored and blessed."
"Greetings from Switzerland. Wonderful live lecture on God's government. If the people would have 'gotten it' during Mr. Armstrong's time, they never would have fallen away. In like manner we, if we get it, will never be confused. What a blessing! Thank you immensely for your live program today and the Trumpet Daily Radio Show, which I listen to every workday and cherish greatly. … May God bless you abundantly for teaching the truth so explicitly—what a great truth."
"One person watching you from Pennsylvania. Love the messages on KPCG. We listen to the Trumpet Daily traveling to and from Church each Sabbath. With over a two-hour drive to Church one way, we are able to hear four broadcasts. … We thank God for making KPCG available to us."
"Thanks to Mr. Stephen Flurry and to all those who made this lecture possible. As a baptized member of the PCG since Jan. 22, 2010, I have come to realize that without this calling into God's Church I would be without purpose and direction. I now have hope that every day brings me closer to the fulfillment of that purpose. This way of life is never boring and every aspect of this Church is a learning and growing experience." (North Carolina)
"Enjoyed the presentation. Thank your staff for making it available online. Connection good from the southwest of England. We watched it at home with the three of us."
I concluded our hourlong live broadcast with the admonition in Acts 3 to repent and be converted "that your sins may be blotted out, when the times of refreshing shall come from the presence of the Lord."

God's work is always growing, always moving forward, always preparing for God to send Jesus Christ again! The same is true in your personal life if you are a true Christian.

We hope that this Live Trumpet Lecture was only the second of many! In the meantime, you can join us for my Trumpet Daily Radio Show at 7 a.m. Central Time (1 p.m. in the United Kingdom), as well as our other programs on KPCG.fm. Keep listening, and keep allowing God to inspire you to act on what you hear.

Thank you for being part of this worldwide work!