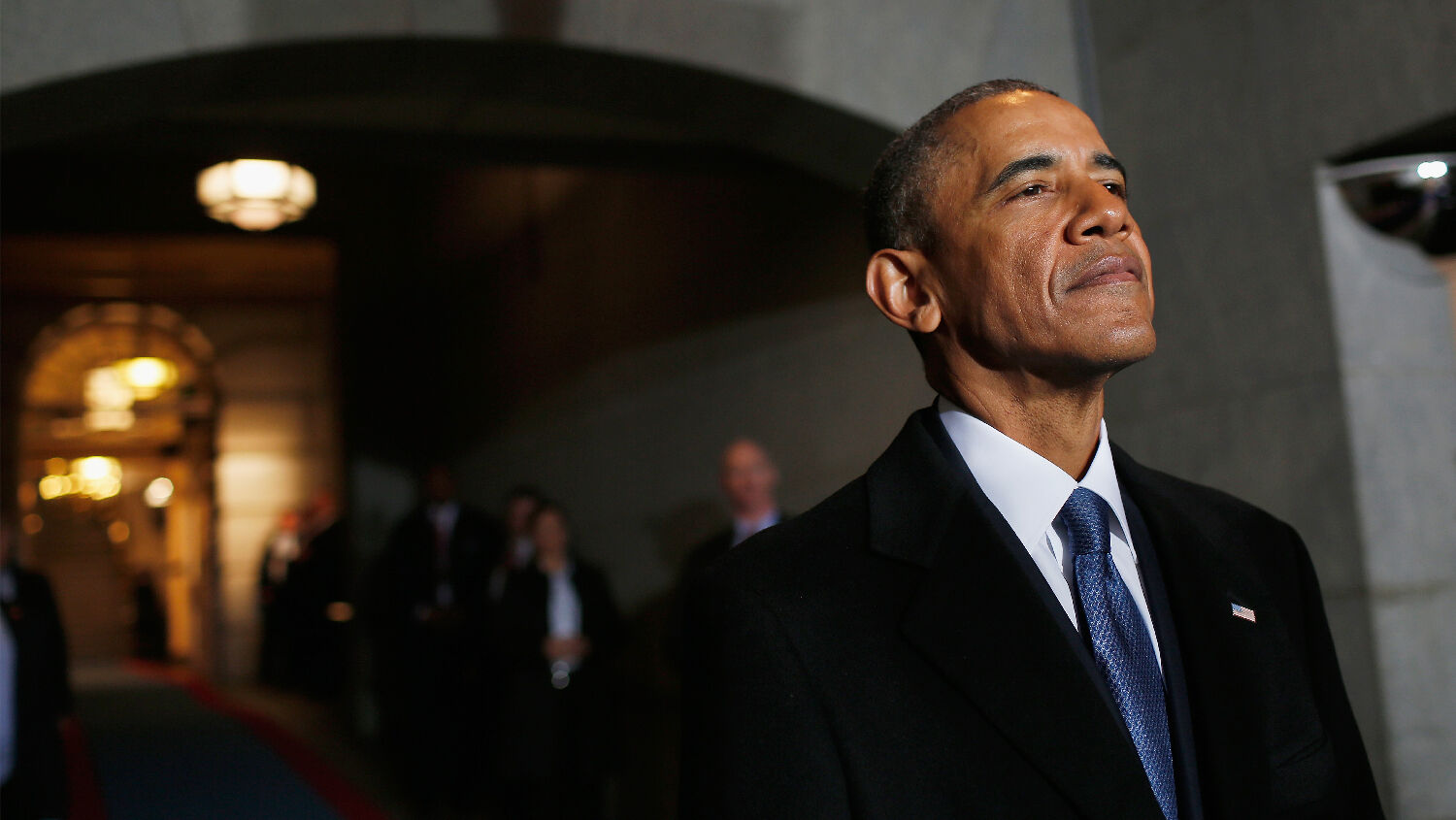 Obama's Shadow Government
What exactly happened in the transition between the Obama administration and the Trump administration? We now know more.
We now know that the man who launched the Mueller investigation was in touch with several former officials from the administration of Barack Obama, right before he ordered it. For example, on May 15, Deputy Attorney General Rod Rosenstein received a call from Obama's self-proclaimed "wingman," former Attorney General Eric Holder. Two days later, Rosenstein appointed Special Counsel Robert Mueller iii to lead an investigation aimed at destroying the Trump presidency.
The e-mails and calls between Rosenstein and Obama aides were revealed last week by Judicial Watch, which obtained the documents thanks to a Freedom of Information Act lawsuit.
The two-year Mueller investigation found no evidence of Trump-Russia collusion. But that didn't stop Obama's "deep state" from illegally spying on the Trump campaign and presidency long after they knew Donald Trump was innocent.
Author and columnist Lee Smith has called it the "Paper Coup," a "bureaucratic insurgency" against the results of the 2016 election whose perpetrators were powerful and whose weapons were "memos, letters and legal documents as well as falsified reports."
But somehow Donald Trump won the vote and withstood the coup. Then, in early 2017, the perpetrators began losing the ability to keep it secret. Obama's aides scurried to cover it up. Officials like his former Central Intelligence Agency Director John Brennan and Director of National Intelligence James Clapper frequented cnn and msnbc to peddle absurd conspiracy theories. The theories came from the now-infamous "Steele dossier," a Russian disinformation communique that had been funded by Hillary Clinton's presidential campaign.
On Jan. 6, 2017, Obama-appointed Federal Bureau of Investigation Director James Comey met with President-elect Trump. He said it was a briefing intended to help the new president, but it was actually a sting operation. Comey told the president about some of the more salacious claims made in the dossier and told the president that he was not under investigation.
It was all a coordinated setup by Barack Obama's shadow government.
After his inauguration, President Trump selected Jeff Sessions to be his attorney general at the Department of Justice. The radical left immediately applied intense pressure on Sessions to recuse himself from anything related to the ongoing Trump-Russia investigation. They thought (and think) that an attorney general should never be a "wingman" for a president who isn't a leftist. After all, Sessions had shaken hands with the Russian ambassador at a public event. He must have been compromised.
This is what led to President Trump nominating Rod Rosenstein as deputy attorney general on Feb. 1, 2017. As National Review's Andrew McCarthy wrote, "For years, Rosenstein had carefully tended to his reputation as an apolitical lawman, beloved of both parties. At a time when Trump nominees for top executive offices were extraordinarily difficult to move through the Senate with Republicans holding a razor thin 51-49 majority, Rosenstein breezed to confirmation as deputy attorney general by the margin of 94 to 6, with overwhelming #Resistance support" (emphasis added throughout).
When Rosenstein assumed the position of deputy attorney general on April 26, he became Director Comey's boss. On May 9, 2017, President Trump fired Comey, at Rosenstein's insistence—an action that led directly to the appointment of a special counsel and the spurious charge that by firing Comey President Trump was somehow obstructing justice. Comey immediately started leaking memos about his communications with the new president, with the first memos published in the New York Times on May 11, 2017. He even admitted later that he had hoped the memos would trigger a special counsel investigation.
The very next day, Rosenstein received an e-mail from former Obama Special Counsel Jonathan Su: "Hi Rod: I know there's a lot going on right now, but I wanted to send you a note of support. If there' s anything I can do to be of help, please let me know. Hope you hang in there." The day after that, Rosenstein received an e-mail from former Obama White House Deputy Associate Counsel Mike Leotta with the subject line "Thinking of you and your family." The message read: "I hope you're hanging in there, [redacted] despite all the press attention, attacks and contradictory claims."
Former Attorney General Holder then called Rosenstein's office on May 15. Rosenstein's assistant said Holder wanted Rosenstein to call him back.
The next day, May 16, U.S. Attorney John Huber, another Obama appointee, wrote to Rosenstein: "Rod, We're proud of you."
Also on May 16, Rosenstein received an e-mail from former Obama Deputy Attorney General James Cole: "You have the right approach. I always found that if you concentrated on doing your job (protecting the Constitution) your reputation takes care of itself."
That same day, the New York Times published its most consequential article built around James Comey's memos: "Did Mr. Trump Obstruct Justice?" The next day, May 17, 2017, Rosenstein appointed Robert Mueller iii to lead a special counsel investigation into a sitting president. We now know it was with plenty of encouragement from Obama officials. And who knows what other support they may have offered that was redacted or is still secret.
Wouldn't it be illuminating to read a leaked transcript of that phone conversation between Rod Rosenstein and Eric Holder? It seems the only leaks we read about in news reports anymore are the ones intended to hurt the Trump administration.
For nearly three years, a team of radical leftist, anti-Trump attorneys and prosecutors attempted to destroy President Trump and anyone associated with him. In March 2019, Mueller finally concluded the one-sided, completely unjustified investigation. Mueller's team of hateful zealots found zero evidence of Trump-Russia collusion.
Thanks to a follow-up investigation by the Department of Justice inspector general, we now know that Mueller had the exonerating evidence he needed to conclude his investigation just hours after it started. He knew going in that there was no collusion! Yet the investigation continued for two years!
We now know that members of his team were biased and told lies (remember former fbi Deputy Director Andrew McCabe and Agent Peter Strzok?). We also know that the Obama administration's counterintelligence investigation—the one that preceded the Mueller investigation—was based on an illegal warrant obtained by using falsified documents. That warrant was then used to spy on American citizens serving in the Trump campaign and administration.
An actual coup against America's constitutional government came within an inch of succeeding!
Years before the Obama-orchestrated coup attempt in 2016 and 2017, Trumpet editor in chief Gerald Flurry was writing about Mr. Obama's plan to "fundamentally transform" the United States of America. You can read those details in his 2013 booklet America Under Attack.
Donald Trump winning the 2016 presidential election thwarted Mr. Obama's plans. Since that time, Obama's supporters in government, out of government, and in the left-wing media have done everything in their power—and they still have a lot of power—to blot out the Trump presidency. To learn more about Obama's shadow government, which is still operating behind the scenes, read my father's recent Trumpet feature "America Has Been 'Fundamentally Transformed.'"