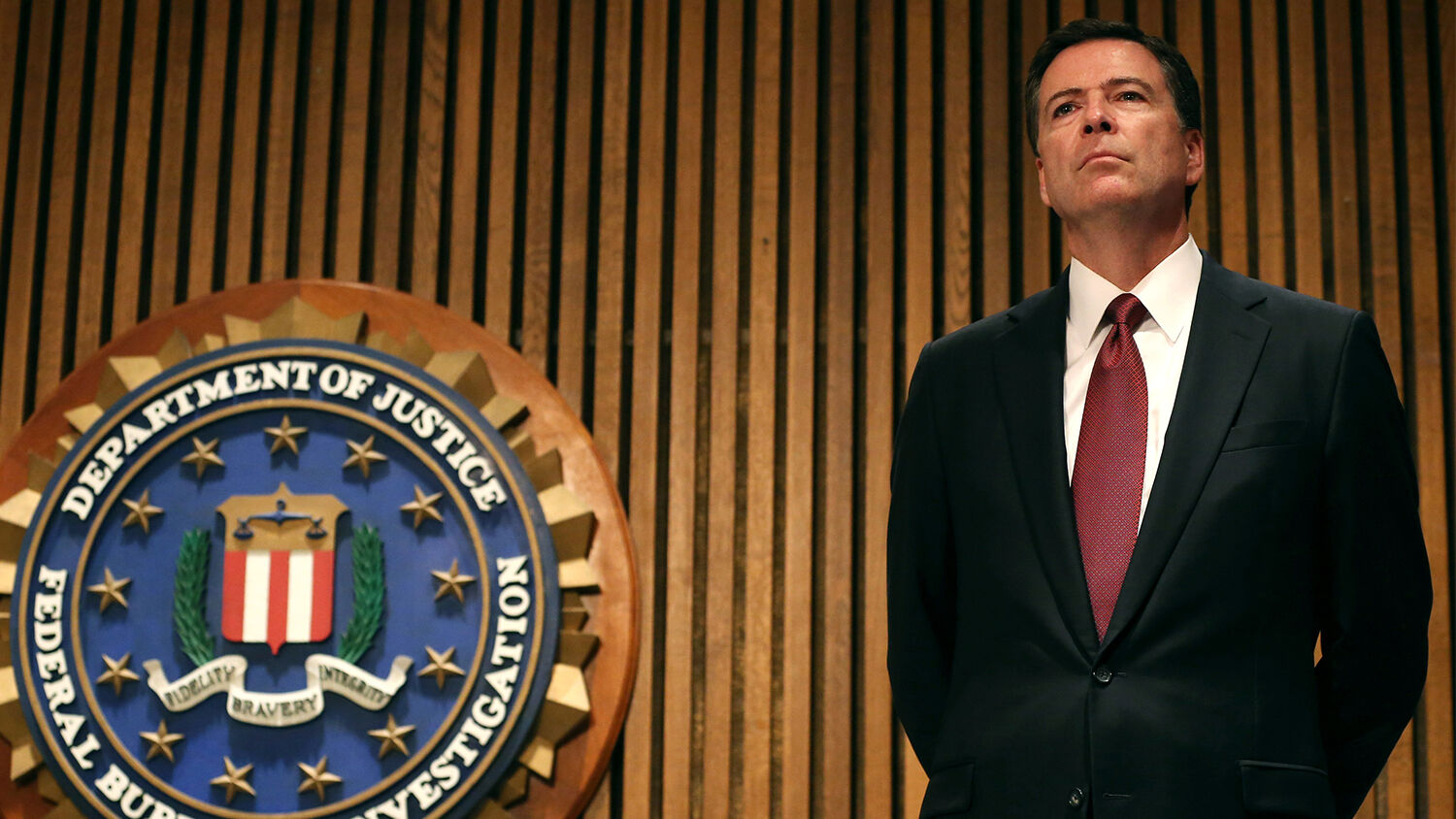 What the Inspector General Revealed About Obama's FBI
Democrats announced two articles of impeachment against United States President Donald Trump this morning, but don't let that distract you from another announcement made about 24 hours earlier. Yesterday, Department of Justice Inspector General Charles Horowitz published his report on how the Federal Bureau of Investigation justified its investigation into the Trump campaign in 2016. Horowitz concluded that the fbi met the low threshold required to open an investigation, but then followed that with over 400 pages about how it started off the investigation with at least 17 errors.
Democrats celebrated the report's conclusion that the investigation was justified and then ignored the significance of the errors committed by the fbi under former Director James Comey. They would rather focus the nation's attention on impeaching the president.
There are many important takeaways from the inspector general's report, but let's first look at the Democrats' approach to investigations.
When Democrats investigate themselves, there might be mistakes or wrongdoing, but there is never an evil, malicious intent. Contrast that with the ongoing impeachment inquiry and their previous attempt to remove the president: Special Counsel Robert Mueller's investigation. When it comes to investigating their political rivals, evidence is irrelevant because Democrats know there is malicious intent and it's just a matter of finding the crime.
Prior to becoming attorney general (for the second time), William Barr wrote a memo to the Justice Department in June 2018, stating:
The crux of Mueller's position is that whenever the president exercises any of these discretionary powers and thereby influences a proceeding, he has completed the [guilty act] of the crime of obstruction, … To establish guilt, all that remains is evaluation of the president's state of mind to divine whether he acted with a "corrupt" motive.
The Democrats can simply divine the corrupt intention of their opponents! And the same is true when they investigate themselves—they can divine the pure intentions of their allies. Look at the way Comey handled the investigation into Hillary Clinton's use of e-mail. In his unprecedented July 5, 2016, statement exonerating Clinton, Comey laid out copious amounts of evidence of wrongdoing by Clinton and her team, but he simply divined that they never "intended to violate laws."
Horowitz's latest report is a scathing critique of the fbi's mistakes as it opened the "Crossfire Hurricane" investigation into the Trump campaign. But, of course, he deduced that there was no corrupt intent.
Eli Lake wrote at Bloomberg that "the Democrats might want to show a bit more humility." He continued:
In particular, Inspector General Michael Horowitz's report concludes that the bureau's application for a warrant to electronically spy on a former Trump campaign aide, Carter Page, was riddled with errors of fact and omitted exculpatory information. The application relied on political opposition research from a former British spy, Christopher Steele, whose credibility was exaggerated in the surveillance warrant application to a secret court.
Horowitz's report identified "numerous serious factual errors and omissions in the applications … that undercut certain allegations in the fisa applications."
James Comey's fbi knowingly used bad information to surveil an American citizen who just so happened to be part of the Trump campaign. Not only that, over the course of its investigation, the fbi uncovered exculpatory evidence and ignored it! There was no reason to open an investigation into the Trump campaign, and there was no reason to continue it.
"On its own, the fate of Page is not important," Lake wrote. "It matters because his surveillance gives the public a window into how the process for obtaining electronic surveillance warrants from a secret court can be easily gamed. … All of this counts as an abuse of the fisa process. Not too long ago this was something that concerned Democrats, who led the charge to create the Foreign Intelligence Surveillance Act after horrendous surveillance abuse was uncovered in the 1970s. That legislation created a role for the courts to oversee the surveillance state's electronic eavesdropping."
This is a frightening level of abuse. Many people were shocked to learn just how easy it was to game the system: Start with an Internet rumor, get someone to write up a memo or two, treat that as probable cause, and then apply for the warrant to spy on an American.
Horowitz's report also vindicates Congressman Devin Nunes, who released a memo in 2018 about how the fbi used Christopher Steele's dossier in securing a warrant to spy on Carter Page. Horowitz's report revealed that the fbi had applied for a fisa warrant to spy on Page in August 2016, but lacked sufficient probable cause. It then reapplied using Steele's memos and obtained approval.
Nunes was vilified by the Democrats for releasing his memo drawing attention to the abuse going on in the fbi. At the same time, Adam Schiff, who had access to the exact same evidence Nunes did, decided to publish his own memo. Schiff claimed that the Steele dossier made up just a small part of the fisa application. But Horowitz concluded that it was "essential" to securing the fisa warrant targeting Page.
Former Director Comey wasted no time in responding to Horowitz's latest report. Just hours after the report was made public, his preplanned op-ed appeared in the Washington Post: "The Truth Is Finally Out. The FBI Fulfilled Its Mission."
Comey took his victory lap thanks to Horowitz's conclusion that there was justification for opening the investigation. When it came to the shocking amount of errors committed under his leadership, Comey wrote: "The Russia investigation was complicated—not surprisingly, the inspector general found mistakes, 17 of them, things the fbi should have done differently, or better. That's always unfortunate, but human beings make mistakes."
Comey appears to feel completely vindicated. And rather than remain quiet, he's actually demanding an apology from those who criticized the fbi!
"Well, the wait is over, and those who smeared the fbi are due for an accounting," he wrote. "In particular, Attorney General William P. Barr owes the institution he leads, and the American people, an acknowledgment of the truth."
Comey shows zero remorse for the historic level of abuse that happened under his watch and is instead denouncing the current attorney general for questioning the fbi's motives! He continued:
Unfortunately, it appears that Barr will continue his practice of deriding the Justice Department when the facts don't agree with Trump's fiction. Pointing to his personally commissioned "review" of the fbi's case-opening, Barr has declared it is too soon to conclude that the fbi was right to start an investigation. If his goal is simply to support the president's conspiracy theories, it will always be too soon to acknowledge the facts.

As the leader of an institution that is supposed to be devoted to truth, Barr needs to stop acting like a Trump spokesperson. In the words of the nation's founders, the Justice Department's inspector general has "[l]et facts be submitted to a candid world." The fbi fulfilled its mission—protecting the American people and upholding the U.S. Constitution. Now those who attacked the fbi for two years should admit they were wrong.
Despite yet another premature victory lap, Comey still isn't out of the water. Perhaps the biggest development from yesterday was that Attorney General William Barr and U.S. Attorney John Durham both issued statements saying they do not agree with Horowitz's conclusions.
The attorney general wrote: "The inspector general's report now makes clear that the fbi launched an intrusive investigation of a U.S. presidential campaign on the thinnest of suspicions that, in my view, were insufficient to justify the steps taken. It is also clear that, from its inception, the evidence produced by the investigation was consistently exculpatory."
Horowitz is an Obama appointee. In past reports, he has skillfully crafted language that highlights the mistakes but clears the perpetrators. His latest report is more of the same. That being said, his report is still highly condemning of mistakes made by former President Barack Obama's Department of Justice. Imagine what the report would say if it had been written by someone who wasn't appointed by Mr. Obama.
Horowitz's report is limited to an internal review of the Department of Justice. His office cannot investigate anything outside that lane, and he does not have the power to compel witnesses to appear. But Barr has appointed Durham to do just that. He is conducting a criminal investigation, with the power to compel testimony. Here is Durham's full response to Horowitz's report:
I have the utmost respect for the mission of the office of inspector general and the comprehensive work that went into the report prepared by Mr. Horowitz and his staff. However, our investigation is not limited to developing information from within component parts of the Justice Department. Our investigation has included developing information from other persons and entities, both in the U.S. and outside of the U.S. Based on the evidence collected to date, and while our investigation is ongoing, last month we advised the inspector general that we do not agree with some of the report's conclusions as to predication and how the fbi case was opened.
Barr's rebuttal of Horowitz's report should not be taken lightly. Durham has always been an unbiased investigator. He has a reputation for being a quiet investigator, taking him where the evidence leads and saying little to anyone along the way. It's unlikely he is risking that reputation just to take a jab at Horowitz.
Here is what President Trump said yesterday in response to the release of the inspector general's report:
This was an overthrow of government, an attempted overthrow, and a lot of people were in on it, and they got caught, they got caught red-handed. And I look forward to the Durham report, which is coming out in the not-too-distant future. He's got his own information, which is this information plus, plus, plus. It's an incredible thing that happened, and we're lucky we caught them. I think I'm going to put this down as one of our great achievements because what we found and what we saw—never, ever should this happen again in our country.
If Donald Trump hadn't won the presidency, none of this would be exposed. The president said exposing this abuse is one of the great achievements of his presidency. Horowitz's scathing report is just a signal of what is to come from Durham's investigation. My father, Trumpet editor in chief Gerald Flurry, has written that he believes we're going to get an "even clearer view of the rot that was there, and it will be significantly cleaned up!"
My father noticed and warned about radical leftists taking control of the Democratic Party well before it became well-known. He warned about Barack Obama's administration destroying our constitutional system of government before he ever moved into the White House. He said early in Donald Trump's administration that he would be used to save the nation temporarily. He explained why everything that Democrats and "deep state" agents try to do to destroy the Trump presidency ends up backfiring.
You will be surprised how the "cold civil war" raging within America's government begins to make sense if you read what my father has written on the subject: Start with "Saving America From the Radical Left—Temporarily."
Listen to Trumpet executive editor Stephen Flurry's Trumpet Daily Radio Show episode: "Inspector General Rebukes Comey's FBI, Comey Celebrates."