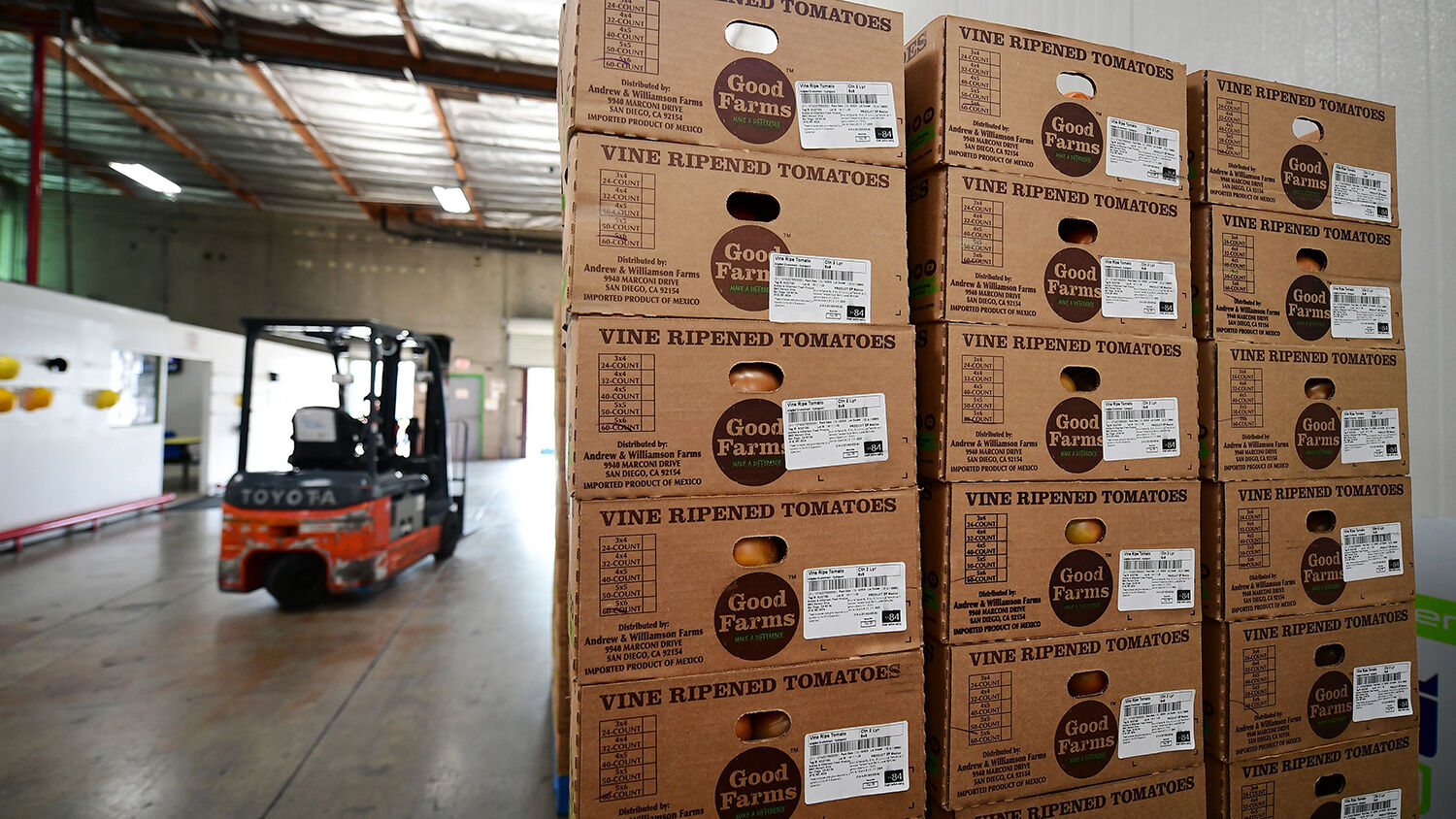 U.S.-Mexico Immigration: An Open Door for Europe?
New deal could reduce immigration, but may also drive Mexico to Europe.
In an effort to put a stop to what he has called "an invasion without guns," United States President Donald Trump has threatened to add tariffs to all Mexican imports unless the country takes action to reduce the flow of migrants. On June 7, just three days before the first round of tariffs were set to be applied, the U.S. and Mexico signed a deal to resolve the situation.
President Trump tweeted that a deal had been reached and that the threatened tariffs had been "indefinitely suspended." In turn, Mexico "agreed to take strong measures to stem the tide of migration through Mexico, and to our southern border. This is being done to greatly reduce, or eliminate, illegal immigration coming from Mexico and into the United States."
President Trump had previously announced on May 30 that, as of June 10, the U.S. would apply a 5 percent tariff on all Mexican imports into the U.S. "until such time as illegal migrants coming through Mexico, and into our country, stop."
The White House specified in an official statement that unless the government of Mexico reduces illegal immigration across the border into the U.S., tariffs would increase by 5 percent every month if necessary, reaching 25 percent in October. The tariffs would remain at that level until Mexico "substantially stops the illegal inflow of aliens" into the U.S. Calling these tariffs "very profitable," Trump said that if cooperation with the newly signed deal with Mexico breaks down, he is ready to reinstate them.
In the "U.S.-Mexico Joint Declaration" of June 7, Mexico agreed to take "unprecedented steps" to curb illegal immigration, which includes deploying its National Guard throughout the country, especially at its southern border with Guatemala. The deal also includes new Migrant Protection Protocols. Those crossing the U.S. southern border and seeking asylum will now be returned to Mexico immediately until their asylum claims have been processed. Mexico and the U.S. have committed to continue negotiations for further action if the flow of immigrants does not subside. The U.S. anticipates 1 million immigrants will come through its southern border this year.
President Trump argues that illegal immigration is draining the U.S. economy, overwhelming schools, and overflowing hospitals. He warns that although some of the immigrants are desperate families searching for a better life, many are criminals who are destroying America from within. The arrival of gang members, drug dealers, smugglers, human traffickers and other criminals is tearing the U.S. apart.
Before the deal was passed, President Trump faced heavy criticism for threatening tariffs, and some Democrats vowed to stop the measures if they could. Rep. Richard Neal said, "If the president does declare a national emergency and attempt to put these tariffs into place, I will introduce a resolution of disapproval to stop his overreach."
Although a deal has been made and tariffs relinquished, the pressure continues. Former World Trade Organization leader Pascal Lamy called Trump's deal "hostage-taking," and some are stirring fears that the president will continue to use threats of tariffs in other ways.
If tariffs on Mexico are applied in the future, they could have severe implications for the U.S. economy. Before the deal was signed, Mexico released a list of American industries that it would target with reciprocal tariffs, one of which was agriculture. The American agricultural sector is already suffering amid the trade war with China and historically bad weather that has devastated many U.S. crops. Mexico is the second-largest buyer of U.S. agricultural products, buying $19 billion in 2018.
If the U.S. placed tariffs on Mexico, it would be engaged in major trade disputes with two of its top three trading partners. Many people fear the economic impact that this could have on the U.S. "People are really scared," Nick Giordano, vice president and counsel for global government affairs at the National Pork Producers Council, told Reuters. "This is generating a tremendous amount of uncertainty and potentially, if this goes forward, it's going to be financial turmoil."
While the worries for the U.S. economy are real, the threat from illegal immigration cannot be ignored. The fear of tariffs did bring Mexican officials to the negotiation table immediately and has led to a deal already.
Increased security forces were dispatched to Mexico's southern border on Wednesday, June 5, the first day of negotiations. More than 350 immigrants coming from Central America were arrested on Wednesday morning, according to Mexico's National Migration Institute. The group were less than 24 hours and less than eight miles from the border into Mexico when they were arrested, a stark change to the 2,500 miles or so crossed by other caravans of immigrants through the entirety of Mexico and across the U.S. border. Mexican authorities have also arrested immigrant activists and closed the bank accounts of 26 people linked to human trafficking and supporting immigrant caravans.
Many analysts feared that tariffs could drive Mexico's economy into recession, with some credit rating agencies immediately dropping the country's outlook. This contributed to the Mexican government rapidly signing a deal.
While the deal has been heralded as a victory for the U.S., it could be a two-edged sword. The ability for the U.S. to quickly and severely punish Mexico is extremely revealing. It is a stark reminder to Mexico that it relies heavily on the U.S.
Former Mexican President Vicente Fox said that Mexico's current president has allowed the U.S. to dictate how the country operates, ceding some of Mexico's sovereignty. Other politicians have characterized the deal as "a surrender."
Others realize that Mexico's leader didn't have much of an option because of the nation's weak economy. Now, however, the country is left even more open to pressure. "Mexico is weak economically, and it's always going to be vulnerable if the United States is willing to use economic policy to enforce national security policy," former U.S. ambassador to Mexico Carlos Pascual told Reuters.
The latest round of tariff threats culminating in Friday's deal reveals a weakness in Mexico: Its total reliance on the U.S. for trade. Could realization lead the country to reach out to other powers? Bible prophecy says this will happen in the end time.
The U.S. will soon be replaced as Mexico's top trading partner—by Europe.
Deuteronomy 28:52 contains an end-time prophecy for America: "And he shall besiege thee in all thy gates, until thy high and fenced walls come down, wherein thou trustedst, throughout all thy land: and he shall besiege thee in all thy gates throughout all thy land, which the Lord thy God hath given thee."
In his March 2019 article "America Is Being Besieged Economically," Trumpet editor in chief Gerald Flurry wrote: "We must remember: America cannot be besieged economically and in a trade war unless Latin America is a part of that siege. With Latin America joining in, America is surrounded."
The Trumpet's predecessor magazine, the Plain Truth, prophesied this back in 1962, stating: "[T]he United States is going to be left out in the cold as two gigantic trade blocs, Europe and Latin America, mesh together and begin calling the shots in world commerce."
Mexico's geographic proximity to the U.S. and its status as America's third-largest trade partner mean it is in one of the best positions to inflict the most damage in an economic besiegement.
If trade relations break down between Mexico and America, will Mexico look to Europe to fill the void? Could Trump's tariff threats push Mexico toward Europe?
In 1997, Mexico became the first Latin American country to sign a trade deal with Europe. In April last year, Mexico and Europe signed a trade agreement that created nearly total duty-free trade. The European Union is currently Mexico's third-largest trade partner and is striving to deepen this relationship to include more than just trade.
These prophecies of an economic besiegement on America will be fulfilled, whether or not they result from President Trump's latest tariff threats. The breakdown in trade relations could lead to an increasing separation between Latin America and the U.S.
For more information on Latin America's coming economic alliance with Europe, read "Europe's Inroads Into Latin America." To understand the coming besiegement of America, read "America Is Being Besieged Economically."