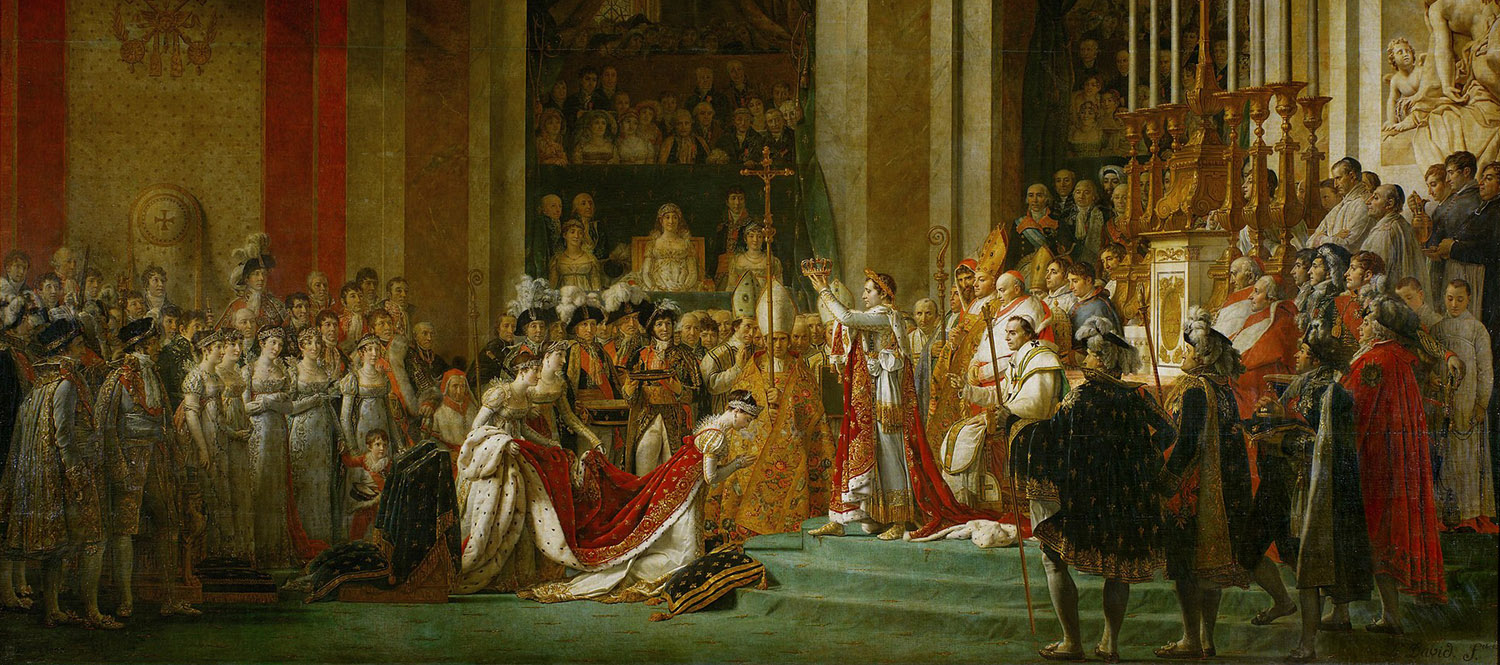 Book Club: Napoleon the Great
Welcome! Trumpet executive editor Stephen Flurry's Edstone Book Club resumed on January 17. Mr. Flurry and more than 20 club members are reading British historian Andrew Roberts's book, Napoleon the Great.
Trumpet editor in chief Gerald Flurry has repeatedly encouraged his readers to study history, especially the history of great individuals and prophetically relevant time periods. Napoleon Bonaparte was on the scene during one of the most prophetically important periods in history. In his book The United States and Britain in Prophecy, Herbert W. Armstrong emphasized the critical years surrounding 1800, when the modern-day descendants of Ephraim and Manasseh inherited the birthright promises made to their forefather Abraham and suddenly exploded onto the world stage as major powers. Napoleon was center stage during this transition between the 18th and 19th centuries, and he played an important role in the fulfillment of God's promise to Abraham.
Students of Bible prophecy also know that Napoleon led the fifth resurrection of the prophesied Holy Roman Empire (read The Holy Roman Empire in Prophecy for a detailed explanation of this history). The end of Napoleon's empire in 1814 marked 1,260 years from Justinian's Imperial Restoration in 554—the prophesied 1,260 years of Revelation 12:6 and 13:5 (read The True History of God's True Church to understand this prophecy in more detail).
But the devil's best efforts backfired spectacularly. The very tool that he created to destroy Ephraim and Manasseh actually helped forge these nations into truly exceptional powers!
Aside from his role in Bible prophecy, Napoleon's approach to warfare teaches us many important lessons about how we should approach our spiritual war. Mr. Flurry wrote in How to Be an Overcomer: "Napoleon Bonaparte was a ruthless dictator. But he was also one of the most phenomenally successful military leaders in history. Many great military men have studied him in detail, including Winston Churchill. His life contains principles and examples we can emulate in order to better fight our spiritual war."
Andrew Roberts's book on Napoleon will provide exciting details and context for some of the most important prophecies in the Bible. It will also add depth and meaning to some of the Trumpet's books and booklets. Ultimately, that is what this club is about—bringing Bible history and prophecy alive and becoming stronger, more faith-filled and more active and powerful Christian soldiers.
The Edstone Book Club meets every Thursday evening. The meetings are recorded, and we hope to provide a synopsis of each club session every Friday, including write-ups, videos, illustration, and maps. If you have a question or feedback, or if you'd like to chime in with your two cents, you can e-mail Stephen Flurry and the Edstone Book Club at StephenFlurry@theTrumpet.com.
MEETING 5 | February 14, 2019
At last week's meeting, Mr. Flurry concentrated on the Louisiana Purchase in 1803 and the coronation of Napoleon in December 1804. This week, he focused on Napoleon's unique contribution to the art of war, his way with his troops in generating esprit de corps, and the epic Battle of Trafalgar.
Mr. Flurry began with remarks about God's hand in the simultaneous rise of the fifth head of the Holy Roman Empire and the British commonwealth. After the Industrial Revolution, Britain was always ahead of France in industry and power. As Napoleon would come to accept, he would never be able to conquer the British. Roberts wrote about the British industrial strength that Napoleon was up against on page 360:
In 1794, payments to allies amounted to 14 percent of British government revenue; twenty years later, with Wellington's army actually inside France, it was still 14 percent, although the British economy had grown so considerably in the intervening period that this now represented £10 million, a vast sum. The heir to the French Revolution's debs, Napoleon was fighting against a government fuelled by the Industrial Revolution's profits, which it was willing to share round in support of its cause.
The Art of War and Austerlitz
Roberts wrote on page 360 that "as time went on and death in battle claimed his four closest friends, there were fewer and fewer people who were close enough to Napoleon to tell him what he did not want to hear." One man, Baron Louis de Bausset-Roquefort, really loved Napoleon. He said of Napoleon: "He was the only man in the world of whom it may be said without adulation, that the nearer you viewed him the greater he appeared" (page 361).
Above all, Napoleon was a great man in his military exploits. In the meeting, Mr. Furry shared a few quotes from Roberts about Napoleon's unique contribution to the art of war. On page 366, Roberts wrote:
Napoleon pioneered an operational level of warfare that lies between strategy and tactics. His corps became the standard unit adopted by every European army by 1812, and which lasted until 1945. It was his unique contribution to the art of war, and its first use in 1805 can be regarded as heralding the birth of modern warfare.
Page 374 provides a quote from Napoleon's soldiers after their success against the Austrians: "The Emperor has invented a new method of making war; he makes use only of our legs and our bayonets." In his military maneuvers, Napoleon always focused on speed. He understood the value of time and was meticulous in planning out how it should be used on the battlefield. On page 376, Roberts mentioned a scenario where Murat, one of Napoleon's generals, allowed an Austrian army to escape capture at Hollabrünn on November 15, an action that left Napoleon "in a fit of anger." Napoleon said of Bernadotte, another general who disappointed him at the same time: "He made me lose one day and on one day depends on the fate of the world; I would not have let one man escape."
Napoleon's warfare was characterized by relentless forward motion, and he highly valued time. In our spiritual warfare, time is also of high value. We are better soldiers for Christ when we make good use of our time, especially as time is running out.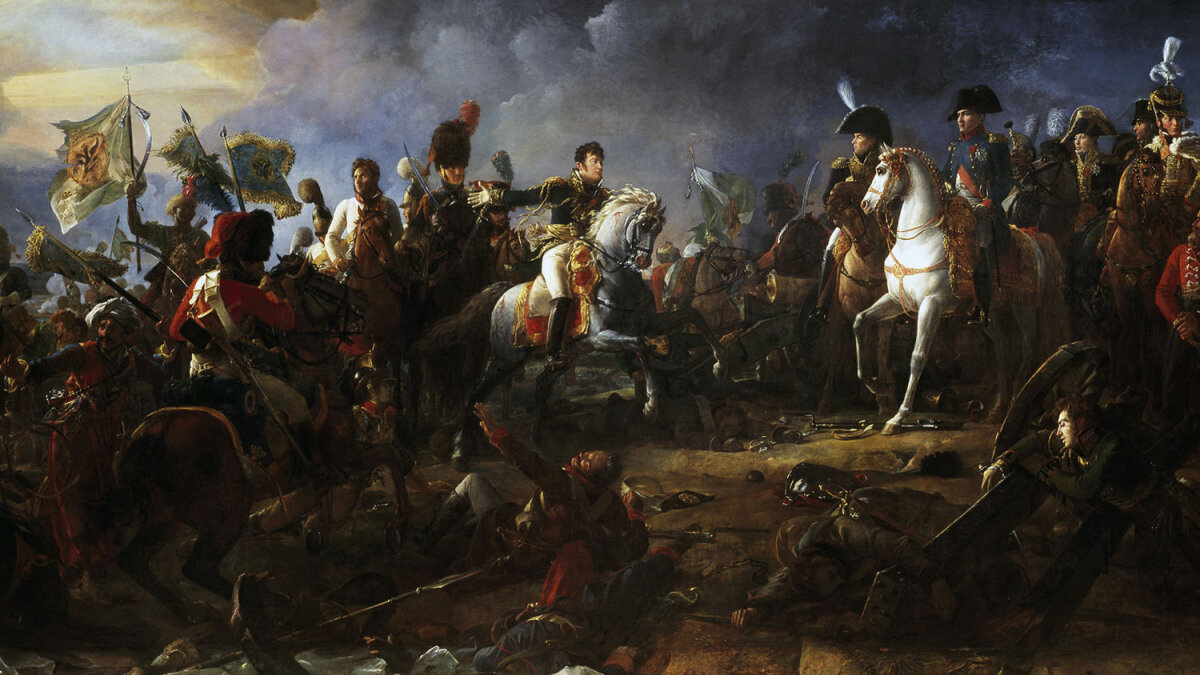 One of the most important aspects of Napoleon's warfare, as Mr. Flurry has noted, was his use of esprit de corps. He associated with the troops often to boost their morale. On page 372, Roberts spotlighted just how close and personal Napoleon was with his men:
[O]ne appreciates the importance of the high morale and esprit de corps that Napoleon did so much to instill in his men. In the course of the fighting a grenadier of the former Army of Egypt lay wounded on his back in the pelting rain crying "Forwards!", so Napoleon, who recognized him, took off his own cloak and threw it over him, saying: "Try to bring this back to me, and in exchange I will give you the decoration and the pension that you have so well deserved."
Napoleon's battle strategy was quite different from that of other generals of the time. Roberts quotes him on page 366: "To tell you the truth, the thing that made me gain so many battles was that the evening before a fight, instead of giving orders to extend our lines, I tried to converge all our forces on the point I wanted to attack. I massed them there."
Napoleon was a fantastic general when it came to leading his men with focus and high morale, and he always engaged with the soldiers to bring their focus in line with his for the greatest possible chance at victory.
The Battle of Trafalgar
Mr. Flurry began the section on Trafalgar with a quote from a bbc article by Adam Lambert:
During the engagement at Trafalgar, on 21 October 1805, the Royal Navy annihilated the greatest threat to British security for 200 years, but lost Britain's national hero in the process. Little wonder the battle transcended the mundane calculation of ships and men, victory and defeat. It guaranteed Britain's control of the oceans, the basis of her global power for over a century.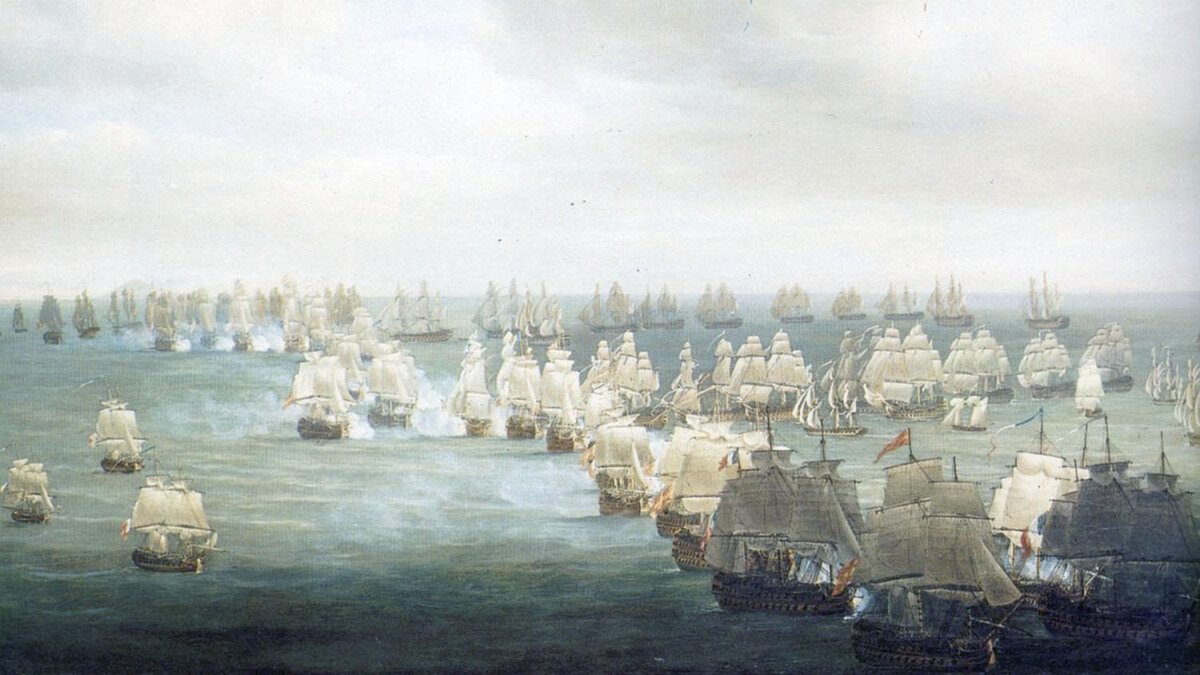 Roberts wrote on page 374: "The battle led to British naval dominance for over a century. As the philosopher Bertrand de Jouvenel put it, 'Napoleon was master in Europe, but he was also a prisoner there.'"
On page 375, he wrote that "Napoleon's mastery of land warfare was perfectly balanced by British mastery at sea, as the events of the autumn of 1805 were to demonstrate."
The Battle of Trafalgar made Napoleon face a stark truth: He would never be able to conquer the British Navy. In conjunction with this point, Mr. Flurry shared a couple of quotes from David Howarth's book Famous Sea Battles:
Page 68—"The long blockade of all Napoleon's ports in the years before Trafalgar was the greatest sustained and communal feat of seamanship there has ever been or ever will be."
Page 71—"Avoiding personal danger was not [Nelson's] idea of duty, and he would not listen. On the contrary, danger always put him in the best of spirits."
Lord Nelson's prayer before the Battle of Trafalgar was a testimony of his character and a major reason why God gave Britain the victory that day. He prayed: "May the great God, whom I worship, grant to my country and for the benefit of Europe in general, a great and glorious victory …. For myself individually, I commit my life to him that made me; and may His blessing alight on my endeavors for serving my country faithfully. To him, I resign myself, and the just cause which is entrusted to me to defend. Amen" (William Manchester, The Last Lion, Vol. 2, page 513).
Admiral Nelson was a brilliant example of leadership, and he also fostered high morale in his troops. His last words are recorded as, "Thank God I have done my duty" (The Last Lion, Vol. 2, page 79).
At the end of the Battle of Trafalgar, the French and Spanish fleets lost 22 ships. Britain didn't lose one! This was the most decisive naval battle of the Napoleonic Wars. The British had 1,666 casualties in the battle, while the French and Spanish had 13,781 men killed, wounded or captured. The Battle of Trafalgar was a miracle for Britain. After this battle, Napoleon knew that Britain was more powerful at sea and that he could never overpower it, although he did try to rebuild his fleet. Roberts wrote on page 393 that upon receiving a medal showing the French eagle holding the British lion in its talons, Napoleon screamed "How dare you say the French eagle stifles the English lion? I cannot launch upon the sea a single petty fishing boat but she's captured by the English. In reality, it's the lion that stifles the French eagle."
Before asking for comments from the club, Mr. Flurry quoted from the 2002 version of The Former Prophets:
This was one of the greatest sea battles in history. It saved the British Empire. It appeared that Captain Nelson was outnumbered and outgunned. But was he? He turned to God with a beautiful prayer. He committed his life to his Creator.

Nelson sacrificed his life for the British Empire, and God gave him the victory.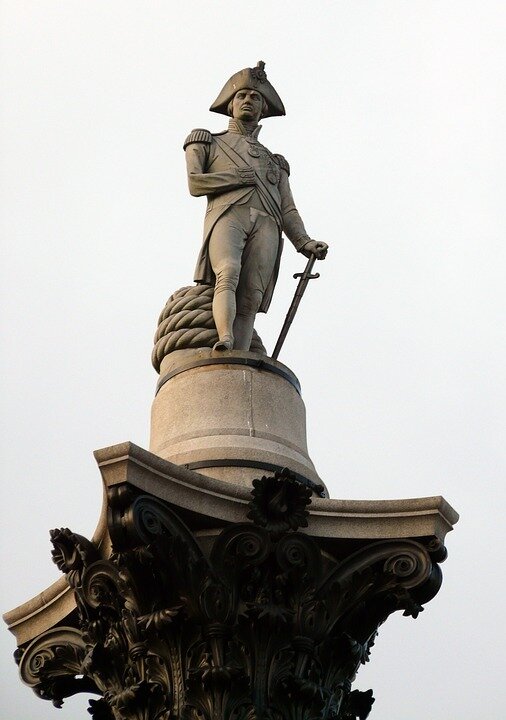 This historic battle is memorialized in London with Trafalgar Square, which was established in 1830, and Nelson's Column, which was erected in 1843. The column is 170 feet tall and supports a statue of Nelson on top. Napoleon fought a good fight on land, but when it came to sea warfare, the British always got the best of him.
Mr. Flurry concluded the club by discussing a few miscellaneous points such as Napoleon's quarrel with the pope (page 399), his ambitious work ethic in writing 2,679 letters in 1806, and a spiritual parallel with Napoleon's love of empire. Napoleon loved building and expanding his empire. As God's people, we should be far more passionate about expanding God's soon-coming empire than Napoleon was about his physical empire.
Reading for next club: Chapters 18-20
MEETING 4 | February 7, 2019
At last week's book club, Mr. Flurry explored lessons from the warfare of Napoleon Bonaparte. He also drew special attention to chapter 12 and Napoleon's union with the Roman Catholic Church. Last night, we concentrated on two important topics from this week's reading: the Louisiana Purchase in 1803 and the coronation of Napoleon in December 1804. Both events were prophetically significant.
Mr. Flurry began by briefly recalling the bombing plot against Napoleon on his carriage ride to a Paris opera house in December 1800. Roberts wrote on page 287 that this bombing "killed five people (including the young girl holding the horse) and injured twenty-six." However, this didn't stop Napoleon from attending and enjoying the opera that night. When he arrived at the opera house, he said to his wife, "Josephine, those rascals wanted to blow me up," and then calmly asked for a program for the oratorio that they were about to watch.
The assassination of Russia's Tsar Paul i on March 23, 1801, as Mr. Flurry next discussed, was a significant moment in Napoleon's life. Bonaparte had been on good terms with the tsar and was actually quite close to him personally; Roberts says on page 295, "The assassination of Tsar Paul i on March 23 came as a blow to Napoleon, who is said to have cried out in rage at the news." Roberts also wrote on page 296 that Alexander, Paul I's successor, "ultimately did more than any other individual to bring about Napoleon's downfall," and that "his emergence on to the European scene with his father's assassination was a seminal moment." Tsar Alexander was more pro-British than Tsar Paul i; under his leadership, Russia left the League of Armed Neutrality. In essence, the assassination of Paul i was when Napoleon lost his close ties with Russia.
Amiens and the Louisiana Purchase
On October 1, 1801, Napoleon made a peace treaty with Britain. Under the treaty, Britain gained part of Italy and Egypt, and France regained the parts of its overseas empire that Britain had held since 1793. "The treaty was a massive diplomatic coup, since Egypt was being evacuated anyway after Menou's defeat, as the British discovered on October 2, the very day after its signature," wrote Roberts on page 298. He also wrote this on page 307:
On Thursday, March 25, 1802, after nearly six months of negotiations, the Anglo-French peace treaty, to which France's allies Spain and Holland were also signatories, was finally signed in the hôtel de ville at Amiens. … The provisions of Amiens were substantially similar to the preliminary treaty, with Britain promising to leave Malta and declare it a free port within three months of ratification, returning the island to the Knights of St John, and to cede its control over Pondicherry, and France regaining her colonies for the price of evacuating Naples, Taranto and those parts of the Papal States such as Ancona that were not in the Italian Republic.
Napoleon was playing the role of a pacifist, but it was only temporary. He would have aggressive correspondence with Lord Whitworth of Britain in March 1803 that would eventually incite Britain to declare war on France. "The English want war," Napoleon said, "but if they are the first to draw the sword, I will be the last to return it to the scabbard. They don't respect treaties" (page 321). In reality, neither did Napoleon.
Mr. Flurry noted that even though Napoleon made gains through peace treaties, he recognized that France would never match the industrial strength of Britain. Roberts wrote on page 315: "Yet by the end of his reign, France had reached only the level of industrialization that Britain had enjoyed in 1780 …. But for all Napoleon's efforts, and especially once war broke out again, French industrialization was only ever on a small scale compared to that of the powerhouse across the Channel." A little further down on page 315, Roberts wrote that "Napoleon had managed greatly to increase confidence in France's finances and in her ability to honor her government's bonds, but even so they never managed to match Britain's in this period. At his best, he was forced to borrow at higher rates than Britain at its worst."
Neither Britain nor France abided by the terms of the Amiens treaty for very long. Within a year of the Peace of Amiens, Britain had declared war on France. Just before Britain declared war, Napoleon made a momentous decision to sell what the Spaniards sold to him only one year earlier—the Louisiana territory in North America. Napoleon offered the 820,000 acres of land to the United States for $15 million dollars, or about three cents an acre. Mr. Flurry commented that U.S. President Thomas Jefferson's decision to agree to the purchase was hugely important because "America would never have been able to become a continental power were it not for the Louisiana Purchase." The land deal doubled the size of the United States, giving it access to the critical port of New Orleans, the entire Mississipi River basin, and the extremely rich farmland in the middle of America that would soon become its breadbasket. This purchase contributed immensely to America becoming a superpower.
Mr. Flurry then provided a few slides on the Louisiana Purchase to draw attention to its significance to America.
His first was from an article entitled "The Deadly Dangerous U.S.-Cuba Deal" by Trumpet editor in chief Gerald Flurry:
For Napoleon, Haiti served as the basis of his empire in the New World. When he lost Haiti in a slave revolt, he gave up his ambition in the Western Hemisphere and sold off a massive chunk of territory in the Louisiana Purchase.
Mr. Flurry then quoted Dumas Malone's book, Jefferson the President: First Term, 1801-1805:
This epoch-making agreement with France was owing to a concurrence of extraordinarily fortunate circumstances—fortunate, that is, from the American point of view.
President Jefferson, who agreed to the purchase, said the following:
While the property and sovereignty of the Mississippi and its waters secure an independent outlet for the produce of the western states, and an uncontrolled navigation through their whole course, free from collision with other powers and the dangers to our peace from that source, the fertility of the country, its climate an extent, promise in due season important aids to our treasury, an ample provision for our posterity, and a widespread field for the blessings of freedom and equal laws.
On page 325, Roberts included a quote from Napoleon from the time of the Louisiana Purchase: "I have just given to England a maritime rival that sooner or later will humble her pride." He was right; only a few years later, America went to war against Britain in 1812 over British violations of U.S. maritime rights. Herbert W. Armstrong wrote the following in a co-worker letter dated June 15, 1984, regarding the importance of the Louisiana Purchase:
Until 1800 these nations had been small and unimportant in the world. But suddenly, in a.d. 1800, London became the financial capital of the world. The United States had been 13 original colonies with a few territories added. In 1803, the Louisiana Purchase was acquired from France, and the United States almost suddenly sprouted up into—by 1918—the greatest, wealthiest and most powerful nation on earth.
Drawing on this statement, Mr. Flurry further highlighted how God used the Holy Roman Empire to build up America with the Louisiana Purchase.
The Coronation of Napoleon the Great
After some club discussion on the Louisiana Purchase, Mr. Flurry expounded on the coronation of Napoleon.
The coronation occurred on Sunday, December 2, 1804. This was a monumental occasion that Roberts describes on the last few pages of chapter 15. On page 355, he wrote that "Napoleon's crowning of himself was the ultimate triumph of the self-made man, and in one way a defining moment of the Enlightenment. It was also fundamentally honest: he had indeed got there through his own efforts."
Mr. Flurry quoted what Roberts wrote on page 355 about the two crowns Napoleon wore: "Napoleon had two crowns during the coronation: the first was a golden laurel-wreath one that he entered the cathedral wearing which was meant to evoke the Roman Empire and which he wore throughout; the second was a replica of Charlemagne's crown, which had to be specially made because … the Austrians wouldn't lend him Charlemagne's." This really shows how Napoleon saw himself—as a successor of the Holy Roman Empire.
Before opening it up for discussion, Mr. Flurry gave two additional quotes for the night. The penultimate quote was from page 70 of E.E.Y. Hale's book Napoleon and the Pope:
In the same way the regalia carried by the emperor would be a mixture; some would be articles supposed to have been carried by Charlemagne at his coronation, some would be modern copies; most of the originals were unfortunately in the keeping of the Holy Roman Emperor, who could hardly be approached for the loan of them. The pope was by no means pleased with all the arrangements. It had been clearly understood at Rome that he was to crown as well as to anoint the emperor, but now it seemed that Napoleon was unwilling to receive the crown from anybody's hands; he would place it on his own head, only allowing the pope to bless it first.
Mr. Flurry finished with a quote from The Holy Roman Empire in Prophecy, page 122. It reminds us of the importance religion played in the the fifth head of the Holy Roman Empire:
Napoleon may not have been an ardent Catholic like Charlemagne, but he knew history. He knew that to achieve his dream of a united European empire, he needed the sanction of the Roman Catholic Church. And the church, after suffering major setbacks during the Reformation and French Revolution, saw Napoleon as a means of restoring its place and power.
Reading for next club: Chapters 16-17
MEETING 3 | January 31, 2019
At last week's meeting, Mr. Flurry discussed esprit de corps and some of the personal lessons we can draw from the life of Napoleon Bonaparte as we follow Paul's admonition in 1 Timothy 1:18 to "war a good warfare." Last night, Mr. Flurry reiterated that admonition from Paul and explored more lessons from the warfare and tactics of Napoleon. He also drew special attention to chapter 12 of Andrew Roberts' book and Napoleon's union with the Roman Catholic Church.
This quote from How to Be an Overcomer reminds us that there are personal lessons to take from Bonaparte:
Napoleon Bonaparte was a ruthless dictator. But he was also one of the most phenomenally successful military leaders in history. Many great military men have studied him in detail, including Winston Churchill. His life contains principles and examples we can emulate in order to better fight our spiritual war.
Mr. Flurry began by spotlighting a few scriptures regarding our spiritual warfare:
"And

an host

was given him against the daily sacrifice by reason of transgression, and it cast down the truth to the ground; and it practised, and prospered."—Daniel 8:12
"For it became him, for whom are all things, and by whom are all things, in bringing many sons unto glory, to make

the captain of their salvation

perfect through sufferings."—Hebrews 2:10
"P

ut on the whole

armour

of God

, that ye may be able to stand against the wiles of the devil."—Ephesians 6:11
"F

ight the good fight of faith

, lay hold on eternal life, whereunto thou art also called, and hast professed a good profession before many witnesses."—1 Timothy 6:12
Then Mr. Flurry read a quote from the Micah booklet:
[The Laodiceans] are too weak to fight for God. They no longer have God's power. Then they become spiritual dupes and are used by Satan in his war against God. They have forgotten that God called us into a great spiritual war! We are soldiers (2 Timothy 2), and soldiers must fight—even die, if necessary. These weak Laodiceans would rather surrender to Satan than fight for God's truth and prophecy.
First Consul
In 1799, following his return from Egypt, Napoleon masterminded a coup that ended with him becoming First Consul of France. The way he navigated his first 15 weeks as First Consul was masterful. On page 156 of Napoleon the Great, Roberts writes,"Placing oneself in the limelight while seeming modestly to edge away from it is one of the most skillful of all political moves, and Napoleon had mastered it perfectly." Napoleon was only 30 when he became First Consul, but he shrewdly maneuvered his way to dictator status.
Bonaparte's incredible ability to manipulate enabled him to advance his agenda with terrific speed. On pages 239-240, Roberts notes that he even manipulated the vote tally in his favor for the passing of the Constitution of the Year viii:
Page 239—"On February 7 Lucien formally announced the results of the plebiscite, asserting that that 3,011,007 Frenchmen had voted in favor of the Constitution of the Year

viii

and only 1,562 against."
Page 240—"Lucien's fiddling of the figures provides a perfect insight into one of the most characteristic aspects of the Napoleonic story. Napoleon was always going to win by a huge landslide, yet the Bonapartists simply couldn't resist exaggerating even those numbers …."
On page 240, Roberts points out that half the French electorate was illiterate. This meant that mayors, many of whom were in the pocket of Napoleon, filled in their ballots for them. Mr. Flurry noted that this is a key difference between the 5th and 7th heads of the Holy Roman Empire. The leader of the 7th head of the Holy Roman Empire will have to be much more crafty and sophisticated since people today are much better educated than they were in the early 19th century. As Daniel 11:21 says, "And in his estate shall stand up a vile person, to whom they shall not give the honour of the kingdom: but he shall come in peaceably, and obtain the kingdom by flatteries."
Napoleon's first four months as First Consul were exceptionally productive. Roberts sums up the noteworthy accomplishments on page 249 of his book:
"Napoleon had effectively ended the French Revolution, seen off the Abbé Sieyès, given France a new constitution, established her finances on a sound footing, muzzled the opposition press, started to end both rural brigandage and the long-running war in the Vendée, set up a Senate, Tribunate, Legislative Body and Conseil d'État, appointed a talented government regardless of past political affiliations, rebuffed the Bourbons, made spurned peace offers to Britain and Austria, won a plebiscite by a landslide (even accounting for the fraud), reorganized French local government and inaugurated the Banque de France."
The Battle of Marengo
On June 14, 1800, the Grande Armée led by Napoleon fought Austrian forces in the Battle of Marengo. This famous battle was Napoleon's first great victory as First Consul, but it came very close to being a devastating defeat. Some might say it was a miraculous victory. Roberts notes two standout aspects of "sheer good luck" on page 269 that made his victory at Marengo possible:
For all his military genius, intellectual capacity, administrative ability and plain hard work, one should not underestimate the part that sheer good luck played in Napoleon's career. In May 1800 there was a gap in the weather for crossing the Alps, and in June the rains slowed Desaix's march away from Marengo enough so that he could return to the battlefield in time to save his commander-in-chief.
When it came to war, Napoleon believed, "If you make war, employ severity and activity; it is the only means by which you make it shorter, and consequently less deplorable for humanity" (page 242). Bonaparte was ruthless but effective in his military endeavors. In our Christian lives, we too must employ severity in our war against sin.
Using Religion for Political Ends
Napoleon once remarked, "If I ruled a people of Jews, I would rebuild the Temple of Solomon!" (Page 272). His use of religion in politics empowered and popularized him. After discussing the Battle of Marengo, Mr. Flurry segued into chapter 12 and discussed how Napoleon used religion to achieve political ends. Mr. Flurry accentuated this fact with a few quotes from The Holy Roman Empire in Prophecy.
Page 118—"'Napoleon did not intend to serve religion, but to use it,' writes John Vidmar in The Catholic Church Through the Ages: A History."
Page 119—"… Napoleon came to the same conclusion that Justinian, Charlemagne, Otto and the Habsburgs had all come to before him: To have maximum power, he needed moral and spiritual cover provided by the Catholic Church."
Page 119—"To make peace with the church, Napoleon signed the Concordat of [July] 1801 with Pius

vii

. This agreement reversed a lot of the setbacks the revolution had inflicted upon the church. It proclaimed that Catholicism was the religion of the great majority of the French citizens. It guaranteed Catholics freedom of religion—but also brought that religion under some state control, stating that bishops had to swear loyalty to the government."
Page 122—"Napoleon may not have been an ardent Catholic like Charlemagne, but he knew history. He knew that to achieve his dream of a united European empire, he needed the sanction of the Roman Catholic Church. And the church, after suffering major setbacks during the Reformation and French Revolution, saw Napoleon as a means of restoring its place and power."
Recognizing the significance religion played in people's lives in 19th-century Europe, Napoleon utilized it skillfully. On page 272, Roberts quotes Napoleon saying, "The idea of God is very useful to maintain good order, to keep men in the path of virtue and to keep them from crime." He also said, "To robbers and galley slaves, physical restrictions are imposed; to enlightened people, moral ones."
On page 275, Napoleon told the legislature in 1803 that the reintroduction of religion was having the desired effect on the French populace: "Children listen with more docility to the voice of their parents, youth is more submissive to the authority of the magistrate, and the conscription is now effected in places where its very name used to arouse resistance." As Roberts notes, this illustrates that Napoleon "primarily saw religious reconciliation in terms of propaganda and public discipline."
Napoleon built his empire using the Roman Catholic Church! He once said, "I am the successor, not of Louis xvi, but of Charlemagne." He clearly understood the empirical heritage he was following. Roberts writes on page 276 that Napoleon resurrected an empire like Justinian's through the Code Napoléon: "Essentially a compromise between Roman and common law, the Code Napoléon consisted of a reasoned and harmonious body of laws that were to be the same across all territories administered by France, for the first time since the Emperor Justinian."
The final discussion among the club members included: Napoleon's interaction with the Catholic Church and how it fits in with Bible prophecy; the spirit Napoleon had during his time as First Consul; and how much he valued education, which he saw as "the most important of all the institutions, since everything depends on it, the present and the future" (page 280).
Reading for next club: Chapters 13-15
MEETING 2 | January 24, 2019
In the first book club, Mr. Flurry explored the prophetic context of Napoleon Bonaparte's rise to power, emphasizing that Napoleonic France was the fifth head of the prophesied Holy Roman Empire. In this week's meeting, Mr. Flurry focused on some of the lessons that we can learn from this great military general, which we can apply to our personal spiritual battles as we "war a good warfare" (1 Timothy 1:18).
Mr. Flurry began with a few quotes from his father's book How to Be an Overcomer, including this quote from page 73:
Napoleon Bonaparte was a ruthless dictator. But he was also one of the most phenomenally successful military leaders in history. Many great military men have studied him in detail, including Winston Churchill. His life contains principles and examples we can emulate in order to better fight our spiritual war.
Mr. Gerald Flurry also wrote in The Former Prophets: "Napoleon Bonaparte said that if you want to be a great general, you must study the great generals of the past. That is good advice for us spiritually as well. Bible history is the greatest history of all because it's God's history." Mr. Flurry reviewed these quotes and then tied in some scriptures:
"This charge I commit unto thee, son Timothy, according to the prophecies which went before on thee, that thou by them mightest war a good warfare."—1 Timothy 1:18
"Put on the whole armour of God, that ye may be able to stand against the wiles of the devil."—Ephesians 6:11
French Revolution
Napoleon would probably have gained distinction in any era of world history because of his natural abilities, but his rise at the time of the French Revolution is a remarkable instance of being in the right place at the right time. Roberts wrote on page 29: "[T]he epoch when he first entered on his career was particularly fitted to facilitate his elevation." The French Revolution helped set the stage for Napoleon's arrival.
Napoleon supported the downfall of the monarchy, even though he was an aristocrat himself. Roberts wrote: "Despite hating mobs and technically being a nobleman, Napoleon welcomed the Revolution. … He embraced its anti-clericalism and did not mind the weakening of a monarchy for which he had no particular respect" (page 29).
September 5, 1793, to July 27, 1794—Thousands of French noblemen and suspected royalists were executed during the Reign of Terror (page 44).
June 11, 1793—The Bonaparte family left Corsica for France. Napoleon knew his future was in France, so he and his family settled in the coastal town of Toulon (pages 44-45).
Pages 46-51—Filled with youthful ambition, Napoleon took command of the Toulon artillery at the age of 24. His victory against the Anglo-Spanish fleet at Toulon was a seminal moment in his early career. Roberts wrote that the victory "'gave him confidence in himself.' He had shown that he could be trusted with command" (page 51).
The Italian Campaign
Following his victory at the siege of Toulon, Napoleon returned to Paris, where he worked for the Historical and Topographical Bureau of the War Ministry. Here, the young Bonaparte worked with some of the greatest military minds in France and received high-level training. On Feb. 7, 1794, the ambitious 24-year-old was given command of the Italian army.
Just 48 hours prior to leaving for his campaign in Italy, Napoleon married his first wife, Josephine de Beauharnais (page 72). Though she had a lengthy affair while he was away in Egypt, Napoleon did not desert her when he returned to France. Roberts says on page 207 that "afterwards she was faithful to him, though he certainly wasn't to her." Roberts also wrote on page 208, "The story of Napoleon and Josephine is thus certainly not the romantic Romeo-and-Juliet love story of legend, but something subtler, more interesting and, in its way, no less admirable."
Between March 1796 and April 1797, Bonaparte was with his army in Italy, warring primarily with the Austrians and winning victory after victory. Outnumbered 60,000 to 40,000, Napoleon relied on speed and deception to gain an advantage over the enemy. He made detailed plans and moved quickly to try to catch enemy troops off guard (pages 78 and 85).
In this part of the club, Mr. Flurry quoted How to Be an Overcomer again: "Napoleon put a premium on speed and mobility. His enemies wanted to wage war in a more leisurely fashion. That is a big reason they were so often his victims. Waging war casually will get you killed."
There are clear spiritual parallels to Napoleon's strategy, as Mr. Gerald Flurry explains in the booklet. In Hebrews 12:1, the Apostle Paul wrote: "Wherefore seeing we also are compassed about with so great a cloud of witnesses, let us lay aside every weight, and the sin which doth so easily beset us, and let us run with patience the race that is set before us."
Mr. Stephen Flurry also listed some other lessons we can learn from Napoleon's tactics in war:
Napoleon had an incredible capacity for hard work. "In the nine months between his arrival in Nice and the end of 1796 he sent more than eight hundred letters and dispatches, covering everything from where drummer-boys should stand in parades to the conditions under which the 'Marseillaise' should be played" (page 79).
Napoleon valued information and knowledge. Before every campaign, he studied literally every ounce of information he could find. "In the nine days between receiving the appointment and leaving for his headquarters in Nice on March 11, Napoleon asked for every book, map and atlas on Italy that the war ministry could provide" (pages 72, 75 and 133).
"Napoleon was extremely thorough in all his planning; as little as possible was left to chance" (The Campaigns of Napoleon by David Chandler).
When necessary, Napoleon was capable of inflicting total destruction. "If you make war … wage it with energy and severity; it is the only means of making it shorter and consequently less deplorable for mankind" (page 99).
During this campaign, Napoleon had 12 victories in 12 months! His fame and popularity increased exponentially after this campaign. Roberts wrote that "although Barras and Carnot recognized his undeniable military capacity, all the Directors feared how he might use his growing popularity with the people once the Italian campaign was over" (page 117).
Military Strategy and Esprit de Corps
Napoleon was absolutely brilliant at fostering high morale in his troops, or esprit de corps. Mr. Flurry quoted How to Be an Overcomer:
'Napoleon was always aware of the vital importance of morale in warfare,' Chandler wrote, 'and another of his best-known maxims declared that in war, the morale is to the physical as three is to one.' With high morale, a general will win three times as many battles!

If you really have the spirit God wants you to have, the high morale, you are going to win three battles where you would normally win one. The morale that Napoleon prized is sometimes called esprit de corps—the spirit and enthusiasm of the group, loyalty to each other and to the cause.
Mr. Gerald Flurry writes later in the booklet, "[Napoleon's] speeches lit a fire in his men to fight. In that respect very few leaders have ever reached Napoleon's level."
As Roberts shows throughout his book, one of Napoleon's most outstanding strengths as a leader was his ability to foster esprit de corps within the troops that followed him to battle. He had a special ability to make common soldiers feel like they were part of something bigger than themselves—that they were making history. Pages 134-137 contain some details about how he did this. He was personable with the soldiers on an individual level, engaging in friendly banter with them and allowing battalions that particularly distinguished themselves to embroider slogans on their flags.
"In war," Napoleon wrote, "morale factors account for three-quarters of the whole; relative material strength accounts for only one-quarter."
Page 134—"He believed above all in the maintenance of strong esprit de corps. Although this combination of spirit and pride is by nature intangible, he knew that an army that had high morale could achieve wonders."
In How to Be an Overcomer, Mr. Gerald Flurry writes:
That is definitely an example we should seek to emulate in our spiritual warfare. The way for us to develop high morale is to get our hearts into God's work. The question is, what prevents you from doing that fully? What is holding you back? This is God's Work!—what holds you back from absolutely throwing yourself into it? We should all have high morale—and inspire that in others. Do you inspire others to have high morale, or do you drag them down?
The Bible contains many verses that can boost our spiritual morale:
"And I say also unto thee, That thou art Peter, and upon this rock I will build my church; and the gates of hell

shall not prevail against it.

" –Matthew 16:18
"Now thanks be unto God,

which always causeth us to triumph in Christ

, and maketh manifest the savour of his knowledge by us in every place." –2 Corinthians 2:14
"For by one Spirit are we all baptized into one body, whether we be Jews or Gentiles, whether we be bond or free; and have been all made to drink into one Spirit.

For the body is not one member, but many

." –1 Corinthians 12:13-14
"Not forsaking the assembling of ourselves together, as the manner of some is;

but exhorting one another

: and so much the more, as ye see the day approaching." –Hebrews 10:25
Napoleon always reminded his soldiers that they were making history. God's Church today is also making great history! We should remember Napoleon's example and apply his strategy of high morale.
Egypt Campaign and the Coup
This week's meeting finished with a brief discussion about Napoleon's relatively short campaign in Egypt and his return to Paris, where he masterminded the coup that resulted in him becoming First Consul of France. Mr. Flurry emphasized that Napoleon wanted the Egypt campaign to be a cultural and scientific experience, not just a war of conquest. Roberts emphasizes this aspect of Napoleon's campaigns, noting that he brought a group of scientists and scholars with him on the campaign so they could learn as much about Egypt as possible (pages 165, 203).
Reading for next club: Chapters 10-12
MEETING 1 | January 17, 2019
When Andrew Roberts published Napoleon the Great in 2014, it triggered a debate within the scholarly community: Was Napoleon really a "great" emperor? Or was he merely a cruel despot who romanticized war and conquest?
There is truth on both sides of the debate. Roberts, as you can tell by looking at the title of his book, believes Napoleon was a great man and a great leader. In fact, Roberts believes that Napoleon was the greatest figure of the 19th century—the man who saved France and transformed the West. Many share this view, including Winston Churchill.
Before we dive into the details of Napoleon's life, however, it is important to take a step back and get the prophetic context. Napoleon was on the scene during one of the most prophetically significant times in world history. He played a critical role in the fulfillment of two towering biblical prophecies.
First, Napoleon was the architect of the fifth resurrection of the Holy Roman Empire. The Bible has a lot to say about the Holy Roman Empire; you can read about it in Daniel 7 and Revelation 13 and 17. In book club, Mr. Flurry pointed members to Who and What Is the Prophetic Beast? and The Holy Roman Empire in Prophecy, which explore the prophecies about the Holy Roman Empire in detail. In 1804, during a ceremony in Notre Dame Cathedral in Paris, 35-year-old Napoleon took the crown from the pope and placed it on his own head—boldly crowning himself emperor of Europe!
As we read Napoleon the Great, it is important to never lose sight of who Napoleon was or the deeply evil system he thrived in. The man was brilliant and impressive, but he was also a monster. The Bible refers to the Holy Roman Empire as a "beast." Mr. Flurry referenced his father's booklet Daniel Unlocks Revelation, in which Mr. Gerald Flurry stated that the Holy Roman Empire is Satan's number one tool.
Mr. Flurry quoted a 2016 article written by his father, "The Spirit of Charlemagne Is Alive in Europe":
Napoleon ruled 200 years ago. Charlemagne ruled 1,200 years ago. Today, most people romanticize and glorify the reigns of these two European emperors. But they forget the bloodshed. They forget the violence these European rulers brought about. They blot out that bloody, bloody history. The Bible foretells that one more resurrection of this empire is ahead of us. … And what spirit will that leader have? The same spirit embraced by Hitler, by Napoleon, by Charlemagne.
Second, Napoleon was on the scene when God began fulfilling His promise of national greatness to Abraham (Genesis 12, 17, 22). That promise was passed down through Abraham's family line to Joseph's two sons, Ephraim and Manasseh—the forefathers of the modern nations of Britain and America. Because of ancient Israel's sins, the fulfillment of those promises was withheld for 2,520 years (Leviticus 26:18), until the beginning of the 19th century. Between 1800 and 1803, wrote Mr. Armstrong in The United States and Britain in Prophecy, these "two birthright peoples suddenly burst forth as the greatest world powers in all history!"
Amazingly, Napoleon played a key role in the stunning ascension of both Britain and America. In 1803, Napoleon sold approximately 828,000 square miles of land west of the Mississippi River to the United States. This Louisiana Purchase was one of the largest, most inexpensive and peaceful acquisitions of land in history. That choice land—America's breadbasket and home of the vital Mississippi River basin—helped propel America to its status as the greatest superpower in history. Napoleon himself recognized what he had done for America. Following the sale, he wrote: "This accession of territory affirms forever the power of the United States, and I have given England a maritime rival who sooner or later will humble her pride."
In 1805, Napoleon suffered a devastating loss to Adm. Horatio Nelson and the British Navy at the Battle of Trafalgar. The British victory cemented Britain's prophesied position as the ruler of the waves and helped increase its prestige around the world. Napoleon was finally defeated at the Battle of Waterloo in June 1815. His departure from the scene left Britain as the unrivaled power of Europe.
It is also interesting to think about the convergence of these two prophecies. Satan the devil knew about God's promise to Abraham. He knew about the 2,520-year prophecy. He knew that starting in 1800, God would begin blessing the modern descendants of Ephraim and Manasseh, forging Britain into the greatest empire ever and America into the greatest single nation in the world. If you think about it, Napoleon and the fifth resurrection of the Holy Roman Empire was Satan's attempt to prevent God from fulfilling His promise to Abraham.
But the devil's best efforts backfired spectacularly. The very tool that he created to destroy Ephraim and Manasseh actually helped forge these nations into truly exceptional powers!
Napoleon, Churchill and Empire
Winston Churchill was fascinated by Napoleon and considered him one of the greatest men in world history. In Visions of Glory, William Manchester noted that Churchill regretted not writing biographies of Napoleon and Caesar. Mr. Flurry played a clip of Andrew Roberts discussing Churchill's view of Napoleon and why Churchill might have been drawn to the French emperor:
I believe the greatest man of the 20th century, Winston Churchill, was profoundly influenced by the greatest man of the 19th century, Napoleon Bonaparte. Indeed, insofar as Winston Churchill had role models in life, they were his father Lord Randolph and Napoleon Bonaparte. It was Winston Churchill who noted that his parents met at Cowes on the Isle of Wight, on the 15th of August, 1873, which was Napoleon's 104th birthday. Churchill admired the way that Napoleon started his successful military career early in life, despite—or more probably because of—the fact that Napoleon's father had died when he was just 15, not much younger than Churchill was when his father died.

Winston Churchill said that "Napoleon was the greatest man of action since Julius Caesar." And I believe his life is also a standing rebuke to people who don't believe in the "great man theory" of history and who think that history is all created—like the Marxists do—by vast impersonal forces. Standing against that is the life and career of Napoleon.
Churchill hated it when people compared Hitler to Napoleon. He wrote: "It seems an insult to the great emperor and warrior to connect him in any way with a squalid caucus boss and butcher."
After discussing the love that Churchill and Napoleon had for empire, Mr. Flurry reminded book club members of his father's messages about empire and how important it is that we have a deep love for the God Family Empire. He played a clip from a sermon Mr. Gerald Flurry gave in September 2018:
Guttenberg's going around saying, "Look, we need more passion for the Holy Roman Empire!" Well, I think … we all (I'm talking about myself, too), but we need more passion for God's throne! We need more passion for this! We need deeper understanding for this! Read that booklet on the new throne of David again and again, and see what is really there. And again read it! I'm telling you, brethren, it is marvelous revelation from God! And we ought to thank God for it every week at least, and every day would be a good way to praise Him for what He's doing. But what kind of a passion do you and I have? This is about the salvation of the world! That's what it's all about!
Like Napoleon and Churchill, true Christians today must fight and struggle to enter the God Family Empire.
"To him that overcometh will I grant to sit with me in my throne, even as I also overcame, and am set down with my Father in his throne." –Revelation 3:21
"Fight the good fight of faith, lay hold on eternal life …." –1 Timothy 6:12
"S

trive

to enter in at the strait gate …." –Luke 13:24
"[M]ortify [kill] the deeds of the body …." –Romans 8:13
"I therefore so run, not as uncertainly; so fight I, not as one that beateth the air: But I keep under my body, and bring it into subjection: lest that by any means, when I have preached to others, I myself should be a castaway." –1 Corinthians 9:26-27
Napoleon: Birth and Family
Page 4—Napoleon was born on the Mediterranean island of Corsica on Aug. 15, 1769. He was of Italian ancestry: "I am of the race that founds empires."
Page 7—Napoleon's mother gave birth to an emperor, three kings, a queen and two sovereign princesses. She had 13 children in total, although only eight survived infancy. She stopped having children at the age of 33 when her husband died at age 38.
Page 17—Napoleon was 15 when his father died. The two had seen each other only twice during the six years that Napoleon was at boarding school.
Page 18—His father's death motivated Napoleon's drive and boundless energy. He thought his lifespan would be short like his father's, and he was right.
Napoleon: Character and Personality
Page 15—Napoleon was described by those who knew him as blunt, bold, enterprising and ferocious—"four adjectives that would serve to describe him for the rest of his life," according to Roberts.
Ben Macintyre of the Sunday Times says this about Napoleon the Great: "Roberts brings alive the emperor's attractive character, his intellectual fire and, above all, his astonishing personal dynamism."
Page 104—Bonaparte had an incredible capacity to compartmentalize: "Napoleon was capable of compartmentalizing his life, so that one set of concerns never spilled over into another—probably a necessary attribute for any great statesman, but one he possessed to an extraordinary degree. 'Different subjects and different affairs are arranged in my head as in a cupboard,' he once said. 'When I wish to interrupt one train of thought, I shut that drawer and open another. Do I wish to sleep? I simply close all the drawers, and there I am—asleep.'"
Page 149—One of his private secretaries had this to say about Napoleon when he was angry: "When excited by any violent passion his face assumed a … terrible expression … his eyes flashed fire; his nostrils dilated, swollen with inner storm …. He seemed to be able to control at will these explosions, which, by the way, as time went on, became less and less frequent."
Napoleon: History and Study
Roberts draws a lot of attention to Napoleon's intellectual prowess and his love of books. He loved studying history and biographies, especially those of great military men.
Page 3—"The reading of history very soon made me feel that I was capable of achieving as much as the men who are placed in the highest ranks of our annals."
Page 8—"[T]o read and re-read the campaigns of Alexander the Great, Hannibal, Julius Caesar, Gustavus Adolfus, Prince Eugene and Frederick the Great. This is the only way to become a great captain."
Page 12—Napoleon's two greatest heroes were Alexander the Great and Julius Caesar.
Page 12—"While his contemporaries played sports outside, [Napoleon] would read everything he could about the most ambitious leaders of the ancient world. … His schooling opened to him the possibility that he might one day stand alongside the giants of the past."
Pages 11-12—At age nine, Bonaparte was sent to boarding school in Autun, France. It was his education in France that made Napoleon more French than Corsican. He learned to speak and read French in three months! Four months before his 10th birthday, Napoleon was admitted into the Royal Military School of Brienne-le-Chateau.
Page 11—Napoleon excelled in mathematics. He later wrote that to be a good general, you need to know mathematics, as "it serves to direct your thinking in a thousand circumstances."
Page 20—As a teen in the French army, Napoleon sometimes skipped meals so that he could buy books.
Page 34—"There was nothing he valued so much as books and a good education."
Page 157—Napoleon "had read and annotated many of the most profound books of the Western canon; was a connoisseur, critic and even amateur theorist of dramatic tragedy and music; championed science and socialized with astronomers; enjoyed conducting long theological discussions with bishops and cardinals; and he went nowhere without his large, well-thumbed traveling library."
Reading for next club: Chapters 1-9