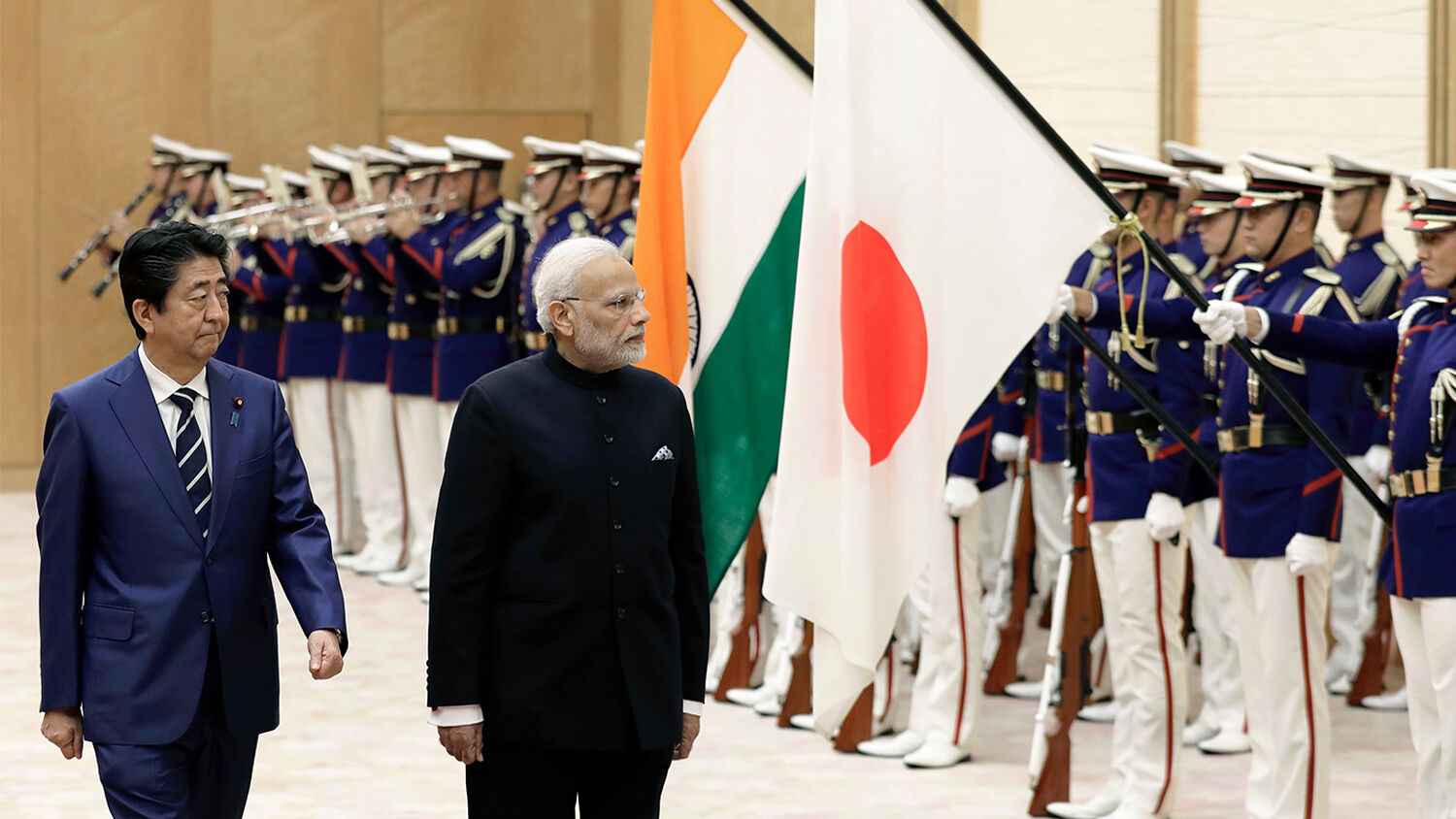 Historic Turning Points in Asian Relations
A historic Japan-China summit and the 13th annual Japan-India summit are leading to the fulfillment of Bible prophecy.
A recent summit between Japan and China represents a "'historic turning point' in bilateral relations that had hit rock bottom," the South China Morning Post wrote on October 28. Immediately after returning from meeting with Chinese President Xi Jinping in late October, Japanese Prime Minister Shinzō Abe met with Indian Prime Minister Narendra Modi. These events highlight an important development in Asian relations.
This "historic turning point" in relations between Japan and China occurred during Abe's three-day visit to China, the first official visit by a Japanese leader in seven years. During the trip, the two leaders authorized 500 business deals worth more than $2.6 billion, including energy and infrastructure deals, car projects and a $30 billion currency swap.
In addition to these numerous deals, the two nations "agreed not to aim threats or direct aggression at each other and resolved to increase high-level diplomatic and military exchanges through constructive dialogue …." Highlighting the importance of the trip, Abe told reporters that "bilateral relations have entered a new phase."
Tensions between Japan and China have been high for several years, with Chinese officials labeling Abe an "unwelcome person." This historic meeting represents an important change in the tone of relations between the two countries, and it comes at an interesting time geopolitically.
In 2010, China replaced Japan as the world's second-largest economy. It has continued to grow, rapidly challenging the United States as the world's number one economy. Now China and the U.S. are immersed in a full-scale trade war, and the U.S. has also levied tariffs on Japan. This shift in the economic order, combined with the trade war with the U.S., may be part of the reason why China is now reaching out to Japan. The trade war has caused many nations around the world to rethink their alliances.
Xi said during his meeting with Abe that both countries needed to move together in a "new historic direction" as global uncertainty spreads. Xi noted that the two countries "have been sharing wider and more pluralist common interests and common concerns." Both are facing trade pressure from the U.S. The October meeting shows the U.S. that China and Japan are willing to look in other directions for trade partners.
Although this was a positive step for the two nations, aspects of the previously tense relationship remain. The South China Morning Post wrote, "Pundits believe that although hardly any breakthroughs were reached on contentious bilateral issues, Abe's Beijing trip was still of symbolic significance for both China-Japan ties and international politics in the Trump era."
On October 28, Modi met Abe in Japan during the two nations' 13th annual summit. The only other nation that India holds annual summits with is Russia.
A key point of discussion for Abe and Modi at this meeting was defense cooperation, following the October 7–15 Japan-India Maritime Exercise. The two leaders agreed to foster closer naval cooperation and begin formal negotiations on the Acquisition and Cross-Servicing Agreement, which authorizes Japanese and Indian forces to obtain logistical support from each other's naval and military bases. These bases include Japan's base in Djibouti and India's island bases in the Indian Ocean.
At the end of the summit, Abe said, "Relations between Japan and India have the biggest potential in the world …. A strong Japan benefits India, and a strong India benefits Japan." Modi said, "I believe until and unless India and Japan have strong relations, Asia can never develop."
Many analysts note that this relationship is built on striving to counterbalance China's rising power. The Diplomat wrote, "The meeting between Modi and Abe marks a progression in diplomatic relations between the two countries. Their engagement on a range of global and regional issues, including maritime cooperation in the Indo-Pacific region, could provide a counterpoint to Chinese dominance in the region."
Unlike its relationship with China, Japan's relationship with India has been steady for many years. Many observers see the warmth between Japan and India as an indication of the two nations pulling together to counter China's rise. However, Abe's recent meeting with Xi and the multiple meetings Modi has had with the Chinese president also signal a softening of these two nations' stances toward China and each other.
There is still a long way to go before all three nations—China, Japan and India—enter a full alliance, but this is exactly what Bible prophecy says will happen.
We have written about the fulfillment of this prophecy extensively at the Trumpet. In our Trend article "Why the Trumpet Watches Japan's March Toward Militarism," Trumpet writer Jeremiah Jacques wrote:
Journalists sometimes mention the biblical word Armageddon found in Revelation 16:16, but it is rare to hear talk of "the kings of the east" discussed in verse 12 of that same chapter. The Bible shows that these "kings of the east" will be a massive bloc of Asian nations that pool their militaries together in the end time. They do this in order to confront another power bloc led by Germany. Revelation 9:16 says that the Asian army will be comprised of a jaw-dropping 200 million soldiers.

Some specific details of how this Eastern superpower will form in the end time are still unknown, but prophecy is unmistakably clear about the fact that it will happen. And, though it will be led by Russia and China, Ezekiel 38:6 specifies that "Gomer" and "Togarmah" will be part of this power bloc, and lend their military power to it. These are ancient names for the main peoples who make up modern Japan.
The Bible prophesies that this Asian power bloc will amass a 200 million-man army. This will include China, Japan and India—the same large and powerful nations that are currently improving their relationships. Our booklet Russia and China in Prophecy says:
Most Bible critics today argue that it would be impossible to assemble an army this size. Yet consider the numbers. The current population in China is over 1.3 billion. Russia has 144 million. Other Asian nations are prophesied to join this alliance—among them, India, with its 1.2 billion people and third-largest army in the world. Japan, the nations of Southeast Asia, and the former Soviet republics are all definite or probable participants in this alliance. …

There will easily be a total approaching 4 billion people from which to make up an army of 200 million!
Some of these major Asian nations, particularly Japan and China, have not completely overcome the past tensions between them. But with the added pressure of a rising European superpower, this alliance will form soon.
The arrival of this army marks a key step in Bible prophecy. To understand more about these prophecies, and their hope-filled conclusion, order your free copy of Russia and China in Prophecy.