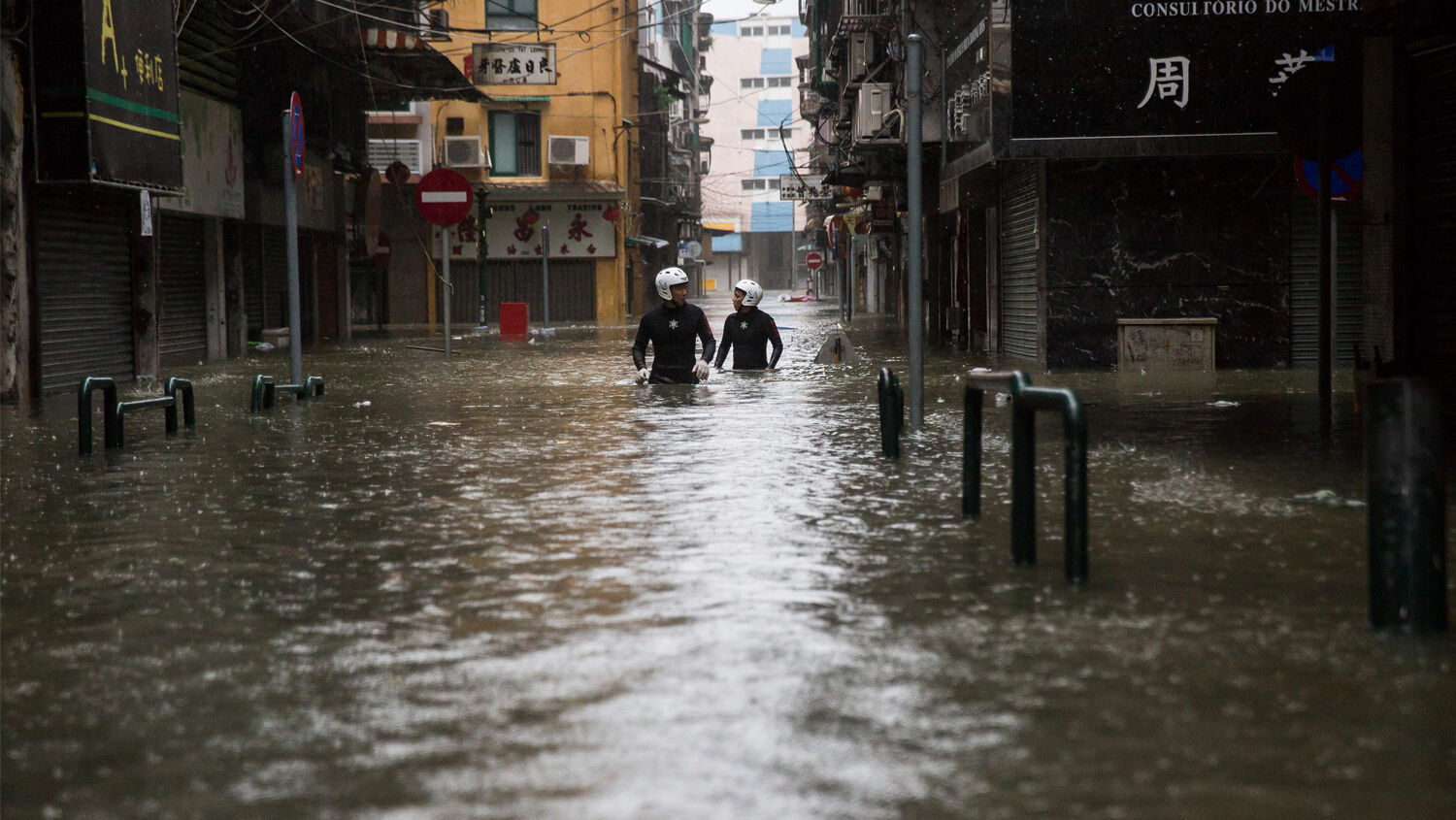 Deadly Storms Devastate United States, Philippines
Hurricane Florence and Typhoon Mangkhut hammered opposite sides of the Earth this past weekend.
Hurricane Florence battered the East Coast of the United States this weekend, leaving at least 17 people dead and trapping hundreds in their homes with rising floodwaters. At the same time, Typhoon Mangkhut struck the Philippines, killing at least 65 people.
Hurricane Florence made landfall in North and South Carolina on Friday, bringing high winds, heavy rains and a potentially deadly storm surge. The hurricane has since been downgraded to a tropical depression but continues to move inland, causing destructive high winds and flooding. North Carolina Governor Roy Cooper said at a press conference that because of its potential for heavy rains, flash flooding, landslides and tornadoes, the storm has "never been more dangerous than it is right now." The flooding has been called "catastrophic" and "unprecedented." Cooper called it "epic," warning people not to think that the storm is over yet.
Before it is over, Florence is forecast to deluge the southeastern United States with 18 trillion gallons of rain. That is enough rain to cover the entire state of Texas in four inches of water. Parts of North Carolina have already received 40 or more inches of rain, and the storm is forecast to continue for another day or two. Many North Carolina rivers are already overflowing their banks. One North Carolina resident told Weather Channel, "Nobody expected this. We were fools."
The floodwaters are so bad that the North Carolina Department of Transportation has warned people who are planning on driving through North Carolina to take a detour until the storm is over. Many major roads are closed indefinitely until the floodwaters recede.
Governor Cooper warned that North Carolina has a "tall task" ahead once the storm ends. Many thousands of homes and businesses have already been damaged by floodwaters. On Saturday, more than a million people in the area were reported to be out of electrical power.
In the Philippines, the story is much more deadly. Super Typhoon Mangkhut is the strongest storm in the world so far this year, with wind speeds surpassing 150 miles per hour. The death toll is currently 65, with 43 missing. Most of the deaths occurred on the island of Luzon, where dozens of people in a mining town were buried in a landslide. The typhoon, nicknamed "Ompong" by locals, had already caused 51 landslides by Saturday. Officials expect the death toll to increase to at least 100 as rescue teams search for survivors in the affected areas.
One government official estimated that 5.7 million people in the Philippines have been affected by Mangkhut so far. The typhoon struck about a month before harvest time, ruining many farmers' crops. Luzon produces most of the nation's rice and corn, but crops there are now underwater. One farmer told Agence France-Presse, "We're already poor, and then this happened to us. We have lost hope. We have no other means to survive."
The typhoon is now moving into mainland China. Nearly 2.5 million people were evacuated from China's southern Guangdong province as the storm made landfall. Around 50,000 fishing boats were also called in from the South China Sea. Southern China is under a red alert, its most severe weather warning. State news agencies have already reported four confirmed deaths in China caused by the storm.
Mangkhut was projected to be Hong Kong's strongest typhoon in nearly 20 years, bringing torrential rains and winds that were between 127 and 158 miles per hour in the Philippines. Transportation ground to a halt in the city, with almost 900 flights canceled at Hong Kong International Airport alone. Train service has been canceled. Many businesses were ordered to close as the storm made landfall. Roads are impassable in many areas, and floodwaters are waist-deep in parts of the city. The storm surge in some areas was up to 10 feet high.
Once these storms blow over, the people of North and South Carolina, the Philippines and China will be faced with trying to rebuild their lives amidst the wreckage. But for many, it is only a matter of time before another natural disaster hits. Catastrophic storms like Hurricane Florence and Typhoon Mangkhut are becoming almost commonplace. The Earth is wreathed in fires and floods, earthquakes and volcanoes. What is causing this increase in deadly environmental disasters?
Many experts blame some of these disasters on climate change. Last week, the Washington Post even blamed U.S. President Donald Trump for Hurricane Florence, saying he is "complicit" with the storm for not taking climate-change concerns seriously enough. But climate change is not the real cause for the increase in terrible storms that we have seen in the last few decades. Neither is President Trump.
The president has no power over the weather—but the God who created weather does. In Matthew 24:7, Christ told His disciples that one sign of His imminent return would be an increase in natural disasters: "For nation shall rise against nation, and kingdom against kingdom: and there shall be famines, and pestilences, and earthquakes, in [different] places." That is exactly what we are seeing today, and it becomes clearer with each new disaster.
Trumpet executive editor Stephen Flurry wrote in the February 2012 issue:
The return of Jesus Christ, in other words, will be preceded by a sharp upsurge in "natural" disasters.

Jesus also said that famine—a shortage of food and water—and then pestilences (or disease epidemics) would accompany these weather-related disasters.

In May [2011], in a television program, the Trumpet's editor in chief told Key of David viewers that the word famines needs to be seen not only in the context of war—which certainly causes famine—but also in the context of extreme weather. These epic disasters, in other words, are prophesied to have a profoundly negative impact on food production—a reality that is now making headlines nearly every day.

In like manner, Christ's reference to pestilences can also refer to the diseases that often follow in the wake of such disasters. And if you examine how the Greek word is used in Acts 24:5, another dimension is added to Christ's prophecy—the social breakdown that comes as a result of famine and pestilence.

These are the days we are living in right now! Weather disasters, as they increase in frequency and intensity, are actually fulfilling Bible prophecy. We are experiencing the outer edge of a storm that is about to inflict the worst suffering mankind has ever known.
Amidst all this despair, it is important to remember the real hope that underpins these prophecies. Our booklet Why 'Natural' Disasters? states:
Remember the context of Christ's prophecy in Matthew 24. As a part of His warning, God also wants us to realize that we are on a countdown. When you see these savagely destructive disasters—when you recognize that we are in what Christ called the beginning of the birth pains—then remember that this is a sign that we are on a countdown to THE SECOND COMING OF JESUS CHRIST!

That is the best possible news this world could ever hear!
To understand more on this subject, please read our free booklet Why 'Natural' Disasters?