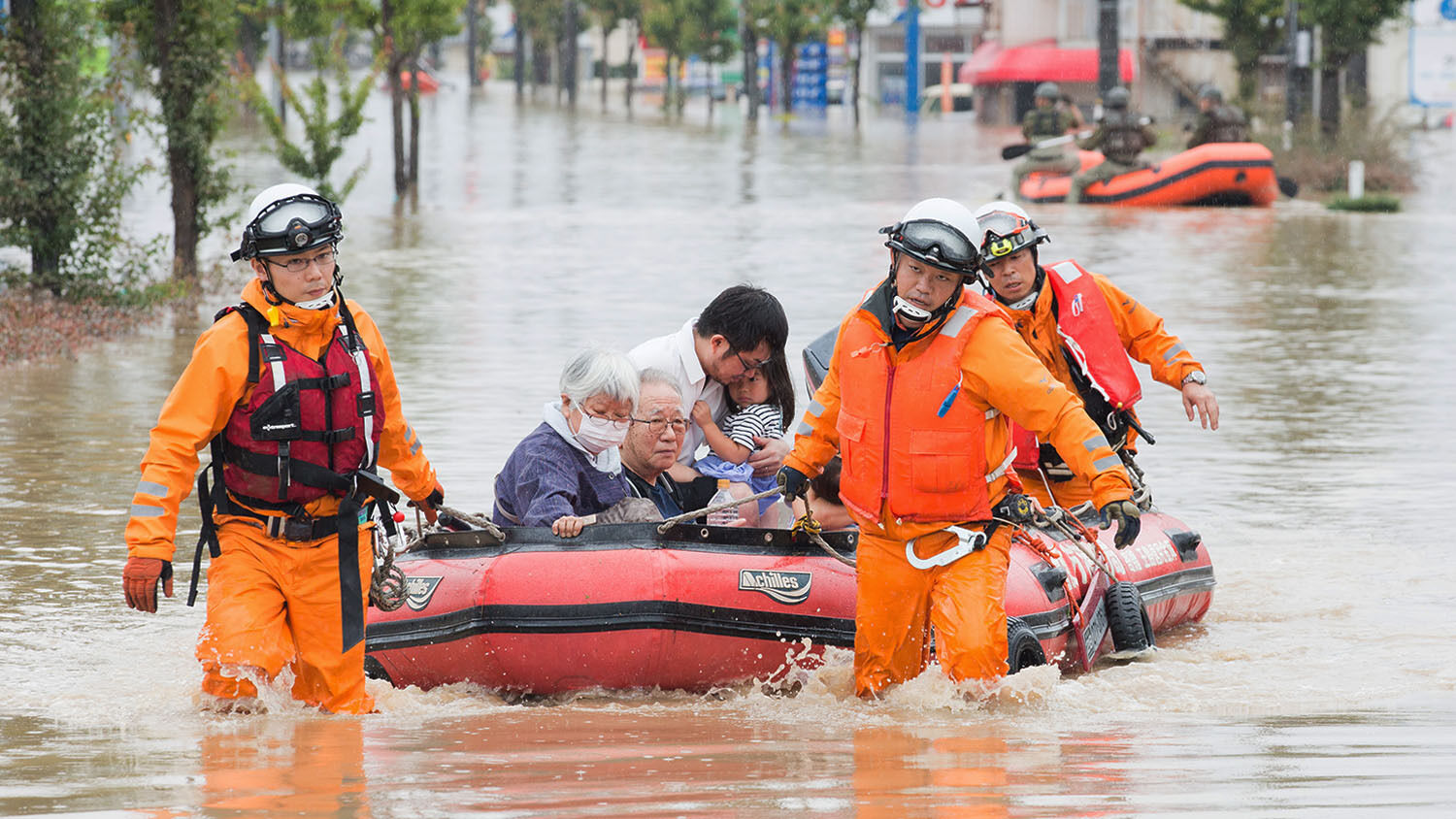 Japan Suffers Worst Floods in 35 Years
Death toll continues to rise as rescue workers pull more people from mud and rubble.
Japan has received an historic amount of rainfall since the start of the month that has led to the worst flooding in the country since 1983. More than 4.7 million people have received evacuation notices as water has filled streets, shopping centers, homes and cars.
The death toll, currently at 155, is expected to rise as dozens of people are missing. Approximately 73,000 troops, firefighters and other rescue workers are racing against the clock to free trapped civilians and recover bodies from the mud filling the streets. The massive flooding in some areas has required the use of boats and helicopters.
As of Sunday, at least 34,000 homes were hit with power outages. Dangerous landslides are preventing some areas from being evacuated. Rivers are swelling and spilling over their banks, sweeping through towns and cities. Bridges have been destroyed and several trains have been derailed.
As of Monday, 2 million people have been evacuated, but hundreds are still in need of rescue as they take refuge on rooftops. The city of Kurashiki, in Okayama prefecture, has been hit incredibly hard, as 1,000 people await rescue, some writing "S.O.S." signals and "150 people! Water and food!" on roofs.
"We've never experienced this kind of rain before," a Japan Meteorological Agency official said at a press conference. "This is a situation of extreme danger."
Residents are watching their homes disappear before their eyes. One resident said his house "was simply washed away and completely destroyed."
This extreme weather is attributed to the remnants of a typhoon that moved over the Sea of Japan on July 3. The Meteorological Agency said that the heavy rainfall was set off by the combination of humid air coming in from the Pacific and dense clouds left behind by the typhoon, as Japan's active rainy season commences.
Shinzō Abe was planning a trip to Belgium, France, Saudi Arabia and Egypt on Wednesday but has since canceled it. He has urged everyone to help in the rescue effort, calling it "a race against time."
Extreme weather disasters like the one in Japan attract a lot of attention and cause people to ask, "Why would God let this happen?" or "Where is God?"
God gives a clear answer in the book of Joel. "He loads the thick cloud with moisture; the clouds scatter his lightning. They turn round and round by his guidance, to accomplish all that he commands them on the face of the habitable world. Whether for correction, or for his land, or for love, he causes it to happen" (Job 37:11-13; Revised Standard Version). God uses the weather to correct people for their sins. The solution to weather disasters is obedience toward God and His laws.
Trumpet editor in chief Gerald Flurry wrote in his article "The Deadly Climate Change Deception":
God loves us, and does all that He can to bless us. But what is He supposed to do when we are caught up in sin and are disobeying Him? It is clear that God punishes, just like any father who loves his children. That is the only way He can turn us around so we can be in His Family! It is all done in love. …

God wants to give us every blessing imaginable, but first we must turn to Him in humble obedience.

This is the major lesson that God wants to teach us in these weather disasters.
The Trumpet follows these weather disasters because it reveals God's involvement in our lives today.
In "Why the Trumpet Watches Increased 'Natural' and Weather Disasters," we wrote:
In Leviticus 26:3-4, God says, "If ye walk in my statutes, and keep my commandments, and do them; Then I will give you rain in due season, and the land shall yield her increase, and the trees of the field shall yield their fruit." Are the cities that are being deluged with floods, or those that are languishing in drought, receiving this blessing? Why not?

If you believe the God of the Bible, you know that droughts, floods and other disasters are curses for disobedience. The solution to such curses is repentance. For our land to be healed, we must understand these promises.

2 Chronicles 7:13-14 say, "If I shut up heaven that there be no rain, or if I command the locusts to devour the land, or if I send pestilence among my people; If my people, which are called by my name, shall humble themselves, and pray, and seek my face, and turn from their wicked ways; then will I hear from heaven, and will forgive their sin, and will heal their land." That is an absolute promise. If we turn from our wicked ways, God will forgive our sin and heal our land. This is a powerful scripture from the living God telling us how to solve our problems.
Please request our free booklet Why 'Natural' Disasters? to learn more about why God allows weather disasters such as the current flooding in Japan.