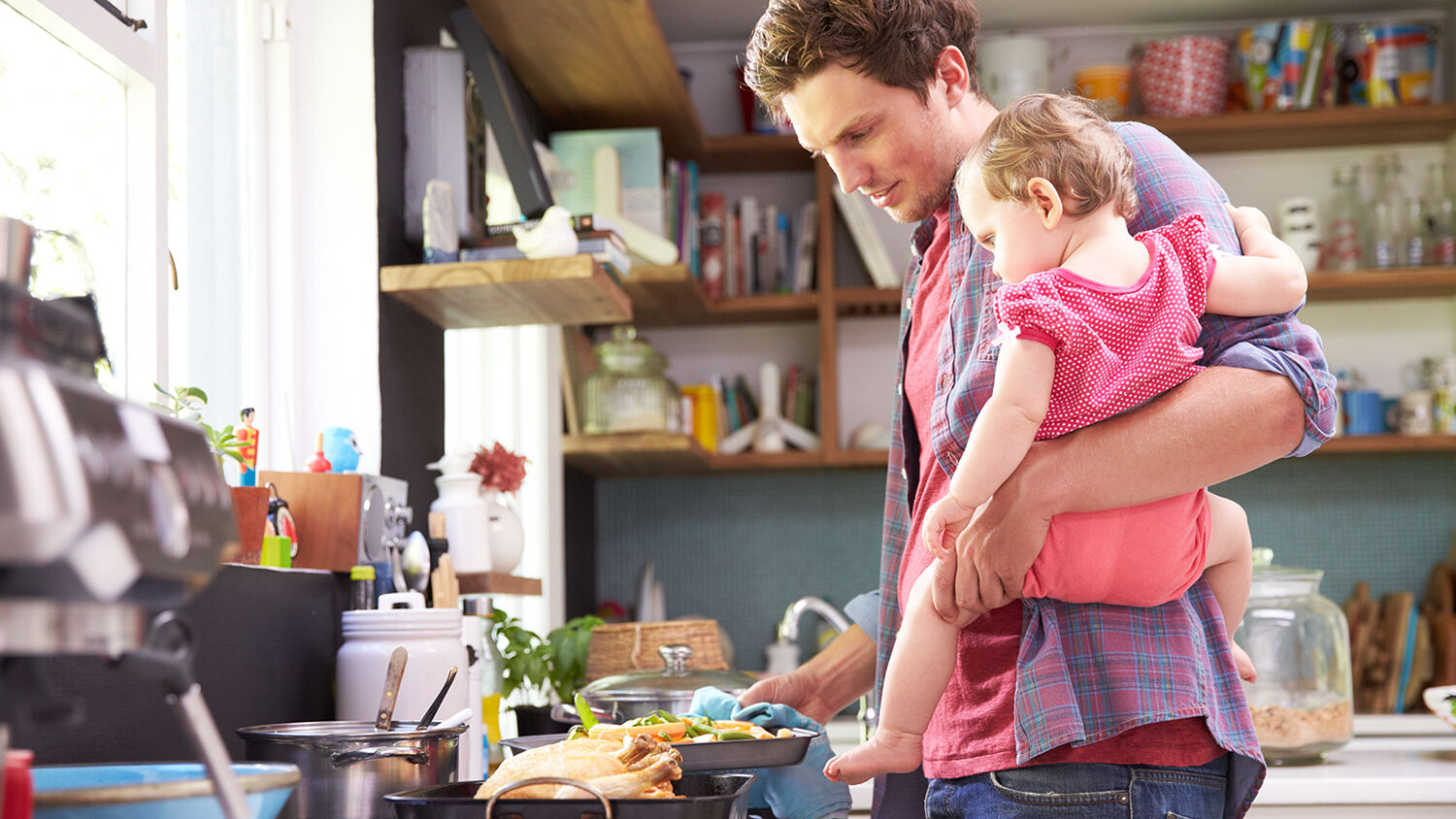 More Families Discard Traditional Roles of Men and Women
Who determines what it means to be a man or a woman?
Glen and Lauren Sergy seem like typical American parents. They have regular worries, such as finding that magical balance between work and family responsibilities, escalating child-care costs and when to squeeze in that date night each week. What isn't so typical about the Sergys is the way they have chosen to combat these issues. In order to support their growing family, Lauren juggles two professional jobs, while Glen stays at home with their daughter and son.
Mrs. Sergy, whose main job requires her to be away during the day, is also busy at night growing her business. She explains, "I need to be careful to avoid burnout and I often experience mommy guilt at being away so much." She admits that her husband battles the standard "emotional and physical exhaustion, loneliness, frustration and boredom" of any stay-at-home parent but that they manage their difficulties with constant communication and regularly scheduled family time.
The Sergys are not alone. They are among a small, yet rapidly growing, contingent of American families opting out of traditionally accepted gender norms in the home.
As of 2014, United States Census data reported that an estimated 1.9 million fathers are fulfilling the traditional role of the mother by staying at home with the kids while their wife goes to work. This is a remarkable figure considering that only six men registered as "stay-at-home dads" in 1970. While research indicates that 80 percent of these men would rather be working if circumstances permitted, 20 percent are willingly trading their suit and briefcase for an apron and diaper bag. The National At-Home Dad Network places the number of willing at-home fathers much higher at 70 percent.
Many champion the cultural shift in gender roles. Al Watts, former president of the National At-Home Dad Network and a stay-at-home father of 16 years, purports that the advent of the career woman has "given men an opportunity to do what they really want: stay at home, choose jobs in lesser roles, and have more involvement with their kids."
A recent study by the University of Illinois seemingly challenges his assertion. It found that men who exited the workforce to tend to the children and women who assumed sole financial responsibility of the family were both more likely to suffer depression. The authors of the study hypothesize that this depression is due to feeling alienated in a society that clings tenaciously to outdated gender norms.
Would stay-at-home dads and breadwinning wives truly be happier if everyone around them shed long-held social structures? Or is there a deeper reason why they suffer mentally?
Many claim that social conditioning is the only reason people feel dissatisfied when they break with traditional gender norms, but the Bible states that God created men and women to be different (Genesis 1:27; Matthew 19:4). It also states that God designed men and women to fulfill different roles in the family.
The duty of provider is fundamental to a man's role. The Bible says that "if any provide not for his own, and specially those of his own house, he hath denied the faith, and is worse than an infidel" (1 Timothy 5:8). While the context is specifically instructing men to provide for the widows in their family, a man's wife and children are also members of his household that he is morally obligated to look after and provide for.
The duty of helpmeet is fundamental to a woman's role. At man's creation, God said, "It is not good that the man should be alone; I will make him an help meet for him" (Genesis 2:18). In the New Testament, the Apostle Paul elaborates on the role of a helpmeet, saying they should be "keepers at home, good, obedient to their own husbands" (Titus 2:5).
The reason so many career women and homemaking fathers struggle with depression is that they are living lifestyles contrary to the ones God designed them to live. To learn more about the God-given roles for men, download our free e-book Biblical Manhood, by Trumpet managing editor Joel Hilliker.