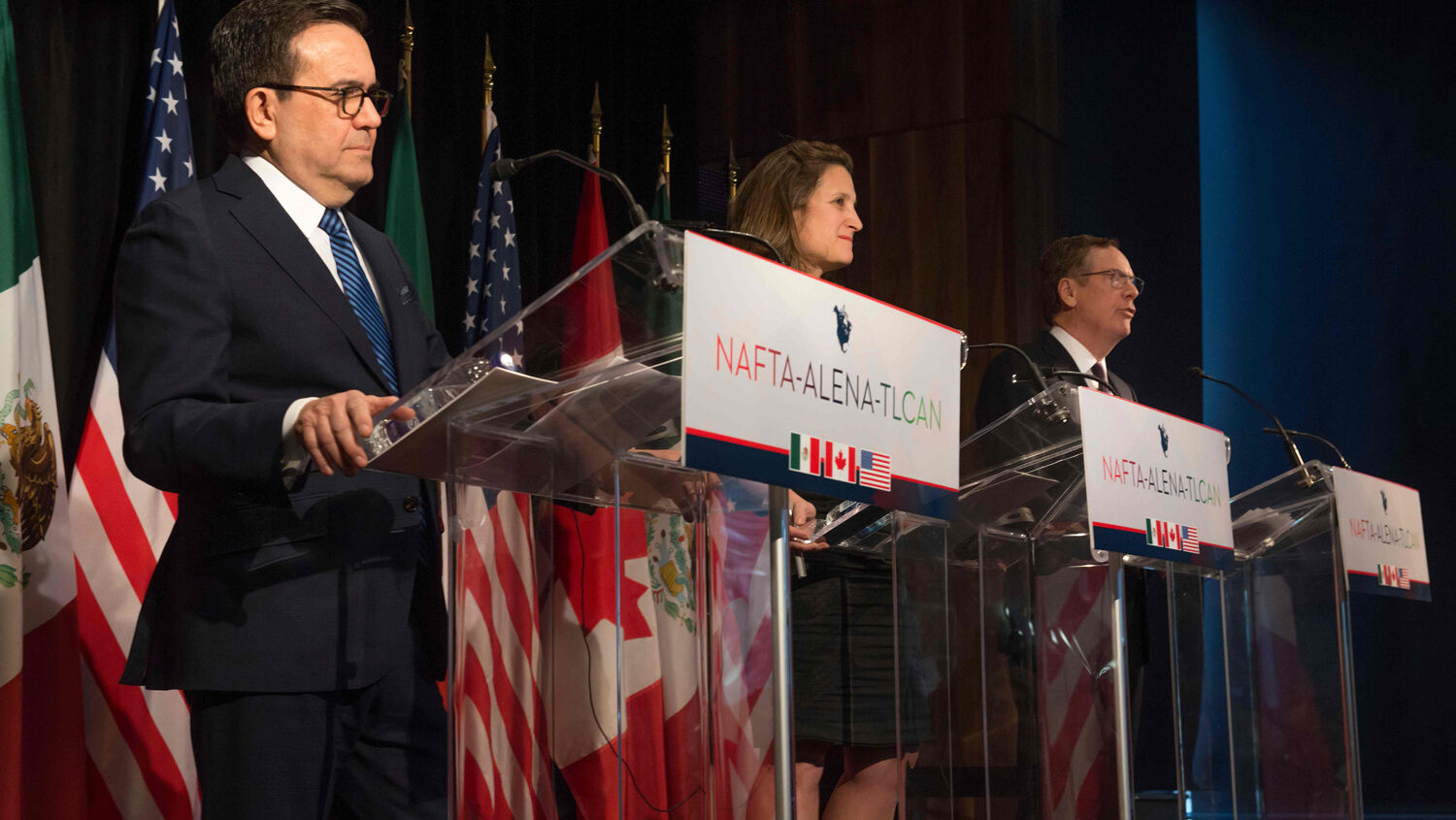 NAFTA on the Brink of Cancellation
Failing North American Free Trade Agreement renegotiations are the latest example of America coming into conflict with its largest trading partners.
On January 29, trade ministers from Canada, the United States and Mexico concluded the sixth round of talks regarding the future of the North American Free Trade Agreement (nafta). The agreement, written almost 25 years ago, has been under attack by U.S. President Donald Trump, who has called for the agreement to either be rewritten to favor his "America First" policies or be terminated. In a recent interview he said that terminating nafta would be "a positive for our country."
This latest round of talks ended with very little progress. Contentions swirled throughout the process, as all three nations protested each other's trade practices. In his closing remarks, U.S. Trade Representative Robert Lighthizer ripped into Canada for a trade challenge it launched against the U.S. through the World Trade Organization for raising tariffs on Canadian softwood lumber. Lighthizer called Canada's actions "unprecedented" and a "massive attack on all of our trade laws." In response, Canada pointed to a number of alleged U.S. wrongdoings with its trading partners, such as China, India, Brazil and the European Union.
With so little progress made, industry executives are saying that these talks could drag on for many more months. A March 31 deadline has been set to conclude the bargaining, but talks could extend even as far as 2019, with no guarantee that a new deal will be signed.
Because of nafta's uncertain future, Canada and Mexico have both begun to look elsewhere for business. Mexico has increased imports of corn from Brazil. Both nations signed on to the Trans-Pacific Partnership with nine other nations on January 23. Canada signed a trade accord with the European Union last fall, and Mexico is expected to revise its trade deal with the EU this spring.
Trump has been an outspoken critic of trade agreements, arguing that they hurt American jobs and manufacturing. One of his first acts as president was to pull out of the Trans-Pacific Partnership agreement, which angered the other nations involved. Since then, he has targeted multiple nations because of their trade practices, imposing sanctions on goods including Canadian lumber and Chinese solar panels. He has also put Germany on alert, criticizing it for taking advantage of other EU nations.
Other major trading partners beyond Canada and Mexico are also looking for ways to combat President Trump's trade policies. Following a decision last week to impose tariffs on solar panels and washing machines from Europe, the European Commission sent a strong warning to President Trump, saying, in essence, If you want a trade war, you'll get one!
The commission's chief spokesman, Margaritis Schinas, told reporters, "The European Union stands ready to react swiftly and appropriately in case our exports are affected by any restrictive trade measures from the United States."
China is also ready for a trade battle with the U.S. President Trump has repeatedly criticized China's economic and trade practices, with seemingly little regard for the consequences. When asked in January if he feared his actions could spark a trade war with China, he said, "I don't think so. I hope not. But if there is, there is." When the U.S. announced possible new tariffs on Chinese goods, China said it too was ready to strike back. William Zarit, chairman of the American Chamber of Commerce in China, said, "I have been told by certain officials that yes, definitely, there will be retaliation."
America is increasingly at odds with its biggest trading partners. Trade with China and Germany accounts for 20 percent of America's total trade. Factor in Canada and Mexico, and these four nations account for 50 percent of American trade. Factor in other European nations, and the U.S. quickly runs out of alternatives. If a trade war does break out, who will America turn to?
While Trump may be correct in identifying nefarious trading practices, he is incorrect in thinking that the U.S. has all the leverage in an economic confrontation. America has a debt of more than $20 trillion and will be on the back foot in any future trade war.
The Trumpet has repeatedly pointed out that a trade war is brewing. In reality, it has already begun. Bible prophecy reveals that a punishing trade war will occur and America will lose in that conflict.
The Bible prophesies of a giant "mart of nations"—a trade bloc led by Europe and China that excludes America. President Trump's attacks on Mexico and Canada are part of a trend that is seeing more nations turn against the U.S. and it's economy. The ultimate purpose of this trade bloc, the Bible says, is to shut America out of world trade. To understand how this coming trade war will play out, read "Trade Wars Have Begun."