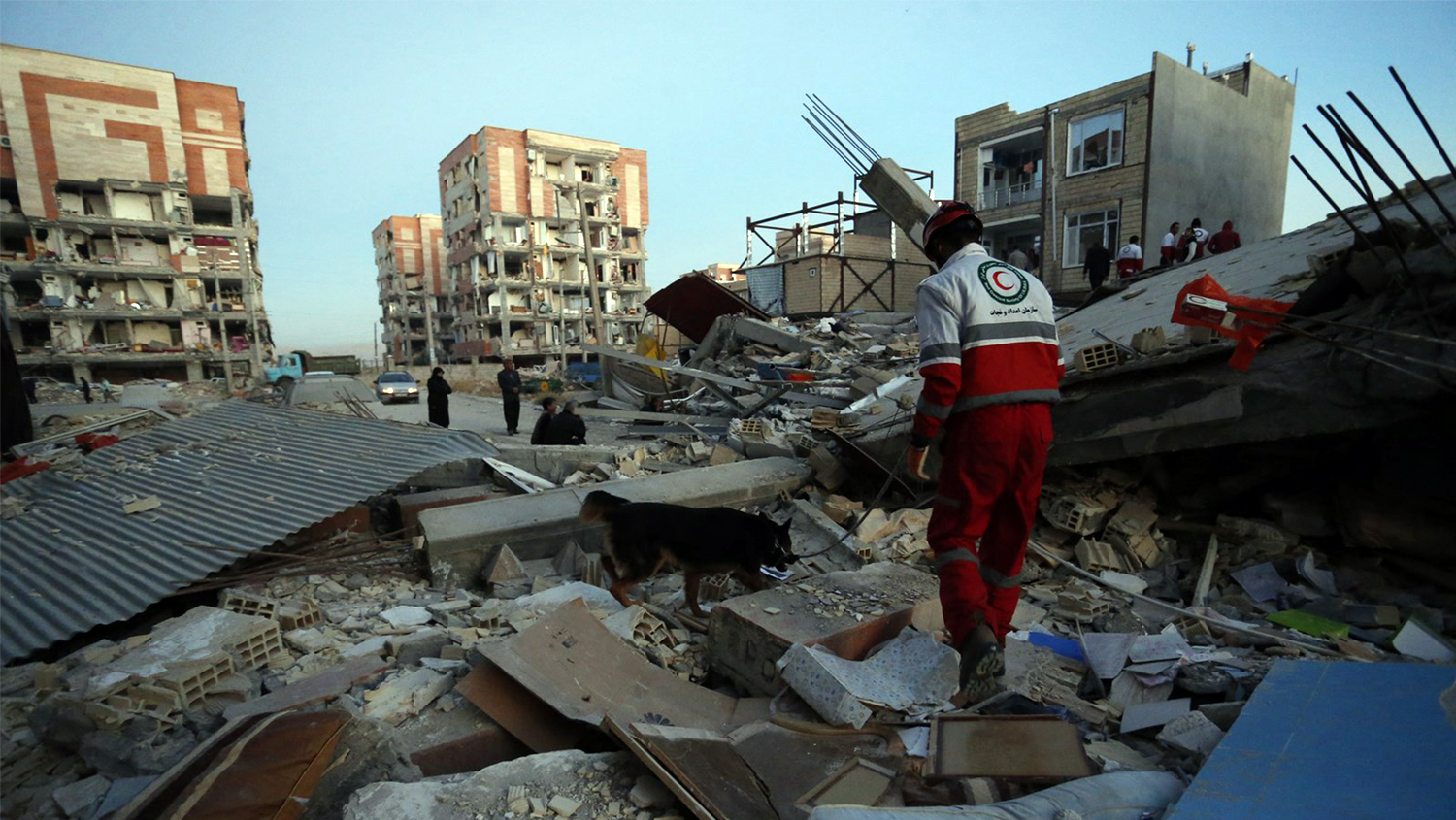 Deadly 7.3-Magnitude Earthquake Rattles Iran-Iraq Border
The massive quake killed hundreds of people and injured thousands.
A deadly 7.3-magnitude earthquake hit the border of Iraq and Iran late Sunday night, killing more than 300 people and injuring more than 4,000. The death toll continues to rise as rescue workers search the rubble of destroyed homes and businesses.
The quake's epicenter was located close to the Iran-Iraq border, in the Kurdish Sulaimaniyah province. Majida Ameer, a mother who lives in the Iraqi capital of Baghdad, told Reuters, "I was sitting with my kids having dinner and suddenly the building was just dancing in the air. I thought at first that it was a huge bomb." The earthquake was so big that tremors were felt all across the region, from Turkey to Dubai.
The Iranian Seismological Center has registered 50 or more aftershocks so far, with many more expected. Many Iranians and Iraqis have been forced out of their homes into the cold November weather because they fear that major aftershocks will topple their homes. The head of the Iranian Red Crescent, the Iranian version of the Red Cross, said that over 70,000 people need emergency shelter. Iranian Supreme Leader Ayatollah Ali Khamenei has urged rescuers and government agencies to put all their efforts toward helping those affected.
Earthquakes are a frequent occurrence in Iran because the nation sits on several major fault lines. The last major earthquake in Iran struck in 2012.
This year has already been one of the worst years for natural disasters on record. A usa Today report from October 18 showed that, so far, 2017 ties with 2011 as the year with the most billion-dollar disasters in the United States. That report does not include other major natural disasters around the world, such as the earthquakes in Mexico, the multiple hurricanes in the Caribbean, the major monsoons in Southeast Asia, and scores of others.
We call these events "natural disasters." But the reality is that they are not natural, and they are getting worse! The amazing part of these news stories is that increased natural disasters are prophesied in your Bible! Matthew 24:7 says that in the last days, there would be many earthquakes in different parts of the world. Referring to that prophecy of Jesus Christ in Matthew 24, our booklet Why 'Natural' Disasters? says:
Christ [gave] another important sign of the end time: weather patterns and other natural phenomena taking a violent turn for the worse! "And ye shall hear of wars and rumours of wars … For nation shall rise against nation, and kingdom against kingdom: and there shall be famines, and pestilences, and earthquakes, in [different] places" (verses 6-7). Notice, in addition to the "wars and rumours of wars"—surely an apt description of the current state of international relations—Jesus told His disciples that His return would be preceded by an uptick in natural disasters. Luke's account of the same prophecy reads, "And great earthquakes shall be in divers places, and famines, and pestilences; and fearful sights and great signs shall there be from heaven" (Luke 21:11).

In fact, Christ stated specifically that before His return there would be earthquakes in different places. It is true that there have always been earthquakes. But for Christ to give this as a sign of the imminence of His return tells you that we should watch for and expect a change from the norm—a notable, measurable increase in the frequency and ferocity of quakes, and perhaps their occurring in unexpected places. What a mistake it would be, then, to dismiss the fact that this is exactly what we are seeing today!
An August 29 report from the Economist showed that since 1970, the number of natural disasters has quadrupled to around 400 a year. As our booklet states, "These are not normal times!"
God is shaking our nations—both figuratively and literally. We should expect disasters like the Iran-Iraq earthquake to increase as world turmoil worsens. Bible prophecy says that it will happen!
To learn more about why we face disasters like this one, read our free booklet Why 'Natural' Disasters?