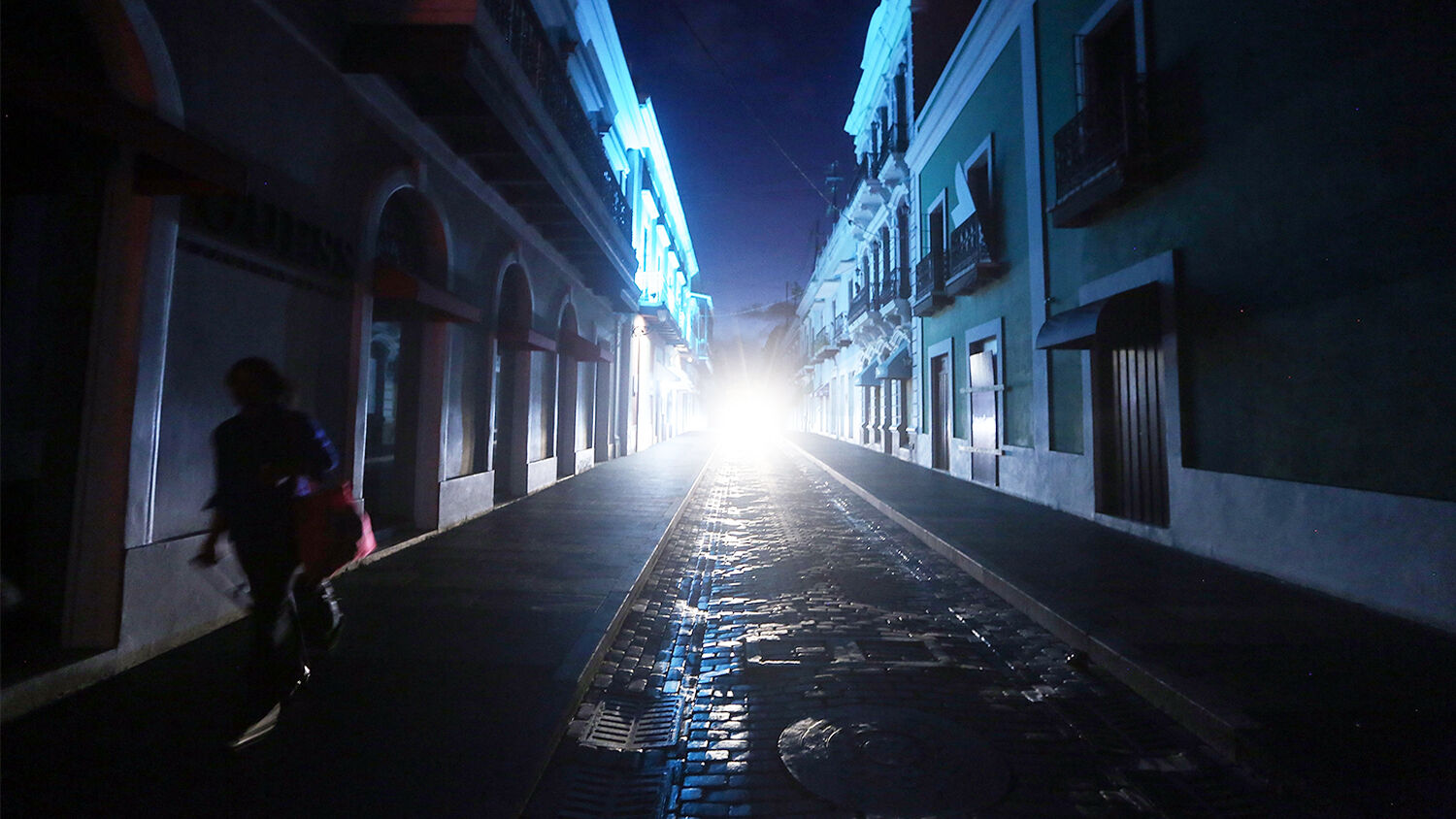 Puerto Rico Struggles Through America's Longest Blackout
Seven weeks after Hurricane Maria made landfall, the island is still in the dark.
Puerto Rico is suffering the biggest blackout in United States history, according to an October 26 report from the Rhodium Group. Hurricane Maria devastated Puerto Rico on September 20, destroying the island's entire power grid. Almost seven weeks later, most of the people in the Caribbean U.S. territory are still in the dark.
Under the subhead "A Blackout Without Rival," the Rhodium Group report says:
[W]e find that Maria has so far disrupted 1.25 billion hours of electricity supply for American citizens.

To put that number in context, Hurricane Katrina disrupted 681 million customer-hours in 2005. Hurricane Rita, which came on Katrina's heels, disrupted another 203 million. We've dug through all 20th- and 21st-century hurricanes and other major blackouts …. We can find no event in recorded U.S. history where there were as many people without power for as long as has occurred over the past month in Puerto Rico and the U.S. Virgin Islands.
Approximately 70 percent of the island's 3.4 million inhabitants are still without power. Puerto Rican Gov. Ricardo Rosseló has pledged to restore electricity to 50 percent of the island by November 15 and 95 percent of the island by December 15. However, this goal may be impossible to reach. Lt. Gen. Todd Semonite, who is commanding the U.S. Army Corps of Engineers in Puerto Rico, suggested that it may take until January or February to get the grid back up and running for most of the island.
The original contract for rebuilding the electrical grid was made with American energy company Whitefish Energy Holdings, llc. However, the contract fell through on October 29 after the Federal Emergency Management Agency expressed "significant concerns" about the terms of the agreement. The Puerto Rican leadership is trying to find another company to rebuild the grid as fast as possible.
A Bloomberg report suggests that Puerto Ricans should turn to the State Grid Corporation of China as a replacement. The Chinese company has experience in rebuilding the power grids of devastated areas, but the U.S. territory turning to China for help will be a slap in the face to the U.S. government.
The sustained power outage is not the only worry for Puerto Ricans. The island's drinking water systems have also been compromised. In some places, tap water runs blue and cannot be used for drinking. Many have resorted to drawing water from risky sources, sometimes without realizing the danger. For weeks, many were getting water from the Dorado Groundwater Contamination Superfund site—one of Puerto Rico's most toxic areas—because a warning sign had fallen down. Others routinely use water from creeks and storm drains to shower and wash dishes. The shortage of clean water is raising concerns of potential disease epidemics because proper sanitation is almost impossible in some places.
Money is another serious concern. The Puerto Rican government announced on October 31 that it would run out of money by the end of the year. It will have to seek additional aid from the U.S. government to deal with the cost of rebuilding. The island sustained somewhere between $45 billion and $95 billion in damage, but Congress has only authorized $5 billion in aid so far.
To make matters worse, the island depends heavily on tourism for its income, and the tourist industry is currently shut down. Conditions are so bad that many citizens have left. abc reported:
Some experts have said the island of 3.4 million people could lose more than 10 percent of its population by 2019, with nearly half a million already having left as a result of the crisis.

"We need to look at what this post-hurricane Puerto Rico reality is," [executive director of Puerto Rico's Fiscal Agency and Financial Advisory Authority Natalie] Jaresko said. "We need to provide services, but only for the population that remains on the island."
When massive weather disasters hit, their effects don't just last for a few days or weeks. It can take months or even years and billions of dollars to rebuild. Puerto Rico is facing a long road to recovery—and it is not the only island that was devastated by this hurricane season.
The Western Hemisphere has been battered by a series of record-breaking disasters like Hurricane Maria over the last several months. These hurricanes, fires, droughts and floods are crippling the U.S. and its territories, both physically and economically. And Bible prophecy indicates that these so-called "natural" disasters are only going to get worse.
Our booklet Why 'Natural' Disasters? says:
These are not normal times. The Bible says earthquakes, droughts, floods, tornadoes, hurricanes and tsunamis are anything but normal. They are curses man has brought upon himself as a result of disobedience to God's laws. And the Bible says that, in the modern nations of Israel, these curses are about to explode—they are about to get so bad that they might legitimately be compared to the events described in the pages of the Holy Bible!

We must tell you this—not because we derive some kind of sick pleasure from seeing people suffer—but because God says we must warn!

God, in His mercy, is trying to shake our peoples out of their drunken stupor before the real Armageddon-like events hit home!
To learn more about why we are facing these escalating weather disasters, request our free booklet Why 'Natural' Disasters?