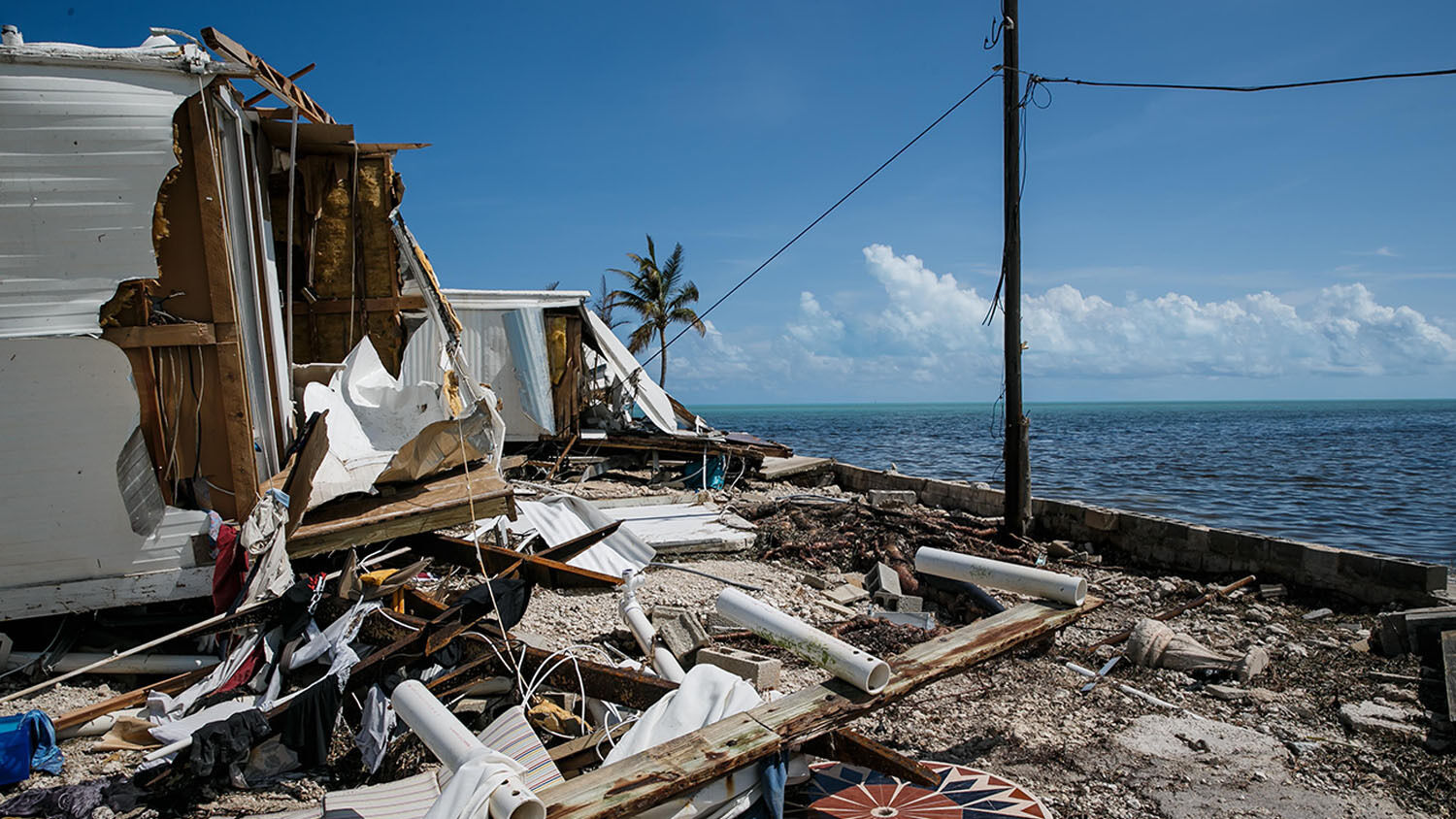 Hurricane Irma Damage Could Cost $100 Billion
Americans have started picking up the pieces—and racking up the bills—in Florida.
On Monday, Hurricane Irma was downgraded to a tropical depression as it moved out of Florida—a far cry from the Category 4 behemoth that devastated the Florida Keys on Sunday. After shattering the Caribbean islands, the storm gradually lost its power as it hit Florida. This prevented the monster disaster that was originally predicted. Irma wasn't as bad as it could have been. But it was still one of the most devastating hurricanes in Florida's history. And it is still going to cost billions of dollars.
Before Hurricane Irma hit, experts estimated that the cost might be as high as $100 billion. After the storm, Accuweather.com maintained that projected cost. Add that to the crippling cost of Hurricane Harvey, and the federal government has a real problem on its hands. The combined cost for Harvey and Irma could be more than $290 billion. Federal resources are already stretched past their limits. The National Flood Insurance Program is already almost $25 billion in debt. The Federal Emergency Management Agency was running out of emergency funding last week while dealing with the aftermath of Hurricane Harvey. Now it has another disaster on its hands.
Politico reported on Sunday:
Treasury officials told lawmakers that they wouldn't be able to pay claims to Harvey victims without an immediate increase in the debt ceiling.

The disasters are arriving with greater frequency. Counting Harvey, the U.S. this year has experienced 10 weather-related events each costing $1 billion or more. The country averaged fewer than six big-dollar storms, floods, fires and freezes a year between 1980 and 2016, according to the National Oceanic and Atmospheric Administration. Between 2012 and 2016, however, weather catastrophes occurred almost twice as often. …

Still, property owners have come to expect that the government will deliver after a disaster.
In the sunshine state, the Florida Keys were hit the hardest. An estimated 25 percent of homes in the Keys were completely destroyed. Another 65 percent were severely damaged. Floridian Gov. Rick Scott was shaken after he flew over the devastated area. "I just hope everyone survived," he said. "It's horrible what we saw. I know for our entire state, especially the Keys, it's going to be a long road."
At a ceremony on Monday commemorating the anniversary of 9/11, President Donald Trump said, "When Americans are in need, Americans pull together—and we are one country. And when we face hardship, we emerge closer, stronger and more determined than ever." Unfortunately, the evidence doesn't completely back up his statement.
As often happens in the aftermath of natural disasters, there has been looting in both Florida and the Caribbean. At least 32 looters have been arrested so far in Florida. The situation in the Caribbean islands is much worse. On some of the islands, nearly all infrastructure is destroyed. Law and order have disintegrated as those who survived the hurricane struggle with food and water shortages. Jacques Charbonnier, a 63-year-old resident of Saint Martin, told the New York Times on Sunday, "All the food is gone now. People are fighting in the streets for what is left."
Hurricane Irma killed at least 38 people in the Caribbean, and the death toll is expected to rise. Residents on the islands say the numbers will be much higher as search and rescue efforts continue. There are 22 confirmed deaths in the Southeastern United States so far. After the storm, about 13 million people—two thirds of Florida's population—had lost electrical power. Utility personnel are working overtime to restore electricity across the state. However, it may take days or even weeks for power to be fully restored across Florida, especially in the harder-hit areas.
Irma's economic impact on Florida and the Caribbean will be immense. Florida's tourism industry fuels the state's economy, and it will take months or even years for it to recover. Many islands in the Caribbean also depend heavily on tourism for their revenue.
America has been repeatedly hammered with natural disasters over the last few weeks. These natural disasters are becoming more frequent. They are also getting more costly. The United States is already swimming in debt, and two massive back-to-back disasters won't make the situation any better.
Historic hurricanes, fires and floods are devastating our nation, jeopardizing our already weak economy. And the question that almost no one is asking is: Why?
In his Trumpet Brief from September 6, Trumpet editor in chief Gerald Flurry wrote about a politician who quoted 2 Chronicles 7:14 in the aftermath of Hurricane Harvey. This politician said that if we humble ourselves and pray, God will heal our land. Mr. Flurry pointed out that the politician omitted the most important part of the verse:
If our land is to be healed, we must get the scriptures right and understand those promises from God accurately! Jesus Christ said we must live by every word of God—not just a shortened version of a verse (Matthew 4:4).

Surely anyone looking at the problems besieging America right now would agree that our land needs to be healed. But do you know why it needs that healing?

2 Chronicles 7:14 says, 'If my people, which are called by my name, shall humble themselves, and pray, and seek my face, and turn from their wicked ways; then will I hear from heaven, and will forgive their sin, and will heal their land.' That is an absolute promise! Do you believe God?

But that American leader misquoted the verse. He left out the part about turning from our wicked ways.

Is that too strong for a politician to state? Do we have wicked ways we should turn from? If you understand the Bible, and what is happening in our nation today, you know that we do!
The Trumpet is the only place where you will find the reason why these historic events are happening. To understand more about why the United States is being hammered with these disasters, watch Gerald Flurry's Key of David program "2 Chronicles 7:14 Misquoted."