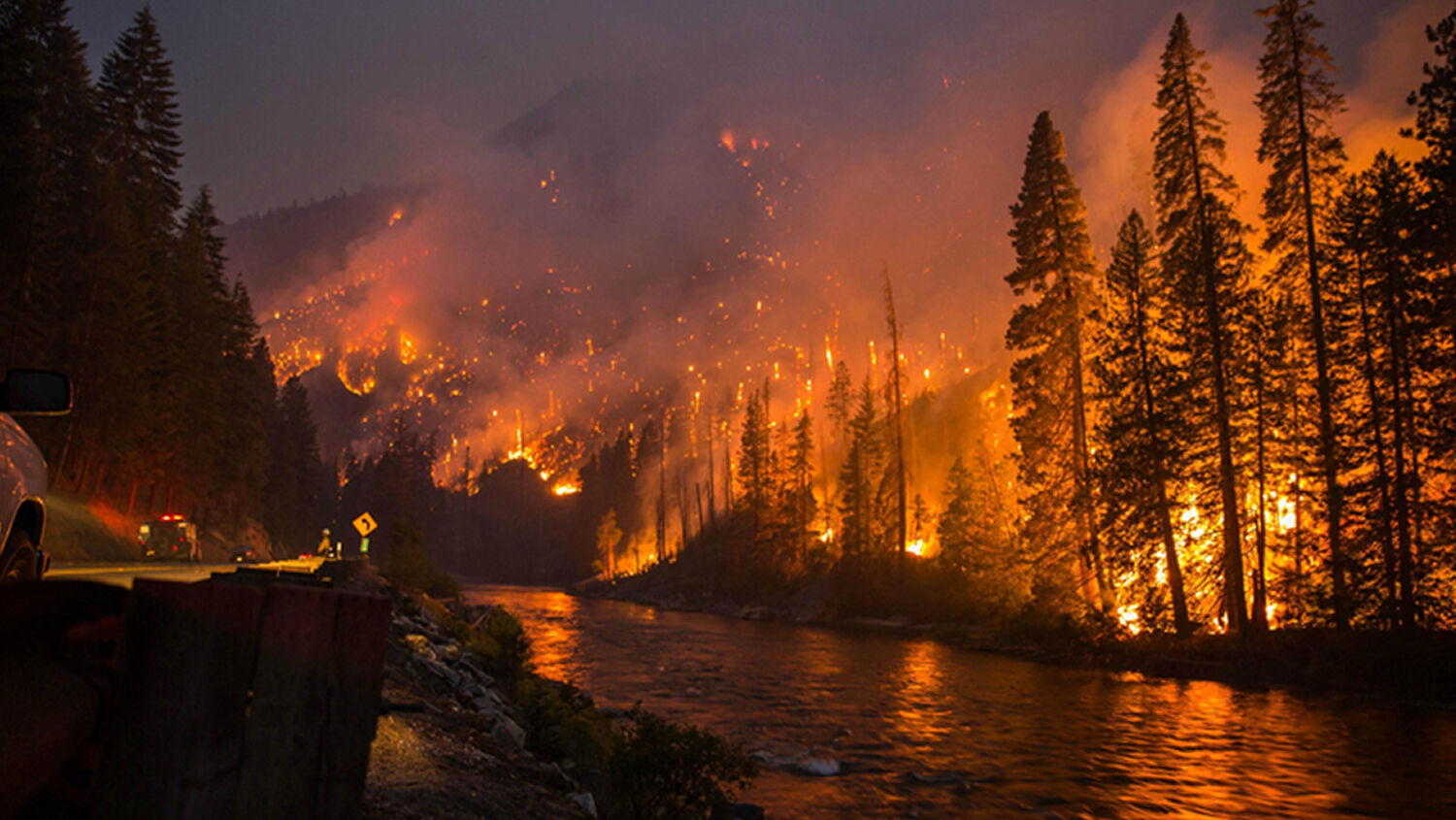 America's Other Enormous Environmental Disaster of 2017: Wildfires
As the Southeastern United States weathers Hurricane Irma, the West Coast is burning. npr reported on Sunday that there are currently 123 large wildfires in the U.S., burning about 2 million acres in nine states.
Some of these fires have been burning for almost two months. One fire in southern Oregon has been going since July, burning 180,000 acres—it is currently only about 5 percent contained.
So far this year, more than 8 million acres of land in the U.S. have been damaged by wildfires. The entire West Coast has endured an excessive heat wave for the past two months, and forecasters say it will continue.
Montana is fighting its worst fire season in at least 20 years. Many other states are also suffering their worst wildfire seasons in years—and possibly in history. The city of Los Angeles just had its worst fire ever.
Hurricane Harvey and Hurricane Irma have pushed these massive fires off of front-page news, yet these blazes are not only continuing, they are getting worse.
The United States Forest Service spent around $1.75 billion fighting fires so far this year, and it is running out of money. U.S. senators representing nine western states affected by the fires have asked the government to add wildfire funding to any disaster aid packages it makes for Harvey and Irma. The senators wrote in a letter to Senate leaders: "As we work to assist Texas and Louisiana on the road to recovery, please do not forget about wildfires—the natural disaster currently raging through the West."
Environmental disasters have burned and flooded different parts of the U.S. so far this year, causing hundreds of billions of dollars in damage.
The great majority of established news organizations blame these catastrophes on climate change. Weather Underground meteorology director Jeff Masters told the Associated Press, "Nature's gone crazy. Welcome to the future. Extreme weather like this is going to be occurring simultaneously more often because of global warming."
Deutsche Welle reported in June that "there is very well documented scientific evidence that climate change has been increasing the length of the fire season, the size of the area burned each year, and the number of wildfires. … [W]hat does affect [the scale of a fire] are prevailing climate conditions. And these have become warmer and drier—due to climate change."
The San Diego Free Press stated: "Welcome to climate change inferno. … Just like the catastrophic hurricanes hitting the Caribbean, the Gulf Coast, and the Southeast U.S., wildfires are not caused by global warming. They are just worse because of it. … Rising temperatures from climate change mean more wildfires, longer fire seasons, and a more widespread area affected by fire. Isn't it time that people started accepting the obvious?"
Far from "accepting the obvious," most people prefer to pretend that the problem doesn't exist.
The media wants to blame these natural disasters on climate change.
They see something is wrong, but they keep finding the wrong causes to blame. "It just feels like, you know, it's the apocalyptic end times," Colorado State University meteorology professor Phil Klotzbach said, according to the Associated Press. Klotzbach attributes the intensity of the bad news partially to global warming and partially to increased coverage via social media.
But the Bible tells us that these are not the real causes. The increase in environmental disasters we are seeing today was actually prophesied in your Bible thousands of years ago! Jesus Christ Himself forecast that natural disasters would increase because of rebellion against God (Matthew 24:7-8; Mark 13:8; Luke 21:11). We are watching that prophecy being fulfilled right now.
In the December 1993 Trumpet, editor in chief Gerald Flurry wrote:
God does punish us with "natural" disasters. "Thou shall be visited [punished is a better translation] of the Lord of hosts with thunder, and with earthquake, and great noise, with storm and tempest, and the flame of devouring fire" (Isaiah 29:6). God says He visits, or punishes, us with "the flame of devouring fire"! …

The curses will continue until we repent. That is God's plan, and nothing can change it.

How much we suffer is in our own power to control. God help us to repent soon. Only then can we avoid the far greater curses that are prophesied to strike very soon!
To understand more about why natural disasters are increasing, request our free booklet Why 'Natural' Disasters?