Pivotal Power
Turkey is changing—and forcing the world to change with it. Past and present trends explain why, and Bible prophecy foretells its next move.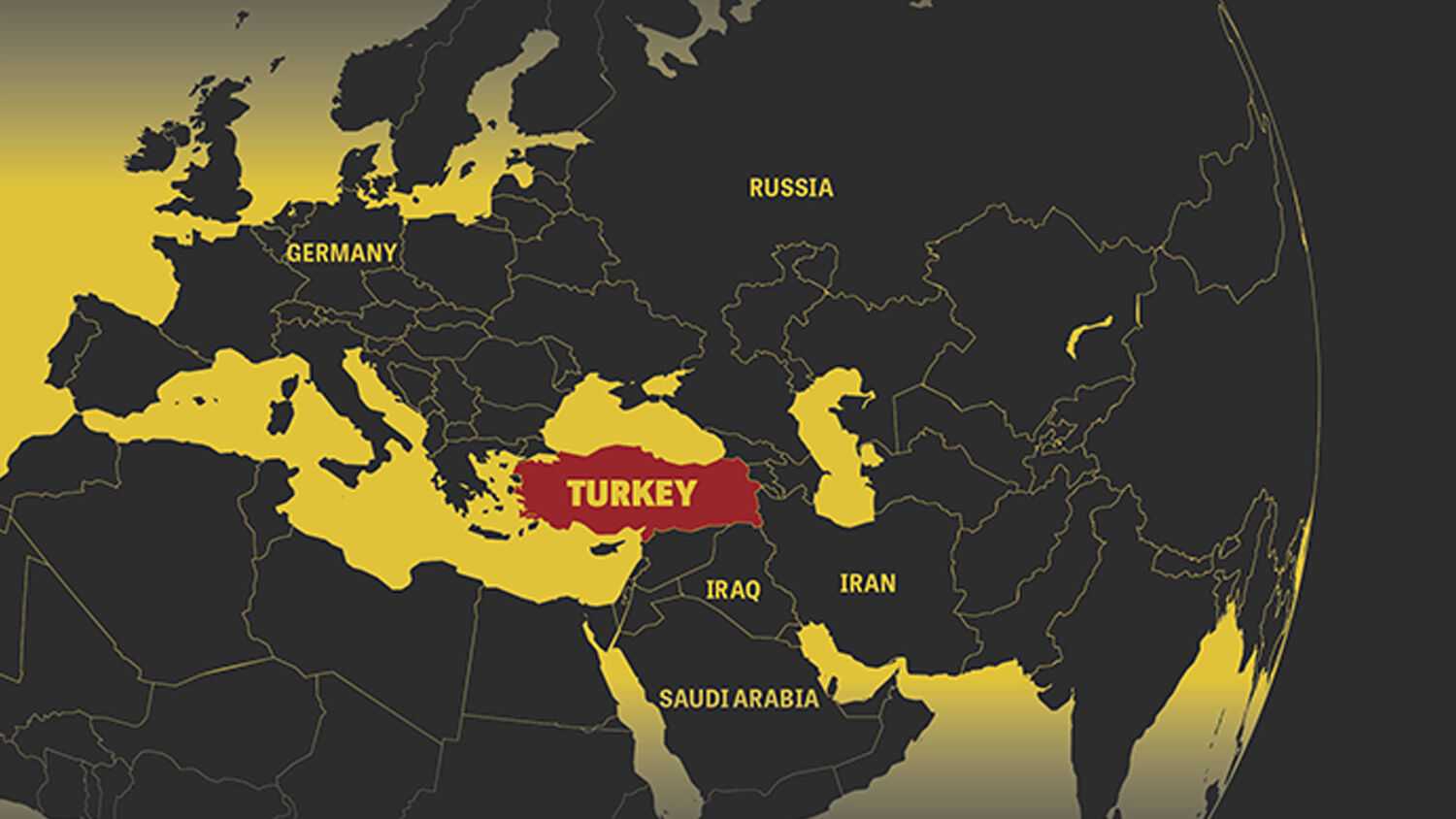 Pivotal Power
Turkey is changing—and forcing the world to change with it. Past and present trends explain why, and Bible prophecy foretells its next move.
It has been said that Britain has lost an empire and not yet found a role. Though Turkey's empire came crashing down during World War i, Turkey quickly found its role. After his nation no longer dominated the Middle East and North Africa, Kamal Ataturk refounded it as a secular state oriented toward the West.
This has been Turkey's role for decades. It joined nato and became a key part of the West's fight against communism.
Now all this is changing. Turkey is undergoing a massive transformation. Its role in the world, its allies, and even its identity are all up for grabs.
Turkish President Recep Tayyip Erdoğan is bringing Islam back into politics. He is rejecting the West's democratic norms. And he is drawing closer to Russia at the expense of Turkey's Western allies.
Where is Turkey heading? Geographically, this nation is at the crossroads of the world. It has played a crucial role in world events before, and it will do so again. The fate of Turkey is important to the fate of the world.
But Turkey itself is at the crossroads. Is it a friend of Europe? Of America? Or of Russia, or even of Iran?
The New Ottoman Empire
Turkey's geography alone makes it worth watching. In the east, it is a rugged, mountainous fortress that controls the headwaters of the Tigris and Euphrates Rivers. Whoever controls those rivers will always have a powerful role in the Middle East. Turkey controls the exit out of the Black Sea, giving it leverage over Russia's trade and naval power. It also controls the shortest and most direct air and land routes from the Middle East into Europe.
Robert Kaplan writes in The Revenge of Geography, "In the early 21st century, Turkey boasted a vibrant and politically dominant Islamic movement, an immense military capability compared to almost any country in the Middle East save Israel, an economy that had grown 8 percent annually for many years, and still managed over 5 percent growth during the worldwide recession, and a dam system that made Turkey a water power to the same extent that Iran and Saudi Arabia were oil powers. These factors, seen and unseen, allow Turkey to compete with Iran for the locus of Islamic leadership and legitimacy."
In the form of the Ottoman Empire, Turkey dominated the Middle East, as well as the Balkans and parts of Eastern Europe. Now it is a rising power in an unstable region. "Studying the Ottomans' history is important because it shows where Turkey is going," wrote Geopolitical Futures, noting that "Turkey is a very strong country, and it is becoming stronger" (March 20).
In the longer run, by 2040, Geopolitical Futures forecasts the "situation will be, in effect, the return of the Ottoman Empire in Arab territory." The Middle East is full of instability. Turkey's enemies, such as the Islamic State and now Iran, are taking advantage of the instability. Turkey has no option but to push into those unstable areas itself.
Turkey is taking its first steps in modern times to project power beyond its borders. This began in Syria, where Turkey has been steadily increasing its involvement. It has accelerated in recent months, after Saudi Arabia and its allies cut off ties with Qatar, a Turkish ally. Turkey has responded by boosting its military presence in the Gulf state.
Turkey's military is also changing. It is a massive force—the second largest in the Middle East after Iran's and one of the top 10 in the world—designed to protect the homeland from Russian invasion. Now it is developing its mobility. The biggest indicator of this is Turkey's announcement that it wants an aircraft carrier.
Aircraft carriers are the ultimate symbol of power projection. Currently, only 13 nations have aircraft carriers. Egypt is the only power in the region that has its own: two French Mistral-class amphibious assault ships, which are capable of carrying helicopters, tanks, vehicles and landing barges—but not fighter jets.
Turkey's navy is second only to Saudi Arabia's in the Middle East. It has 18 frigates compared to Egypt's eight; Iran has zero. Its light aircraft carrier is scheduled for completion in 2020. It could carry up to eight F-35B stealth fighter jets. In July, President Erdoğan announced a more ambitious goal: to build a full-size Turkish carrier.
The Turkish Armed Forces are also expanding in other ways. Despite significant economic pressures, Turkey increased its 2017 defense budget more than 10 percent over 2016.
Turkey is also starting to open up military bases abroad. As Saudi Arabia and other Gulf states crack down on Qatar, Turkey has refused to shut down its base there and has fast-tracked a bill allowing it to station 3,000 troops in Qatar. Last year, it finished building a base in Somalia, where it will help train local forces to fight the al-Shabaab terrorist group.
All this is a clear signal of Turkey's intent to spread its influence abroad.
Turkey's New Friends
Turkey's recent relationship with Russia has been a rollercoaster. The two seemed on the brink of war in November 2015 after Turkey shot down a Russian fighter jet. Then in July 2016, they suddenly made up.
In fact, Russia appears to be Turkey's new best friend. The Turks are buying important Russian-made weaponry like the S-400 missile defense system. They have clashed with their Western allies—most notably Germany, whom Erdoğan accuses of harboring "terrorists," his label for anyone he does not like. Experts are fretting that nato could lose Turkey to the Russians.
At the root of this is a more serious disagreement: Erdoğan believes Germany sympathized with or even supported the rebels who launched a coup against him last summer. That is not something he can ignore.
Germany is pressuring Turkey, discouraging tourism and threatening to block trade. In March, it rejected 12 applications for weapons exports to Turkey. Erdoğan encouraged Turkish citizens eligible to vote in Germany's September federal election not to vote for Angela Merkel.
Yet we must look at the broader historical and present trends, and understand these nations' long-term interests, to get a sense of what will happen in the future. There is a reason why, below the surface, important cooperation between Turkey and Germany continues.
German-Turkish Cooperation
Turkey has not backed out of its March 2016 deal to limit the flow of refugees into Europe—despite the fact that Germany hasn't persuaded the rest of the European Union to hold up its end of the bargain. If Turkey really wanted to hurt Germany right now, reopening the dam of refugees would be the way.
At the same time, German companies play a huge role in the military buildup underpinning Turkey's revival of its former empire. Rheinmetall is helping to develop Turkey's next main battle tank through its stake in the Turkish-Qatari firm bmc. Also, submarine manufacturer ThyssenKrupp is developing plans with Turks to export a weapons system to Indonesia.
German companies are setting up local subsidiaries in Turkey, which not only facilitates Erdoğan's wish to make Turkey's defense industry more self-sufficient, but also helps these companies bypass Berlin's stricter rules on weapons exports. "It's a win-win situation for both sides," wrote Handelsblatt Global (August 1).
The two also have a strong economic relationship. Germany is Turkey's top trade partner and a major source of tourism.
Which way will Turkey go? Russia seems to have the upper hand, but Germany is confident it will win this tussle, for good reason.
Russo-Turkish Divergence
Russia and Turkey have been enemies for virtually the entire history of the Ottoman Empire—from about the mid-16th century. The enmity survived both the fall of the Ottoman and Russian empires and continued through the Cold War.
The reason is that Russia's and Turkey's fundamental interests clash. Russia is a huge land power, desperate for a clear route to the sea that does not freeze over in winter. One of the shortest routes goes right through Turkey. Meanwhile, it is almost impossible for Turkey to expand its power in any direction without doing so at Russia's expense. For Turkey to push into the Balkans or the Caucasus, it must push Russia back.
This is why the two have been on opposing sides in about a dozen conflicts. In fact, conflicts between the two have been so common that historians have given up naming them. Most are simply called "The Russo-Turkish War," with the dates in brackets to distinguish them from all the other Russo-Turkish wars.
Turkey has always been threatened by Russia, as Germany well knows. Germany's Federal Academy for Security Policy wrote, "An all-embracing partnership with Russia" as an "alternative to nato and Europe" is "unsustainable for Turkey from an interest-policy perspective."
Some Turks see things the same way. "This is a temporary crisis which both parties wish to solve sooner than later. We think things will go back to normal after German elections," an anonymous Turkish diplomat told Defense News.
Germany is getting aggressive, but only because it believes that, in the long run, Turkey will prefer a German partnership over one with Russia. It doesn't feel the need to bend over backward to meet Turkey's demands. It believes Turkey has no choice but to fall in line with German interests—that, although Turkey is angry with Germany right now, cooler heads will prevail in time.
Looking at history, the reason for this confidence is even more apparent.
Turkey's Benefactor
In modern history, Turkey has relied on an outside power for support and to supply it with up-to-date weapons. During the Cold War, it was the United States. Now Russia is trying to fill this role. For most of the 19th century, Britain was Turkey's ally, siding with it against Russia. But relations between the two broke down completely in 1882, when British troops occupied Egypt in response to anti-European riots. Egypt was, at least on paper, part of the Ottoman Empire.
In response, Turkey turned to Germany. "Bismarck's dynamic new Germany, with its formidable military machine and no apparent designs on [Turkish Sultan] Abdul Hamid's domains, seemed the most obvious of the European powers to turn to for protection and advice," Peter Hopkirk wrote in On Secret Service East of Constantinople.
Prussian civil servants were sent to modernize the Ottoman administration. Gen. Kolmar von der Goltz led a team to modernize the military (and throw lucrative arms contracts Germany's way). (This is why today's military deals between the two create a sense of déjà vu.) Economic relations took off. After the Ottoman Empire began its genocide of Armenians in the mid-1890s, almost all European powers became antagonistic toward the Turks. Kaiser Wilhelm ii, by contrast, drew even closer to them.
Germany began to sponsor the construction of the Berlin to Baghdad Railway—an attempt to link Germany to Asia in a way that the British Royal Navy could not sever.
Even then, Germany's relations with Turkey had their ups and downs. After the Turkish government was overthrown in a coup in 1908, Germany found itself back to square one. But Turkey was key to Germany's ambitions to push into the Middle East, so it persevered. Turkey cultivated one faction of the coup, and in 1913, that faction launched another coup. Its leader, Enver Pasha, was trained in Germany, and the German ambassador, if he did not plan it, was certainly kept aware of the plan in advance of its execution. The new government had "a distinctly German character," wrote the British ambassador at the time.
Besides Turkey's geography, Germany was also attracted to Turkey's religious power. The sultan of Turkey was the caliph. Many Muslims outside Turkey believed the caliph had the authority to call for holy war—for jihad.
Wilhelm wanted to unleash Islam. "Germany sought to harness the forces of militant Islam to its cause with the help of its ally Turkey," wrote Hopkirk. "By unleashing a holy war against them, Wilhelm and his hawkish advisers aimed to drive the British out of India, and the Russians from the Caucasus and Central Asia. It was a bold and adventurous strategy, for there were no precedents for a jihad in modern warfare." Wilhelm himself made a lavish trip in 1898 around the Ottoman Empire, where he proclaimed himself and Germany the protector of all Muslims. German agents ensured that rumors traveled around the empire's mosques that Wilhelm had converted to Islam.
There is no Kaiser Wilhelm in Germany today. But we again see a Germany that wants to get much more involved in the Middle East. As Angela Merkel said in May, "The times in which we can fully count on others are somewhat over." That includes no longer counting on America to stabilize the Middle East. "[W]e Europeans must really take our destiny into our own hands," she said.
Even before May, Germany's 2016 white paper on military reforms proclaimed Germany's desire "to play a substantial role" in "the many trouble spots in Europe's neighborhood and beyond." When Germany wants to "play a substantial role" in the "many trouble spots" of the Middle East, Turkey is the traditional and obvious partner.
And as Wilhelm's experiences show, Turkey's turn toward Islam doesn't necessarily block this cooperation. If anything, it increases Turkey's reach into the Middle East and makes it a more valuable—though less politically palatable—ally. Turkey's version of Islam is far more Europeanized than any of the other ones on offer, most notably Iran's.
History and current affairs, then, tell us to expect Germany and Turkey to become partners. But there is more.
Turkey at the Crossroads
"You watch what happens with Turkey and Germany," Trumpet editor in chief Gerald Flurry said in a television program five years ago. "Turkey's going to be allied with Germany, and Germany is driving a wedge between those two great countries, Turkey and Iran" (The Key of David, May 4, 2012).
Now we are seeing headlines like "Turkish Military Power, Made by Germany?" Turkey is cultivating such an alliance, despite current tensions.
How could we have known this would happen? Bible prophecy describes an astonishingly accurate forecast of the future of Turkey.
Modern-day Turks are the descendants of Esau, also known as Edom. For proof, read our article "East, West or Neither?"
Psalm 83 is a prophecy about Germany's relations with a variety of countries in the Middle East. It's an alliance that has never happened in history. That is because it is prophecy about Germany (modern Assyria) for today.
Edom is at the top of the list of German allies in this prophecy.
Turkey is also singled out in the book of Obadiah for a major warning. Obadiah says that Turkey will be "as one of them"—as one of the European attackers on Israel. The Plain Truth magazine wrote that "Turkey, a Muslim nation, will not be an integral part of the religious-political union comprising the restored Roman Empire, but most probably will be linked with it by a military pact or alliance" (June-July 1980).
Now notice an interesting statement in Obadiah 14: "Neither shouldest thou [Turkey] have stood in the crossway, to cut off those of his that did escape …." The crossway is certainly a reference to Turkey's crossroads position between Europe and Asia—more specifically, it refers to the giant bridge spanning the Bosporus, a literal crossway between European and Asiatic Turkey. The Bosporus Bridge was completed in 1973.
In World War i, Turkey was the bridge for Germany, helping it reach out to other Muslim nations. As Turkey returns to Islam, could it play that role again? It is both geographically and religiously a nation that Germany can use to expand its power.
Turkey is emerging today in exactly the role the Bible prophesied.The book of Obadiah is one of the most sobering in the Bible. It applies to more than just Turkey, but it has some troubling passages about what Turkey will help Europe do to Britain and America—as well as what will come back on Turkey. Thankfully, it ends by saying that "saviours shall come on mount Zion" and that "kingdom shall be the Lord's."
If this book can prove so accurate about Turkey's fate, then the part about saviors and a coming Kingdom of God can be trusted too. The events of the next few years are part of the process that will lead to the kingdom being the Lord's.