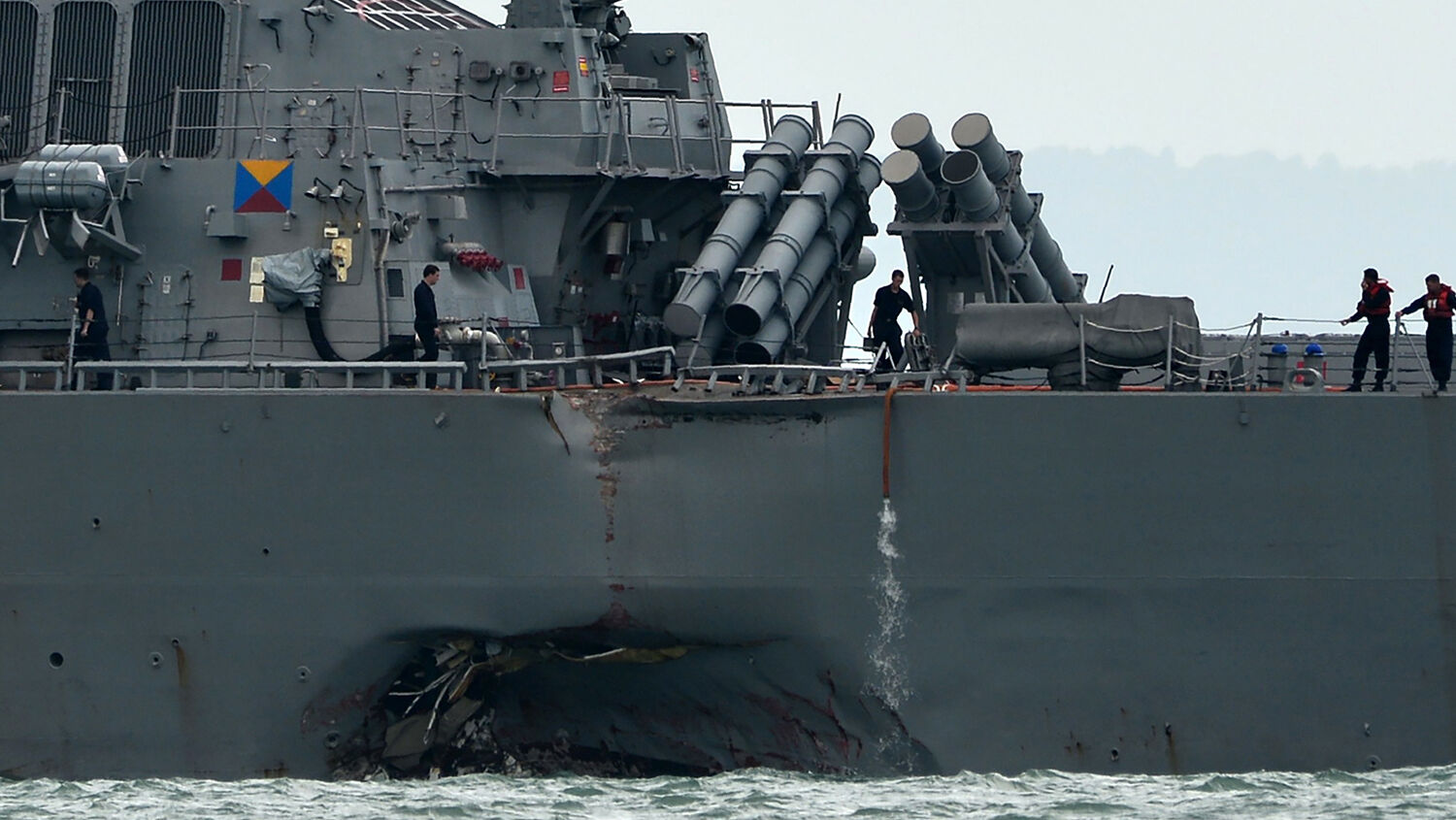 Navy Money 'Spent in Vain' Due to Crashes
U.S. Navy experiences fourth major accident in less than a year.
On August 21, the uss John S. McCain hit an oil tanker in waters east of Singapore. Five sailors are injured, 10 are missing, and the destroyer is out of commission for the foreseeable future. The incident is the fourth major accident in less than seven months, and the Pentagon has ordered "a temporary halt to U.S. Navy operations around the world and a full safety review."
The Navy has suffered a striking increase in accidents this year. On January 31, the uss Antietam ran aground near the Japanese coast. On May 9, the uss Lake Champlain was damaged after colliding with a South Korean fishing boat. On June 17, seven U.S. sailors died after the uss Fitzgerald hit a container ship off the coast of Japan.
The uss John S. McCain collision raises several questions. Due to their large size, oil tankers require miles of ocean to change course. The John S. McCain is approximately one third the size of the tanker it struck and is therefore nimbler and faster. cnn military analyst Rick Francona asked, "How does a state-of-the-art Navy destroyer—equipped with multiple radar systems and communications gear with a full bridge watch—not see, detect and evade a 30,000-ton slow-moving behemoth?"
The Navy found that the June accident involving the Fitzgerald happened due to "poor leadership and seamanship by senior officers." The John S. McCain accident may be found attributable to the same cause. Adm. John Richardson, the commander of United States naval operations, said this worrisome trend "demands more forceful action."
This latest accident is the third this year involving U.S. Navy ships based in Japan. All four of the 2017 accidents have involved U.S. guided missile destroyers.
The John S. McCain is one of 14 U.S. vessels outfitted with the advanced Aegis missile defense system that the Navy has sent to Japan. Francona said, "The Navy is not looking good about now, especially when we need those … Aegis-equipped ships for possible ballistic missile defense in a North Korean scenario."
This collision happened at the same time that the U.S. and South Korea began the Ulchi Freedom Guardian military exercises. In North Korea's view, these exercises could be preparation for an invasion. One North Korean newspaper claimed that the drills are "reckless behavior driving the situation into the uncontrollable phase of a nuclear war." Its government has threatened a "merciless strike" if "even a slight sign" of war is spotted.
Right at the time the U.S. needed to project strength in the waters around Japan, it has instead sustained a string of embarrassments.
These accidents are part of a much larger, more significant trend: the ongoing weakening of U.S. military effectiveness.
The Bible prophesied a list of curses that would hit America if the nation disobeyed God. Many of these specifically involve the military, saying that "your strength shall be spent in vain" (Leviticus 26:20) and that "ye shall flee when none pursueth you" (verse 17). America has spent more than a billion dollars on warships like the John S. McCain, yet these vessels have been forced to withdraw from the ocean, and apparently not due to enemy action. As Trumpet writer Richard Palmer wrote last year:
America used to produce cutting-edge military technology at good prices. God blessed America, but no longer. In fact, the curse described in Leviticus 26:20—directed to the ungodly and disobedient modern-day descendants of ancient Israel, of whom America is chief—well applies: "And your strength shall be spent in vain."

We see this in many ways—the fruitless military missions in Afghanistan and Iraq, for example. This massive waste is both a natural result of failed leadership and also a result of this curse. The preceding verse says God "will break the pride of your power." These verses describe a nation with ample "strength" and "power," but it is incapable of using it effectively.
Doesn't that describe the state of our nation's military today? The uss John S. McCain accident is just one more in a long series of examples that show that America's strength, including its money, is indeed being spent in vain.
For more on the blessings and curses facing America today—and why these passages from the Old Testament apply to Britain and America today—read The United States and Britain in Prophecy, by Herbert W. Armstrong.