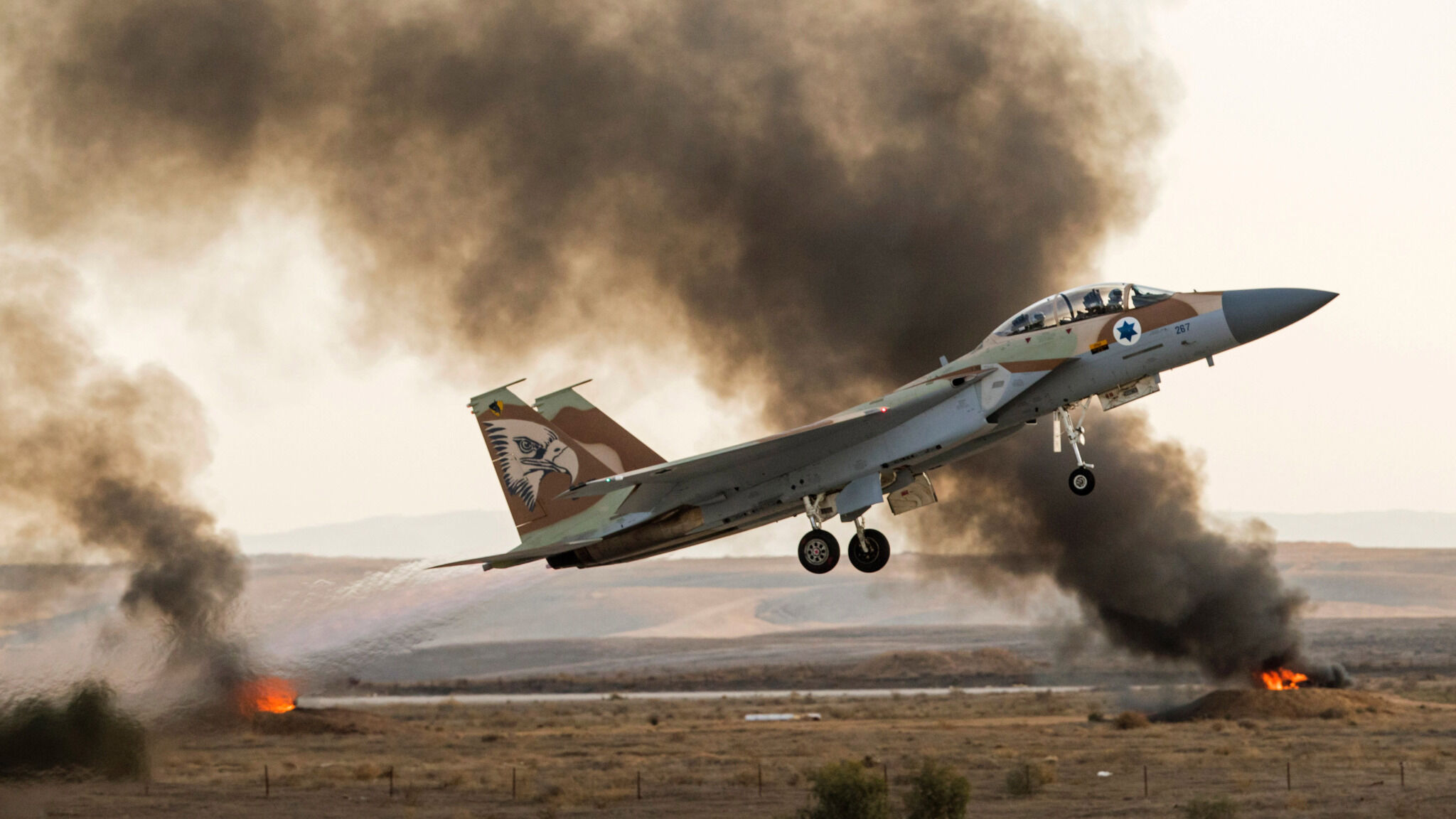 Israel on Edge, Chatter of Imminent War
The winds of war are blowing.
On Sunday, an Israeli fighter jet entered Syrian airspace and reportedly bombed a vehicle traveling from Damascus to Quneitra, a town situated in the Golan Heights near the border with Israel. One person was killed.
According to Al-Mayadeen, a Lebanese news media service, the attack killed Yasser Hussein Asayeed, a member of a militia group allied with the Syrian government. Sunday's air strike was the second military incursion into Syrian territory in three days and is evidence of the mounting tension between Israel and its northern neighbor.
On Friday, Israeli jets entered Syria and carried out an attack on a convoy transporting weapons to Hezbollah. During the attack, Syria launched surface-to-air rockets at the Israeli jets. Israel responded by firing its Arrow interceptor missile at the rockets.
Meanwhile, on Saturday, Israel's Air Force struck two separate Hamas strongholds in the Gaza Strip. The strikes were in response to a Hamas rocket attack on Ashkelon earlier in the day. Another rocket attack from Gaza occurred on Thursday.
These attacks have many in Israel worried that war is imminent. "The winds of war are blowing on Israel's borders," wrote Alex Fishman earlier this week. He continued:
The Israeli strike in Syria, the Russian and Syrian responses, and the flare-up in Gaza are bringing Israel one step closer to a military collision. The relative calm along the borders in recent years, which has become a symbol of security stability and deterrence, is gradually wearing out.
The recent attacks are a sign of two important developments. First, as Fishman noted, Israel is establishing red lines with Russia, which in recent years has significantly improved its strategic position in the region.
The weekend events in the north indicate that Israel is striking in Syria not only to curb the Iranian arms convoys to Hezbollah, but also to demonstrate its presence in Syria and make it clear, especially to the Russians, that there will be no agreement in Syria without Israel's input.
Second, some believe this level of aggression from Israel is a sure sign that it is concerned about the presence of Iran in Syria and Lebanon, and that Tehran via its proxies might even be close to launching an attack. There is evidence, as this article from the Jewish Press explained, that Iran's strategic and military position in Syria and Lebanon has improved in recent weeks and months.
First, the Iran-sponsored Shia fighters in Syria, who 10 days ago announced the formation of a "Golan Liberation Brigade," have done more than merely talk. Additional Iraqi Shia fighters have reportedly been deployed to Damascus (never a haunt of the Iran-sponsored force; they've been in Aleppo and Idlib Province) and have made public shows of military power there.
Meanwhile, in Lebanon, "Hezbollah has reportedly made a separate threat to begin raining 'long-range missiles' down on Israel from the Qalamoun Mountains north of Damascus." There are also signs that cooperation is increasing between Hezbollah and the Lebanese Armed Forces. On February 12, Lebanese President Michael Aoun implied during a visit to Egypt that Lebanon needs Hezbollah and its weapons as a "complement" to Lebanon's military. "The resistance's [Hezbollah] arms are not contrary to the state project; otherwise we could have not tolerated it. It is an essential part of Lebanon's defense," he stated (emphasis added).
This statement would not have come as a surprise to Israel. Nevertheless, together with the other developments, it was a timely reminder that Lebanon, like Syria, is essentially a hostile state with little interest in protecting the Jewish state from Iran and its terrorist proxies.
It is impossible to know if Israel is about to go to war in Syria, Lebanon, or anywhere else. But in the larger sense, these events are troubling indicators of an approaching conflict of greater intensity.
The Trumpet closely watches events in this part of the world because of the biblical prophecies describing how conflict here, especially in Jerusalem, will trigger a wider conflagration. As the Trumpet wrote in April 2009:
Passages in both the Old and New Testament show that Jerusalem is the center around which world events orbit in the months and days leading up to the return of Jesus Christ. To those who understand this prophetic reality, Jerusalem is more than just another city blistered by chaos: It's a thermometer for measuring—and anticipating—end-time events.
In March 2006, Trumpet editor in chief Gerald Flurry explained the prophecy in Zechariah 14, which forecasts terrible violence in Jerusalem. "When half of Jerusalem falls," he wrote, "it starts a chain reaction of events—an avalanche of crises—that leads directly to Christ's Second Coming!"
This is why we pay special attention to events in the Jewish state and these rumors of war—because the next war in Israel could be the one that precipitates the fall of half of Jerusalem and sets off the chain of events that will culminate in the return of Christ!