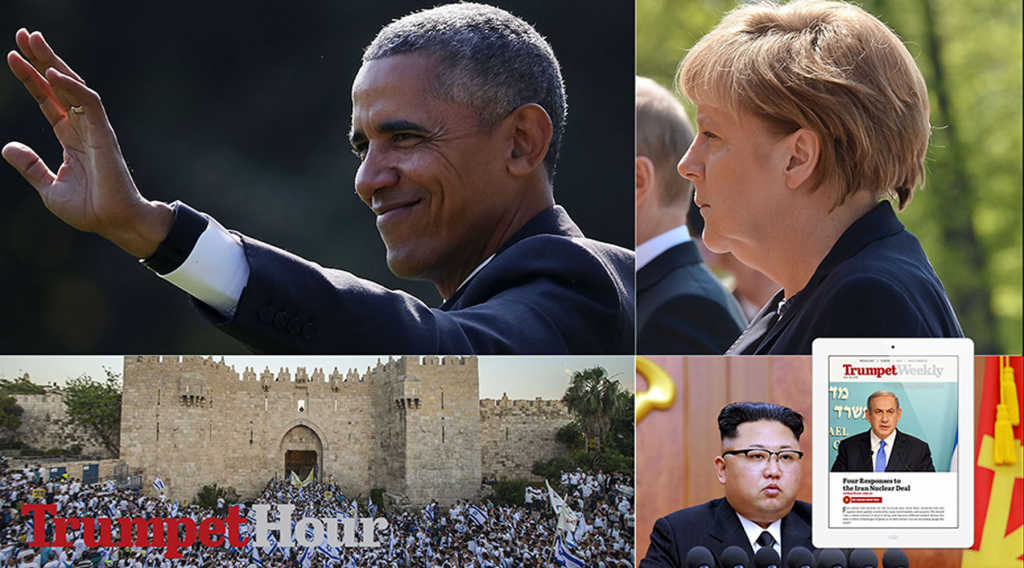 Week in Review: All Eyes on Jerusalem, Germany Ready to Split with Trump's U.S., Obama's Post-Presidency, and Much More
All you need to know about everything in the news this week
Get all the important news from December 31–January 6 by downloading the Trumpet Weekly.Click here to receive it by e-mail every week.
Highlights:
All eyes on Jerusalem
The year 2017 marks the 50th anniversary of the Six-Day War in which the tiny Jewish state of Israel defended itself against numerous Arab armies simultaneously.
Offensively, Israel captured the Sinai Peninsula from Egypt, the Golan Heights from Syria, and the West Bank from Jordan.
For the first time in almost 2,000 years, Jerusalem became a united city under Jewish rule.
But now, 50 years on, we must ask: Will united Jerusalem make it to 51?
German preparations for a split with America
"Doubts are growing inside Angela Merkel's Chancellery that the incoming American president will mature and become a statesman," wrote Spiegel Online. "The chancellor is preparing for frosty trans-Atlantic relations while at the same time trying to pull Europe together."
Merkel is "preparing for the worst," and those preparations may soon help to provide a clear response to Henry Kissinger's famous question: "Who do I call if I want to speak to Europe?"
Spiegel concluded: "It's possible that the EU may soon finally have such a number—thanks to Donald Trump."
Agitator in chief?
Following Donald Trump's election, United States President Barack Obama assured Democratic Party supporters: "[N]ext year Michelle and I are going to be right there with you … and we're going to be busy, involved in the amazing stuff that we've been doing all these years before."
Obama's post-presidency plans will no longer involve merely nurturing the Democratic Party as an elder statesman. The outgoing president," wrote British journalist Melanie Phillips, "is poised to return to his Marxist roots and lead opposition to Trump."
As Trumpet editor in chief Gerald Flurry wrote in his booklet Great Again, "Mr. Obama is not the person most people think he is."
Will North Korea test-fire long-range missiles?
North Korean dictator Kim Jong-un announced on January 1 that his nation had "reached the final stage in preparations to test launch" a KN-08 intercontinental ballistic missile (

icbm

).
If successful, this would be the North's first ever long-range

icbm

launch, and such missiles would potentially reach the West Coast of the United States.
President-elect Donald Trump tweeted a response: "It won't happen!"
The history of Pyongyang's illegal tests could prove Mr. Trump wrong, and the history of Washington's irresolute "red lines" could prove that tweet dangerous.
Frank Jannuzi, head of the Mansfield Foundation Asia dialogue forum, said in an interview with Reuters: "I worry … that it only emboldens the North, because they see it for what it is: empty talk."
Beware the Bavarians
The Alternative for Deutschland won't be taking over Germany any time soon, wrote David Clay Large, a senior fellow with the Institute of European Studies.
Instead, he wrote, the big rise to watch is that of Bavaria and its party, the Christian Social Union
"[A]nyone who wants to understand the political fights that loom in Germany's immediate future should probably spend less time studying the populist Alternative for Germany Party (AfD) than the entrenched political establishment of the southern German state of Bavaria—familiar to foreigners as … the idiosyncratic culture that sustains its heightening feud with Chancellor Angela Merkel."
Other news:
Two Russian warships arrived in Manila on Tuesday, marking the first ever navy-to-navy contact between the Philippines and Russia. "Russia is ready to become a new reliable partner and close friend of the Philippines," said Ambassador Igor Anatolyevich Khovaev.
Russian dissident Garry Kasparov warned this week that the world could be "entering a very dark age" unless President-elect Donald Trump stands up to Russian President Vladimir Putin.
Get the details on these stories and more by subscribing to the Trumpet Weekly!