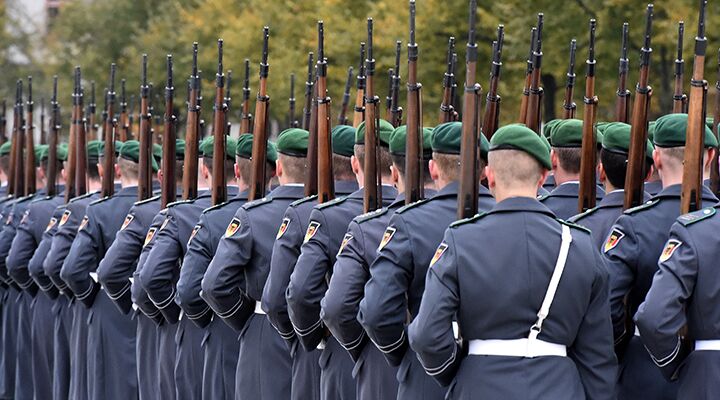 Germany Expands Military for the First Time Since the Cold War
'It is time for the Bundeswehr to grow again.'
For the first time in more than 25 years, the German Army (Bundeswehr) is planning to expand. The announcement was made on Tuesday, May 10, by German Defense Minister Ursula von der Leyen.
In an effort to counter the growing threat of the Islamic State, von der Leyen announced that over the next seven years, 14,300 more troops will be recruited to fill Germany's expanding military presence in the world. The plan is to create 5,000 front-line positions by restructuring current personnel and to recruit 7,000 more. The current plan leaves 2,300 required positions vacant.
Germany's armed forces currently constitute roughly 180,000 soldiers, far less than the 585,000 soldiers it had when the nation unified in 1990. Yet Germany is looking to take on a greater role in regional conflicts with its new professional army.
"A quarter century of a shrinking military is over," von der Leyen told reporters on Tuesday. "It is time for the German armed forces to grow." The plan scraps the German Army's upper limit of 185,000 personnel.
For years now, Germany has tentatively—though at times forcefully—been casting off World War ii guilt, looking to play a greater military role in international relations. In March, Germany released its budget proposal for 2017. In it, Germany planned to increase defense spending by 6.8 percent over planned spending in 2016. Much of this will go toward modernizing much of the defunct equipment that has plagued the German Army the past few years.
In addition to modernizing its equipment, Germany is using every available opportunity to give its troops the experience they need to handle the growing number of foreign missions. National Interest reported that "this year the German military is expected to send 154,000 of its roughly 180,000 active soldiers abroad to participate in military exercises. That's a marked increase from 73,000 send abroad in 2013."
Terrorist threats from the Middle East have Germany worried, and it is preparing for a coming clash. The expansion of the German military is a telling sign of the times we live in. Germany is preparing to deal with radical Islam. To understand more, read our booklet Germany's Secret Strategy to Destroy Iran.