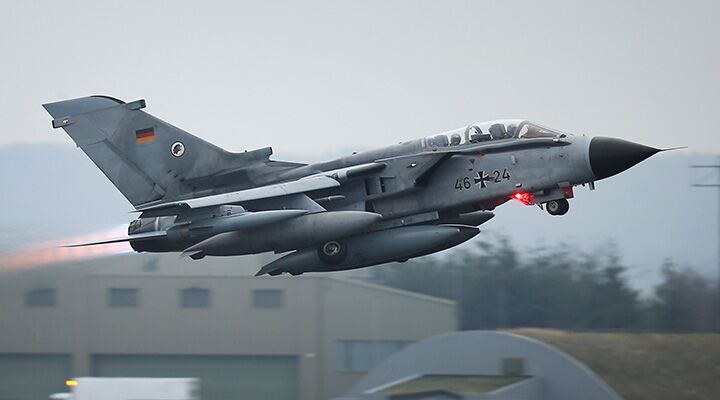 Germany Extends Its Military Arm
Bundeswehr to strengthen its military operation in Turkey
Last December, Germany stationed six Tornado jets at the Incirlik Air Base in Turkey. Since their deployment, the jets have taken high resolution photos providing intelligence to support the fight against the Islamic State. According to Spiegel, German soldiers will soon receive their own air base in Turkey—a move that reveals Germany's long-term plans in the region.
The troops currently stationed at Incirlik Air Base include pilots, technicians, ground staff and specialists who evaluate the obtained images from the reconnaissance flights. Yet the troops at Incirlik have had to operate within temporary structures, such as containers and tents.
Spiegel reported that the German Army expects a long-term operation in Turkey. It referenced a planning paper from the Defense Ministry, which listed $75 million to be spent for: an air control area ($12 million), accommodations for German soldiers ($17 million), and a fully equipped combat headquarters ($39 million).
Germany is currently discussing a longer term deployment of soldiers with the Turkish government. Although the mission currently involves 200 soldiers, the proposed accommodations will be able to station up to 400 Bundeswehr troops.
Most of the building projects are planned for completion by summer 2017. Berlin already approved the budget for these projects. Although the Bundeswehr will have to work with local contractors, construction on the air control area will begin in the near future and should be finished within six months.
The German missions that were initially designed to assist the French reaction to the November 2015 Paris attacks have now turned into a long-term deployment with its own air base. According to Spiegel, Tobias Lindner from the Green Party is surprised at the speed of this turn.
Germany is becoming more involved in the Middle East. The Paris attacks served as a springboard for its already existing plans. Germany's goal is greater than merely destroying the Islamic State. To learn more about its secret strategy, read "The Whirlwind Prophecy" by editor in chief Gerald Flurry.