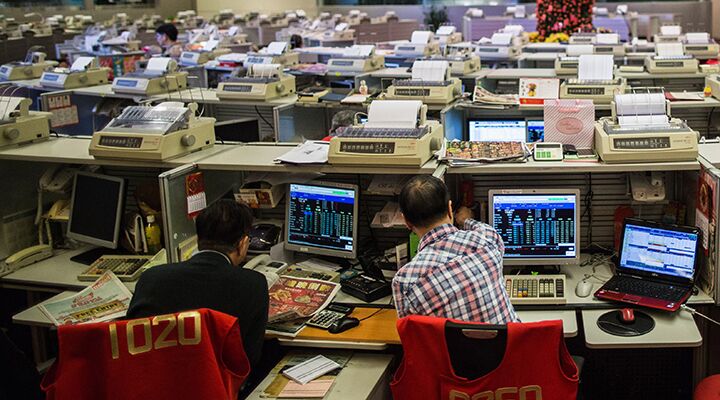 China Is Buying the Chicago Stock Exchange: A Dangerous Signal for the Global Economy
Capital flight or capitol fight: Why is so much money fleeing China, and what is the biggest ramification?
An obscure Chinese company is buying the Chicago Stock Exchange. The February 5 announcement stirred a tumult on Capitol Hill. Members of both parties of Congress denounced the takeover, calling for the Treasury Department to investigate the proposed sale.
Yet the founder of the Chongqing Casin Enterprise Group (Casin Group), which is buying the Chicago Exchange, assured regulators that his intentions were purely financial in nature. He planned on keeping the United States management team in place and said he would use information learned from the Chicago Exchange "to help develop financial markets in China over the longer term and to bring exciting Chinese growth companies to U.S. investors."
So what's the problem?
The Casin Group is owned in part by the Chinese government. "This proposed acquisition would be the first time a Chinese-owned, possibly state-influenced, firm maintained direct access to America's $22 trillion U.S. equity marketplace," wrote the members of Congress in a letter to the Treasury Department.
"Day after day, Americans read about new cyberattacks and state-sponsored espionage attempts [by China]," said Rep. Robert Pittenger. Does it make sense to give China direct access to our financial markets?
The stock exchange isn't the only piece of U.S. infrastructure China is currently trying to buy. Chinese companies are buying up foreign businesses, including American ones, at a record rate:
Chinese company Haier snapped up General Electric's appliance business earlier this year.
Zoomlion is in the process of buying heavy-machinery-equipment maker Terex Corp.
ChemChina has offered a record-breaking $48 billion for Syngenta, the Swiss agribusiness group.
China's Anbang Insurance Group Co. has tabled a $12.8 billion takeover of Starwood Hotels & Resorts Worldwide.
Anbang is also near another multibillion dollar deal to buy Strategic Hotels & Resorts Inc. from The Blackstone Group.
E-commerce giant Alibaba quietly snapped up stakes in numerous U.S. technology businesses like Lyft, Groupon and Zulily.
Chinese conglomerate

hna

Group said it would buy the technology distributor Ingram Micro for $6 billion.
Beijing-based Wanda Group bought U.S. film producer Legendary Pictures (makers of Jurassic World, the Batman trilogy and Godzilla) for $3.5 billion. It is the largest-ever cultural takeover by China.
In the first two months of this year, Chinese companies have already committed $39 billion to purchase 36 American corporations. Last year, they spent a record $17 billion to buy 114 companies. 2014 was also a record year.
Globally, Chinese businesses have spent a mind-boggling $102 billion so far this year to snap up foreign companies. That exceeds all of 2015, itself a record year.
As Agence France-Presse reported, Chinese cash is "flowing faster than the Yangtze River."
What is going on? Why the spending spree?
First, it is a sign of the ascendancy of China. The fact that Chinese companies have the financial girth to make these acquisitions speaks volumes about how far China's economy has developed over the past decade.
But second, and more important, it may also be a sign of the precarious state of the global economy—including China's economy.
In China, any company that wishes to purchase a foreign company must receive government approval. If the acquisition doesn't fit within the politburo's plans—its social, economic or geopolitical outlook—it is canceled.
Yet within the past three years there has been a noticeable and, more recently, a dramatic uptick in the number and scale of Chinese corporate takeovers of foreign businesses.
So the question is why. Why has the government sanctioned capital flight?
Is it simply that China's economy has come of age and is now branching out? That may be part of it. But something a little more, shall we say, strategic, is also happening. And it could be an ominous sign.
The global economic slowdown is hammering developing economies. From Brazil to Russia to South Africa, nations that were once flying high are falling from the sky like brics (pun intended). China, the world's second-largest economy, is falling too.
Amidst this slowdown, nations have resorted to currency devaluations in an attempt to capture a greater portion of the shrinking global economic pie.
China's corporate buying spree may be a sign that it is set to devalue its currency again—and, at the same time, hammer America and the world's manufacturing sector again.
Last August, China surprised the world by initiating the greatest single-day devaluation of the yuan in its history.
Over the course of eight hours, Chinese products became 2 percent cheaper than their rivals in America and elsewhere. During the course of a week, as the yuan continued to devalue, they became 4.8 percent less expensive.
It is no coincidence that the record yuan devaluation coincided with China's record corporate buying spree. China's Communist leaders knew the yuan was going to be devalued, so they not only helped Chinese companies purchase foreign assets but encouraged them to do so—before they devalued the yuan.
The recent buying spree corresponds with something else too. In the first two months of this year, China's total credit soared by about $1 trillion.
Debt is currently expanding per month at 5 percent of the gross domestic product.
These are awe-inspiring, totally unsustainable debt accumulation rates. Left to its own, this massive state-planned debt increase can only lead to a currency devaluation.
Is the yuan about to be devalued again?
usa Today reported that economic growth in China last year was the lowest in 25 years. Millions of Chinese are migrating to the cities in hope of a better life—but their hopes are being dashed.
Are China's leaders panicking?
"From clamping down on media to finding scapegoats, Beijing is trying everything to reassert control over the economy," the Diplomat wrote on February 27.
China shock devalued its currency once. Pressure is growing to do it again. If that is the plan, the Chicago Stock Exchange won't be the last Chinese takeover. The flow of American jobs and technology to China will become a flood.
Most dangerous of all, China's capital flight could quickly turn into a capitol fight—especially in an election year.