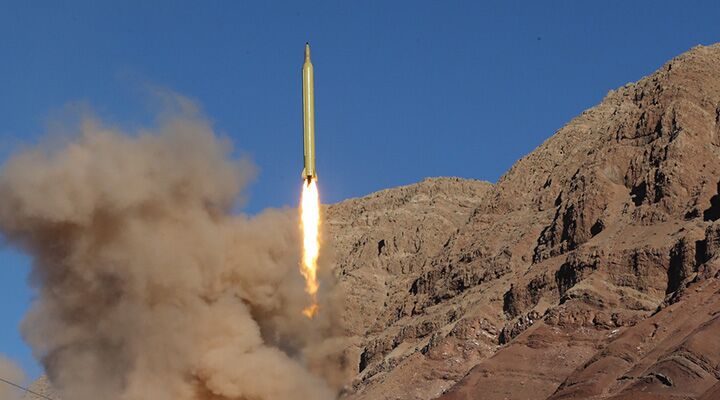 Iran Goes Ballistic
The Islamic Republic of Iran is breaking all the rules and ramping up its terrorist threats; and the United States doesn't appear ready to stop it.
"I cannot imagine any thinking person who does not believe the world is getting worse," wrote Dennis Prager for the Jewish World Review.
I can't either.
Prager discussed some of the world's most glaring crises—the muddled American presidential race; Russia's global hegemony; China's militarization of the South China Sea; the migrant crisis in Europe; the bloodletting in Iraq, Syria, Afghanistan, West Africa and Libya; and the ever growing terrorist threat from Iran. "The world is getting worse," he said, "but this time, America won't save it."
How true!
Perhaps the worst example of this reality is Iran's latest missile tests—timed to coincide with United States Vice President Joe Biden's visit to Jerusalem and also with a spate of attacks on Jews on the streets in and around Jerusalem.
In what Iran's state television called a "missile revolution," the regime's Islamic Revolutionary Guard Corps test-fired several ballistic missiles from silos across the country. The weapons were ominously graffitied "Israel must be wiped out" in Hebrew.
(Listen to the Trumpet Daily Radio Show segment on this subject here.)
These tests were illegal because United Nations Security Council resolutions prohibit Iran from developing and testing missiles capable of carrying a nuclear payload. The Israeli Foreign Ministry was quick to condemn the tests as a "clear violation" of both those UN resolutions and the Iran nuclear deal. The Times of Israel wrote:
In a statement, the [Israeli] Foreign Ministry said the missiles that were tested could carry a nuclear warhead and were capable of hitting Israel and much of the Middle East."The missile launches over the past few days represent a clear violation of Security Council Resolution 2231, which adopted the nuclear deal between Iran and world powers," it said. …That Iran is developing missiles that are suited for nuclear warfare "raises a big question about Iran's intentions to comply fully with its part of the nuclear deal," it added.Israel said Iran was "defying" world powers and urged the international community to act "forcefully and determinedly" to halt Iran's missile activity.
The Obama administration, however, has irresolutely condemned the tests as a possible violation of UN resolutions—but not the nuclear deal itself. And as if that wasn't bad enough, the administration's policies regarding Iran have been in constant flux—even to the point of confusing officials of the Obama administration!
On Monday, the head of the International Atomic Energy Agency (iaea), Yukiya Amano, explained that the nuclear deal prohibited his agency from publicly disclosing potential violations of the agreement by Iran.
Obama administration officials initially downplayed those claims. On Tuesday, a State Department official told the Washington Free Beacon that "the iaea's access to Iran's nuclear program and its authorization to report on it has actually expanded." He said that "there isn't less stringent monitoring or reporting on Iran's nuclear program."
However, as the Washington Free Beacon reported, "by Wednesday morning, this rhetoric had shifted. The administration now says that the reports on Iran should be more 'robust and detailed,' according to a letter submitted by U.S. Ambassador Henry S. Ensher to the iaea's board of governors."
The Obama administration, said the Washington Free Beacon, "also renewed concerns about Iran having violated its international commitments by stockpiling too much nuclear-related material. The renewed concerns come after Iran repeatedly test-fired ballistic missiles in violation of current UN resolutions."
(Click here to listen to a State Department press briefing highlighting the administration's incoherent policies on Iran.)
A senior foreign-policy consultant explained that "this reversal is the latest in a seemingly unending stream of Iranian illegality and sanctions violations that the administration initially tried to ignore, then tries to justify, and then, finally, promises to deal with."
It's so bad that the same people who supported this deal—who pleaded with the Iranians to sign this deal—are now criticizing the UN for not being open and transparent enough about Iran's repeated violations of the deal!
And how does Iran respond to this glaring American weakness? The Islamic Republic preempted possible sanctions from the U.S. regarding its latest missile tests by threatening to walk away from the nuclear deal altogether!
"If our interests are not met under the nuclear deal," warned Iran's deputy foreign minister, Abbas Araqchi, "there will be no reason for us to continue."
"If other parties decide, they could easily violate the deal," he added. "However, they know this will come with costs."
State Department spokesman John Kirby essentially urged reporters not to worry too much about the details of this Iran controversy. He said, "[W]hat matters more than anything, and what the American people and our allies and partners need to remember, is that Iran will not possess a nuclear weapon through this deal as long as they continue to meet their commitments" (emphasis added).
The tragedy is that the Iranians are not meeting their commitments.
How much more confusing, upside-down and dangerous does this world have to be? Does the Obama administration have a clue about what's going on in Iran?
America clearly doesn't look ready to save the world—particularly Israel, the Middle East and Europe—from a nuclear-armed Iran.