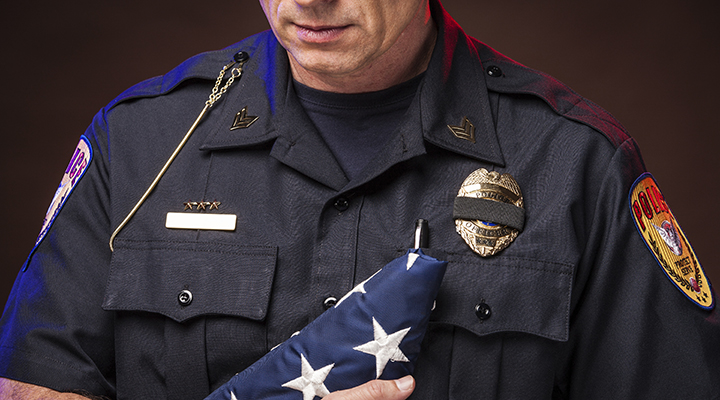 Houston Officer's Murder Blamed on Anti-Police Rhetoric
Sheriff David Clarke says the ultimate blame for the war on police falls on President Obama and the Justice Department.
Houston sheriff's deputy, Darren Goforth, was shot in the back of the head on Friday night. The white, 10-year veteran was shot as he filled his car with gasoline. The black shooter, Shannon Miles, has been charged with murder. The Harris County sheriff blames Deputy Goforth's murder on "anti-police rhetoric."
The murder came several days after a caller on an Internet-based radio show in Texas called for white people to be lynched. The caller also declared that more officers should be killed in order to "turn the tide."
Harris County Sheriff Ron Hickman believes an anti-police environment fostered the concept and execution of this killing. Anti-police rhetoric has "gotten out of control," he said.
"I think ['anti-police' rhetoric is] something that we have to keep an eye on. The general climate of that kind of rhetoric can be influential on people to do things like this," he stated.
Ever since Michael Brown's shooting last year, America's police officers have increasingly come under attack. This topic was the cover story of the August issue of the Trumpet magazine. As editor in chief Gerald Flurry writes:
It would be overstating it to say there is no racism among America's law enforcement officers. But there are some few people who are scrutinizing and magnifying this issue for evil purposes. They are using it dishonestly to explain or excuse some terrifyingly dangerous behavior. They are stirring up emotion and anger—but none of it is truly intended to solve the problem.
Following the murder, Milwaukee Sheriff David Clarke, who is black, told Fox News: "I said last December that war had been declared on the American police officer, led by some high profile people, one of them coming out of the White House, one of them coming out of the United States Department of Justice. And it is open season right now, there is no doubt about it."
Sheriff Clarke referred to the black activists shouting "black lives matter," as "slime" who "need to be eradicated from American society." He continued, "This whole movement, 'black lies' I've renamed it … because it's based on a lie, the 'hands up, don't shoot.'"
Agreeing that only strong leadership can stop this dangerous situation, Clarke said, "that's why I said the president of the United States started this war on police."
As Gerald Flurry also points out, the police are being undermined in ways that will "prove devastating" to our cities in particular.
The perpetuation of anti-police rhetoric in America signals a dangerous stage in America's history. Read "Police Under Attack" to gain a deeper understanding of what happens once the police are the ones wearing the handcuffs.