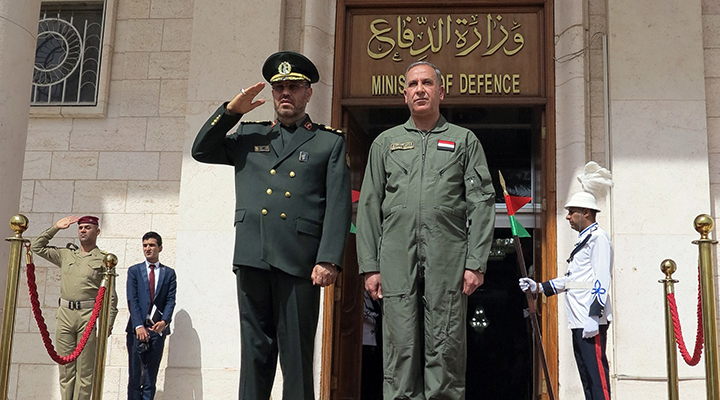 Iranian Defense Minister Visits Iraq
Iran's defense minister met with Iraq's prime minister in Baghdad on May 18. Mostly unnoticed by Western media sources, this visit is a sign of developing bilateral relations, and of Iran's increasing power in Iraq.
Iranian Defense Minister Brig. Gen. Hossein Dehghan's counterpart, Khalid al-Obeidi, invited him to discuss defense strategies and security in Iraq. Iraqi Armed Forces Gen. Babak Zebari greeted General Dehghan. He met with multiple high-ranking Iraqi authorities including President Fuad Masum, Prime Minister Haider al-Abadi and Interior Minister Mohammed Salem al-Ghabban.
During the meetings, Abadi praised Iran's support for Iraq in the face of the Islamic State militants. The defense minister's visit coincided with the start of a new offensive by Iranian-controlled Shiite militias to take back the Iraqi city of Ramadi.
The Islamic State's conquest of Ramadi on Sunday prompted the bilateral talks. Ramadi is the capital city of Anbar, the largest province in Iraq, and a largely Sunni region. Iraq and Iran appear eager to expand cooperation in order to counter the Islamic State's gains.
As Iran's image changes in the Middle East, Iraq remains an opportunity for Tehran to boost power over more of the region. Defense Minister Dehghan said, "We are here to prove our will in carrying out the agreements made and expanding mutual cooperation." Cooperation between the two is "unavoidable," he said.
"The Iranian supreme leader, president, government and nation have always supported the territorial integrity and national sovereignty of Iraq," Dehghan added, "and will for good support the full establishment of security and stability in your country."
To learn more about this trend, read Trumpet editor in chief Gerald Flurry's article "Is Iraq About to Fall to Iran?"