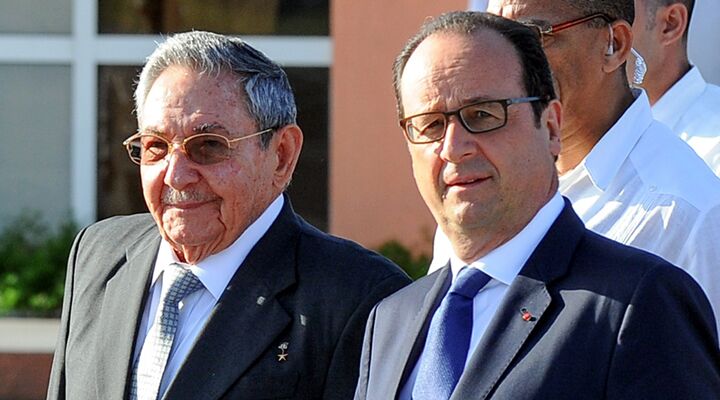 Courting Cuba—The EU Is Eager to Move In
The French president's historic visit to Cuba is part of a European effort to pursue closer relations with the island.
"I had before me a man who made history," said French President François Hollande after meeting former Cuban dictator Fidel Castro. That's a curiously positive response to a meeting with the man who could well have ended history had the Cuban Missile Crisis gone down a little differently. But it is typical of the positive response Cuba is getting from Europe right now.
The world is going through a kind of "Cuban spring." Except not much is actually changing in the nation's dictatorial government. Instead, other nation's attitudes toward Cuba are thawing.
Mr. Hollande's visit was historic. Since America pried the island out of the Spanish Empire's control in the 1898 Spanish-American War, no French president has ever visited. No European leader has visited since 1980. Hollande's visit is a sign of a shift in Europe's attitude toward Cuba that has been building for several years.
During the late 1990s and 2000s, relations between the European Union and Cuba were frosty. In 1996, the EU restricted the bloc's ties with the island until its human rights record improved. In 2003, it placed diplomatic sanctions on Cuba after the government jailed 75 dissidents.
But these sanctions were lifted in 2008. Since then, the EU has given Cuba $159 million in disaster recovery and other aid. Then last year things really sped up.
In April 2014, French Foreign Minister Laurent Fabius made the first visit of any French foreign minister to the island in 30 years. In August, the EU launched a major new push toward a trade deal, which was followed by several visits and trade talks. All of this came before the pope engineered Cuba's warming relations with the United States in December.
Cuba is the only Latin American nation that the EU does not have a bilateral trade deal with. Closer diplomatic relations, as well as increased trade, would go with such a deal.
Progress is good. The EU and Cuba held their third round of talks in March, and they hope to conclude both a trade deal and new political agreement by the end of the year.
Even without such a deal, Europe has a strong economic relationship with Cuba. The EU is Cuba's second-largest trading partner and the island's biggest source of foreign investment. One third of all tourists visiting Cuba each year comes from the EU.
Cuba's warming relationship with America presents the EU with both a major opportunity and a threat. If Cuba is fully welcomed back into the community of nations, and America's diplomatic and economic sanctions are completely lifted, the island will grow in power and wealth. Europe's investments could pay off economically and politically. This new friendliness between the U.S. and Cuba makes it easier for the EU and Cuba to develop a closer relationship—the EU no longer has to worry about alienating America in pursuing this new friendship.
Europe and Cuba have deep historical ties to build upon. The island was regarded as much more a part of Spain than any of Spain's other colonies. A newly empowered Cuba could give Europe a strong ally in the Caribbean just south of the U.S.
But it also poses a small threat. America's trade embargo means European countries do not have to compete with U.S. firms for Cuban business. But that could soon change. This is another factor in Europe's rush to court Cuba.
And so the EU's high representative and vice president, Federica Mogherini, visited the island in March. She has also held several meetings with Cuban officials. And Hollande befriends the Castro brothers, promising to be "a faithful ally" and calling for America to end the sanctions that Hollande said "have so badly harmed Cuba's development." He told Cubans that he wanted France to be "the first among Western nations to be able to say to the Cubans that we will be at their side if they decide themselves to take needed steps toward opening up."
Hollande is also deepening France's economic ties with the island. French oil company Total, for example, signed an agreement to look for offshore oil with Cuba's state-owned CubaPetroleo.
The prospect of increased rewards from a relationship with Cuba, plus the threat of American competition, will probably push the EU to hasten its efforts to court Cuba. As Agence France-Presse put it, "French officials recognize the importance of the EU positioning itself politically and economically for when the U.S. embargo is eventually lifted."
Despite the pope's mediation between the U.S. and Cuba, the island is still under an anti-America regime. There is great danger for America in allowing what is really an enemy nation to build strong ties with a foreign power. For more on America's vulnerability to Cuba, read Trumpet editor in chief Gerald Flurry's March cover story, "The Deadly Dangerous U.S.-Cuba Deal."